Local News - Poker Tournament, Comics Auction, & Free Comic Book Day, too!
Howdy!
Today marks the beginning of the busiest time of year for us here at Mile High Comics. Gigantic shipments of new comics, books, and toys have been arriving daily in anticipation of the huge surge in business that we experience each year commencing with Free Comic Book Day. Many of those awesome items are already on sale in our three retail stores, so if you are looking for a fun outing this weekend, stop by any of our Mile High Comics retail locations to be among those who get to have first pick of all of our new goodies!
As regards next weekend, we will be hosting one of our world-famous Texas Hold'em Poker Tournaments on Saturday, April 28th, commencing at 11 AM. This tournament is a benefit for the awesome Matthew Shepard Foundation, so we have doubled our usual prizes. First place will earn you a $1,000 Mile High Comics shopping spree, 2nd is good for $200, and 3rd-10th will each receive a $100 Mile High Comics gift certificate. Buy-in is only $25, and those registering in advance (prior to Saturday) will immediately be reimbursed via a complementary $25 Mile High Comics gift certificate. You can register at any Mile High Comics retail location, or by calling 303-477-0042. Seating is limited, so please do register right away.
Also taking place on Saturday, April 28th at Jason St. will be a vast Auction of comics, toys, books, statues, and other cool collectibles. All will be sold with no minimum bid. Proceeds from the Mile High Comics portion go the auction will be used to purchase our next huge comic book cover banner for on the outside of Jason St. Revenues from the charity part of the auction (we alternate items...) will be donated to the awesome "Feeding Denver's Hungry" organization. We could really use some private donations for the "Feeding Denver's Hungry" part of the auction, so if you have any comics, books, or collectibles at home that are just gathering dust, please consider donating your unwanted items to help us to combat hunger here in Denver. Thank you!
Moving on to Saturday (May 5th), please make certain that you set aside that date to visit all of your favorite comic book stores! FCBD has morphed into a nation-wide event of epic proportions that attracts hundreds of thousands of avid comics fans into stores all around America. We had over 3,000 fans visit Jason St. during FCBD last year, and we are anticipating double that number this year.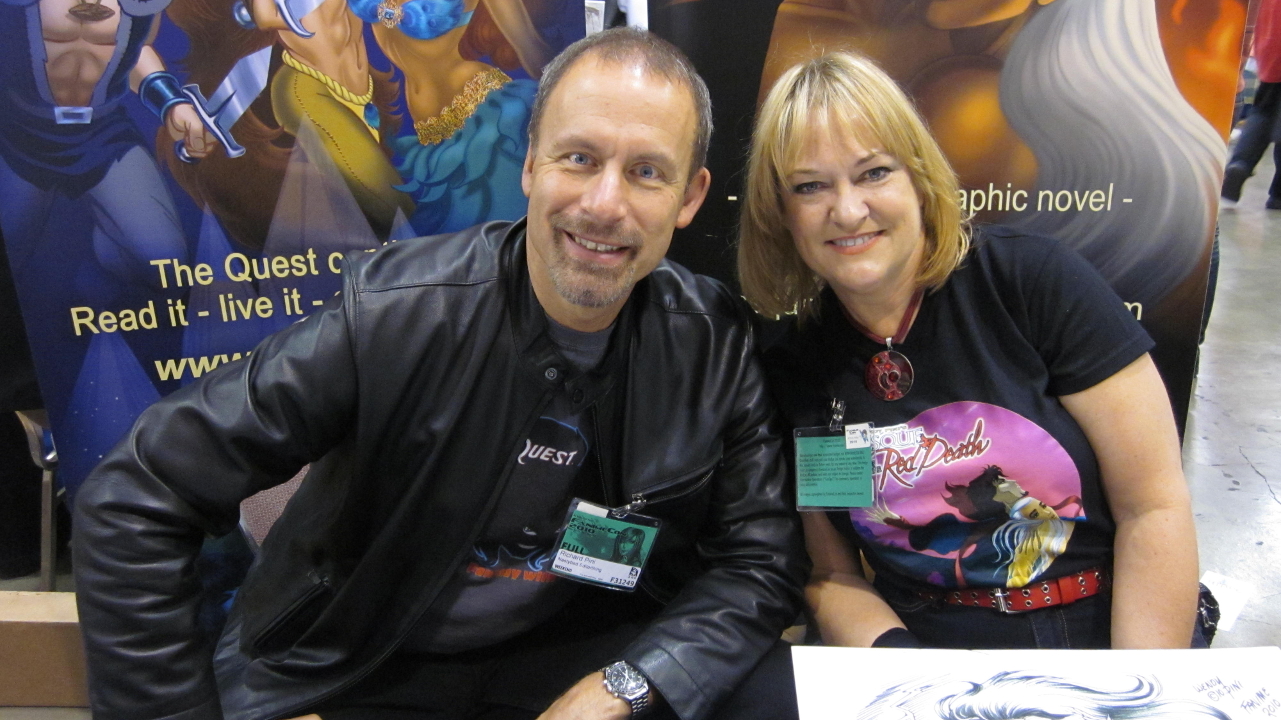 Wendy and Richard Pini Creators of ELFQUEST

Why are we expecting 6,000 fans on FCBD? Well, for starters, we have published two Mile High Comics variant editions this year that we will be giving away at no charge ONLY! on FCBD. Second, we will have an entire gallery of great comics creators signing autographs that day, including legendary ELFQUEST creators Wendy and Richard Pini, "Good Girl" artist Monte Moore, and over a dozen local creators.

Matthew Shepard limited edition print

In addition to our comics guests, we will also be hosting an ultra-rare public appearance by Dennis and Judy Shepard, the parents of martyred LGBT activist, Matthew Shepard. In honor of the occasion, we have commissioned a beautiful full color limited edition Matthew Shepard print from noted Denver artist, Thomas Haller Buchanan, which Dennis and Judy will be autographing that day in exchange for donations to the Matthew Shepard Foundation. All proceeds from the sale of the Matthew Shepard prints ($20@) will also be donated to the Foundation.
In addition to all of the above, we will also have available all 52 of the FCBD variant editions published this year by the various comic book companies. Everyone who attends our event puts can choose any three for free, and then can earn one more for each $10 spent in the store. We will also have a few (very few!) complete sets available at each store that can be earned in exchange for a $40 donation to the Matthew Shepard Foundation. If you want to pick up a complete set, please arrive early on May 5th, or order one in advance to be delivered to your favorite Mile High Comics location via the link on our website.
Happy collecting!
Chuck Rozanski,
President - Mile High Comics, Inc.
April 20, 2018

P.S. Below are some of the awesome covers to this year's FCBD variants!

AMAZING SPIDER-MAN FREE COMIC BOOK DAY


AVENGERS/CAPTAIN AMERICA FLIPBOOK FREE COMIC BOOK DAY


BOB'S BURGERS FREE COMIC BOOK DAY


DC SUPER HERO GIRLS FREE COMIC BOOK DAY


DISNEY PRINCESS FREE COMIC BOOK DAY


HOWARD LOVECRAFT BIG BOOK OF SUMMER FUN FCBD


INVADER ZIM FREE COMIC BOOK DAY


MIGHTY MORPHIN POWER RANGERS: SHATTERED GRID FCBD


NIGHTMARE BEFORE CHRISTMAS: ZERO'S JOURNEY FCBD