40% off Back Issue Comics and Magazines
Hi!
This is William with Mile High Comics. Chuck is running around getting everything ready for the huge weekend we are going to have at our Jason Street Mega Store this weekend. So I am writing this quick newsletter.
Right now we have our 40% off TAXTIME! codeword sale on all ten million of our back issue comics and magazines running. The 40% off TAXTIME! sale applies to all ten million of our back issues, excepting only new issues, a few variants, and our professionally-graded comics. Also on sale for you right now, but not a part of our codeword sale, are all 300,000 of our backlist graphic novels (40% off), comics trade paperbacks (40% off), and comics hardbacks (30% off). No codeword is needed to receive these very generous book discounts, as all of our book prices have already been reduced for you by 30%-40% off on our website.
If you are anywhere near the Denver area this weekend we have all kind of events at our Jason Street Mega Store this weekend.
The first event on Saturday will be our monthly Texas Hold'em Poker Tournament. The event starts at 11:00 am. We are already accepting advance reservations for seats in our poker tournament at our Jason Street Mega Store. If you register in advance, playing in our tournament essentially costs you literally nothing, as your $25 donation is immediately rewarded with a $25 gift certificate that you can utilize to purchase anything you might wish to own in our gigantic store. Please note, however, that we only provide these gift certificates to players who register in advance. You can certainly still register on the morning of the game, but only if we have seats still available. Right now we already have over 42 people pre-registered so don't wait!
The second event starts at 11:30 am and we will be hosting our huge no-minimum bid comics and toys auction, arrive early and take a look at all the incredible items! This auction has 40 core lots filled with 300+ Silver Age comics, rare comics variants, scarce toys, statues, original art, and much, much more. We will also have at least 100 last-minute throw-in items.
Our third event will the New Era Mayhem event. The doors open at 6:30 pm and the event starts at 7:00 pm. This is a great for the whole family, so bring the kids down to watch these amazingly talented individuals. It's fun for the whole family!
Then on Sunday April 14th we will be hosting 2 more events. First will be Aaron Riley and his The Saber Legion Light Sabers fencing group, this event starts at 2:00 PM.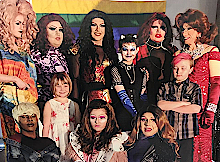 All-Ages Drag Show this Sunday

Then we will be hosting our second monthly All-Ages Drag Show produced by the sensational Miss Jessica will be held on Sunday evening, April 14th, in the awesome new 5,000 square foot events area tucked within our legendary Jason Street Mega Store
Seating for our show will begin at 5 PM, and the performances will begin at 6 PM. Join us for a joyful evening of wonderful performances by some of Denver's most dynamic and exciting young performers. All ages are welcome, as this is a show specifically created for everyone in the family to enjoy.


RMC Comic Collectors Showcase!

Last but not least our good friend Terry O'Neil from Terry's Comics will have is annual RMC Comic Collectors Showcase! This Sunday April 14th from 10AM-5PM. This convention will be held at the Embassy Suites by Hilton. 4444 N. Havana St. Denver CO 80239 (just off I-70 and Havana St). This is a smaller con but if you are looking for great deals drop by. You will find everything from Golden Age to Modern books at this fun event.
Hope to see you this weekend!
William Moulton,
Operations Manager - Mile High Comics, Inc.
April 12, 2019
MARVEL

AKIRA (MARVEL) (1988) #2 NEWSSTAND

AKIRA (MARVEL) (1988) #2 NEWSSTAND Very Fine
AKIRA (MARVEL) (1988) #14 NEWSSTAND Near Mint/Mint
AKIRA (MARVEL) (1988) #15 NEWSSTAND Very Fine
AKIRA (MARVEL) (1988) #17 NEWSSTAND Near Mint/Mint
AKIRA (MARVEL) (1988) #18 NEWSSTAND Near Mint/Mint
AKIRA (MARVEL) (1988) #19 NEWSSTAND Near Mint/Mint
AKIRA (MARVEL) (1988) #20 NEWSSTAND Near Mint/Mint
AKIRA (MARVEL) (1988) #21 NEWSSTAND Near Mint/Mint
AKIRA (MARVEL) (1988) #23 NEWSSTAND Near Mint/Mint
AKIRA (MARVEL) (1988) #24 NEWSSTAND Near Mint/Mint
AKIRA (MARVEL) (1988) #25 NEWSSTAND Very Fine
AKIRA (MARVEL) (1988) #26 NEWSSTAND Very Fine
AKIRA (MARVEL) (1988) #27 NEWSSTAND Near Mint/Mint
AKIRA (MARVEL) (1988) #28 NEWSSTAND Near Mint/Mint
AKIRA (MARVEL) (1988) #29 NEWSSTAND Near Mint/Mint
AKIRA (MARVEL) (1988) #30 NEWSSTAND Very Fine
AKIRA (MARVEL) (1988) #32 NEWSSTAND Very Fine

AMAZING SPIDER-MAN (2014) (#1-20.1) (MARVEL) #1 M&M Near Mint/Mint

BLACK PANTHER (2005) (#1-41) (MARVEL) #35 Very Fine

CAPTAIN MARVEL (2014) (#1-15) (MARVEL) #9 Near Mint/Mint

FALL OF THE HULKS: SAVAGE SHE-HULKS (2010) #2 Very Fine


HULK (2017) (#709-UP) (MARVEL LEGACY)(INCREDIBLE HULK) #709

HULK (2017) (#709-UP) (MARVEL LEGACY)(INCREDIBLE HULK) #709 Near Mint/Mint

IRON MAN (1968) (#1-332) (INVINCIBLE IRON MAN)(MARVEL) #142 Very Fine

NEW AVENGERS OMNIBUS HC (2012) #1 Fine

TOMB OF DRACULA (1991) (#1-4) (MARVEL) (PRESTIGE) #2 NEWSSTAND Very Fine

WOLVERINE: OLD MAN LOGAN PREMIERE HC (2009) #1 Near Mint/Mint

X-MEN (1963) (#1-113, UNCANNY X-MEN #114-544) (MARVEL) #266 Near Mint/Mint

X-MEN (1991) (#1-275) (MARVEL) #196 Near Mint/Mint
X-MEN (1991) (#1-275) (MARVEL) #197 Near Mint/Mint

DC
BATMAN & ROBIN VOL. 5: THE BIG BURN HC (2014) #1 Near Mint/Mint

BATMAN ADVENTURES (1992) #18 Near Mint/Mint

BATMAN ADVENTURES TPB (1994) #1 2ND PRINT Very Good


BATMAN/SUPERMAN VOL. 3: SECOND CHANCE HC (2015) #1

BATMAN/SUPERMAN VOL. 3: SECOND CHANCE HC (2015) #1 Near Mint/Mint

BATMAN: ARKHAM ORIGINS HC (2014) #1 Near Mint/Mint

BATMAN: BRUCE WAYNE - FUGITIVE TPB (2002) #1 Near Mint/Mint

BATMAN: DETECTIVE COMICS VOL. 2 - SCARE TACTICS HC (2013) #1 Near Mint/Mint

BATMAN: EVOLUTION TPB (2001) #1 Very Fine

BATMAN: THE DARK KNIGHT VOL. 4: CLAY HC (2014) #1 Near Mint/Mint

BATMAN: VENOM TPB (DENNY O'NEIL) (1993) #1 Near Mint/Mint

BLACK ORCHID TRADE PAPERBACK (1991) #1 2ND PRINT (DC: Vertigo Press) Near Mint/Mint

BLACKEST NIGHT HC (2010) #1 Near Mint/Mint

BOOKS OF MAGIC: BINDINGS TPB (VOL. 1) (1995) #1 (DC: Vertigo Press) Near Mint/Mint

COSMIC ODYSSEY TRADE PAPERBACK (1992) #1 Near Mint/Mint

GOLDEN AGE TPB (1995) #1 2ND PRINT Near Mint/Mint


GON COLOR SPECTACULAR (1998) #1

GON COLOR SPECTACULAR (1998) #1 (DC: Paradox Press) Near Mint/Mint

INVISIBLES: SAY YOU WANT A REVOLUTION TPB (VOL. 1) (1996) #1 (DC: Vertigo Press) Near Mint/Mint

NEW DEADWARDIANS (2012) #1 VARIANT Near Mint/Mint

NIGHTWING: FREEFALL TPB (2008) #1 Near Mint/Mint

NIGHTWING: GREAT LEAP TPB (2009) #1 Near Mint/Mint

NIGHTWING: LOVE AND WAR TPB (2007) #1 Fine

NIGHTWING: MOBBED UP TPB (2006) #1 Very Fine

NIGHTWING: TIES THAT BIND TPB (1997) #1 Near Mint/Mint

RED HOOD & THE OUTLAWS ANNUAL (2017) (#1) (DC REBIRTH) #1 Near Mint/Mint

ROBIN: YEAR ONE TPB (2002) #1 Near Mint/Mint

RONIN TPB (1987) #1 2ND PRT Fine


STAR TREK: ASHES OF EDEN TP (1995) #1

STAR TREK: ASHES OF EDEN TP (1995) #1 Near Mint/Mint

STAR TREK: NEXT GENERATION-STAR LOST TPB #1 Near Mint/Mint

SUPER SONS (DC REBIRTH) (2017) #1 Near Mint/Mint

SUPERMAN ADVENTURES TPB (2015) #2 Near Mint/Mint

SWAMP THING, SAGA OF (1982) #26 NEWSSTAND (DC: Vertigo Press) Good
SWAMP THING, SAGA OF (1982) #44 (DC: Vertigo Press) Fine
SWAMP THING, SAGA OF (1982) #47 (DC: Vertigo Press) Fine
SWAMP THING, SAGA OF (1982) #48 (DC: Vertigo Press) Fine
SWAMP THING, SAGA OF (1982) #49 (DC: Vertigo Press) Fine
SWAMP THING, SAGA OF (1982) #50 NEWSSTAND (DC: Vertigo Press) Very Good
SWAMP THING, SAGA OF (1982) #51 NEWSSTAND (DC: Vertigo Press) Fine
SWAMP THING, SAGA OF (1982) #52 (DC: Vertigo Press) Very Fine
SWAMP THING, SAGA OF (1982) #53 (DC: Vertigo Press) Very Good
SWAMP THING, SAGA OF (1982) #53 (DC: Vertigo Press) Very Fine
SWAMP THING, SAGA OF (1982) #54 (DC: Vertigo Press) Near Mint/Mint
SWAMP THING, SAGA OF (1982) #55 (DC: Vertigo Press) Very Fine
SWAMP THING, SAGA OF (1982) #70 (DC: Vertigo Press) Fine

SWAMP THING, SAGA OF ANNUAL (1982) #5 (DC: Vertigo Press) Near Mint/Mint
SWAMP THING, SAGA OF ANNUAL (1982) #5 (DC: Vertigo Press) Fine

SWAMP THING, SAGA OF TPB (DIRECT) (VOL. 1) (1987) #1 2ND PRINT (DC: Vertigo Press) Near Mint/Mint


SWAMP THING: LOVE AND DEATH TPB (1990) #1

SWAMP THING: LOVE AND DEATH TPB (1990) #1 (DC: Vertigo Press) Near Mint/Mint

TEEN TITANS (2011) (#0-30) (DC NEW52) #23 .2 DELUXE Very Fine

TEEN TITANS: GO (2003) #40 Near Mint/Mint
TEEN TITANS: GO (2003) #41 Near Mint/Mint

VALOR (1992) (#1-23) (DC) #12 Near Mint/Mint
VALOR (1992) (#1-23) (DC) #13 Fine
VALOR (1992) (#1-23) (DC) #14 Fine

VERTIGO ENCYCLOPEDIA (1993) #1 (DC: Vertigo Press) Near Mint/Mint

WEIRD WAR TALES (1997) (#1-4) (DC VERTIGO) #2 (DC: Vertigo Press) Near Mint/Mint
WEIRD WAR TALES (1997) (#1-4) (DC VERTIGO) #3 (DC: Vertigo Press) Near Mint/Mint
WEIRD WAR TALES (1997) (#1-4) (DC VERTIGO) #4 (DC: Vertigo Press) Near Mint/Mint

WONDER WOMAN (1987) (#0-226) (DC) #0 Near Mint/Mint
WONDER WOMAN (1987) (#0-226) (DC) #55 Very Fine
WONDER WOMAN (1987) (#0-226) (DC) #95 Fine
WONDER WOMAN (1987) (#0-226) (DC) #110 Near Mint/Mint
WONDER WOMAN (1987) (#0-226) (DC) #112 Near Mint/Mint
WONDER WOMAN (1987) (#0-226) (DC) #117 Near Mint/Mint
WONDER WOMAN (1987) (#0-226) (DC) #118 Near Mint/Mint
WONDER WOMAN (1987) (#0-226) (DC) #119 Near Mint/Mint


WONDER WOMAN (1987) (#0-226) (DC) #120

WONDER WOMAN (1987) (#0-226) (DC) #120 Near Mint/Mint
WONDER WOMAN (1987) (#0-226) (DC) #121 Near Mint/Mint
WONDER WOMAN (1987) (#0-226) (DC) #122 Near Mint/Mint
WONDER WOMAN (1987) (#0-226) (DC) #123 Near Mint/Mint
WONDER WOMAN (1987) (#0-226) (DC) #124 Near Mint/Mint
WONDER WOMAN (1987) (#0-226) (DC) #125 Near Mint/Mint
WONDER WOMAN (1987) (#0-226) (DC) #199 Near Mint/Mint

WONDER WOMAN (2011) (#0-52) (DC NEW52) #23 .1 DELUXE Near Mint/Mint
WONDER WOMAN (2011) (#0-52) (DC NEW52) #23 .2 DELUXE Near Mint/Mint

WONDER WOMAN (2016) (#1-UP) (DC REBIRTH) #1 Near Mint/Mint
WONDER WOMAN (2016) (#1-UP) (DC REBIRTH) #3 Near Mint/Mint

WONDER WOMAN ANNUAL (1988) #6 Near Mint/Mint

WONDER WOMAN GALLERY (1996) #1 Near Mint/Mint

WONDER WOMAN REBIRTH (2016) #1 Near Mint/Mint

DARK HORSE COMICS
ORION TPB (1994) #1 Near Mint/Mint

OUTLANDERS TRADE PAPERBACK (1989) #1 Near Mint/Mint


OUTLANDERS TRADE PAPERBACK (1989) #2

OUTLANDERS TRADE PAPERBACK (1989) #2 Fine

IMAGE COMICS
AVENGELYNE TPB (1995) #1 Near Mint/Mint

BLACK SCIENCE (2013) (#1-UP) (IMAGE) #1 HASTINGS Fine
BLACK SCIENCE (2013) (#1-UP) (IMAGE) #1 MIDTOWN ED Very Fine

POSTAL (2015) #1 D SIGNED Near Mint/Mint

WANTED TPB (2005) #1 5TH PRINT (Image Top Cow) Good

WITCHBLADE (1995) (#1-185, #500) (IMAGE) #72 (Image Top Cow) Very Fine
WITCHBLADE (1995) (#1-185, #500) (IMAGE) #168 A (Image Top Cow) Near Mint/Mint
WITCHBLADE (1995) (#1-185, #500) (IMAGE) #169 A (Image Top Cow) Very Fine
WITCHBLADE (1995) (#1-185, #500) (IMAGE) #170 A (Image Top Cow) Very Fine
WITCHBLADE (1995) (#1-185, #500) (IMAGE) #172 A (Image Top Cow) Near Mint/Mint

WIZARD'S TALE TPB (1997) #1 (Image Homage) Near Mint/Mint

INDEPENDENTS
ANIMAL MYSTIC TPB (BY DARK ONE) (1996) #1 (Sirius) Near Mint/Mint

BEST OF NEGATIVE BURN TPB #1 YEAR ONE (Caliber Press) Near Mint/Mint

BLACK CATS: NEVER LUCKY (2006) #1 (Radio Comix) Fine

BLAZE BROTHERS TPB (2014) #1 (IDW Publishing) Near Mint/Mint

BOOTLEG (2000) #1 (White Lightning) Fine
BOOTLEG (2000) #15 (White Lightning) Fine
BOOTLEG (2000) #19 (White Lightning) Very Good

CALIBAN (2014) #5 DARKMATTER (Avatar Comics) Near Mint/Mint
CALIBAN (2014) #7 DESIGN (Avatar Comics) Very Fine

CHIRALITY TPB (1997) #1 (CPM Comics) Near Mint/Mint

CLIVE BARKER'S DREAD TPB (1992) #1 (Eclipse Enterprises) Near Mint/Mint

CLIVE BARKER'S LIFE OF DEATH (1993) #1 (Eclipse Enterprises) Near Mint/Mint

COBRA (Viz Comics) (1990) #12 (Viz Comics) Near Mint/Mint

CREAM & SUGAR (1999) #1 (White Lightning) Fine
CREAM & SUGAR (1999) #3 (White Lightning) Fine

CROW (IDW Publishing) (#1-5) (2012) #1 INC B (IDW Publishing) Near Mint/Mint
CROW (IDW Publishing) (#1-5) (2012) #2 INC B (IDW Publishing) Fine
CROW (IDW Publishing) (#1-5) (2012) #4 INCENTIVE (IDW Publishing) Near Mint/Mint


CROW COLLECTED TPB (KITCHEN SINK) (1993) #1 3RD PRINT

CROW COLLECTED TPB (KITCHEN SINK) (1993) #1 3RD PRINT (Kitchen Sink Publishing) Near Mint/Mint

CROW: SKINNING THE WOLVES (2012) #2 INCENTIVE (IDW Publishing) Very Fine

DRAGONFLIGHT TPB (ANNE MCCAFFREY) (1993) #1 (Eclipse Enterprises) Near Mint/Mint

EDEN (2002) #1 (Ironcat) Near Mint/Mint

FOXXXIES (2006) #1 (Radio Comix) Fine

HOROBI (1989) #1 (Viz Comics) Near Mint/Mint

KIRBY: GENESIS (2011) #2 ACETATE (DYNAMITE Entertainment) Near Mint/Mint
KIRBY: GENESIS (2011) #3 DFE VIRGIN (DYNAMITE Entertainment) Near Mint/Mint

KIRBY: GENESIS - CAPTAIN VICTORY (2011) #2 OEMING B&W (DYNAMITE Entertainment) Very Fine
KIRBY: GENESIS - CAPTAIN VICTORY (2011) #2 ROSS VIRGN (DYNAMITE Entertainment) Near Mint/Mint
KIRBY: GENESIS - CAPTAIN VICTORY (2011) #3 OEMING B&W (DYNAMITE Entertainment) Near Mint/Mint
KIRBY: GENESIS - CAPTAIN VICTORY (2011) #3 ROSS VIRGN (DYNAMITE Entertainment) Very Fine

MELTING POT COLLECTION (1995) #1 TPB (Kitchen Sink Publishing) Near Mint/Mint

MILK (1997) #11 (Radio Comix) Very Fine
MILK (1997) #32 (Radio Comix) Very Fine

MISTY GIRL EXTREME SPECIAL (1997) #1 (Eros Comix (Fantagraphics)) Fine

NIPPLE MAGICIAN (2004) #1 (White Lightning) Fine
NIPPLE MAGICIAN (2004) #2 (White Lightning) Fine
NIPPLE MAGICIAN (2004) #3 (White Lightning) Fine
NIPPLE MAGICIAN (2004) #4 (White Lightning) Fine

SHATTER TPB (1988) #1 (First Comics) Fine

SHI: SENRYAKU TPB (1995) #1 (Crusade) Near Mint/Mint

SHI: WAY OF THE WARRIOR TPB (1995) #1 (Crusade) Near Mint/Mint
SHI: WAY OF THE WARRIOR TPB (1995) #2 (Crusade) Near Mint/Mint

TICK OMNIBUS #1 LIMITED (New England Comics) Very Fine

TOMMI GUNN (1996) (#0-3) (DIGITAL MELTDOWN) #0 (London Night Studios) Near Mint/Mint
TOMMI GUNN (1996) (#0-3) (DIGITAL MELTDOWN) #0 (London Night Studios) Fine
TOMMI GUNN (1996) (#0-3) (DIGITAL MELTDOWN) #0 NUDE (London Night Studios) Near Mint/Mint
TOMMI GUNN (1996) (#0-3) (DIGITAL MELTDOWN) #0 (London Night Studios) Very Fine
TOMMI GUNN (1996) (#0-3) (DIGITAL MELTDOWN) #1 (London Night Studios) Near Mint/Mint
TOMMI GUNN (1996) (#0-3) (DIGITAL MELTDOWN) #1 (London Night Studios) Fine
TOMMI GUNN (1996) (#0-3) (DIGITAL MELTDOWN) #1 (London Night Studios) Good
TOMMI GUNN (1996) (#0-3) (DIGITAL MELTDOWN) #1 1/2 (London Night Studios) Near Mint/Mint
TOMMI GUNN (1996) (#0-3) (DIGITAL MELTDOWN) #1 1/2 NUDE (London Night Studios) Very Fine
TOMMI GUNN (1996) (#0-3) (DIGITAL MELTDOWN) #1 1/2 (London Night Studios) Very Fine
TOMMI GUNN (1996) (#0-3) (DIGITAL MELTDOWN) #1 1/2 (London Night Studios) Fine
TOMMI GUNN (1996) (#0-3) (DIGITAL MELTDOWN) #1 1/2 NUDE (London Night Studios) Fine
TOMMI GUNN (1996) (#0-3) (DIGITAL MELTDOWN) #1 NAUGHTY PL (London Night Studios) Near Mint/Mint
TOMMI GUNN (1996) (#0-3) (DIGITAL MELTDOWN) #1 1/2 (London Night Studios) Good
TOMMI GUNN (1996) (#0-3) (DIGITAL MELTDOWN) #1 1/2 NUDE (London Night Studios) Very Good
TOMMI GUNN (1996) (#0-3) (DIGITAL MELTDOWN) #1 NAUGHTY PL (London Night Studios) Very Fine
TOMMI GUNN (1996) (#0-3) (DIGITAL MELTDOWN) #1 NUDECHROME (London Night Studios) Near Mint/Mint
TOMMI GUNN (1996) (#0-3) (DIGITAL MELTDOWN) #1 NUDECHRSGN (London Night Studios) Near Mint/Mint
TOMMI GUNN (1996) (#0-3) (DIGITAL MELTDOWN) #1 (London Night Studios) Very Good
TOMMI GUNN (1996) (#0-3) (DIGITAL MELTDOWN) #1 (London Night Studios) Very Fine
TOMMI GUNN (1996) (#0-3) (DIGITAL MELTDOWN) #2 (London Night Studios) Fine
TOMMI GUNN (1996) (#0-3) (DIGITAL MELTDOWN) #2 (London Night Studios) Near Mint/Mint
TOMMI GUNN (1996) (#0-3) (DIGITAL MELTDOWN) #2 NUDE PHOTO (London Night Studios) Near Mint/Mint
TOMMI GUNN (1996) (#0-3) (DIGITAL MELTDOWN) #2 NUDE PHOTO (London Night Studios) Very Fine
TOMMI GUNN (1996) (#0-3) (DIGITAL MELTDOWN) #2 NUDE PHOTO (London Night Studios) Fine
TOMMI GUNN (1996) (#0-3) (DIGITAL MELTDOWN) #2 (London Night Studios) Very Good
TOMMI GUNN (1996) (#0-3) (DIGITAL MELTDOWN) #2 (London Night Studios) Very Fine
TOMMI GUNN (1996) (#0-3) (DIGITAL MELTDOWN) #3 (London Night Studios) Fine
TOMMI GUNN (1996) (#0-3) (DIGITAL MELTDOWN) #3 (London Night Studios) Near Mint/Mint
TOMMI GUNN (1996) (#0-3) (DIGITAL MELTDOWN) #3 NUDE PHOTO (London Night Studios) Near Mint/Mint
TOMMI GUNN (1996) (#0-3) (DIGITAL MELTDOWN) #3 NUDE PHOTO (London Night Studios) Very Fine
TOMMI GUNN (1996) (#0-3) (DIGITAL MELTDOWN) #3 (London Night Studios) Very Good
TOMMI GUNN (1996) (#0-3) (DIGITAL MELTDOWN) #3 (London Night Studios) Very Fine

TOMMI GUNN (1997) (#1-3) (KILLER LUST) #1 (London Night Studios) Fine
TOMMI GUNN (1997) (#1-3) (KILLER LUST) #1 (London Night Studios) Near Mint/Mint
TOMMI GUNN (1997) (#1-3) (KILLER LUST) #1 NUDE PHOTO (London Night Studios) Near Mint/Mint
TOMMI GUNN (1997) (#1-3) (KILLER LUST) #1 NUDE PHOTO (London Night Studios) Very Fine
TOMMI GUNN (1997) (#1-3) (KILLER LUST) #1 PHOTO (London Night Studios) Near Mint/Mint
TOMMI GUNN (1997) (#1-3) (KILLER LUST) #1 NUDE PHOTO (London Night Studios) Fine
TOMMI GUNN (1997) (#1-3) (KILLER LUST) #1 PHOTO (London Night Studios) Very Fine
TOMMI GUNN (1997) (#1-3) (KILLER LUST) #1 (London Night Studios) Very Good
TOMMI GUNN (1997) (#1-3) (KILLER LUST) #1 (London Night Studios) Very Fine
TOMMI GUNN (1997) (#1-3) (KILLER LUST) #2 (London Night Studios) Fine
TOMMI GUNN (1997) (#1-3) (KILLER LUST) #2 (London Night Studios) Near Mint/Mint
TOMMI GUNN (1997) (#1-3) (KILLER LUST) #2 NUDE PHOTO (London Night Studios) Near Mint/Mint
TOMMI GUNN (1997) (#1-3) (KILLER LUST) #2 NUDE PHOTO (London Night Studios) Very Fine
TOMMI GUNN (1997) (#1-3) (KILLER LUST) #2 NUDE PHOTO (London Night Studios) Fine
TOMMI GUNN (1997) (#1-3) (KILLER LUST) #2 (London Night Studios) Very Fine
TOMMI GUNN (1997) (#1-3) (KILLER LUST) #3 PHOTO (London Night Studios) Near Mint/Mint
TOMMI GUNN (1997) (#1-3) (KILLER LUST) #3 NUDE PHOTO (London Night Studios) Near Mint/Mint
TOMMI GUNN (1997) (#1-3) (KILLER LUST) #3 PHOTO (London Night Studios) Very Fine

TOMMI GUNN ANNUAL (1997) #1 (London Night Studios) Fine
TOMMI GUNN ANNUAL (1997) #1 NUDE PHOTO (London Night Studios) Very Fine
TOMMI GUNN ANNUAL (1997) #1 NUDE PHOTO (London Night Studios) Fine

TOUR OF TORTURE LIMITED #1 (London Night Studios) Near Mint/Mint
TOUR OF TORTURE LIMITED #1 (London Night Studios) Very Fine

TRAPPED (DEAN KOONTZ) (1993) #1 VARIANT (Eclipse Enterprises) Fine

ULTIMATE STRIKE #4 (London Night Studios) Near Mint/Mint
ULTIMATE STRIKE #7 (London Night Studios) Near Mint/Mint
ULTIMATE STRIKE #8 (London Night Studios) Near Mint/Mint
ULTIMATE STRIKE #9 (London Night Studios) Near Mint/Mint
ULTIMATE STRIKE #10 (London Night Studios) Near Mint/Mint
ULTIMATE STRIKE #11 (London Night Studios) Near Mint/Mint
ULTIMATE STRIKE #12 (London Night Studios) Near Mint/Mint

VAMPEROTICA (1994) (#1-50) (RED REIGN) (LUXURA) #1 2ND PRINT (Brainstorm Comics) Near Mint/Mint
VAMPEROTICA (1994) (#1-50) (RED REIGN) (LUXURA) #2 (Brainstorm Comics) Near Mint/Mint
VAMPEROTICA (1994) (#1-50) (RED REIGN) (LUXURA) #2 PLATINUM (Brainstorm Comics) Near Mint/Mint
VAMPEROTICA (1994) (#1-50) (RED REIGN) (LUXURA) #3 ENCORENUDE (Brainstorm Comics) Very Fine
VAMPEROTICA (1994) (#1-50) (RED REIGN) (LUXURA) #16 NUDE (Brainstorm Comics) Near Mint/Mint
VAMPEROTICA (1994) (#1-50) (RED REIGN) (LUXURA) #17 CHROME SGN (Brainstorm Comics) Near Mint/Mint
VAMPEROTICA (1994) (#1-50) (RED REIGN) (LUXURA) #18 VIRGINNUDE (Brainstorm Comics) Near Mint/Mint
VAMPEROTICA (1994) (#1-50) (RED REIGN) (LUXURA) #19 NUDE (Brainstorm Comics) Near Mint/Mint
VAMPEROTICA (1994) (#1-50) (RED REIGN) (LUXURA) #20 NUDE (Brainstorm Comics) Near Mint/Mint
VAMPEROTICA (1994) (#1-50) (RED REIGN) (LUXURA) #20 NUDE (Brainstorm Comics) Very Fine


VAMPEROTICA (1994) (#1-50) (RED REIGN) (LUXURA) #22 NUDE

VAMPEROTICA (1994) (#1-50) (RED REIGN) (LUXURA) #22 NUDE (Brainstorm Comics) Near Mint/Mint
VAMPEROTICA (1994) (#1-50) (RED REIGN) (LUXURA) #23 NUDE (Brainstorm Comics) Near Mint/Mint
VAMPEROTICA (1994) (#1-50) (RED REIGN) (LUXURA) #24 NUDE (Brainstorm Comics) Near Mint/Mint
VAMPEROTICA (1994) (#1-50) (RED REIGN) (LUXURA) #25 NUDE (Brainstorm Comics) Near Mint/Mint
VAMPEROTICA (1994) (#1-50) (RED REIGN) (LUXURA) #26 NUDE (Brainstorm Comics) Near Mint/Mint
VAMPEROTICA (1994) (#1-50) (RED REIGN) (LUXURA) #27 (Brainstorm Comics) Near Mint/Mint
VAMPEROTICA (1994) (#1-50) (RED REIGN) (LUXURA) #28 NUDE (Brainstorm Comics) Near Mint/Mint
VAMPEROTICA (1994) (#1-50) (RED REIGN) (LUXURA) #29 NUDE (Brainstorm Comics) Near Mint/Mint
VAMPEROTICA (1994) (#1-50) (RED REIGN) (LUXURA) #30 (Brainstorm Comics) Near Mint/Mint
VAMPEROTICA (1994) (#1-50) (RED REIGN) (LUXURA) #30 NUDE (Brainstorm Comics) Near Mint/Mint
VAMPEROTICA (1994) (#1-50) (RED REIGN) (LUXURA) #31 (Brainstorm Comics) Near Mint/Mint
VAMPEROTICA (1994) (#1-50) (RED REIGN) (LUXURA) #31 NUDE (Brainstorm Comics) Near Mint/Mint
VAMPEROTICA (1994) (#1-50) (RED REIGN) (LUXURA) #31 NUDE (Brainstorm Comics) Very Fine
VAMPEROTICA (1994) (#1-50) (RED REIGN) (LUXURA) #32 (Brainstorm Comics) Near Mint/Mint
VAMPEROTICA (1994) (#1-50) (RED REIGN) (LUXURA) #32 NUDE (Brainstorm Comics) Near Mint/Mint
VAMPEROTICA (1994) (#1-50) (RED REIGN) (LUXURA) #33 (Brainstorm Comics) Near Mint/Mint
VAMPEROTICA (1994) (#1-50) (RED REIGN) (LUXURA) #33 NUDE (Brainstorm Comics) Near Mint/Mint
VAMPEROTICA (1994) (#1-50) (RED REIGN) (LUXURA) #34 (Brainstorm Comics) Near Mint/Mint
VAMPEROTICA (1994) (#1-50) (RED REIGN) (LUXURA) #34 NUDE (Brainstorm Comics) Near Mint/Mint
VAMPEROTICA (1994) (#1-50) (RED REIGN) (LUXURA) #35 (Brainstorm Comics) Near Mint/Mint
VAMPEROTICA (1994) (#1-50) (RED REIGN) (LUXURA) #35 NUDE (Brainstorm Comics) Near Mint/Mint
VAMPEROTICA (1994) (#1-50) (RED REIGN) (LUXURA) #36 (Brainstorm Comics) Near Mint/Mint
VAMPEROTICA (1994) (#1-50) (RED REIGN) (LUXURA) #36 NUDE (Brainstorm Comics) Near Mint/Mint
VAMPEROTICA (1994) (#1-50) (RED REIGN) (LUXURA) #37 NUDE (Brainstorm Comics) Near Mint/Mint
VAMPEROTICA (1994) (#1-50) (RED REIGN) (LUXURA) #39 NUDE (Brainstorm Comics) Near Mint/Mint
VAMPEROTICA (1994) (#1-50) (RED REIGN) (LUXURA) #40 NUDE (Brainstorm Comics) Near Mint/Mint
VAMPEROTICA (1994) (#1-50) (RED REIGN) (LUXURA) #41 NUDE (Brainstorm Comics) Near Mint/Mint


VAMPEROTICA (1994) (#1-50) (RED REIGN) (LUXURA) #42

VAMPEROTICA (1994) (#1-50) (RED REIGN) (LUXURA) #42 (Brainstorm Comics) Near Mint/Mint
VAMPEROTICA (1994) (#1-50) (RED REIGN) (LUXURA) #43 (Brainstorm Comics) Near Mint/Mint
VAMPEROTICA (1994) (#1-50) (RED REIGN) (LUXURA) #43 NUDE (Brainstorm Comics) Near Mint/Mint
VAMPEROTICA (1994) (#1-50) (RED REIGN) (LUXURA) #44 (Brainstorm Comics) Near Mint/Mint
VAMPEROTICA (1994) (#1-50) (RED REIGN) (LUXURA) #44 NUDE (Brainstorm Comics) Near Mint/Mint
VAMPEROTICA (1994) (#1-50) (RED REIGN) (LUXURA) #45 (Brainstorm Comics) Near Mint/Mint
VAMPEROTICA (1994) (#1-50) (RED REIGN) (LUXURA) #45 NUDE (Brainstorm Comics) Near Mint/Mint
VAMPEROTICA (1994) (#1-50) (RED REIGN) (LUXURA) #46 (Brainstorm Comics) Near Mint/Mint
VAMPEROTICA (1994) (#1-50) (RED REIGN) (LUXURA) #46 NUDE (Brainstorm Comics) Very Fine
VAMPEROTICA (1994) (#1-50) (RED REIGN) (LUXURA) #47 (Brainstorm Comics) Near Mint/Mint
VAMPEROTICA (1994) (#1-50) (RED REIGN) (LUXURA) #47 NUDE (Brainstorm Comics) Near Mint/Mint

VAMPEROTICA ANNUAL #1 CAVALCADE (Brainstorm Comics) Near Mint/Mint
VAMPEROTICA ANNUAL #1 GOLD ED (Brainstorm Comics) Very Fine

VAMPEROTICA COMMEMORATIVE EDITION (1995) #1 (Brainstorm Comics) Near Mint/Mint
VAMPEROTICA COMMEMORATIVE EDITION (1995) #1 SILVER (Brainstorm Comics) Very Fine
VAMPEROTICA COMMEMORATIVE EDITION (1995) #1 GOLD (Brainstorm Comics) Near Mint/Mint

VAMPEROTICA LINGERIE SPECIAL #1 (Brainstorm Comics) Near Mint/Mint
VAMPEROTICA LINGERIE SPECIAL #1 COMM. (Brainstorm Comics) Near Mint/Mint
VAMPEROTICA LINGERIE SPECIAL #1 GOLD (Brainstorm Comics) Near Mint/Mint

VAMPEROTICA SWIMSUIT SPECIAL #1 GOLD (Brainstorm Comics) Near Mint/Mint
VAMPEROTICA SWIMSUIT SPECIAL #1 GOLD (Brainstorm Comics) Very Fine

VAMPIRE LESTAT (ANNE RICE) (1990) #12 (Innovation Publishing) Near Mint/Mint

VAMPIRE'S TATTOO #1 (London Night Studios) Near Mint/Mint
VAMPIRE'S TATTOO #1 NUDE (London Night Studios) Near Mint/Mint

VAMPRESS LUXURA (1996) #1 GOLD (Brainstorm Comics) Near Mint/Mint
VAMPRESS LUXURA (1996) #1 GOLD SIGN (Brainstorm Comics) Near Mint/Mint
VAMPRESS LUXURA (1996) #1 PLATINUM (Brainstorm Comics) Near Mint/Mint

VR VIXEN #0 PHOTO (London Night Studios) Near Mint/Mint
VR VIXEN #0 PHOTO NUDE (London Night Studios) Very Fine
VR VIXEN #0 PHOTO (London Night Studios) Very Fine

YATTERING AND JACK TPB (CLIVE BARKER) (1992) #1 (Eclipse Enterprises) Near Mint/Mint

ZEN INTERGALACTIC NINJA COLOR (1994) #0 NEWSSTAND (Entity Comics (Express Comics)) Near Mint/Mint
ZEN INTERGALACTIC NINJA COLOR (1994) #1 NEWSSTAND (Entity Comics (Express Comics)) Near Mint/Mint

ZEN INTERGALACTIC NINJA: TIBERIA'S CURSE TPB (1994) #1 (Entity Comics (Express Comics)) Fine

ZEN INTG. NINJA: ALTERNITY SAGA TPB (1994) #1 (Express Press) Near Mint/Mint