Lakewood Store Closes, 60% Off Sale Ending Soon
Howdy!
I am in a joyous mood today, as it is the 41st anniversary of when Nanette and I were married on a mountainside above Boulder. We both never thought that we would be able to handle married life for any extended period of time, so we intentionally picked April's Fools Day as our anniversary. Well, the joke was on us, as here we are four decades later, and we're still married! Marrying Nanette was my very best life decision, ever...
It also makes me very happy that we moved the last truckload of material out of our Lakewood, Colorado retail store yesterday, and returned the keys to the new owners of the shopping center. That store served us well for many years, but since our rent jumped from $6,000 to over $10,000 per month, it has been unable to turn a profit despite having a magnificent inventory of 12,000+ carefully-selected comics trade paperbacks and hardbacks, and 40,000 awesome back issue comics. Those assets are now being redeployed in our Jason St. Mega-Store, where they will help to build the libraries and collections of our many thousands of visitors this summer. It is always sad to close a location that has been open for nearly 30 years, but adapting to changing circumstances is truly critical to the survival of any business, so I really had no choice. I sincerely thank everyone who supported our efforts in Lakewood for these many years, and hope that you will allow us to keep helping you via our Jason St. location.
In other news, our 60% off SPRINGBREAK! codeword sale is still in effect for you on all ten million of our back issue comics and magazines (excluding only new issues, a few variants, and our professionally-graded comics), but not for very much longer. In point of fact, eliminating our operating losses from Lakewood is going to help our weekly cash flow by quite a bit, and our summer business inordinately strong, so I don't see much of a reason to return to offering 60% off for a while. We do still owe the huge annual property taxes on Jason St., but that should be a relatively easy hurdle to overcome, especially given that our sales at Jason St. are exploding. Incredibly, last month was the highest-grossing sales month in the Mega-Store's entire nine-year history. Woo!
I will close with a quick mention that our monthly poker tournament, professional wrestling night, no-minimum-bid comics and toys auction, and our all-ages drag show will all be held on either April 13th or 14th. That's because I will be gone this upcoming weekend to the incredible Night of a Thousand Gowns Ball, which is held in the grand ballroom of the immense Mariott Marquis Hotel, right in the heart of Times Square.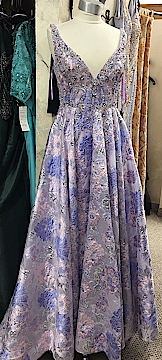 Bettie's Night of a Thousand Gowns Ball Dress

In case you didn't know, Night of a Thousand Gowns is the largest and most prestigious drag event in America, with upwards of 1,000 attendees helping to raise a huge sum of contributions for charity. The jewelry, gowns, shoes, and wigs on display are the best available in the world, and the performances include cameo appearances by the actual cast members from Broadway shows. I'm hoping that Bettie's beautiful new sky blue gown, resplendent with silver embroidery, helps her to make the grade at this incredible annual event.
Happy collecting!
Chuck Rozanski,
President - Mile High Comics, Inc.
April 1, 2019
P.S. Bettie won't be performing at NOTG, but on this Friday night I will be in the lineup to perform a number in the out-of-town show at Industry Bar in New York City, between 8th and 9th, on 52nd. My leg is still bothering me quite a bit from my accident at the beginning of last month, but I really want to perform, so I will do my best. I hope that I see you there on Friday night!