High Grade Silver Age Marvel Comics Arrive
Howdy!
I have just a couple of minutes in which to let you know that our life here at Mile High Comicse continues to be insanely busy. I just returned from bringing our 5th 10,000 lb truckload of comics, trade paperbacks, hardbacks, and fixtures from our soon-to-be-closed Lakewood, Colorado retail location. As soon as they finish unloading here into Jason St., I will head back for more. My best guess is that I have another 50,000 lbs of material that I have to move out of Lakewood by Sunday night. Whew!
While I am busy shutting down the last of our smaller stores, our two comics buyers, Will Moulton and Pam Brandle, continue purchasing awesome collections of comics to offer you via our website from our clientele here in Jason St. As a case in point, Will paid a small fortune for a really nice Marvel Silver Age collection yesterday that contained about 500 different issues, with quite a few grading out in Fine and Very Fine, and even a couple of Near Mints. Pam put most of them into our Premium New-In-Stock link for you right away, along with a nice batch of lower grade Silver Age DC's.
An important consideration that I wanted to point out to you is that we hold nothing back when our big sales are in effect. Our current 60% off SPRINGBREAK! codeword sale is particularly generous, but that is an intentional benefit that we create for everyone who regularly supports us. In a nutshell, that is why we always go ahead and put into our online inventory even our very best new purchases, regardless of the current discount. Please be aware, however, that the 60% off SPRINGBREAK! sale will be ending soon. 'Nuff said.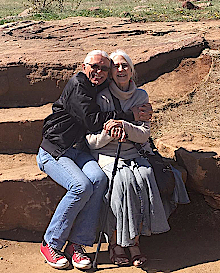 Nanette & Chuck at Chautauqua Park

I will close today's newsletter with a quick photo of myself and my beloved wife, Nanette, taken at Boulder's incredibly scenic Chautauqua Park. Nanette and I have now been living together for 43 years (our 41st wedding anniversary is on Monday), and we still kinda, sorta, like each other...
Happy collecting!
Chuck Rozanski,
President - Mile High Comics, Inc.
March 29, 2019
P.S. Below are some of the issues from that amazing collection that Will purchased yesterday. All are available to you this weekend at 60% off when you utilize the SPRINGBREAK! codeword. Only new issues, a few variants, and our professionally-graded comics are excluded. Enjoy!
MARVEL

AMAZING ADVENTURES (1970) (#1-39) (MARVEL) #1

AMAZING ADVENTURES (1970) (#1-39) (MARVEL) #1 Very Good
AMAZING ADVENTURES (1970) (#1-39) (MARVEL) #2 Very Good
AMAZING ADVENTURES (1970) (#1-39) (MARVEL) #3 Very Good
AMAZING ADVENTURES (1970) (#1-39) (MARVEL) #4 Fine
AMAZING ADVENTURES (1970) (#1-39) (MARVEL) #5 Fine
AMAZING ADVENTURES (1970) (#1-39) (MARVEL) #6 Fine
AMAZING ADVENTURES (1970) (#1-39) (MARVEL) #7 Fine
AMAZING ADVENTURES (1970) (#1-39) (MARVEL) #7 Very Fine
AMAZING ADVENTURES (1970) (#1-39) (MARVEL) #8 Fine
AMAZING ADVENTURES (1970) (#1-39) (MARVEL) #9 Fine
AMAZING ADVENTURES (1970) (#1-39) (MARVEL) #10 Fine
AMAZING ADVENTURES (1970) (#1-39) (MARVEL) #12 Fine
AMAZING ADVENTURES (1970) (#1-39) (MARVEL) #13 Fine
AMAZING ADVENTURES (1970) (#1-39) (MARVEL) #14 Fine
AMAZING ADVENTURES (1970) (#1-39) (MARVEL) #15 Fine

ASTONISHING TALES (MARVEL) (1970) #6 Very Good

AVENGERS (1963) (#1-402) (MARVEL) #33 Good
AVENGERS (1963) (#1-402) (MARVEL) #60 Good
AVENGERS (1963) (#1-402) (MARVEL) #61 Fine
AVENGERS (1963) (#1-402) (MARVEL) #62 Very Good
AVENGERS (1963) (#1-402) (MARVEL) #64 Fine
AVENGERS (1963) (#1-402) (MARVEL) #65 Fine
AVENGERS (1963) (#1-402) (MARVEL) #66 Fine
AVENGERS (1963) (#1-402) (MARVEL) #68 Very Fine
AVENGERS (1963) (#1-402) (MARVEL) #69 Fine


AVENGERS (1963) (#1-402) (MARVEL) #70

AVENGERS (1963) (#1-402) (MARVEL) #70 Fine
AVENGERS (1963) (#1-402) (MARVEL) #71 Very Good
AVENGERS (1963) (#1-402) (MARVEL) #72 Fine
AVENGERS (1963) (#1-402) (MARVEL) #73 Fine
AVENGERS (1963) (#1-402) (MARVEL) #74 Fine
AVENGERS (1963) (#1-402) (MARVEL) #75 Very Fine
AVENGERS (1963) (#1-402) (MARVEL) #76 Very Fine
AVENGERS (1963) (#1-402) (MARVEL) #77 Fine
AVENGERS (1963) (#1-402) (MARVEL) #78 Fine
AVENGERS (1963) (#1-402) (MARVEL) #79 Fine
AVENGERS (1963) (#1-402) (MARVEL) #80 Fine
AVENGERS (1963) (#1-402) (MARVEL) #81 Fine
AVENGERS (1963) (#1-402) (MARVEL) #82 Fine
AVENGERS (1963) (#1-402) (MARVEL) #83 Fine
AVENGERS (1963) (#1-402) (MARVEL) #84 Very Fine
AVENGERS (1963) (#1-402) (MARVEL) #85 Fine
AVENGERS (1963) (#1-402) (MARVEL) #86 Very Fine
AVENGERS (1963) (#1-402) (MARVEL) #87 Very Good
AVENGERS (1963) (#1-402) (MARVEL) #88 Fine
AVENGERS (1963) (#1-402) (MARVEL) #89 Very Fine
AVENGERS (1963) (#1-402) (MARVEL) #90 Very Fine
AVENGERS (1963) (#1-402) (MARVEL) #91 Fine
AVENGERS (1963) (#1-402) (MARVEL) #92 Very Fine


AVENGERS (1963) (#1-402) (MARVEL) #93

AVENGERS (1963) (#1-402) (MARVEL) #93 Very Good
AVENGERS (1963) (#1-402) (MARVEL) #94 Fine
AVENGERS (1963) (#1-402) (MARVEL) #95 Fine
AVENGERS (1963) (#1-402) (MARVEL) #96 Very Fine
AVENGERS (1963) (#1-402) (MARVEL) #97 Near Mint/Mint
AVENGERS (1963) (#1-402) (MARVEL) #98 Near Mint/Mint
AVENGERS (1963) (#1-402) (MARVEL) #99 Near Mint/Mint
AVENGERS (1963) (#1-402) (MARVEL) #100 Very Fine
AVENGERS (1963) (#1-402) (MARVEL) #101 Very Fine
AVENGERS (1963) (#1-402) (MARVEL) #102 Very Fine
AVENGERS (1963) (#1-402) (MARVEL) #103 Fine
AVENGERS (1963) (#1-402) (MARVEL) #104 Near Mint/Mint
AVENGERS (1963) (#1-402) (MARVEL) #105 Very Fine
AVENGERS (1963) (#1-402) (MARVEL) #106 Very Fine
AVENGERS (1963) (#1-402) (MARVEL) #107 Very Fine
AVENGERS (1963) (#1-402) (MARVEL) #108 Fine

AVENGERS ANNUAL (1967) #1 Very Good
AVENGERS ANNUAL (1967) #2 Fine
AVENGERS ANNUAL (1967) #3 Very Good
AVENGERS ANNUAL (1967) #4 Fine

DAREDEVIL (1964) (#1-380) (MAN WITHOUT FEAR) (MARVEL) #18 Good
DAREDEVIL (1964) (#1-380) (MAN WITHOUT FEAR) (MARVEL) #38 Very Good
DAREDEVIL (1964) (#1-380) (MAN WITHOUT FEAR) (MARVEL) #47 Very Good


DAREDEVIL (1964) (#1-380) (MAN WITHOUT FEAR) (MARVEL) #48

DAREDEVIL (1964) (#1-380) (MAN WITHOUT FEAR) (MARVEL) #48 Fine
DAREDEVIL (1964) (#1-380) (MAN WITHOUT FEAR) (MARVEL) #50 Fine
DAREDEVIL (1964) (#1-380) (MAN WITHOUT FEAR) (MARVEL) #51 Fine
DAREDEVIL (1964) (#1-380) (MAN WITHOUT FEAR) (MARVEL) #52 Fine
DAREDEVIL (1964) (#1-380) (MAN WITHOUT FEAR) (MARVEL) #53 Fine
DAREDEVIL (1964) (#1-380) (MAN WITHOUT FEAR) (MARVEL) #54 Fine
DAREDEVIL (1964) (#1-380) (MAN WITHOUT FEAR) (MARVEL) #56 Fine
DAREDEVIL (1964) (#1-380) (MAN WITHOUT FEAR) (MARVEL) #57 Fine
DAREDEVIL (1964) (#1-380) (MAN WITHOUT FEAR) (MARVEL) #58 Fine
DAREDEVIL (1964) (#1-380) (MAN WITHOUT FEAR) (MARVEL) #59 Very Good
DAREDEVIL (1964) (#1-380) (MAN WITHOUT FEAR) (MARVEL) #60 Very Fine
DAREDEVIL (1964) (#1-380) (MAN WITHOUT FEAR) (MARVEL) #61 Very Fine
DAREDEVIL (1964) (#1-380) (MAN WITHOUT FEAR) (MARVEL) #62 Very Fine
DAREDEVIL (1964) (#1-380) (MAN WITHOUT FEAR) (MARVEL) #63 Fine
DAREDEVIL (1964) (#1-380) (MAN WITHOUT FEAR) (MARVEL) #65 Fine
DAREDEVIL (1964) (#1-380) (MAN WITHOUT FEAR) (MARVEL) #66 Fine
DAREDEVIL (1964) (#1-380) (MAN WITHOUT FEAR) (MARVEL) #67 Fine
DAREDEVIL (1964) (#1-380) (MAN WITHOUT FEAR) (MARVEL) #68 Fine
DAREDEVIL (1964) (#1-380) (MAN WITHOUT FEAR) (MARVEL) #69 Fine
DAREDEVIL (1964) (#1-380) (MAN WITHOUT FEAR) (MARVEL) #70 Very Fine
DAREDEVIL (1964) (#1-380) (MAN WITHOUT FEAR) (MARVEL) #71 Very Fine
DAREDEVIL (1964) (#1-380) (MAN WITHOUT FEAR) (MARVEL) #72 Fine
DAREDEVIL (1964) (#1-380) (MAN WITHOUT FEAR) (MARVEL) #73 Very Fine
DAREDEVIL (1964) (#1-380) (MAN WITHOUT FEAR) (MARVEL) #74 Fine


DAREDEVIL (1964) (#1-380) (MAN WITHOUT FEAR) (MARVEL) #75

DAREDEVIL (1964) (#1-380) (MAN WITHOUT FEAR) (MARVEL) #75 Very Fine
DAREDEVIL (1964) (#1-380) (MAN WITHOUT FEAR) (MARVEL) #78 Fine
DAREDEVIL (1964) (#1-380) (MAN WITHOUT FEAR) (MARVEL) #79 Fine
DAREDEVIL (1964) (#1-380) (MAN WITHOUT FEAR) (MARVEL) #80 Very Fine
DAREDEVIL (1964) (#1-380) (MAN WITHOUT FEAR) (MARVEL) #82 Fine
DAREDEVIL (1964) (#1-380) (MAN WITHOUT FEAR) (MARVEL) #84 Fine
DAREDEVIL (1964) (#1-380) (MAN WITHOUT FEAR) (MARVEL) #85 Very Fine
DAREDEVIL (1964) (#1-380) (MAN WITHOUT FEAR) (MARVEL) #86 Fine
DAREDEVIL (1964) (#1-380) (MAN WITHOUT FEAR) (MARVEL) #87 Very Fine
DAREDEVIL (1964) (#1-380) (MAN WITHOUT FEAR) (MARVEL) #88 Very Fine
DAREDEVIL (1964) (#1-380) (MAN WITHOUT FEAR) (MARVEL) #89 Fine
DAREDEVIL (1964) (#1-380) (MAN WITHOUT FEAR) (MARVEL) #90 Fine
DAREDEVIL (1964) (#1-380) (MAN WITHOUT FEAR) (MARVEL) #91 Fine
DAREDEVIL (1964) (#1-380) (MAN WITHOUT FEAR) (MARVEL) #92 Fine
DAREDEVIL (1964) (#1-380) (MAN WITHOUT FEAR) (MARVEL) #93 Fine
DAREDEVIL (1964) (#1-380) (MAN WITHOUT FEAR) (MARVEL) #94 Fine
DAREDEVIL (1964) (#1-380) (MAN WITHOUT FEAR) (MARVEL) #95 Very Fine
DAREDEVIL (1964) (#1-380) (MAN WITHOUT FEAR) (MARVEL) #97 Fine

DAREDEVIL ANNUAL (1967) #1 Very Good
DAREDEVIL ANNUAL (1967) #2 Fine

DEFENDERS (1972) (#1-152) (MARVEL) #1 Fine
DEFENDERS (1972) (#1-152) (MARVEL) #2 Fine
DEFENDERS (1972) (#1-152) (MARVEL) #3 Fine
DEFENDERS (1972) (#1-152) (MARVEL) #4 Very Fine


DOC SAVAGE (1972) (#1-8) (MARVEL) #1

DOC SAVAGE (1972) (#1-8) (MARVEL) #1 Fine
DOC SAVAGE (1972) (#1-8) (MARVEL) #2 Fine

DOCTOR STRANGE (1968) (#169-183) (MARVEL)(DR. STRANGE) #177 Fine
DOCTOR STRANGE (1968) (#169-183) (MARVEL)(DR. STRANGE) #179 Very Good
DOCTOR STRANGE (1968) (#169-183) (MARVEL)(DR. STRANGE) #180 Fine
DOCTOR STRANGE (1968) (#169-183) (MARVEL)(DR. STRANGE) #181 Very Good
DOCTOR STRANGE (1968) (#169-183) (MARVEL)(DR. STRANGE) #182 Very Good

HULK (1962) (#1-6, #102-474, #600-635)(INCREDIBLE)(MV) #112 Very Good
HULK (1962) (#1-6, #102-474, #600-635)(INCREDIBLE)(MV) #113 Fine
HULK (1962) (#1-6, #102-474, #600-635)(INCREDIBLE)(MV) #114 Very Good
HULK (1962) (#1-6, #102-474, #600-635)(INCREDIBLE)(MV) #115 Fine
HULK (1962) (#1-6, #102-474, #600-635)(INCREDIBLE)(MV) #116 Fine
HULK (1962) (#1-6, #102-474, #600-635)(INCREDIBLE)(MV) #117 Fine
HULK (1962) (#1-6, #102-474, #600-635)(INCREDIBLE)(MV) #118 Very Fine
HULK (1962) (#1-6, #102-474, #600-635)(INCREDIBLE)(MV) #120 Fine
HULK (1962) (#1-6, #102-474, #600-635)(INCREDIBLE)(MV) #121 Fine
HULK (1962) (#1-6, #102-474, #600-635)(INCREDIBLE)(MV) #122 Fine
HULK (1962) (#1-6, #102-474, #600-635)(INCREDIBLE)(MV) #123 Fine
HULK (1962) (#1-6, #102-474, #600-635)(INCREDIBLE)(MV) #124 Very Fine
HULK (1962) (#1-6, #102-474, #600-635)(INCREDIBLE)(MV) #125 Very Good
HULK (1962) (#1-6, #102-474, #600-635)(INCREDIBLE)(MV) #126 Very Fine
HULK (1962) (#1-6, #102-474, #600-635)(INCREDIBLE)(MV) #127 Very Fine
HULK (1962) (#1-6, #102-474, #600-635)(INCREDIBLE)(MV) #128 Fine
HULK (1962) (#1-6, #102-474, #600-635)(INCREDIBLE)(MV) #129 Very Fine


HULK (1962) (#1-6, #102-474, #600-635)(INCREDIBLE)(MV) #130

HULK (1962) (#1-6, #102-474, #600-635)(INCREDIBLE)(MV) #130 Very Fine
HULK (1962) (#1-6, #102-474, #600-635)(INCREDIBLE)(MV) #131 Fine
HULK (1962) (#1-6, #102-474, #600-635)(INCREDIBLE)(MV) #132 Fine
HULK (1962) (#1-6, #102-474, #600-635)(INCREDIBLE)(MV) #133 Very Good
HULK (1962) (#1-6, #102-474, #600-635)(INCREDIBLE)(MV) #134 Very Good
HULK (1962) (#1-6, #102-474, #600-635)(INCREDIBLE)(MV) #135 Fine
HULK (1962) (#1-6, #102-474, #600-635)(INCREDIBLE)(MV) #136 Fine
HULK (1962) (#1-6, #102-474, #600-635)(INCREDIBLE)(MV) #137 Fine
HULK (1962) (#1-6, #102-474, #600-635)(INCREDIBLE)(MV) #138 Fine
HULK (1962) (#1-6, #102-474, #600-635)(INCREDIBLE)(MV) #139 Near Mint/Mint
HULK (1962) (#1-6, #102-474, #600-635)(INCREDIBLE)(MV) #140 Very Fine
HULK (1962) (#1-6, #102-474, #600-635)(INCREDIBLE)(MV) #141 Near Mint/Mint
HULK (1962) (#1-6, #102-474, #600-635)(INCREDIBLE)(MV) #142 Fine
HULK (1962) (#1-6, #102-474, #600-635)(INCREDIBLE)(MV) #143 Fine
HULK (1962) (#1-6, #102-474, #600-635)(INCREDIBLE)(MV) #144 Very Fine
HULK (1962) (#1-6, #102-474, #600-635)(INCREDIBLE)(MV) #145 Very Good
HULK (1962) (#1-6, #102-474, #600-635)(INCREDIBLE)(MV) #146 Fine
HULK (1962) (#1-6, #102-474, #600-635)(INCREDIBLE)(MV) #148 Very Fine
HULK (1962) (#1-6, #102-474, #600-635)(INCREDIBLE)(MV) #149 Very Fine
HULK (1962) (#1-6, #102-474, #600-635)(INCREDIBLE)(MV) #150 Fine
HULK (1962) (#1-6, #102-474, #600-635)(INCREDIBLE)(MV) #151 Fine
HULK (1962) (#1-6, #102-474, #600-635)(INCREDIBLE)(MV) #152 Fine
HULK (1962) (#1-6, #102-474, #600-635)(INCREDIBLE)(MV) #153 Fine
HULK (1962) (#1-6, #102-474, #600-635)(INCREDIBLE)(MV) #154 Very Fine
HULK (1962) (#1-6, #102-474, #600-635)(INCREDIBLE)(MV) #155 Fine
HULK (1962) (#1-6, #102-474, #600-635)(INCREDIBLE)(MV) #156 Very Good
HULK (1962) (#1-6, #102-474, #600-635)(INCREDIBLE)(MV) #157 Fine
HULK (1962) (#1-6, #102-474, #600-635)(INCREDIBLE)(MV) #158 Fine
HULK (1962) (#1-6, #102-474, #600-635)(INCREDIBLE)(MV) #161 Good

HULK ANNUAL (1968) #2 Fine
HULK ANNUAL (1968) #3 Very Good

INHUMANS (1975) (#1-12) (MARVEL) #8 Fine

MARVEL COLLECTIBLE CLASSICS: X-MEN (1998) #4 Near Mint/Mint

MARVEL PREMIERE (1972) #1 Very Good

MARVEL SUPER-HEROES (1967) #28 Very Good
MARVEL SUPER-HEROES (1967) #32 Very Fine
MARVEL SUPER-HEROES (1967) #34 Very Fine
MARVEL SUPER-HEROES (1967) #35 Very Fine

MARVEL TALES (#1-291) (1964) #24 Fine
MARVEL TALES (#1-291) (1964) #28 Fine
MARVEL TALES (#1-291) (1964) #35 Very Fine
MARVEL TALES (#1-291) (1964) #37 Very Fine
MARVEL TALES (#1-291) (1964) #41 Near Mint/Mint

MARVEL TEAM-UP (1972) (#1-150) (MARVEL) #1 Fine
MARVEL TEAM-UP (1972) (#1-150) (MARVEL) #2 Fine
MARVEL TEAM-UP (1972) (#1-150) (MARVEL) #3 Fine

MARVEL TRIPLE ACTION (1972) #1 Very Fine
MARVEL TRIPLE ACTION (1972) #2 Fine
MARVEL TRIPLE ACTION (1972) #3 Very Fine


MARVEL TRIPLE ACTION (1972) #4

MARVEL TRIPLE ACTION (1972) #4 Fine
MARVEL TRIPLE ACTION (1972) #5 Very Fine
MARVEL TRIPLE ACTION (1972) #6 Very Fine
MARVEL TRIPLE ACTION (1972) #7 Fine
MARVEL TRIPLE ACTION (1972) #8 Near Mint/Mint
MARVEL TRIPLE ACTION (1972) #9 Very Fine

MARVEL'S GREATEST COMICS (1969) #24 Very Fine
MARVEL'S GREATEST COMICS (1969) #25 Very Fine
MARVEL'S GREATEST COMICS (1969) #34 Very Fine
MARVEL'S GREATEST COMICS (1969) #35 Very Fine
MARVEL'S GREATEST COMICS (1969) #36 Very Fine
MARVEL'S GREATEST COMICS (1969) #39 Very Fine

RED WOLF (1972) #1 Fine

SHIELD (1968) (#1-18) (MARVEL) #2 Very Good
SHIELD (1968) (#1-18) (MARVEL) #3 Fine
SHIELD (1968) (#1-18) (MARVEL) #4 Good
SHIELD (1968) (#1-18) (MARVEL) #14 Fine
SHIELD (1968) (#1-18) (MARVEL) #15 Fine
SHIELD (1968) (#1-18) (MARVEL) #16 Fine
SHIELD (1968) (#1-18) (MARVEL) #18 Fine

SILVER SURFER (1968) (#1-18) (MARVEL) #7 Fine
SILVER SURFER (1968) (#1-18) (MARVEL) #10 Good


SILVER SURFER (1968) (#1-18) (MARVEL) #13

SILVER SURFER (1968) (#1-18) (MARVEL) #13 Fine
SILVER SURFER (1968) (#1-18) (MARVEL) #15 Fine
SILVER SURFER (1968) (#1-18) (MARVEL) #16 Very Good
SILVER SURFER (1968) (#1-18) (MARVEL) #17 Fine
SILVER SURFER (1968) (#1-18) (MARVEL) #18 Fine

SPECIAL MARVEL EDITION #1 Near Mint/Mint
SPECIAL MARVEL EDITION #2 Fine
SPECIAL MARVEL EDITION #3 Very Fine

SPIDER-MAN (1963) (AMAZING SPIDER-MAN) (#1-441) #47 Very Good
SPIDER-MAN (1963) (AMAZING SPIDER-MAN) (#1-441) #74 Good
SPIDER-MAN (1963) (AMAZING SPIDER-MAN) (#1-441) #75 Very Good
SPIDER-MAN (1963) (AMAZING SPIDER-MAN) (#1-441) #77 Very Good
SPIDER-MAN (1963) (AMAZING SPIDER-MAN) (#1-441) #79 Fine
SPIDER-MAN (1963) (AMAZING SPIDER-MAN) (#1-441) #80 Fine
SPIDER-MAN (1963) (AMAZING SPIDER-MAN) (#1-441) #81 Fine
SPIDER-MAN (1963) (AMAZING SPIDER-MAN) (#1-441) #82 Fine
SPIDER-MAN (1963) (AMAZING SPIDER-MAN) (#1-441) #83 Fine
SPIDER-MAN (1963) (AMAZING SPIDER-MAN) (#1-441) #84 Very Fine
SPIDER-MAN (1963) (AMAZING SPIDER-MAN) (#1-441) #86 Fine
SPIDER-MAN (1963) (AMAZING SPIDER-MAN) (#1-441) #87 Fine
SPIDER-MAN (1963) (AMAZING SPIDER-MAN) (#1-441) #88 Fine
SPIDER-MAN (1963) (AMAZING SPIDER-MAN) (#1-441) #89 Fine
SPIDER-MAN (1963) (AMAZING SPIDER-MAN) (#1-441) #91 Fine
SPIDER-MAN (1963) (AMAZING SPIDER-MAN) (#1-441) #93 Fine


SPIDER-MAN (1963) (AMAZING SPIDER-MAN) (#1-441) #94

SPIDER-MAN (1963) (AMAZING SPIDER-MAN) (#1-441) #94 Very Good
SPIDER-MAN (1963) (AMAZING SPIDER-MAN) (#1-441) #95 Fine
SPIDER-MAN (1963) (AMAZING SPIDER-MAN) (#1-441) #96 Fine
SPIDER-MAN (1963) (AMAZING SPIDER-MAN) (#1-441) #97 Fine
SPIDER-MAN (1963) (AMAZING SPIDER-MAN) (#1-441) #98 Fine
SPIDER-MAN (1963) (AMAZING SPIDER-MAN) (#1-441) #99 Fine
SPIDER-MAN (1963) (AMAZING SPIDER-MAN) (#1-441) #100 Fine
SPIDER-MAN (1963) (AMAZING SPIDER-MAN) (#1-441) #101 Very Good
SPIDER-MAN (1963) (AMAZING SPIDER-MAN) (#1-441) #105 Very Fine
SPIDER-MAN (1963) (AMAZING SPIDER-MAN) (#1-441) #107 Fine
SPIDER-MAN (1963) (AMAZING SPIDER-MAN) (#1-441) #108 Fine
SPIDER-MAN (1963) (AMAZING SPIDER-MAN) (#1-441) #109 Near Mint/Mint
SPIDER-MAN (1963) (AMAZING SPIDER-MAN) (#1-441) #110 Near Mint/Mint
SPIDER-MAN (1963) (AMAZING SPIDER-MAN) (#1-441) #111 Very Fine
SPIDER-MAN (1963) (AMAZING SPIDER-MAN) (#1-441) #113 Fine
SPIDER-MAN (1963) (AMAZING SPIDER-MAN) (#1-441) #114 Fine
SPIDER-MAN (1963) (AMAZING SPIDER-MAN) (#1-441) #115 Fine
SPIDER-MAN (1963) (AMAZING SPIDER-MAN) (#1-441) #116 Near Mint/Mint
SPIDER-MAN (1963) (AMAZING SPIDER-MAN) (#1-441) #117 Fine

SPIDER-MAN ANNUAL (1964) #8 Fine

SUPER-VILLAIN CLASSICS (1983) #1 NEWSSTAND Very Fine

SUPERIOR SPIDER-MAN (2013) (#1-33) (MARVEL) #1 Near Mint/Mint


TALES OF SUSPENSE (1959) (#1-99) (ATLAS/MARVEL) #84

TALES OF SUSPENSE (1959) (#1-99) (ATLAS/MARVEL) #84 Good
TALES OF SUSPENSE (1959) (#1-99) (ATLAS/MARVEL) #85 Good
TALES OF SUSPENSE (1959) (#1-99) (ATLAS/MARVEL) #86 Very Good
TALES OF SUSPENSE (1959) (#1-99) (ATLAS/MARVEL) #87 Good
TALES OF SUSPENSE (1959) (#1-99) (ATLAS/MARVEL) #89 Good
TALES OF SUSPENSE (1959) (#1-99) (ATLAS/MARVEL) #90 Good
TALES OF SUSPENSE (1959) (#1-99) (ATLAS/MARVEL) #91 Good
TALES OF SUSPENSE (1959) (#1-99) (ATLAS/MARVEL) #92 Good
TALES OF SUSPENSE (1959) (#1-99) (ATLAS/MARVEL) #93 Good
TALES OF SUSPENSE (1959) (#1-99) (ATLAS/MARVEL) #94 Fair
TALES OF SUSPENSE (1959) (#1-99) (ATLAS/MARVEL) #95 Very Good
TALES OF SUSPENSE (1959) (#1-99) (ATLAS/MARVEL) #96 Very Good
TALES OF SUSPENSE (1959) (#1-99) (ATLAS/MARVEL) #97 Very Good
TALES OF SUSPENSE (1959) (#1-99) (ATLAS/MARVEL) #98 Very Good

THOR (1962) (#83-125 JOURNEY INTO MYSTERY, 126-502) #94 Good
THOR (1962) (#83-125 JOURNEY INTO MYSTERY, 126-502) #145 Fair
THOR (1962) (#83-125 JOURNEY INTO MYSTERY, 126-502) #146 Good
THOR (1962) (#83-125 JOURNEY INTO MYSTERY, 126-502) #160 Fine
THOR (1962) (#83-125 JOURNEY INTO MYSTERY, 126-502) #161 Fine
THOR (1962) (#83-125 JOURNEY INTO MYSTERY, 126-502) #162 Fine
THOR (1962) (#83-125 JOURNEY INTO MYSTERY, 126-502) #163 Fine
THOR (1962) (#83-125 JOURNEY INTO MYSTERY, 126-502) #164 Fine
THOR (1962) (#83-125 JOURNEY INTO MYSTERY, 126-502) #165 Fine
THOR (1962) (#83-125 JOURNEY INTO MYSTERY, 126-502) #166 Very Good
THOR (1962) (#83-125 JOURNEY INTO MYSTERY, 126-502) #167 Very Good
THOR (1962) (#83-125 JOURNEY INTO MYSTERY, 126-502) #168 Very Good


THOR (1962) (#83-125 JOURNEY INTO MYSTERY, 126-502) #169

THOR (1962) (#83-125 JOURNEY INTO MYSTERY, 126-502) #169 Fine
THOR (1962) (#83-125 JOURNEY INTO MYSTERY, 126-502) #170 Very Good
THOR (1962) (#83-125 JOURNEY INTO MYSTERY, 126-502) #174 Fine
THOR (1962) (#83-125 JOURNEY INTO MYSTERY, 126-502) #175 Very Fine
THOR (1962) (#83-125 JOURNEY INTO MYSTERY, 126-502) #177 Fine
THOR (1962) (#83-125 JOURNEY INTO MYSTERY, 126-502) #178 Very Fine
THOR (1962) (#83-125 JOURNEY INTO MYSTERY, 126-502) #179 Fine
THOR (1962) (#83-125 JOURNEY INTO MYSTERY, 126-502) #180 Fine
THOR (1962) (#83-125 JOURNEY INTO MYSTERY, 126-502) #182 Fine
THOR (1962) (#83-125 JOURNEY INTO MYSTERY, 126-502) #183 Fine
THOR (1962) (#83-125 JOURNEY INTO MYSTERY, 126-502) #184 Fine
THOR (1962) (#83-125 JOURNEY INTO MYSTERY, 126-502) #185 Fine
THOR (1962) (#83-125 JOURNEY INTO MYSTERY, 126-502) #186 Fine
THOR (1962) (#83-125 JOURNEY INTO MYSTERY, 126-502) #189 Fine
THOR (1962) (#83-125 JOURNEY INTO MYSTERY, 126-502) #190 Very Good
THOR (1962) (#83-125 JOURNEY INTO MYSTERY, 126-502) #191 Fine
THOR (1962) (#83-125 JOURNEY INTO MYSTERY, 126-502) #192 Fine
THOR (1962) (#83-125 JOURNEY INTO MYSTERY, 126-502) #194 Fine
THOR (1962) (#83-125 JOURNEY INTO MYSTERY, 126-502) #196 Very Fine
THOR (1962) (#83-125 JOURNEY INTO MYSTERY, 126-502) #197 Fine
THOR (1962) (#83-125 JOURNEY INTO MYSTERY, 126-502) #198 Very Fine
THOR (1962) (#83-125 JOURNEY INTO MYSTERY, 126-502) #199 Very Fine
THOR (1962) (#83-125 JOURNEY INTO MYSTERY, 126-502) #200 Very Fine
THOR (1962) (#83-125 JOURNEY INTO MYSTERY, 126-502) #202 Very Fine
THOR (1962) (#83-125 JOURNEY INTO MYSTERY, 126-502) #203 Very Fine


THOR (1962) (#83-125 JOURNEY INTO MYSTERY, 126-502) #204

THOR (1962) (#83-125 JOURNEY INTO MYSTERY, 126-502) #204 Fine
THOR (1962) (#83-125 JOURNEY INTO MYSTERY, 126-502) #205 Fine
THOR (1962) (#83-125 JOURNEY INTO MYSTERY, 126-502) #206 Near Mint/Mint
THOR (1962) (#83-125 JOURNEY INTO MYSTERY, 126-502) #207 Near Mint/Mint
THOR (1962) (#83-125 JOURNEY INTO MYSTERY, 126-502) #208 Very Fine

THOR ANNUAL (1965) #3 Fine
THOR ANNUAL (1965) #4 Fine

WARLOCK (1972) (#1-15) (MARVEL) #1 Fine
WARLOCK (1972) (#1-15) (MARVEL) #2 Fine
WARLOCK (1972) (#1-15) (MARVEL) #3 Very Fine
WARLOCK (1972) (#1-15) (MARVEL) #4 Fine

X-MEN (1963) (#1-113, UNCANNY X-MEN #114-544) (MARVEL) #35 Good
X-MEN (1963) (#1-113, UNCANNY X-MEN #114-544) (MARVEL) #56 Fine
X-MEN (1963) (#1-113, UNCANNY X-MEN #114-544) (MARVEL) #58 Fine
X-MEN (1963) (#1-113, UNCANNY X-MEN #114-544) (MARVEL) #60 Very Good
X-MEN (1963) (#1-113, UNCANNY X-MEN #114-544) (MARVEL) #61 Fine
X-MEN (1963) (#1-113, UNCANNY X-MEN #114-544) (MARVEL) #62 Fine
X-MEN (1963) (#1-113, UNCANNY X-MEN #114-544) (MARVEL) #63 Fine
X-MEN (1963) (#1-113, UNCANNY X-MEN #114-544) (MARVEL) #64 Very Fine
X-MEN (1963) (#1-113, UNCANNY X-MEN #114-544) (MARVEL) #65 Very Fine
X-MEN (1963) (#1-113, UNCANNY X-MEN #114-544) (MARVEL) #66 Fine
X-MEN (1963) (#1-113, UNCANNY X-MEN #114-544) (MARVEL) #67 Fine
X-MEN (1963) (#1-113, UNCANNY X-MEN #114-544) (MARVEL) #68 Fine


X-MEN (1963) (#1-113, UNCANNY X-MEN #114-544) (MARVEL) #71

X-MEN (1963) (#1-113, UNCANNY X-MEN #114-544) (MARVEL) #71 Fine
X-MEN (1963) (#1-113, UNCANNY X-MEN #114-544) (MARVEL) #74 Very Fine
X-MEN (1963) (#1-113, UNCANNY X-MEN #114-544) (MARVEL) #75 Fine
X-MEN (1963) (#1-113, UNCANNY X-MEN #114-544) (MARVEL) #76 Very Fine
X-MEN (1963) (#1-113, UNCANNY X-MEN #114-544) (MARVEL) #77 Fine
X-MEN (1963) (#1-113, UNCANNY X-MEN #114-544) (MARVEL) #78 Very Fine
X-MEN (1963) (#1-113, UNCANNY X-MEN #114-544) (MARVEL) #79 Very Fine
X-MEN (1963) (#1-113, UNCANNY X-MEN #114-544) (MARVEL) #428 Near Mint/Mint
X-MEN (1963) (#1-113, UNCANNY X-MEN #114-544) (MARVEL) #428 NEWSSTAND Fine
X-MEN (1963) (#1-113, UNCANNY X-MEN #114-544) (MARVEL) #429 NEWSSTAND Fine
X-MEN (1963) (#1-113, UNCANNY X-MEN #114-544) (MARVEL) #431 NEWSSTAND Very Fine
X-MEN (1963) (#1-113, UNCANNY X-MEN #114-544) (MARVEL) #432 NEWSSTAND Very Fine
X-MEN (1963) (#1-113, UNCANNY X-MEN #114-544) (MARVEL) #435 Near Mint/Mint
X-MEN (1963) (#1-113, UNCANNY X-MEN #114-544) (MARVEL) #435 NEWSSTAND Fine
X-MEN (1963) (#1-113, UNCANNY X-MEN #114-544) (MARVEL) #436 Near Mint/Mint
X-MEN (1963) (#1-113, UNCANNY X-MEN #114-544) (MARVEL) #436 NEWSSTAND Fine
X-MEN (1963) (#1-113, UNCANNY X-MEN #114-544) (MARVEL) #437 Near Mint/Mint
X-MEN (1963) (#1-113, UNCANNY X-MEN #114-544) (MARVEL) #437 NEWSSTAND Fine
X-MEN (1963) (#1-113, UNCANNY X-MEN #114-544) (MARVEL) #443 Near Mint/Mint
X-MEN (1963) (#1-113, UNCANNY X-MEN #114-544) (MARVEL) #446 Near Mint/Mint
X-MEN (1963) (#1-113, UNCANNY X-MEN #114-544) (MARVEL) #449 NEWSSTAND Fine
X-MEN (1963) (#1-113, UNCANNY X-MEN #114-544) (MARVEL) #450 Near Mint/Mint
X-MEN (1963) (#1-113, UNCANNY X-MEN #114-544) (MARVEL) #450 Fine


X-MEN (1963) (#1-113, UNCANNY X-MEN #114-544) (MARVEL) #450

X-MEN (1963) (#1-113, UNCANNY X-MEN #114-544) (MARVEL) #450 Very Fine
X-MEN (1963) (#1-113, UNCANNY X-MEN #114-544) (MARVEL) #451 Fine
X-MEN (1963) (#1-113, UNCANNY X-MEN #114-544) (MARVEL) #451 TOY BIZ Fine
X-MEN (1963) (#1-113, UNCANNY X-MEN #114-544) (MARVEL) #451 Very Good
X-MEN (1963) (#1-113, UNCANNY X-MEN #114-544) (MARVEL) #451 Very Fine
X-MEN (1963) (#1-113, UNCANNY X-MEN #114-544) (MARVEL) #453 Near Mint/Mint
X-MEN (1963) (#1-113, UNCANNY X-MEN #114-544) (MARVEL) #460 Near Mint/Mint
X-MEN (1963) (#1-113, UNCANNY X-MEN #114-544) (MARVEL) #462 Near Mint/Mint
X-MEN (1963) (#1-113, UNCANNY X-MEN #114-544) (MARVEL) #463 Near Mint/Mint
X-MEN (1963) (#1-113, UNCANNY X-MEN #114-544) (MARVEL) #464 Near Mint/Mint
X-MEN (1963) (#1-113, UNCANNY X-MEN #114-544) (MARVEL) #465 Near Mint/Mint
X-MEN (1963) (#1-113, UNCANNY X-MEN #114-544) (MARVEL) #466 Near Mint/Mint
X-MEN (1963) (#1-113, UNCANNY X-MEN #114-544) (MARVEL) #467 Near Mint/Mint
X-MEN (1963) (#1-113, UNCANNY X-MEN #114-544) (MARVEL) #468 Near Mint/Mint
X-MEN (1963) (#1-113, UNCANNY X-MEN #114-544) (MARVEL) #469 Near Mint/Mint
X-MEN (1963) (#1-113, UNCANNY X-MEN #114-544) (MARVEL) #471 Near Mint/Mint
X-MEN (1963) (#1-113, UNCANNY X-MEN #114-544) (MARVEL) #472 Near Mint/Mint
X-MEN (1963) (#1-113, UNCANNY X-MEN #114-544) (MARVEL) #473 Near Mint/Mint
X-MEN (1963) (#1-113, UNCANNY X-MEN #114-544) (MARVEL) #478 Near Mint/Mint
X-MEN (1963) (#1-113, UNCANNY X-MEN #114-544) (MARVEL) #479 Near Mint/Mint
X-MEN (1963) (#1-113, UNCANNY X-MEN #114-544) (MARVEL) #480 Near Mint/Mint
X-MEN (1963) (#1-113, UNCANNY X-MEN #114-544) (MARVEL) #481 Near Mint/Mint
X-MEN (1963) (#1-113, UNCANNY X-MEN #114-544) (MARVEL) #482 Near Mint/Mint
X-MEN (1963) (#1-113, UNCANNY X-MEN #114-544) (MARVEL) #483 Near Mint/Mint
X-MEN (1963) (#1-113, UNCANNY X-MEN #114-544) (MARVEL) #483 Fine
X-MEN (1963) (#1-113, UNCANNY X-MEN #114-544) (MARVEL) #486 Near Mint/Mint


X-MEN (1963) (#1-113, UNCANNY X-MEN #114-544) (MARVEL) #489

X-MEN (1963) (#1-113, UNCANNY X-MEN #114-544) (MARVEL) #489 Fine
X-MEN (1963) (#1-113, UNCANNY X-MEN #114-544) (MARVEL) #489 Near Mint/Mint
X-MEN (1963) (#1-113, UNCANNY X-MEN #114-544) (MARVEL) #489 Very Fine
X-MEN (1963) (#1-113, UNCANNY X-MEN #114-544) (MARVEL) #491 Near Mint/Mint
X-MEN (1963) (#1-113, UNCANNY X-MEN #114-544) (MARVEL) #492 Near Mint/Mint
X-MEN (1963) (#1-113, UNCANNY X-MEN #114-544) (MARVEL) #492 2ND PRINT Fine
X-MEN (1963) (#1-113, UNCANNY X-MEN #114-544) (MARVEL) #493 2ND PRINT Near Mint/Mint
X-MEN (1963) (#1-113, UNCANNY X-MEN #114-544) (MARVEL) #493 2ND PRINT Very Fine
X-MEN (1963) (#1-113, UNCANNY X-MEN #114-544) (MARVEL) #493 Very Fine
X-MEN (1963) (#1-113, UNCANNY X-MEN #114-544) (MARVEL) #494 Fine
X-MEN (1963) (#1-113, UNCANNY X-MEN #114-544) (MARVEL) #494 Near Mint/Mint
X-MEN (1963) (#1-113, UNCANNY X-MEN #114-544) (MARVEL) #494 BIANCHI Very Fine
X-MEN (1963) (#1-113, UNCANNY X-MEN #114-544) (MARVEL) #495 Near Mint/Mint
X-MEN (1963) (#1-113, UNCANNY X-MEN #114-544) (MARVEL) #495 Fine
X-MEN (1963) (#1-113, UNCANNY X-MEN #114-544) (MARVEL) #495 2ND PRINT Very Fine
X-MEN (1963) (#1-113, UNCANNY X-MEN #114-544) (MARVEL) #495 Very Fine
X-MEN (1963) (#1-113, UNCANNY X-MEN #114-544) (MARVEL) #496 Near Mint/Mint
X-MEN (1963) (#1-113, UNCANNY X-MEN #114-544) (MARVEL) #496 Fine
X-MEN (1963) (#1-113, UNCANNY X-MEN #114-544) (MARVEL) #496 Very Fine
X-MEN (1963) (#1-113, UNCANNY X-MEN #114-544) (MARVEL) #497 NEWSSTAND Very Fine
X-MEN (1963) (#1-113, UNCANNY X-MEN #114-544) (MARVEL) #498 Near Mint/Mint
X-MEN (1963) (#1-113, UNCANNY X-MEN #114-544) (MARVEL) #500 ROSS Near Mint/Mint
X-MEN (1963) (#1-113, UNCANNY X-MEN #114-544) (MARVEL) #501 Fine
X-MEN (1963) (#1-113, UNCANNY X-MEN #114-544) (MARVEL) #501 NEWSSTAND Fine
X-MEN (1963) (#1-113, UNCANNY X-MEN #114-544) (MARVEL) #501 Very Fine
X-MEN (1963) (#1-113, UNCANNY X-MEN #114-544) (MARVEL) #502 Very Fine


X-MEN (1963) (#1-113, UNCANNY X-MEN #114-544) (MARVEL) #503 PX EDITION

X-MEN (1963) (#1-113, UNCANNY X-MEN #114-544) (MARVEL) #503 PX EDITION Near Mint/Mint
X-MEN (1963) (#1-113, UNCANNY X-MEN #114-544) (MARVEL) #503 PX EDITION Fine
X-MEN (1963) (#1-113, UNCANNY X-MEN #114-544) (MARVEL) #503 Very Fine
X-MEN (1963) (#1-113, UNCANNY X-MEN #114-544) (MARVEL) #504 Near Mint/Mint
X-MEN (1963) (#1-113, UNCANNY X-MEN #114-544) (MARVEL) #504 Fine
X-MEN (1963) (#1-113, UNCANNY X-MEN #114-544) (MARVEL) #504 Very Fine
X-MEN (1963) (#1-113, UNCANNY X-MEN #114-544) (MARVEL) #505 Fine
X-MEN (1963) (#1-113, UNCANNY X-MEN #114-544) (MARVEL) #507 Near Mint/Mint
X-MEN (1963) (#1-113, UNCANNY X-MEN #114-544) (MARVEL) #507 Fine
X-MEN (1963) (#1-113, UNCANNY X-MEN #114-544) (MARVEL) #507 PLANET COM Very Fine
X-MEN (1963) (#1-113, UNCANNY X-MEN #114-544) (MARVEL) #507 Very Fine
X-MEN (1963) (#1-113, UNCANNY X-MEN #114-544) (MARVEL) #508 Fine
X-MEN (1963) (#1-113, UNCANNY X-MEN #114-544) (MARVEL) #508 Very Fine
X-MEN (1963) (#1-113, UNCANNY X-MEN #114-544) (MARVEL) #508 Very Good
X-MEN (1963) (#1-113, UNCANNY X-MEN #114-544) (MARVEL) #511 Very Fine
X-MEN (1963) (#1-113, UNCANNY X-MEN #114-544) (MARVEL) #515 Near Mint/Mint
X-MEN (1963) (#1-113, UNCANNY X-MEN #114-544) (MARVEL) #516 NEWS 3.99 Fine
X-MEN (1963) (#1-113, UNCANNY X-MEN #114-544) (MARVEL) #523 Near Mint/Mint
X-MEN (1963) (#1-113, UNCANNY X-MEN #114-544) (MARVEL) #523 3RD PRINT Very Fine
X-MEN (1963) (#1-113, UNCANNY X-MEN #114-544) (MARVEL) #523 Very Fine
X-MEN (1963) (#1-113, UNCANNY X-MEN #114-544) (MARVEL) #544 Near Mint/Mint

X-MEN (1991) (#1-275) (MARVEL) #1 A NEWS Near Mint/Mint
X-MEN (1991) (#1-275) (MARVEL) #1 A NEWS Very Fine
X-MEN (1991) (#1-275) (MARVEL) #1 A NEWS Fine


X-MEN (1991) (#1-275) (MARVEL) #1 C NEWS

X-MEN (1991) (#1-275) (MARVEL) #1 C NEWS Very Fine
X-MEN (1991) (#1-275) (MARVEL) #1 B NEWS Fine
X-MEN (1991) (#1-275) (MARVEL) #1 C NEWS Fine
X-MEN (1991) (#1-275) (MARVEL) #1 D NEWS Very Fine
X-MEN (1991) (#1-275) (MARVEL) #1 D NEWS Fine
X-MEN (1991) (#1-275) (MARVEL) #4 Near Mint/Mint
X-MEN (1991) (#1-275) (MARVEL) #4 Very Fine
X-MEN (1991) (#1-275) (MARVEL) #9 NEWSSTAND Very Fine
X-MEN (1991) (#1-275) (MARVEL) #11 NEWSSTAND Fine
X-MEN (1991) (#1-275) (MARVEL) #18 Near Mint/Mint
X-MEN (1991) (#1-275) (MARVEL) #19 NEWSSTAND Very Fine
X-MEN (1991) (#1-275) (MARVEL) #21 Near Mint/Mint
X-MEN (1991) (#1-275) (MARVEL) #22 Near Mint/Mint
X-MEN (1991) (#1-275) (MARVEL) #23 Near Mint/Mint
X-MEN (1991) (#1-275) (MARVEL) #24 Near Mint/Mint
X-MEN (1991) (#1-275) (MARVEL) #25 Near Mint/Mint
X-MEN (1991) (#1-275) (MARVEL) #25 Fine
X-MEN (1991) (#1-275) (MARVEL) #25 Very Fine
X-MEN (1991) (#1-275) (MARVEL) #28 NEWSSTAND Near Mint/Mint
X-MEN (1991) (#1-275) (MARVEL) #28 NEWSSTAND Very Fine
X-MEN (1991) (#1-275) (MARVEL) #30 Near Mint/Mint
X-MEN (1991) (#1-275) (MARVEL) #34 NEWSSTAND Very Fine


X-MEN (1991) (#1-275) (MARVEL) #37

X-MEN (1991) (#1-275) (MARVEL) #37 Near Mint/Mint
X-MEN (1991) (#1-275) (MARVEL) #37 DELUXENEWS Near Mint/Mint
X-MEN (1991) (#1-275) (MARVEL) #37 DELUXENEWS Very Fine
X-MEN (1991) (#1-275) (MARVEL) #37 Very Fine
X-MEN (1991) (#1-275) (MARVEL) #40 DELUXE Near Mint/Mint
X-MEN (1991) (#1-275) (MARVEL) #40 DELUXE Fine
X-MEN (1991) (#1-275) (MARVEL) #47 NEWSSTAND Very Fine
X-MEN (1991) (#1-275) (MARVEL) #50 DELUXE Near Mint/Mint
X-MEN (1991) (#1-275) (MARVEL) #50 DELUXE Very Fine
X-MEN (1991) (#1-275) (MARVEL) #53 Near Mint/Mint
X-MEN (1991) (#1-275) (MARVEL) #53 Very Fine

X-MEN ANNUAL (1970) #1 Fine
X-MEN ANNUAL (1970) #2 Very Good

DC
ADVENTURE COMICS (1938) (#32-503) (DC) #322 Fair
ADVENTURE COMICS (1938) (#32-503) (DC) #328 Fair
ADVENTURE COMICS (1938) (#32-503) (DC) #333 Fair
ADVENTURE COMICS (1938) (#32-503) (DC) #334 Fair
ADVENTURE COMICS (1938) (#32-503) (DC) #342 Good
ADVENTURE COMICS (1938) (#32-503) (DC) #343 Good
ADVENTURE COMICS (1938) (#32-503) (DC) #346 Fair
ADVENTURE COMICS (1938) (#32-503) (DC) #347 Good
ADVENTURE COMICS (1938) (#32-503) (DC) #349 Very Good


ADVENTURE COMICS (1938) (#32-503) (DC) #350

ADVENTURE COMICS (1938) (#32-503) (DC) #350 Good
ADVENTURE COMICS (1938) (#32-503) (DC) #353 Good
ADVENTURE COMICS (1938) (#32-503) (DC) #356 Good
ADVENTURE COMICS (1938) (#32-503) (DC) #377 Fine

BATMAN (1940) (#0-713) (DC) #184 Fair
BATMAN (1940) (#0-713) (DC) #185 Good
BATMAN (1940) (#0-713) (DC) #199 Very Good

FOREVER PEOPLE (1971) #2 Very Good
FOREVER PEOPLE (1971) #3 Fine
FOREVER PEOPLE (1971) #4 Fine
FOREVER PEOPLE (1971) #5 Fine
FOREVER PEOPLE (1971) #7 Fine
FOREVER PEOPLE (1971) #8 Very Fine

KAMANDI (1972) #1 Fine
KAMANDI (1972) #4 Very Good

LOIS LANE (1958) (#1-137) (SUPERMAN'S GIRL FRIEND) (DC) #44 Fair
LOIS LANE (1958) (#1-137) (SUPERMAN'S GIRL FRIEND) (DC) #58 Good
LOIS LANE (1958) (#1-137) (SUPERMAN'S GIRL FRIEND) (DC) #67 Very Good
LOIS LANE (1958) (#1-137) (SUPERMAN'S GIRL FRIEND) (DC) #70 Good
LOIS LANE (1958) (#1-137) (SUPERMAN'S GIRL FRIEND) (DC) #96 Fine

MISTER MIRACLE (1971) (#1-25) (DC) #2 Very Fine
MISTER MIRACLE (1971) (#1-25) (DC) #6 Fine
MISTER MIRACLE (1971) (#1-25) (DC) #7 Near Mint/Mint


MISTER MIRACLE (1971) (#1-25) (DC) #8

MISTER MIRACLE (1971) (#1-25) (DC) #8 Very Fine
MISTER MIRACLE (1971) (#1-25) (DC) #9 Very Fine
MISTER MIRACLE (1971) (#1-25) (DC) #10 Very Good
MISTER MIRACLE (1971) (#1-25) (DC) #11 Fine
MISTER MIRACLE (1971) (#1-25) (DC) #12 Very Fine
MISTER MIRACLE (1971) (#1-25) (DC) #13 Fine

STRANGE ADVENTURES (1950) (#1-244) (DC) #153 Good
STRANGE ADVENTURES (1950) (#1-244) (DC) #209 Very Good
STRANGE ADVENTURES (1950) (#1-244) (DC) #221 Fine

SUPERMAN (1939) (#1-423) (DC) #163 Fair
SUPERMAN (1939) (#1-423) (DC) #170 Fair
SUPERMAN (1939) (#1-423) (DC) #183 Good
SUPERMAN (1939) (#1-423) (DC) #185 Good
SUPERMAN (1939) (#1-423) (DC) #188 Good
SUPERMAN (1939) (#1-423) (DC) #196 Fair
SUPERMAN (1939) (#1-423) (DC) #196 Good
SUPERMAN (1939) (#1-423) (DC) #196 Very Good
SUPERMAN (1939) (#1-423) (DC) #226 Good

WORLDS FINEST (1941) (#2-323) (DC) (WORLD'S FINEST) #140 Fair
WORLDS FINEST (1941) (#2-323) (DC) (WORLD'S FINEST) #153 Good
WORLDS FINEST (1941) (#2-323) (DC) (WORLD'S FINEST) #156 Good
WORLDS FINEST (1941) (#2-323) (DC) (WORLD'S FINEST) #157 Good


WORLDS FINEST (1941) (#2-323) (DC) (WORLD'S FINEST) #165

WORLDS FINEST (1941) (#2-323) (DC) (WORLD'S FINEST) #165 Very Good
WORLDS FINEST (1941) (#2-323) (DC) (WORLD'S FINEST) #174 Good

INDEPENDENTS
2001 NIGHTS (2000) #9 (Viz Comics) Near Mint/Mint

ADVENTURES OF OAT WILLIE (UNDERGROUND) (1987) #1 (Austintatious Comix) Very Fine

CRYING FREEMAN (1989) #5 (Viz Comics) Near Mint/Mint

FORBIDDEN WORLDS (1951) #135 (ACG) Very Good
FORBIDDEN WORLDS (1951) #142 (ACG) Very Good
FORBIDDEN WORLDS (1951) #144 (ACG) Fine

RETIEF (1989) #4 (Adventure Comics) Near Mint/Mint

ROCKY HORROR PICTURE SHOW (1990) #1 (Caliber Press) Near Mint/Mint
ROCKY HORROR PICTURE SHOW (1990) #1 (Caliber Press) Very Fine
ROCKY HORROR PICTURE SHOW (1990) #2 (Caliber Press) Near Mint/Mint
ROCKY HORROR PICTURE SHOW (1990) #3 (Caliber Press) Very Fine

RUST (VOL. 2) (1988) #3 (Now Comics) Very Fine
RUST (VOL. 2) (1988) #6 (Now Comics) Near Mint/Mint

SAVIOUR (MARK MILLAR) (1990) #6 (Trident Comics) Near Mint/Mint


STAR TREK (GOLD KEY) (1967) #7

STAR TREK (GOLD KEY) (1967) #7 (Gold Key) Fair