60% Off Ten Million Comic Books and Magazines
Howdy!
If you have not already placed an order with us utilizing our annual 60% off SPRINGBREAK! codeword, I urge you to do so as soon as possible. I will guarantee that this extremely generous sale will continue to be in effect for you through next Monday, but after that it becomes problematic. Simply put, we are experiencing an unprecedented level of collector demand right how, both online and in our Jason St. Mega-Store. I'm not entirely certain as to what is driving this surge in business, but no way am I going to complain...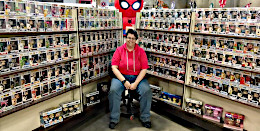 Lisa with 1 of the collections of Funko Pop she bought in the last 24 hours!

One factor that I do know is helping our sales at Jason St. Is that we have been very aggressively advertising to buy collections of all kinds. I purchased a collection of 3,000+ Silver Age and Bronze Age comics in Colorado Springs on Friday evening, and Will, Pam, and Lisa can barely get any work done these days because they are looking at so many collections here in Jason St. As a case in point, Lisa just spent $2,000 this afternoon on an awesome collection of Funko Pop! figures, while Pam purchased another big slew of comics, and Will bought a very nice collection of comics trade paperbacks and hardbacks and WALKING DEAD #1-6. Suffice it to say, we are all running at full speed, and barely keeping up.
One very nice result of all of our buying efforts is that the overall breadth of cool collectibles available in Jason St. continues to expand almost exponentially. There was a time (a few years back) when we had a few fans who visited from other states who were disappointed because we did not have anything available in the particular genre that they collected, but that is almost unheard of the days. Our biggest challenge today is simply trying to get everything that we're acquiring sorted, graded, and priced. In an effort to keep up, I was still going through newly acquired long boxes at 10 PM last night (Sunday) here in Jason St., just trying to not fall any further behind. I do love working alone at night in our immense store, but working late into the night seven days a week does eventually get to be quite wearying.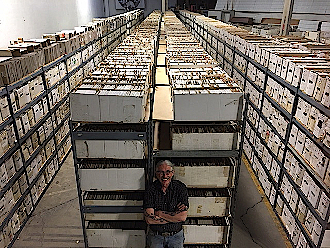 Chuck infront of our Back Issue Racks

I will close with a quick reminder that our immense 60% off SPRINGBREAK! codeword sale applies to all ten million+ of our back issue comics and magazines, excepting only new issues, a few variants, and our professionally-graded items. Please do enjoy this amazing sale with our sincere thanks for your continuing support of our efforts here at Mile High Comics.
Happy collecting!
Chuck Rozanski,
President - Mile High Comics, Inc.
March 25, 2019
MARVEL

ADVENTURES OF SPIDER-MAN (1996) #3

ADVENTURES OF SPIDER-MAN (1996) #3 Very Fine

ALL-NEW GHOST RIDER (2014) #2 Near Mint/Mint
ALL-NEW GHOST RIDER (2014) #6 Near Mint/Mint

AMAZING SPIDER-MAN (1999) (#1-58, #500-700.5) (MARVEL) #671 Near Mint/Mint

AMAZING SPIDER-MAN (2014) (#1-20.1) (MARVEL) #1 Near Mint/Mint
AMAZING SPIDER-MAN (2014) (#1-20.1) (MARVEL) #2 Near Mint/Mint
AMAZING SPIDER-MAN (2014) (#1-20.1) (MARVEL) #3 Near Mint/Mint
AMAZING SPIDER-MAN (2014) (#1-20.1) (MARVEL) #4 Near Mint/Mint

AMAZING SPIDER-MAN (2015) (#1-32) (MARVEL) #15 Near Mint/Mint

AMAZING SPIDER-MAN (2017) (#789-801) (MARVEL LEGACY) #792 Near Mint/Mint
AMAZING SPIDER-MAN (2017) (#789-801) (MARVEL LEGACY) #793 Near Mint/Mint
AMAZING SPIDER-MAN (2017) (#789-801) (MARVEL LEGACY) #794 Near Mint/Mint
AMAZING SPIDER-MAN (2017) (#789-801) (MARVEL LEGACY) #796 Near Mint/Mint

AMAZING SPIDER-MAN (2018) (#1-UP) (MARVEL) #1 Near Mint/Mint
AMAZING SPIDER-MAN (2018) (#1-UP) (MARVEL) #2 Near Mint/Mint

AVENGERS (1996) (#1-13) (HEROES REBORN) (MARVEL) #4 Near Mint/Mint
AVENGERS (1996) (#1-13) (HEROES REBORN) (MARVEL) #5 Near Mint/Mint
AVENGERS (1996) (#1-13) (HEROES REBORN) (MARVEL) #5 CLOSE-UP Fine

AVENGERS (1998) (#0-84, 500-503) (MARVEL) #1 VARIANT Near Mint/Mint
AVENGERS (1998) (#0-84, 500-503) (MARVEL) #2 Near Mint/Mint


AVENGERS ASSEMBLE (#1-25) (2012) #10

AVENGERS ASSEMBLE (#1-25) (2012) #10 Near Mint/Mint

AVENGERS: EARTH'S MIGHTIEST HEROES (2010) #1 Near Mint/Mint
AVENGERS: EARTH'S MIGHTIEST HEROES (2010) #3 Near Mint/Mint

BLACK PANTHER (2009) (#1-12 & #513-529) (MARVEL) #523 .1 Very Fine
BLACK PANTHER (2009) (#1-12 & #513-529) (MARVEL) #524 Near Mint/Mint
BLACK PANTHER (2009) (#1-12 & #513-529) (MARVEL) #525 Very Fine
BLACK PANTHER (2009) (#1-12 & #513-529) (MARVEL) #526 Near Mint/Mint

BLACK WIDOW (2014) (#1-20) (MARVEL) #1 Very Fine
BLACK WIDOW (2014) (#1-20) (MARVEL) #3 Near Mint/Mint
BLACK WIDOW (2014) (#1-20) (MARVEL) #10 Near Mint/Mint
BLACK WIDOW (2014) (#1-20) (MARVEL) #12 Near Mint/Mint

CAPTAIN MARVEL (2012) (#1-17) (MARVEL) #1 Near Mint/Mint
CAPTAIN MARVEL (2012) (#1-17) (MARVEL) #2 Near Mint/Mint
CAPTAIN MARVEL (2012) (#1-17) (MARVEL) #6 Near Mint/Mint
CAPTAIN MARVEL (2012) (#1-17) (MARVEL) #7 Near Mint/Mint
CAPTAIN MARVEL (2012) (#1-17) (MARVEL) #8 Near Mint/Mint

CAPTAIN MARVEL (2014) (#1-15) (MARVEL) #1 Near Mint/Mint
CAPTAIN MARVEL (2014) (#1-15) (MARVEL) #2 Near Mint/Mint

CRYPT OF SHADOWS (1973) (#1-21) (MARVEL) #6 Very Good

DEADPOOL (2013) (#1-45, 250) (MARVEL) #1 Near Mint/Mint
DEADPOOL (2013) (#1-45, 250) (MARVEL) #2 2ND PRINT Near Mint/Mint
DEADPOOL (2013) (#1-45, 250) (MARVEL) #3 3RD PRINT Near Mint/Mint
DEADPOOL (2013) (#1-45, 250) (MARVEL) #4 2ND PRINT Near Mint/Mint


DEADPOOL (2013) (#1-45, 250) (MARVEL) #5

DEADPOOL (2013) (#1-45, 250) (MARVEL) #5 Near Mint/Mint
DEADPOOL (2013) (#1-45, 250) (MARVEL) #6 Very Fine
DEADPOOL (2013) (#1-45, 250) (MARVEL) #7 Very Fine
DEADPOOL (2013) (#1-45, 250) (MARVEL) #8 Near Mint/Mint
DEADPOOL (2013) (#1-45, 250) (MARVEL) #9 Near Mint/Mint
DEADPOOL (2013) (#1-45, 250) (MARVEL) #10 Near Mint/Mint
DEADPOOL (2013) (#1-45, 250) (MARVEL) #11 Near Mint/Mint
DEADPOOL (2013) (#1-45, 250) (MARVEL) #12 Very Fine
DEADPOOL (2013) (#1-45, 250) (MARVEL) #13 Near Mint/Mint
DEADPOOL (2013) (#1-45, 250) (MARVEL) #14 Near Mint/Mint
DEADPOOL (2013) (#1-45, 250) (MARVEL) #15 Near Mint/Mint
DEADPOOL (2013) (#1-45, 250) (MARVEL) #16 Near Mint/Mint
DEADPOOL (2013) (#1-45, 250) (MARVEL) #17 Near Mint/Mint
DEADPOOL (2013) (#1-45, 250) (MARVEL) #18 Near Mint/Mint
DEADPOOL (2013) (#1-45, 250) (MARVEL) #19 Near Mint/Mint
DEADPOOL (2013) (#1-45, 250) (MARVEL) #20 Near Mint/Mint
DEADPOOL (2013) (#1-45, 250) (MARVEL) #21 Near Mint/Mint
DEADPOOL (2013) (#1-45, 250) (MARVEL) #22 Near Mint/Mint
DEADPOOL (2013) (#1-45, 250) (MARVEL) #23 Near Mint/Mint
DEADPOOL (2013) (#1-45, 250) (MARVEL) #24 Near Mint/Mint
DEADPOOL (2013) (#1-45, 250) (MARVEL) #25 Near Mint/Mint
DEADPOOL (2013) (#1-45, 250) (MARVEL) #26 Very Fine
DEADPOOL (2013) (#1-45, 250) (MARVEL) #27 Near Mint/Mint
DEADPOOL (2013) (#1-45, 250) (MARVEL) #28 Near Mint/Mint
DEADPOOL (2013) (#1-45, 250) (MARVEL) #29 Near Mint/Mint


DEADPOOL (2013) (#1-45, 250) (MARVEL) #30

DEADPOOL (2013) (#1-45, 250) (MARVEL) #30 Near Mint/Mint
DEADPOOL (2013) (#1-45, 250) (MARVEL) #31 Very Fine
DEADPOOL (2013) (#1-45, 250) (MARVEL) #32 Near Mint/Mint
DEADPOOL (2013) (#1-45, 250) (MARVEL) #34 Near Mint/Mint
DEADPOOL (2013) (#1-45, 250) (MARVEL) #35 Near Mint/Mint
DEADPOOL (2013) (#1-45, 250) (MARVEL) #36 Near Mint/Mint
DEADPOOL (2013) (#1-45, 250) (MARVEL) #37 Near Mint/Mint
DEADPOOL (2013) (#1-45, 250) (MARVEL) #40 Near Mint/Mint
DEADPOOL (2013) (#1-45, 250) (MARVEL) #41 Near Mint/Mint
DEADPOOL (2013) (#1-45, 250) (MARVEL) #42 Near Mint/Mint
DEADPOOL (2013) (#1-45, 250) (MARVEL) #44 Near Mint/Mint
DEADPOOL (2013) (#1-45, 250) (MARVEL) #45 250 Near Mint/Mint

DEADPOOL (2016) (#1-36) (MARVEL) #1 Near Mint/Mint
DEADPOOL (2016) (#1-36) (MARVEL) #4 Near Mint/Mint
DEADPOOL (2016) (#1-36) (MARVEL) #5 Near Mint/Mint
DEADPOOL (2016) (#1-36) (MARVEL) #6 Near Mint/Mint
DEADPOOL (2016) (#1-36) (MARVEL) #7 Very Fine
DEADPOOL (2016) (#1-36) (MARVEL) #13 Near Mint/Mint
DEADPOOL (2016) (#1-36) (MARVEL) #21 Near Mint/Mint
DEADPOOL (2016) (#1-36) (MARVEL) #30 Very Fine

DEADPOOL (2018) (#1-UP) (MARVEL) #2 Near Mint/Mint

DEADPOOL ANNUAL (2013) #1 Near Mint/Mint
DEADPOOL ANNUAL (2013) #2 Near Mint/Mint

DEADPOOL BI-ANNUAL (2014) #1 Very Fine

DEADPOOL VS. THANOS (2015) #1 Near Mint/Mint
DEADPOOL VS. THANOS (2015) #4 Near Mint/Mint

DEADPOOL: MERC WITH A MOUTH (2009) #9 Very Fine
DEADPOOL: MERC WITH A MOUTH (2009) #10 Near Mint/Mint

FANTASTIC FOUR (1997) (#1-79, 509-611) (MARVEL) #601 Near Mint/Mint
FANTASTIC FOUR (1997) (#1-79, 509-611) (MARVEL) #609 Near Mint/Mint

GAMBIT (2012) (#1-17) (MARVEL) #1 Fine
GAMBIT (2012) (#1-17) (MARVEL) #2 2ND PRINT Very Fine
GAMBIT (2012) (#1-17) (MARVEL) #7 Very Fine
GAMBIT (2012) (#1-17) (MARVEL) #13 Near Mint/Mint

HAWKEYE (2012) (#1-22) (MARVEL) (MATT FRACTION) #6 Very Fine
HAWKEYE (2012) (#1-22) (MARVEL) (MATT FRACTION) #12 Near Mint/Mint

HAWKEYE VS. DEADPOOL (2014) #0 Near Mint/Mint
HAWKEYE VS. DEADPOOL (2014) #4 Near Mint/Mint

INHUMANS (1998) (#1-12) (MARVEL KNIGHTS) #10 Near Mint/Mint
IRON MAN (2005) (#1-35) (MARVEL) #6 Near Mint/Mint

MS. MARVEL (2014) (#1-19) (MARVEL) (KAMALA KHAN) #1 Near Mint/Mint
MS. MARVEL (2014) (#1-19) (MARVEL) (KAMALA KHAN) #2 Near Mint/Mint
MS. MARVEL (2014) (#1-19) (MARVEL) (KAMALA KHAN) #3 Near Mint/Mint
MS. MARVEL (2014) (#1-19) (MARVEL) (KAMALA KHAN) #4 Very Fine
MS. MARVEL (2014) (#1-19) (MARVEL) (KAMALA KHAN) #5 Very Fine


NEW X-MEN: ACADEMY X (2004) #23

NEW X-MEN: ACADEMY X (2004) #23 Near Mint/Mint
NEW X-MEN: ACADEMY X (2004) #24 Near Mint/Mint

SECRET AVENGERS (2014) (#1-15) (MARVEL) #9 Near Mint/Mint

SPIDER-GWEN (2015) (#0-5) (MARVEL) #0 Very Good

THANOS RISING (2013) #3 Near Mint/Mint

THANOS VS. HULK (2014) #1 Near Mint/Mint

THANOS: A GOD UP THERE LISTENING (2014) #1 Near Mint/Mint

WOLVERINE (1988) (#1/2-189) (MARVEL) #1 Good
WOLVERINE (1988) (#1/2-189) (MARVEL) #2 Fine

DC
BATGIRL (2016) (#1-UP) (DC REBIRTH) #20 Near Mint/Mint
BATGIRL (2016) (#1-UP) (DC REBIRTH) #22 Near Mint/Mint

BATGIRL & THE BIRDS OF PREY (DC REBIRTH) (2016) #19 VARIANT Near Mint/Mint
BATGIRL & THE BIRDS OF PREY (DC REBIRTH) (2016) #20 Near Mint/Mint

BATGIRL (2011) (#0-52) (DC NEW52) #3 Near Mint/Mint
BATGIRL (2011) (#0-52) (DC NEW52) #4 Near Mint/Mint

BATGIRL: YEAR ONE (2002) #7 Near Mint/Mint

BATMAN (1940) (#0-713) (DC) #397 Fine
BATMAN (1940) (#0-713) (DC) #399 Fine
BATMAN (1940) (#0-713) (DC) #403 Fine
BATMAN (1940) (#0-713) (DC) #421 Fine
BATMAN (1940) (#0-713) (DC) #430 Fine
BATMAN (1940) (#0-713) (DC) #565 Near Mint/Mint
BATMAN (1940) (#0-713) (DC) #700 Fine
BATMAN (1940) (#0-713) (DC) #702 Very Fine
BATMAN (1940) (#0-713) (DC) #709 Near Mint/Mint

BATMAN (2011) (#0-52) (DC NEW52) #0 BLANK CVR Fine
BATMAN (2011) (#0-52) (DC NEW52) #1 Very Fine
BATMAN (2011) (#0-52) (DC NEW52) #2 Near Mint/Mint
BATMAN (2011) (#0-52) (DC NEW52) #3 Near Mint/Mint
BATMAN (2011) (#0-52) (DC NEW52) #5 Near Mint/Mint
BATMAN (2011) (#0-52) (DC NEW52) #6 Very Fine
BATMAN (2011) (#0-52) (DC NEW52) #7 Near Mint/Mint
BATMAN (2011) (#0-52) (DC NEW52) #8 Very Fine
BATMAN (2011) (#0-52) (DC NEW52) #20 Near Mint/Mint
BATMAN (2011) (#0-52) (DC NEW52) #22 Very Fine
BATMAN (2011) (#0-52) (DC NEW52) #24 Near Mint/Mint
BATMAN (2011) (#0-52) (DC NEW52) #37 COOKE Near Mint/Mint
BATMAN (2011) (#0-52) (DC NEW52) #43 Near Mint/Mint
BATMAN (2011) (#0-52) (DC NEW52) #48 Near Mint/Mint
BATMAN (2011) (#0-52) (DC NEW52) #50 Near Mint/Mint


BATMAN (2016) (#1-UP) (DC REBIRTH) #2

BATMAN (2016) (#1-UP) (DC REBIRTH) #2 Near Mint/Mint
BATMAN (2016) (#1-UP) (DC REBIRTH) #2 Very Fine
BATMAN (2016) (#1-UP) (DC REBIRTH) #14 VARIANT Near Mint/Mint
BATMAN (2016) (#1-UP) (DC REBIRTH) #15 VARIANT Near Mint/Mint
BATMAN (2016) (#1-UP) (DC REBIRTH) #23 Near Mint/Mint
BATMAN (2016) (#1-UP) (DC REBIRTH) #45 Near Mint/Mint

BATMAN & ROBIN (2011) #1 Fine
BATMAN & ROBIN (2011) #2 Near Mint/Mint

BATMAN ANNUAL (2012) (#1-4) (DC NEW52) #4 Near Mint/Mint

BATMAN LOST (2017) #1 Near Mint/Mint

BATMAN VS. PREDATOR III: BLOOD TIES (1997) #1 Near Mint/Mint
BATMAN VS. PREDATOR III: BLOOD TIES (1997) #4 Fine

BATMAN/SUPERMAN (2013) #24 GREENLANTE Near Mint/Mint

BATMAN/TEENAGE MUTANT NINJA TURTLES (2015) #1 Near Mint/Mint
BATMAN/TEENAGE MUTANT NINJA TURTLES (2015) #2 Near Mint/Mint
BATMAN/TEENAGE MUTANT NINJA TURTLES (2015) #3 Fine
BATMAN/TEENAGE MUTANT NINJA TURTLES (2015) #4 Near Mint/Mint

BATMAN: ARKHAM KNIGHT - GENESIS (2015) #4 Very Fine

BATMAN: BEYOND (2016)(#1-UP)(BATMAN BEYOND)(DC REBIRTH) #16 VARIANT Near Mint/Mint


BATMAN: BEYOND UNLIMITED (2012) #17

BATMAN: BEYOND UNLIMITED (2012) #17 Near Mint/Mint

BATMAN: CREATURE OF THE NIGHT (2017) #3 Near Mint/Mint

BATMAN: THE DARK KNIGHT (2011) (#0-29) (DC NEW52) #1 Near Mint/Mint
BATMAN: THE DARK KNIGHT (2011) (#0-29) (DC NEW52) #2 Near Mint/Mint
BATMAN: THE DARK KNIGHT (2011) (#0-29) (DC NEW52) #3 Near Mint/Mint

BATMAN: WHITE KNIGHT (2017) #6 Near Mint/Mint

BATWING (2011) #1 Near Mint/Mint

BIRDS OF PREY (2011) (#0-34) (DC NEW52) #1 Near Mint/Mint

BLACK ORCHID (1988) (#1-3) (DC) (PRESTIGE) #3 Very Fine

BLACK ORCHID (1993) (#1-22) (DC/VERTIGO) #22 (DC: Vertigo Press) Near Mint/Mint

CATWOMAN (2011) (#1-52) (DC NEW52) #1 Near Mint/Mint
CATWOMAN (2011) (#1-52) (DC NEW52) #2 Near Mint/Mint

CINDERELLA: FABLES ARE FOREVER (2011) #1 Near Mint/Mint
CINDERELLA: FABLES ARE FOREVER (2011) #2 Near Mint/Mint
CINDERELLA: FABLES ARE FOREVER (2011) #3 Near Mint/Mint
CINDERELLA: FABLES ARE FOREVER (2011) #4 Near Mint/Mint
CINDERELLA: FABLES ARE FOREVER (2011) #5 Near Mint/Mint
CINDERELLA: FABLES ARE FOREVER (2011) #6 Fine


CRISIS ON INFINITE EARTHS (1985) #7

CRISIS ON INFINITE EARTHS (1985) #7 Fine
CRISIS ON INFINITE EARTHS (1985) #7 NEWSSTAND Very Good
CRISIS ON INFINITE EARTHS (1985) #8 Fine
CRISIS ON INFINITE EARTHS (1985) #11 Near Mint/Mint
CRISIS ON INFINITE EARTHS (1985) #12 Near Mint/Mint

DARKSTARS (1992) #23 Near Mint/Mint
DARKSTARS (1992) #29 Near Mint/Mint
DARKSTARS (1992) #30 Near Mint/Mint
DARKSTARS (1992) #31 Near Mint/Mint
DARKSTARS (1992) #32 Near Mint/Mint
DARKSTARS (1992) #34 Near Mint/Mint
DARKSTARS (1992) #37 Near Mint/Mint

DC COMICS BOMBSHELLS (2015) #1 Very Good
DC COMICS BOMBSHELLS (2015) #2 Very Good
DC COMICS BOMBSHELLS (2015) #3 Very Good

DC SPECIAL: RAVEN (2008) #4 Near Mint/Mint

DC UNIVERSE SPECIAL: JUSTICE LEAGUE OF AMERICA (2008) #1 Near Mint/Mint

DEATHSTROKE: THE TERMINATOR (1991) #1 Near Mint/Mint
DEATHSTROKE: THE TERMINATOR (1991) #7 Near Mint/Mint
DEATHSTROKE: THE TERMINATOR (1991) #31 Near Mint/Mint
DEATHSTROKE: THE TERMINATOR (1991) #48 Near Mint/Mint


DEATHSTROKE: THE TERMINATOR (1991) #49

DEATHSTROKE: THE TERMINATOR (1991) #49 Near Mint/Mint

FLASH (1959) (#105-350) (DC) #350 NEWSSTAND Very Good

GREEN ARROW (1988) (#0-137) (DC) #1 Near Mint/Mint

GREEN LANTERN (2005) (#1-67) (DC) #53 Near Mint/Mint
GREEN LANTERN (2005) (#1-67) (DC) #54 Near Mint/Mint
GREEN LANTERN (2005) (#1-67) (DC) #59 Near Mint/Mint
GREEN LANTERN (2005) (#1-67) (DC) #61 Near Mint/Mint
GREEN LANTERN (2005) (#1-67) (DC) #62 Near Mint/Mint
GREEN LANTERN (2005) (#1-67) (DC) #64 Near Mint/Mint

HELLBLAZER (1988) (#1-300) (DC VERTIGO) #141 (DC: Vertigo Press) Very Fine
HELLBLAZER (1988) (#1-300) (DC VERTIGO) #216 (DC: Vertigo Press) Near Mint/Mint
HELLBLAZER (1988) (#1-300) (DC VERTIGO) #217 (DC: Vertigo Press) Very Fine
HELLBLAZER (1988) (#1-300) (DC VERTIGO) #218 (DC: Vertigo Press) Near Mint/Mint
HELLBLAZER (1988) (#1-300) (DC VERTIGO) #219 (DC: Vertigo Press) Near Mint/Mint

HOUSE OF MYSTERY (1951) #216 Very Good

HOUSE OF SECRETS (1956) #106 Very Good
HOUSE OF SECRETS (1956) #114 Very Good
HOUSE OF SECRETS (1956) #118 Very Good
HOUSE OF SECRETS (1956) #120 Very Good

IDENTITY CRISIS (2004) #6 Near Mint/Mint

JUSTICE LEAGUE OF AMERICA (1960) (#1-261) (DC) #254 MASKINSERT Fine
JUSTICE LEAGUE OF AMERICA (1960) (#1-261) (DC) #257 NEWSSTAND Fine

JUSTICE LEAGUE OF AMERICA ANNUAL (1983) (#1-3) (DC) #3 NEWSSTAND Fine

NIGHTWING SECRET FILES (1999) #1 Near Mint/Mint
NIGHTWING SECRET FILES (1999) #1 Very Fine

POWERPUFF GIRLS (2000) (#1-70) (CARTOON NETWORK) (DC) #68 Near Mint/Mint
POWERPUFF GIRLS (2000) (#1-70) (CARTOON NETWORK) (DC) #70 Near Mint/Mint

SUPERGIRL (1972) (#1-10) (DC) #6 Good

WARLORD (1976) #133 Fine

WONDER WOMAN (1942) (#1-329) (DC) #204 Fair

DARK HORSE COMICS
ALIENS: LABYRINTH TPB (DARK HORSE) (1995) #1 Very Good

GHOST FLEET (2014) #2 Near Mint/Mint

INCREDIBLES (2004) (#1-4) (DARK HORSE) #1 Very Fine


SERENITY: LEAVES ON THE WIND (2014) #1 SANTOS

SERENITY: LEAVES ON THE WIND (2014) #1 SANTOS Near Mint/Mint
SERENITY: LEAVES ON THE WIND (2014) #2 SANTOS Near Mint/Mint
SERENITY: LEAVES ON THE WIND (2014) #3 SANTOS Near Mint/Mint
SERENITY: LEAVES ON THE WIND (2014) #4 SANTOS Near Mint/Mint
SERENITY: LEAVES ON THE WIND (2014) #5 SANTOS Near Mint/Mint
SERENITY: LEAVES ON THE WIND (2014) #6 JEANTY Near Mint/Mint

IMAGE COMICS
ANGELA (IMAGE) (1994) #1 Near Mint/Mint
ANGELA (IMAGE) (1994) #1 NEWSSTAND Fine
ANGELA (IMAGE) (1994) #1 Very Fine
ANGELA (IMAGE) (1994) #2 Near Mint/Mint
ANGELA (IMAGE) (1994) #2 Very Fine
ANGELA (IMAGE) (1994) #3 Near Mint/Mint
ANGELA (IMAGE) (1994) #3 Very Fine

ANGELA PROMO (IMAGE) (1995) #1 SPAWN Near Mint/Mint
ANGELA PROMO (IMAGE) (1995) #1 SPAWN Very Fine
ANGELA PROMO (IMAGE) (1995) #1 SPAWN Very Good
ANGELA PROMO (IMAGE) (1995) #1 ANGELA Near Mint/Mint
ANGELA PROMO (IMAGE) (1995) #1 SPAWN Good

ANGELA/GLORY: RAGE OF ANGELS (IMAGE) (1996) #1 Near Mint/Mint
ANGELA/GLORY: RAGE OF ANGELS (IMAGE) (1996) #1 VARIANT Near Mint/Mint
ANGELA/GLORY: RAGE OF ANGELS (IMAGE) (1996) #1 VARIANT Very Fine


ANGELA/GLORY: RAGE OF ANGELS (IMAGE) (1996) #1 VARIANT

ANGELA/GLORY: RAGE OF ANGELS (IMAGE) (1996) #1 VARIANT Very Good
ANGELA/GLORY: RAGE OF ANGELS (IMAGE) (1996) #1 Very Fine

ARCANUM (IMAGE TOP COW) (BRANDON PETERSON) (1997) #1 VARIANTSGN (Image Top Cow) Near Mint/Mint
ARCANUM (IMAGE TOP COW) (BRANDON PETERSON) (1997) #2 VARIANT (Image Top Cow) Near Mint/Mint

ASTRO CITY (1995) (#1-6) (IMAGE) (KURT BUSIEK) #1 Near Mint/Mint
ASTRO CITY (1995) (#1-6) (IMAGE) (KURT BUSIEK) #2 Very Fine
ASTRO CITY (1995) (#1-6) (IMAGE) (KURT BUSIEK) #3 Near Mint/Mint
ASTRO CITY (1995) (#1-6) (IMAGE) (KURT BUSIEK) #4 Near Mint/Mint
ASTRO CITY (1995) (#1-6) (IMAGE) (KURT BUSIEK) #5 Near Mint/Mint
ASTRO CITY (1995) (#1-6) (IMAGE) (KURT BUSIEK) #6 Near Mint/Mint

ASTRO CITY (1996) (#1-15) (IMAGE/HOMAGE) #1 (Image Homage) Near Mint/Mint
ASTRO CITY (1996) (#1-15) (IMAGE/HOMAGE) #1 1/2 WIZARD (Image Homage) Near Mint/Mint
ASTRO CITY (1996) (#1-15) (IMAGE/HOMAGE) #1 S&N (Image Homage) Near Mint/Mint
ASTRO CITY (1996) (#1-15) (IMAGE/HOMAGE) #3 (Image Homage) Near Mint/Mint
ASTRO CITY (1996) (#1-15) (IMAGE/HOMAGE) #5 (Image Homage) Near Mint/Mint

BACKLASH (IMAGE) (1994) #17 Near Mint/Mint
BACKLASH (IMAGE) (1994) #27 Near Mint/Mint
BACKLASH (IMAGE) (1994) #29 Near Mint/Mint
BACKLASH (IMAGE) (1994) #30 Near Mint/Mint
BACKLASH (IMAGE) (1994) #31 Near Mint/Mint
BACKLASH (IMAGE) (1994) #32 Near Mint/Mint
BACKLASH (IMAGE) (1994) #32 Very Fine


BADROCK/WOLVERINE (IMAGE) (MARVEL) (1996) #1 LIEFELD

BADROCK/WOLVERINE (IMAGE) (MARVEL) (1996) #1 LIEFELD Very Fine

BALLISTIC (IMAGE TOPCOW) (MICHAEL TURNER) (1995) #2 (Image Top Cow) Near Mint/Mint

BODY COUNT (1996) (#1-4) (TEENAGE MUTANT NINJA TURTLES) #1 Near Mint/Mint
BODY COUNT (1996) (#1-4) (TEENAGE MUTANT NINJA TURTLES) #2 Near Mint/Mint
BODY COUNT (1996) (#1-4) (TEENAGE MUTANT NINJA TURTLES) #3 Near Mint/Mint
BODY COUNT (1996) (#1-4) (TEENAGE MUTANT NINJA TURTLES) #4 Near Mint/Mint

BOMB QUEEN (VOL. 7) (2011) #1 Near Mint/Mint

BRIGADE (1992) #1 GOLD Near Mint/Mint

DARK ENGINE (2014) #3 Near Mint/Mint

MAGDALENA/VAMPIRELLA ONE-SHOT (2004) #1 (Image Top Cow) Near Mint/Mint

INDEPENDENTS
BATTLESTAR GALACTICA VS. BATTLESTAR GALACTICA (2017) #3 C FIGURE (DYNAMITE Entertainment) Near Mint/Mint

BUGS BUNNY'S CHRISTMAS FUNNIES (DELL GIANT) (1950) #1 (Dell Publishing) Very Good
BUGS BUNNY'S CHRISTMAS FUNNIES (DELL GIANT) (1950) #3 (Dell Publishing) Fair
BUGS BUNNY'S CHRISTMAS FUNNIES (DELL GIANT) (1950) #9 (Dell Publishing) Very Good

BUGS BUNNY'S VACATION FUNNIES (DELL GIANT) (1951) #2 (Dell Publishing) Fine

HELLGIRL #1 (Knight Press) Very Fine


INSANE CLOWN POSSE: AMAZING JECKEL BROTHERS (1999) #1

INSANE CLOWN POSSE: AMAZING JECKEL BROTHERS (1999) #1 (Chaos Comics) Near Mint/Mint
INSANE CLOWN POSSE: AMAZING JECKEL BROTHERS (1999) #1 (Chaos Comics) Very Fine

LACUNAE #10 (Cry For Dawn Productions) Near Mint/Mint
LACUNAE #11 (Cry For Dawn Productions) Very Fine

LADY DEATH BIKINI SPECIAL (2005) #1 RYP (Avatar Comics) Near Mint/Mint

LADY DEATH: JUDGEMENT WAR (1999) #1 (Chaos Comics) Near Mint/Mint

LIBERTY MEADOWS (#1-26) (INSIGHT STUDIOS) (1999) #1 (Insight Studios Group) Very Fine

LORELEI (2002) (#1-2) (STARWARP) #1 (Starwarp Concepts) Fine

LORI LOVECRAFT (1997) (#1) (CALIBER) #1 (Caliber Press) Near Mint/Mint

LORI LOVECRAFT: DARK LADY (1997) #1 (Caliber Press) Near Mint/Mint

MADMAN #1 WIZARD ACE (Tundra Publishing) Near Mint/Mint

MELTING POT (1993) #1 (Kitchen Sink Publishing) Near Mint/Mint
MELTING POT (1993) #2 (Kitchen Sink Publishing) Near Mint/Mint
MELTING POT (1993) #4 (Kitchen Sink Publishing) Near Mint/Mint

MIDNIGHT PANTHER (1997) #7 (CPM Comics) Near Mint/Mint
MIDNIGHT PANTHER (1997) #8 (CPM Comics) Near Mint/Mint
MIDNIGHT PANTHER (1997) #9 (CPM Comics) Near Mint/Mint

MIDNIGHT PANTHER (1997) #10 (CPM Comics) Near Mint/Mint
MIDNIGHT PANTHER (1997) #11 (CPM Comics) Near Mint/Mint

MOEBIUS COMICS (1996) #1 (Caliber Press) Near Mint/Mint
MOEBIUS COMICS (1996) #3 (Caliber Press) Near Mint/Mint
MOEBIUS COMICS (1996) #4 (Caliber Press) Near Mint/Mint
MOEBIUS COMICS (1996) #5 (Caliber Press) Near Mint/Mint
MOEBIUS COMICS (1996) #6 (Caliber Press) Very Fine

NAKED ANGELS #1 (Eros Comix (Fantagraphics)) Very Fine

NIGHT OF THE LIVING DEAD (1994) (#0-3) (FANTACO) #2 (Fantaco Enterprises) Near Mint/Mint

NIGHTLINGER (1993) #1 (Caliber Press) Near Mint/Mint

NIGHTSHADES: CHILDREN OF THE MASQUE #1 (Cry For Dawn Productions) Near Mint/Mint

NIRA X SUMMER SPLASH #1 (Avatar Comics) Near Mint/Mint

ON A PALE HORSE #1 (Innovation Publishing) Near Mint/Mint

PERM WOMAN #1 (Fantaco Enterprises) Near Mint/Mint
PERM WOMAN #1 (Fantaco Enterprises) Very Fine
PERM WOMAN #2 (Fantaco Enterprises) Very Fine

PINK DUST: MORPHINE DREAMS (JAMES O'BARR) (1998) #1 (Kitchen Sink Publishing) Near Mint/Mint


POISON ELVES (1995) (1-80) (SIRIUS) #48

POISON ELVES (1995) (1-80) (SIRIUS) #48 (Sirius) Near Mint/Mint

PURGATORI: GODDESS RISING (1999) #4 (Chaos Comics) Near Mint/Mint

SAMURAI JACK (2013) #2 (IDW Publishing) Near Mint/Mint
SAMURAI JACK (2013) #3 (IDW Publishing) Near Mint/Mint