Ten Million Comic Books 60% Off - Marvel, DC, Dark Horse, Image, more
Howdy!
Just two days after a fierce blizzard knocked out power to over 200,000 Denver-area households, our first Crocus flowers bloomed this afternoon at our family farm in Boulder. After what has proven to be a very rough end-of-winter, I could not be happier to see these beautiful harbingers of spring!
In case you were wondering, I was working at our farm this afternoon (instead of at Jason St.) because I was toiling in my personal comics vault trying to sort out a few extra Underground Comix for Lisa from the 3,000+ issues that I am currently seeking to integrate into my personal archives. I am seeking to acquire 3 copies each on all the variants of every Underground ever published (including all cover price variants), so it truly takes a huge number of comix to fully complete all of my runs.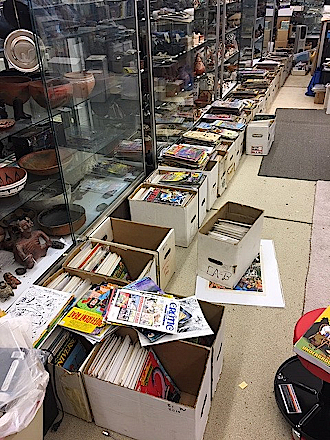 Chuck's unsorted 3,000 Underground Comix

The good news is that my steady accumulation of thousands of Undergrounds over the years is finally starting to fill in most of my personal want list, so I am now generating enough extras to provide Lisa with what she needs to build a very nice display wall of Undergrounds in our Jason St. Mega-Store. The next step will be to start adding a few titles and issues numbers into our online database. Even the beginning of that online cataloging effort is still many months off, however, as I simply lack the time that I need to sort through so many thousands of cool comix. All great journeys begin with but a single step, however, so tonight I will work to catalog all of my issues of CARTOON HISTORY OF THE UNIVERSE by the incredibly talented Larry Groenick. Slowly, but surely, I will get this epic task accomplished.
In other news, we will be hosting a fantastic professional wrestling event tomorrow (Saturday) night here in our Jason St. Mega-Store. We just expanded the seating capacity of our events area to nearly 400 seats, so we are expecting a huge and enthusiastically rowdy crowd. Bring the kids for crazy fun! Next Saturday 3/16 we will host another of our famous no-minimum-bid auctions featuring thousands of dollars in rare comics and toys, as well as one of our awesome Texas Hold'em poker tournaments. Register early for the tournament, if you can, as we almost ran out of seats last month. We are also short on dealers this month, so if you know of anyone who might be able to help us, please contact Will Moulton via moulton@milehighcomics.com.
My final item for today is a quick mention that our incredibly generous 60% off SPRINGBREAK! codeword sale is in effect for you right now on all ten million of our back issue comics and magazines, excepting only new issues, a few variants, and our professionally-graded issues. I am not actually pushing this sale very hard right now, for the simple reason that since I first mentioned the new 60% off codeword on Wednesday we have already been flooded with orders for thousands of great back issues. If you do want to take advantage of this infrequent opportunity to purchase even our best back issues at such a small fraction of normal list price, please do try to get your order in to us right away. Also, please, please be patient about shipping times. We are a small family-owned company, but also one that has built up quite a huge online presence. Whenever we do start a sale at 60% off, we immediately get buried in orders from prescient comics fans from all around the world. Just saying...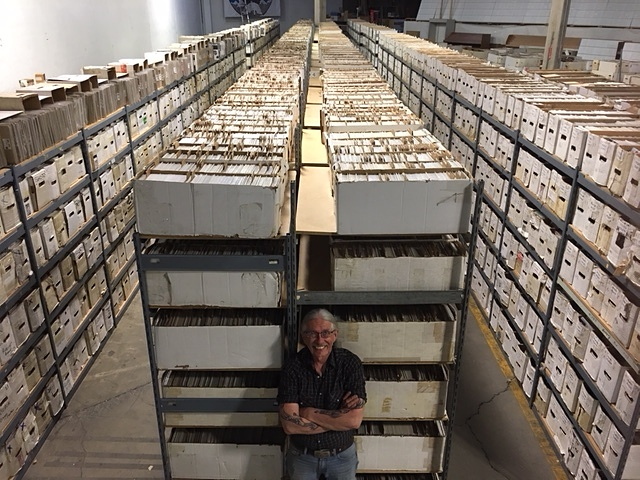 Chuck at the beginning of our Back Issue Files

Happy collecting!
Chuck Rozanski,
President - Mile High Comics, Inc.
March 15, 2019
P.S. Here are more new arrivals from which you can choose at 60% off:
MARVEL

DAREDEVIL (1964) (#1-380) (MAN WITHOUT FEAR) (MARVEL) #174

DAREDEVIL (1964) (#1-380) (MAN WITHOUT FEAR) (MARVEL) #174 Very Fine
DAREDEVIL (1964) (#1-380) (MAN WITHOUT FEAR) (MARVEL) #175 Very Fine
DAREDEVIL (1964) (#1-380) (MAN WITHOUT FEAR) (MARVEL) #179 Very Good
DAREDEVIL (1964) (#1-380) (MAN WITHOUT FEAR) (MARVEL) #230 Fine
DAREDEVIL (1964) (#1-380) (MAN WITHOUT FEAR) (MARVEL) #233 Near Mint/Mint
DAREDEVIL (1964) (#1-380) (MAN WITHOUT FEAR) (MARVEL) #249 Very Fine
DAREDEVIL (1964) (#1-380) (MAN WITHOUT FEAR) (MARVEL) #254 Very Fine
DAREDEVIL (1964) (#1-380) (MAN WITHOUT FEAR) (MARVEL) #257 Near Mint/Mint
DAREDEVIL (1964) (#1-380) (MAN WITHOUT FEAR) (MARVEL) #259 Near Mint/Mint
DAREDEVIL (1964) (#1-380) (MAN WITHOUT FEAR) (MARVEL) #261 Near Mint/Mint
DAREDEVIL (1964) (#1-380) (MAN WITHOUT FEAR) (MARVEL) #270 Near Mint/Mint
DAREDEVIL (1964) (#1-380) (MAN WITHOUT FEAR) (MARVEL) #288 Near Mint/Mint
DAREDEVIL (1964) (#1-380) (MAN WITHOUT FEAR) (MARVEL) #289 Near Mint/Mint
DAREDEVIL (1964) (#1-380) (MAN WITHOUT FEAR) (MARVEL) #297 Near Mint/Mint

GI JOE #17 Fine
GI JOE #20 Very Good
GI JOE #46 NEWSSTAND Fine

GUARDIANS OF THE GALAXY ANNUAL (1991) #2 NEWSSTAND Near Mint/Mint
GUARDIANS OF THE GALAXY ANNUAL (1991) #3 NEWSSTAND Near Mint/Mint

HOWARD THE DUCK (1976) (#1-33) #12 Very Good

HOWARD THE DUCK (2015) (NOVEMBER) (#1-11) #1 Near Mint/Mint


HULK (2008) (#1-57) (RED HULK) (MARVEL) #1

HULK (2008) (#1-57) (RED HULK) (MARVEL) #1 Near Mint/Mint

INFERNAL MAN-THING (2012) #1 KANE Near Mint/Mint

INFINITY GAUNTLET (1991) #5 NEWSSTAND Fair

IRON FIST (1975) (#1-15) (MARVEL) #14 Very Good
IRON FIST (1975) (#1-15) (MARVEL) #15 Fine

LOGAN'S RUN (1977) (#1-7) (MARVEL) #6 Very Fine

MACHINE MAN (1978) (#1-19) (MARVEL) #9 Very Fine

MAN-THING (1974) (#1-22) (MARVEL) #4 Very Good
MAN-THING (1974) (#1-22) (MARVEL) #22 Very Good

MARVEL AGE ANNUAL #3 Very Fine

MARVEL COMICS PRESENTS (1988) (#1-175) (MARVEL) #86 NEWS SGN Fine

MARVEL FEATURE (1971) (#1-12) #8 Very Good

MICRONAUTS (1979) (#1-59) (MARVEL) #29 Near Mint/Mint
MICRONAUTS (1979) (#1-59) (MARVEL) #48 Near Mint/Mint


MICRONAUTS SPECIAL EDITION (1983) #1

MICRONAUTS SPECIAL EDITION (1983) #1 Near Mint/Mint

MOON KNIGHT (1998) (#1-4) (MARVEL) #2 Near Mint/Mint
MOON KNIGHT (1998) (#1-4) (MARVEL) #3 Near Mint/Mint

MORLOCKS (2002) #1 Fine
MORLOCKS (2002) #4 Very Fine

NEW MUTANTS ANNUAL (1983) #7 NEWSSTAND Fine

PETER PORKER, THE SPECTACULAR SPIDER-HAM (1985) #14 NEWSSTAND Good

SILVER SABLE & THE WILD PACK (1992) (#1-35) (MARVEL) #4 NEWSSTAND Near Mint/Mint
SILVER SABLE & THE WILD PACK (1992) (#1-35) (MARVEL) #4 NEWSSTAND Very Fine
SILVER SABLE & THE WILD PACK (1992) (#1-35) (MARVEL) #5 NEWSSTAND Near Mint/Mint
SILVER SABLE & THE WILD PACK (1992) (#1-35) (MARVEL) #6 NEWSSTAND Near Mint/Mint

SILVER SURFER ANNUAL (1988) (#1-7) (MARVEL) #6 NEWSSTAND Near Mint/Mint

STAR WARS (1977) (#1-107) (MARVEL) #26 NEWSSTAND Fine

WEST COAST AVENGERS ANNUAL (1986) #8 NEWSSTAND Near Mint/Mint

WOLVERINE (1982) (#1-4) (MARVEL LIMITED SERIES) #1 Very Fine
WOLVERINE (1982) (#1-4) (MARVEL LIMITED SERIES) #2 Good
WOLVERINE (1982) (#1-4) (MARVEL LIMITED SERIES) #3 NEWSSTAND Near Mint/Mint
WOLVERINE (1982) (#1-4) (MARVEL LIMITED SERIES) #4 Fine

WOLVERINE: THE ORIGIN (2001) #1 Near Mint/Mint


WORLD WAR HULK (2007) #4 ROMITA JR

WORLD WAR HULK (2007) #4 ROMITA JR. Fine
WORLD WAR HULK (2007) #4 ROMITA JR. Very Good
WORLD WAR HULK (2007) #5 ROMITA JR. Fine
WORLD WAR HULK (2007) #5 ROMITA JR. Very Good

X 23: TARGET X (2006) #1 TOPCOW ED Very Fine
X 23: TARGET X (2006) #3 Very Fine
X 23: TARGET X (2006) #4 Very Fine
X 23: TARGET X (2006) #5 Very Fine
X 23: TARGET X (2006) #6 Fine

X-FACTOR (1986) (#1-149) (ORIGINAL X-MEN) #24 Very Good

X-FORCE (1991) (#1-129) (MARVEL) #1 SUNSPONEWS Near Mint/Mint
X-FORCE (1991) (#1-129) (MARVEL) #8 NEWSSTAND Near Mint/Mint
X-FORCE (1991) (#1-129) (MARVEL) #10 NEWSSTAND Very Fine
X-FORCE (1991) (#1-129) (MARVEL) #15 NEWSSTAND Very Fine
X-FORCE (1991) (#1-129) (MARVEL) #19 NEWSSTAND Fine
X-FORCE (1991) (#1-129) (MARVEL) #19 Very Fine
X-FORCE (1991) (#1-129) (MARVEL) #20 NEWSSTAND Very Good
X-FORCE (1991) (#1-129) (MARVEL) #23 Near Mint/Mint
X-FORCE (1991) (#1-129) (MARVEL) #23 Very Fine
X-FORCE (1991) (#1-129) (MARVEL) #25 NEWSSTAND Very Fine

X-FORCE ANNUAL (1992) #2 NEWSSTAND Near Mint/Mint

X-MEN (1963) (#1-113, UNCANNY X-MEN #114-544) (MARVEL) #312 NEWSSTAND Fine
X-MEN (1963) (#1-113, UNCANNY X-MEN #114-544) (MARVEL) #474 Near Mint/Mint

X-MEN (1991) (#1-275) (MARVEL) #18 Near Mint/Mint
X-MEN (1991) (#1-275) (MARVEL) #21 Near Mint/Mint


X-MEN (1991) (#1-275) (MARVEL) #22

X-MEN (1991) (#1-275) (MARVEL) #22 Near Mint/Mint
X-MEN (1991) (#1-275) (MARVEL) #24 NEWSSTAND Very Fine
X-MEN (1991) (#1-275) (MARVEL) #25 Near Mint/Mint
X-MEN (1991) (#1-275) (MARVEL) #28 KB INSERT Near Mint/Mint
X-MEN (1991) (#1-275) (MARVEL) #28 NEWSSTAND Near Mint/Mint
X-MEN (1991) (#1-275) (MARVEL) #29 NEWSSTAND Near Mint/Mint
X-MEN (1991) (#1-275) (MARVEL) #30 Near Mint/Mint
X-MEN (1991) (#1-275) (MARVEL) #30 NEWSSTAND Near Mint/Mint

X-MEN 2099 (1993) #1 GOLD Near Mint/Mint

X-MEN ANNUAL (1970) #13 NEWSSTAND Very Fine
X-MEN ANNUAL (1970) #15 NEWSSTAND Very Fine

X-MEN: PHOENIX-WARSONG (2006) #5 Near Mint/Mint

DC
FLASH (1987) (#0-247) (DC) #207 Near Mint/Mint

HARLEY QUINN (2000) (#1-38) (DC) #8 Near Mint/Mint
HARLEY QUINN (2000) (#1-38) (DC) #9 Near Mint/Mint

JOKER: LAST LAUGH (2001) #6 Very Fine

JUST IMAGINE: BATMAN (2001) #1 Near Mint/Mint

LEGENDS OF THE DARK KNIGHT (BATMAN) (1989) #10 Near Mint/Mint
LEGENDS OF THE DARK KNIGHT (BATMAN) (1989) #16 Near Mint/Mint
LEGENDS OF THE DARK KNIGHT (BATMAN) (1989) #145 Very Fine

LOIS LANE (1958) (#1-137) (SUPERMAN'S GIRL FRIEND) (DC) #56 Good

OUR ARMY AT WAR (1952) #271 Fine
OUR ARMY AT WAR (1952) #280 Fine
OUR ARMY AT WAR (1952) #282 Fine
OUR ARMY AT WAR (1952) #287 Fine

OUR FIGHTING FORCES (1954) #159 Very Good
OUR FIGHTING FORCES (1954) #162 Very Good

POWERPUFF GIRLS (2000) (#1-70) (CARTOON NETWORK) (DC) #15 Near Mint/Mint
POWERPUFF GIRLS (2000) (#1-70) (CARTOON NETWORK) (DC) #16 Near Mint/Mint

SUPERMAN & BATMAN GENERATIONS (1999) #2 Very Fine

WONDER WOMAN (1987) (#0-226) (DC) #169 Near Mint/Mint
WONDER WOMAN (1987) (#0-226) (DC) #170 Near Mint/Mint
WONDER WOMAN (1987) (#0-226) (DC) #171 Near Mint/Mint

WONDER WOMAN (2006) (#1-44, 600-614) (DC) #1 Near Mint/Mint

ZATANNA (2010) #4 Near Mint/Mint
ZATANNA (2010) #4 Very Fine

DARK HORSE COMICS
FRAY (2001) #1 Near Mint/Mint

STAR WARS (1998) (#0-83) (DARK HORSE) #30 Fine

STAR WARS TALES #8 Very Fine


STAR WARS: JEDI VS. SITH (2001) #2

STAR WARS: JEDI VS. SITH (2001) #2 Fine
STAR WARS: JEDI VS. SITH (2001) #3 Very Fine

STAR WARS: LEGACY (2006) #4 Near Mint/Mint
STAR WARS: LEGACY (2006) #5 Very Good
STAR WARS: LEGACY (2006) #6 Very Fine
STAR WARS: LEGACY (2006) #7 Very Fine
STAR WARS: LEGACY (2006) #8 Very Fine
STAR WARS: LEGACY (2006) #11 Very Fine
STAR WARS: LEGACY (2006) #12 Near Mint/Mint

STAR WARS: UNDERWORLD (2000) #5 PHOTO Very Fine

IMAGE COMICS
FATHOM: KILLIAN'S TIDE (2001) #3 VARIANT (Image Top Cow) Near Mint/Mint

SPAWN (1992) #108 Near Mint/Mint
SPAWN (1992) #109 Near Mint/Mint

SPAWN: THE DARK AGES (1999) #25 Near Mint/Mint
SPAWN: THE DARK AGES (1999) #26 Near Mint/Mint

TOP COW CLASSICS: WITCHBLADE #25 (Image Top Cow) Near Mint/Mint

WITCHBLADE (1995) #18 AE VARIANT (Image Top Cow) Very Fine
WITCHBLADE (1995) #18 AE VARIANT (Image Top Cow) Fine
WITCHBLADE (1995) #23 NEWSSTAND (Image Top Cow) Near Mint/Mint
WITCHBLADE (1995) #25 PRISM VAR. (Image Top Cow) Near Mint/Mint
WITCHBLADE (1995) #25 SPECIAL (Image Top Cow) Near Mint/Mint


WITCHBLADE (1995) #26 NEWSSTAND

WITCHBLADE (1995) #26 NEWSSTAND (Image Top Cow) Very Fine
WITCHBLADE (1995) #27 VARIANT (Image Top Cow) Near Mint/Mint
WITCHBLADE (1995) #47 (Image Top Cow) Near Mint/Mint
WITCHBLADE (1995) #98 (Image Top Cow) Near Mint/Mint
WITCHBLADE (1995) #100 CHOI (Image Top Cow) Near Mint/Mint
WITCHBLADE (1995) #100 GONZO (Image Top Cow) Near Mint/Mint
WITCHBLADE (1995) #100 LINSNER CV (Image Top Cow) Near Mint/Mint
WITCHBLADE (1995) #100 SILVESTRI (Image Top Cow) Near Mint/Mint
WITCHBLADE (1995) #100 TURNER (Image Top Cow) Near Mint/Mint
WITCHBLADE (1995) #500 (Image Top Cow) Fine

INDEPENDENTS
DALKIEL: THE PROPHECY (1999) #1 (Verotik) Very Fine

DARK UTOPIA: ART OF TIM VIGIL #3 (Rebel Studios) Near Mint/Mint

FLESH & BLOOD (#1-3) (BRAINSTORM/BLINDWOLF) (1995) #1 (Brainstorm Comics) Near Mint/Mint
FLESH & BLOOD (#1-3) (BRAINSTORM/BLINDWOLF) (1995) #2 (Brainstorm Comics) Near Mint/Mint
FLESH & BLOOD (#1-3) (BRAINSTORM/BLINDWOLF) (1995) #3 (Brainstorm Comics) Near Mint/Mint

FUTURAMA COMICS (2000) #4 (Bongo Comics) Near Mint/Mint

HELL'S MAIDEN: DEMON BLOOD #1 (Brainstorm Comics) Near Mint/Mint
HELL'S MAIDEN: DEMON BLOOD #1 NUDE (Brainstorm Comics) Near Mint/Mint

HEROBEAR AND THE KID (2000) #3 (Astonish Comics) Near Mint/Mint

KISS OF THE VAMPIRE #1 (Brainstorm Comics) Near Mint/Mint
KISS OF THE VAMPIRE #1 NUDE (Brainstorm Comics) Near Mint/Mint

LADY DEATH: ALIVE (2001) #2 (Chaos Comics) Near Mint/Mint
LADY DEATH: ALIVE (2001) #3 (Chaos Comics) Near Mint/Mint

LETHAL LADIES OF BRAINSTORM #1 (Brainstorm Comics) Near Mint/Mint
LETHAL LADIES OF BRAINSTORM #1 LUXURY ED (Brainstorm Comics) Near Mint/Mint
LETHAL LADIES OF BRAINSTORM #1 (Brainstorm Comics) Very Fine

LIBERTY MEADOWS (#1-26) (INSIGHT STUDIOS) (1999) #20 (Insight Studios Group) Near Mint/Mint
LIBERTY MEADOWS (#1-26) (INSIGHT STUDIOS) (1999) #22 (Insight Studios Group) Near Mint/Mint
LIBERTY MEADOWS (#1-26) (INSIGHT STUDIOS) (1999) #23 (Insight Studios Group) Fine

LIFE WITH ARCHIE (1958) #113 (Archie Comics) Very Good

LUXURA & VAMPFIRE (VAMPRESS LUXURA) (ADULT) (1997) #1 (Brainstorm Comics) Near Mint/Mint
LUXURA & VAMPFIRE (VAMPRESS LUXURA) (ADULT) (1997) #1 NUDE (Brainstorm Comics) Very Fine

LUXURA ANNUAL (VAMPRESS LUXURA) (1998) #1 (Brainstorm Comics) Fine
LUXURA ANNUAL (VAMPRESS LUXURA) (1998) #1 NUDE (Brainstorm Comics) Fine

LUXURA CONVENTION BOOK (VAMPRESS LUXURA) (1997) #3 (Brainstorm Comics) Near Mint/Mint
LUXURA CONVENTION BOOK (VAMPRESS LUXURA) (1997) #3 (Brainstorm Comics) Very Fine

LUXURA/BABY ANGEL X SPECIAL (VAMPRESS LUXURA) (1996) #2 (Brainstorm Comics) Near Mint/Mint

M.A.R.S. PATROL (GOLD KEY) (1966) #5 (Gold Key) Very Good
M.A.R.S. PATROL (GOLD KEY) (1966) #7 (Gold Key) Fine

MADMAN ADVENTURES #2 (Tundra Publishing) Near Mint/Mint

MANY GHOSTS OF DR. GRAVES (1967) #53 (Charlton) Fine


MICKEY MOUSE (1962) (#85-204) (GOLD KEY) #126

MICKEY MOUSE (1962) (#85-204) (GOLD KEY) #126 (Gold Key) Very Good
MICKEY MOUSE (1962) (#85-204) (GOLD KEY) #127 (Gold Key) Fine
MICKEY MOUSE (1962) (#85-204) (GOLD KEY) #127 (Gold Key) Very Good
MICKEY MOUSE (1962) (#85-204) (GOLD KEY) #129 (Gold Key) Fine
MICKEY MOUSE (1962) (#85-204) (GOLD KEY) #130 (Gold Key) Fine
MICKEY MOUSE (1962) (#85-204) (GOLD KEY) #130 (Gold Key) Very Good
MICKEY MOUSE (1962) (#85-204) (GOLD KEY) #131 (Gold Key) Fine

MIGHTY SAMSON (1964) #30 (Gold Key) Fine

NOMAN (T.H.U.N.D.E.R. INVISIBLE AGENT) (1966) #1 (Tower Comics) Fine
NOMAN (T.H.U.N.D.E.R. INVISIBLE AGENT) (1966) #2 (Tower Comics) Very Good

OCCULT FILES OF DOCTOR SPEKTOR (1973) (#1-24) (Gold Key) #3 (Gold Key) Fine
OCCULT FILES OF DOCTOR SPEKTOR (1973) (#1-24) (Gold Key) #4 (Gold Key) Very Good
OCCULT FILES OF DOCTOR SPEKTOR (1973) (#1-24) (Gold Key) #8 (Gold Key) Very Good
OCCULT FILES OF DOCTOR SPEKTOR (1973) (#1-24) (Gold Key) #9 (Gold Key) Very Good

PHANTOM (1962) (#1-17) (GOLD KEY) #8 (Gold Key) Good

PHANTOM (1969) (#30-74) (CHARLTON) #42 (Charlton) Very Good

PINK PANTHER (1971) (#1-73) (GOLD KEY) #5 WHITMAN (Gold Key) Fine

PLANET OF VAMPIRES (1975) #1 (Atlas/Seaboard) Fine

PORKY PIG (1942) (#1-81) (Dell Publishing) #28 (Dell Publishing) Very Good
PORKY PIG (1942) (#1-81) (Dell Publishing) #34 (Dell Publishing) Fine

REAL GHOSTBUSTERS (1988) #12 NEWSSTAND (Now Comics) Very Good


ROAD RUNNER (BEEP BEEP) (1966) (#1-88) (GOLD KEY) #28 WHITMAN

ROAD RUNNER (BEEP BEEP) (1966) (#1-88) (GOLD KEY) #28 WHITMAN (Gold Key) Fine

SIMPSONS COMICS (BONGO) (1993) #58 (Bongo Comics) Near Mint/Mint

SKYNN & BONES (1995) #1 (Brainstorm Comics) Near Mint/Mint

SKYNN & BONES: FLESH FOR FANTASY #1 (Brainstorm Comics) Near Mint/Mint
SKYNN & BONES: FLESH FOR FANTASY #1 NUDE (Brainstorm Comics) Near Mint/Mint
SKYNN & BONES: FLESH FOR FANTASY #2 NUDE (Brainstorm Comics) Near Mint/Mint

SWEET LUCY #1 COMM. ED (Brainstorm Comics) Near Mint/Mint
SWEET LUCY #2 (Brainstorm Comics) Near Mint/Mint

TAROT: WITCH OF THE BLACK ROSE (2000) #8 (Broadsword Comics) Near Mint/Mint
TAROT: WITCH OF THE BLACK ROSE (2000) #8 VARIANT (Broadsword Comics) Near Mint/Mint

VAMPEROTICA BONDAGE SPECIAL #1 (Brainstorm Comics) Near Mint/Mint
VAMPEROTICA BONDAGE SPECIAL #1 MANGA ALT (Brainstorm Comics) Near Mint/Mint
VAMPEROTICA BONDAGE SPECIAL #1 NUDE (Brainstorm Comics) Near Mint/Mint

VAMPEROTICA MANGA #1 EMBRACE (Brainstorm Comics) Very Fine
VAMPEROTICA MANGA #1 NUDE (Brainstorm Comics) Very Fine

VAMPEROTICA PRESENTS COUNTESS VLADMIRA #1 (Brainstorm Comics) Near Mint/Mint
VAMPEROTICA PRESENTS COUNTESS VLADMIRA #1 PHOTO NUDE (Brainstorm Comics) Near Mint/Mint

VAMPEROTICA TALES #1 NUDE (Brainstorm Comics) Near Mint/Mint
VAMPEROTICA TALES #2 NUDE (Brainstorm Comics) Very Fine
VAMPEROTICA TALES #3 NUDE (Brainstorm Comics) Near Mint/Mint
VAMPEROTICA TALES #4 (Brainstorm Comics) Near Mint/Mint
VAMPEROTICA TALES #4 NUDE (Brainstorm Comics) Very Fine

VAMPEROTICA TALES #5 (Brainstorm Comics) Near Mint/Mint
VAMPEROTICA TALES #5 NUDE (Brainstorm Comics) Near Mint/Mint

VAMPEROTICA: DARE TO BARE SPECIAL #1 (Brainstorm Comics) Near Mint/Mint
VAMPEROTICA: DARE TO BARE SPECIAL #1 NUDE (Brainstorm Comics) Near Mint/Mint
VAMPEROTICA: DARE TO BARE SPECIAL #1 NUDE (Brainstorm Comics) Very Fine

VAMPFIRE #1 (Brainstorm Comics) Near Mint/Mint
VAMPFIRE #1 COMM CVR (Brainstorm Comics) Near Mint/Mint
VAMPFIRE #1 NUDE (Brainstorm Comics) Near Mint/Mint

VAMPFIRE NECROMANTIQUE #1 (Brainstorm Comics) Near Mint/Mint
VAMPFIRE NECROMANTIQUE #1 NUDE (Brainstorm Comics) Very Fine
VAMPFIRE NECROMANTIQUE #2 (Brainstorm Comics) Near Mint/Mint
VAMPFIRE NECROMANTIQUE #2 NUDE (Brainstorm Comics) Near Mint/Mint

VAMPFIRE PIN-UP SPECIAL #1 (Brainstorm Comics) Near Mint/Mint
VAMPFIRE PIN-UP SPECIAL #1 NUDE (Brainstorm Comics) Near Mint/Mint
VAMPFIRE PIN-UP SPECIAL #1 NUDE (Brainstorm Comics) Very Fine
VAMPFIRE PIN-UP SPECIAL #1 (Brainstorm Comics) Very Fine

VAMPFIRE: EROTIC ECHO (1997) #1 (Brainstorm Comics) Near Mint/Mint
VAMPFIRE: EROTIC ECHO (1997) #1 NUDE (Brainstorm Comics) Near Mint/Mint
VAMPFIRE: EROTIC ECHO (1997) #1 PHOTO (Brainstorm Comics) Near Mint/Mint
VAMPFIRE: EROTIC ECHO (1997) #2 (Brainstorm Comics) Near Mint/Mint
VAMPFIRE: EROTIC ECHO (1997) #2 NUDE (Brainstorm Comics) Near Mint/Mint
VAMPFIRE: EROTIC ECHO (1997) #2 NUDE (Brainstorm Comics) Very Fine


VAMPI DIGITAL (2001) #1 LIMITED

VAMPI DIGITAL (2001) #1 LIMITED (Harris Comics) Near Mint/Mint

VAMPIRE BITES #2 NUDE (Brainstorm Comics) Near Mint/Mint
VAMPIRE BITES #2 NUDE (Brainstorm Comics) Very Fine

VAMPIRE ZONE (1998) #1 (Brainstorm Comics) Near Mint/Mint

VICIOUS #1 GOLD (Brainstorm Comics) Very Fine

WILLOW (1996) (#0-2) (ANGEL ENTERTAINMENT) #0 RED FOIL (Angel Entertainment) Near Mint/Mint
WILLOW (1996) (#0-2) (ANGEL ENTERTAINMENT) #0 NUDE COVER (Angel Entertainment) Near Mint/Mint
WILLOW (1996) (#0-2) (ANGEL ENTERTAINMENT) #0 RED FOIL (Angel Entertainment) Very Fine
WILLOW (1996) (#0-2) (ANGEL ENTERTAINMENT) #1 (Angel Entertainment) Near Mint/Mint
WILLOW (1996) (#0-2) (ANGEL ENTERTAINMENT) #1 DELUXE (Angel Entertainment) Near Mint/Mint
WILLOW (1996) (#0-2) (ANGEL ENTERTAINMENT) #1 NUDE COVER (Angel Entertainment) Very Fine
WILLOW (1996) (#0-2) (ANGEL ENTERTAINMENT) #1 (Angel Entertainment) Very Fine
WILLOW (1996) (#0-2) (ANGEL ENTERTAINMENT) #2 (Angel Entertainment) Near Mint/Mint
WILLOW (1996) (#0-2) (ANGEL ENTERTAINMENT) #2 ALT. NUDE (Angel Entertainment) Near Mint/Mint
WILLOW (1996) (#0-2) (ANGEL ENTERTAINMENT) #2 ALT. NUDE (Angel Entertainment) Very Fine
WILLOW (1996) (#0-2) (ANGEL ENTERTAINMENT) #2 NUDE COVER (Angel Entertainment) Very Fine
WILLOW (1996) (#0-2) (ANGEL ENTERTAINMENT) #2 VIRGIN (Angel Entertainment) Near Mint/Mint

WILLOW SKETCHBOOK (ANGEL ENTERTAINMENT) (1996) #1 (Angel Entertainment) Near Mint/Mint
WILLOW SKETCHBOOK (ANGEL ENTERTAINMENT) (1996) #1 NUDE COVER (Angel Entertainment) Near Mint/Mint
WILLOW SKETCHBOOK (ANGEL ENTERTAINMENT) (1996) #1 NUDE COVER (Angel Entertainment) Very Fine

XENYA #1 (Sanctuary Press) Near Mint/Mint