60% Off Sale on Ten Million Comic Books Begins Today
Howdy!
A quick newsletter today, because a fierce ground blizzard hitting the Colorado area today is threatening to shut down our power. We actually had to shut down and send everyone on our staff home, purely out of safety concerns. Our closing early very seldom happens, but today's weather was rather extreme...
As regards news, the biggest bit of irony is that today marks the beginning of our annual 60% off SPRINGBREAK! comics and magazine sale. This incredibly generous sale applies to all ten million+ of our back issue comics and magazines, excepting only new issues, a few variants, and our professionally-graded comics. We have purchased dozens of great collections of old comics and magazines since our last big sale, so there are some awesome issues in our massive Premium New-In-Stock link from which you can choose.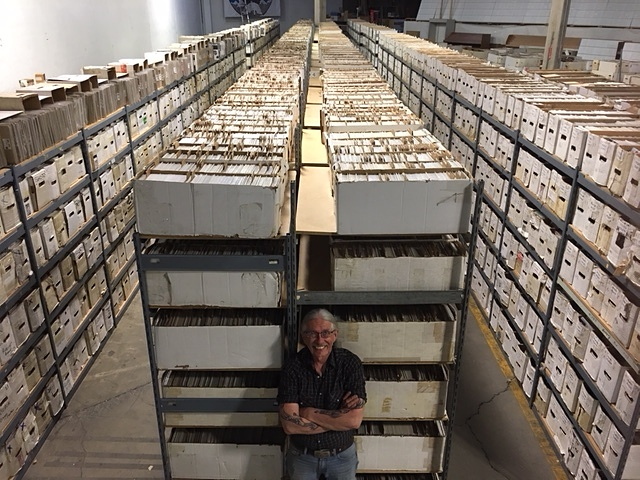 Chuck infront of our Back Issue Files

Today's weather not withstanding, our SPRINGBREAK! codeword sale always marks the beginning of our busiest season at Mile High Comics, which will continue until mid-August. Truth be told, our sales are already up over 60% for the year at Jason St., but we expect that growth rate to actually accelerate as we continue into the year, at least in part because we are now having so many return visitors from out of state. Just for fun, check out all of the pins placed on the map below by some of our visitors to Jason. Not everyone places a pin, but clearly a lot of people do!
My only other bit of news for today is a quick mention that we gave away all of the free SPIDER-MAN (1990) #1 Near Mint issues that Will located in his deal from last week. We do have a few copies still in stock from previous acquisitions, however, so I asked Will to drop the price on those from $32.00, to only $9.95 (net). This offer is for 20 copies only, or until Monday rolls around.
Happy collecting!
Chuck Rozanski,
President - Mile High Comics, Inc.
March 13, 2019
P.S. Here are a few comics from Premium New-In-Stock:
MARVEL
AGE OF APOCALYPSE (2015) (#1-5) (SECRET WARS) #1 HASTINGS Very Fine

AGE OF CONAN: BELIT (2019) #1 VATINE Near Mint/Mint

AGE OF X-MAN: MARVELOUS X-MEN (2019) #2 RAMOS Near Mint/Mint


AMAZING FANTASY (2004) (#1-20) (MARVEL) #1

AMAZING FANTASY (2004) (#1-20) (MARVEL) #1 Fine

AMAZING SPIDER-MAN (1999) (#1-58, #500-700.5) (MARVEL) #573 ZOMBIE Fine

AMAZING SPIDER-MAN (2018) (#1-UP) (MARVEL) #17 SMITH Near Mint/Mint

CAPTAIN MARVEL (1968) (#1-62) (MARVEL) #33 Very Fine

CAPTAIN MARVEL PICTURE BOOK HC (2019) #1 Near Mint/Mint

CONAN (1970) (#1-275) (CONAN THE BARBARIAN) (MARVEL) #241 Near Mint/Mint
CONAN (1970) (#1-275) (CONAN THE BARBARIAN) (MARVEL) #241 NEWSSTAND Near Mint/Mint
CONAN (1970) (#1-275) (CONAN THE BARBARIAN) (MARVEL) #242 Near Mint/Mint

DAREDEVIL (1964) (#1-380) (MAN WITHOUT FEAR) (MARVEL) #1 Fine
DAREDEVIL (1964) (#1-380) (MAN WITHOUT FEAR) (MARVEL) #3 Good
DAREDEVIL (1964) (#1-380) (MAN WITHOUT FEAR) (MARVEL) #4 Good
DAREDEVIL (1964) (#1-380) (MAN WITHOUT FEAR) (MARVEL) #359 NEWSSTAND Fine

DAREDEVIL (1998) (#1-119, 500-512) (MARVEL) #58 Very Fine

DAREDEVIL/DEADPOOL '97 #1 NEWSSTAND Fine

DEADPOOL (2008) (#1-63, 900, 1000) (MARVEL) #34 CAP AMERIC Very Fine
DEADPOOL (2013) (#1-45, 250) (MARVEL) #30 MILE HIGH Very Fine

DEADPOOL VS. CARNAGE (2014) #3 Near Mint/Mint

DRACULA LIVES! ANNUAL MAGAZINE (1975) #1 Good

FOOM (FRIENDS OF OL' MARVEL) MAGAZINE (1973) #2 Fine

GUARDIANS OF THE GALAXY (2013) (#0.1-27) (MARVEL) #1 MIDTOWN ED Near Mint/Mint

GUNSMOKE WESTERN (1955) #46 Fair

HULK (1962) (#1-6, #102-474, #600-635)(INCREDIBLE)(MV) #109 Good
HULK (1962) (#1-6, #102-474, #600-635)(INCREDIBLE)(MV) #110 Very Good

HULK VS. WOLVERINE (INCREDIBLE HULK AND WOLVERINE) (1986) #1 Very Fine


IRON MAN (1968) (#1-332) (INVINCIBLE IRON MAN)(MARVEL) #7

IRON MAN (1968) (#1-332) (INVINCIBLE IRON MAN)(MARVEL) #7 Good
IRON MAN (1968) (#1-332) (INVINCIBLE IRON MAN)(MARVEL) #8 Good
IRON MAN (1968) (#1-332) (INVINCIBLE IRON MAN)(MARVEL) #10 Good
IRON MAN (1968) (#1-332) (INVINCIBLE IRON MAN)(MARVEL) #15 Good
IRON MAN (1968) (#1-332) (INVINCIBLE IRON MAN)(MARVEL) #26 Very Good

MONSTERS OF THE MOVIES MAGAZINE #2 Good

OBI-WAN & ANAKIN (STAR WARS) (2015) #1 HASTINGS Very Fine

PSYLOCKE & ARCHANGEL: CRIMSON DAWN (1997) #1 NEWSSTAND Very Good
PSYLOCKE & ARCHANGEL: CRIMSON DAWN (1997) #3 NEWSSTAND Fine

SPIDER-GIRL (1998) (#0-100) #0 Near Mint/Mint
SPIDER-GIRL (1998) (#0-100) #1 Near Mint/Mint
SPIDER-GIRL (1998) (#0-100) #2 VARIANT Near Mint/Mint

SPIDER-MAN (1963) (AMAZING SPIDER-MAN) (#1-441) #21 Very Good
SPIDER-MAN (1963) (AMAZING SPIDER-MAN) (#1-441) #25 Very Good
SPIDER-MAN (1963) (AMAZING SPIDER-MAN) (#1-441) #30 Fine
SPIDER-MAN (1963) (AMAZING SPIDER-MAN) (#1-441) #48 Fine
SPIDER-MAN (1963) (AMAZING SPIDER-MAN) (#1-441) #51 Fine
SPIDER-MAN (1963) (AMAZING SPIDER-MAN) (#1-441) #97 Fine
SPIDER-MAN (1963) (AMAZING SPIDER-MAN) (#1-441) #109 Fine
SPIDER-MAN (1963) (AMAZING SPIDER-MAN) (#1-441) #161 Very Fine
SPIDER-MAN (1963) (AMAZING SPIDER-MAN) (#1-441) #320 Very Fine
SPIDER-MAN (1963) (AMAZING SPIDER-MAN) (#1-441) #321 NEWSSTAND Very Good
SPIDER-MAN (1963) (AMAZING SPIDER-MAN) (#1-441) #324 Very Fine
SPIDER-MAN (1963) (AMAZING SPIDER-MAN) (#1-441) #347 NEWSSTAND Very Fine
SPIDER-MAN (1963) (AMAZING SPIDER-MAN) (#1-441) #348 Very Fine
SPIDER-MAN (1963) (AMAZING SPIDER-MAN) (#1-441) #350 Near Mint/Mint
SPIDER-MAN (1963) (AMAZING SPIDER-MAN) (#1-441) #375 Near Mint/Mint
SPIDER-MAN (1963) (AMAZING SPIDER-MAN) (#1-441) #426 NEWSSTAND Very Good

SPIDER-MAN, POWER PACK (1984) #1 AUSTIN Fine

STAR TREK TNG/X-MEN SECOND CONTACT #1 Near Mint/Mint

STAR TREK: STARFLEET ACADEMY (1996) #18 Near Mint/Mint
STAR TREK: STARFLEET ACADEMY (1996) #19 Near Mint/Mint

STAR TREK: VOYAGER SPLASHDOWN (1998) #3 Near Mint/Mint


STAR WARS (2015) (#1-UP) (MARVEL) #26 MILE HIGH

STAR WARS (2015) (#1-UP) (MARVEL) #26 MILE HIGH Near Mint/Mint
STAR WARS (2015) (#1-UP) (MARVEL) #27 MILE HIGH Near Mint/Mint
STAR WARS (2015) (#1-UP) (MARVEL) #28 MILE HIGH Near Mint/Mint
STAR WARS (2015) (#1-UP) (MARVEL) #29 MILE HIGH Near Mint/Mint

STAR WARS: HAN SOLO - IMPERIAL CADET (2018) #5 KIRK Near Mint/Mint

STAR WARS: POE DAMERON (2016) #1 HASTINGS Fine

VAMPIRE TALES ANNUAL (1975) #1 Good
VAMPIRE TALES ANNUAL (1975) #1 Very Good

WOLVERINE (1982) (#1-4) (MARVEL LIMITED SERIES) #1 NEWSSTAND Good
WOLVERINE (1982) (#1-4) (MARVEL LIMITED SERIES) #3 NEWSSTAND Near Mint/Mint
WOLVERINE (1982) (#1-4) (MARVEL LIMITED SERIES) #4 NEWSSTAND Very Fine

X-MEN (1963) (#1-113, UNCANNY X-MEN #114-544) (MARVEL) #17 Very Good
X-MEN (1963) (#1-113, UNCANNY X-MEN #114-544) (MARVEL) #18 Good
X-MEN (1963) (#1-113, UNCANNY X-MEN #114-544) (MARVEL) #347 NEWSSTAND Good
X-MEN (1963) (#1-113, UNCANNY X-MEN #114-544) (MARVEL) #348 NEWSSTAND Very Good

DC
ADVENTURES OF BOB HOPE (1950) #39 Fair
ADVENTURES OF BOB HOPE (1950) #50 Fair

ADVENTURES OF SUPERMAN (#0,#424-649) (1987) #497 HAZLEWOSGN Near Mint/Mint
ADVENTURES OF SUPERMAN (#0,#424-649) (1987) #498 NEWS SGN Very Fine
ADVENTURES OF SUPERMAN (#0,#424-649) (1987) #498 NEWS SGN Fine
ADVENTURES OF SUPERMAN (#0,#424-649) (1987) #500 UNBAG3XSGN Very Fine

BATGIRL SPECIAL (1998) #1 Fine

BATMAN (1940) (#0-713) (DC) #265 Very Good
BATMAN (1940) (#0-713) (DC) #332 NEWSSTAND Good
BATMAN (1940) (#0-713) (DC) #454 Near Mint/Mint
BATMAN (1940) (#0-713) (DC) #457 Near Mint/Mint
BATMAN (1940) (#0-713) (DC) #457 NEWSSTAND Fine

BATMAN (2016) (#1-UP) (DC REBIRTH) #21 Fine
BATMAN (2016) (#1-UP) (DC REBIRTH) #22 LENTICULAR Very Fine

BATMAN ADVENTURES (1992) #1 TEMPLETSGN Fine

BATMAN LOST (2017) #1 Very Fine

BATMAN VS. DEATHSTROKE HC (2019) #1 Near Mint/Mint

BATMAN WHO LAUGHS (2017) (#1) (DC DARK NIGHTS) #1 2ND PRINT Near Mint/Mint

BATMAN/JUDGE DREDD: JUDGMENT ON GOTHAM (SIMON BISLEY) (1991) #1 2ND PRINT Near Mint/Mint

BATMAN/JUDGE DREDD: VENDETTA IN GOTHAM (MIGNOLA COVER) (1993) #1 Near Mint/Mint

BATMAN: DAWNBREAKER (2017) #1 2ND PRINT Near Mint/Mint

BATMAN: IN DARKEST KNIGHT (MIKE W. BARR) (ELSEWORLDS) (1994) #1 Near Mint/Mint

BATMAN: THE DEVASTATOR (2017) #1 2ND PRINT Near Mint/Mint

BOOKS OF MAGIC (1990) (#1-4) (PRESTIGE) (DC/VERTIGO) #2 (DC: Vertigo Press) Near Mint/Mint
BOOKS OF MAGIC (1990) (#1-4) (PRESTIGE) (DC/VERTIGO) #3 (DC: Vertigo Press) Near Mint/Mint
BOOKS OF MAGIC (1990) (#1-4) (PRESTIGE) (DC/VERTIGO) #4 (DC: Vertigo Press) Fine
BOOKS OF MAGIC (1990) (#1-4) (PRESTIGE) (DC/VERTIGO) #4 (DC: Vertigo Press) Near Mint/Mint

BRIGHTEST DAY (2010) #19 VARIANT Near Mint/Mint

CATWOMAN (1989) (#1-4) (DC MINI SERIES) #1 Near Mint/Mint
CATWOMAN (1989) (#1-4) (DC MINI SERIES) #2 Near Mint/Mint

CATWOMAN (2011) (#1-52) (DC NEW52) #1 NEWSSTAND Very Fine
CATWOMAN (2011) (#1-52) (DC NEW52) #2 Near Mint/Mint

CHECKMATE (1988) #15 Near Mint/Mint

CRISIS ON INFINITE EARTHS (1985) #3 Near Mint/Mint
CRISIS ON INFINITE EARTHS (1985) #7 Near Mint/Mint
CRISIS ON INFINITE EARTHS (1985) #8 Near Mint/Mint
CRISIS ON INFINITE EARTHS (1985) #10 NEWSSTAND Fine
CRISIS ON INFINITE EARTHS (1985) #11 Near Mint/Mint
CRISIS ON INFINITE EARTHS (1985) #12 Near Mint/Mint

DARK NIGHTS: METAL (2017) #5 KUBERT Near Mint/Mint

DETECTIVE COMICS (1937) (#0-881) (DC) #253 Fair
DETECTIVE COMICS (1937) (#0-881) (DC) #756 Very Fine


DETECTIVE COMICS (2011) (#0-52) (DC NEW52) #1

DETECTIVE COMICS (2011) (#0-52) (DC NEW52) #1 Near Mint/Mint
DETECTIVE COMICS (2011) (#0-52) (DC NEW52) #2 Near Mint/Mint
DETECTIVE COMICS (2011) (#0-52) (DC NEW52) #3 Near Mint/Mint

ELVIRA'S HOUSE OF MYSTERY (1986) #11 Very Fine

FLASH (1987) (#0-247) (DC) #210 Near Mint/Mint

FLASH (2016) (#1-UP) (DC REBIRTH) #21 Near Mint/Mint

FLASHPOINT (2011) (#1-5) (DC) #2 Near Mint/Mint
FLASHPOINT (2011) (#1-5) (DC) #4 Near Mint/Mint
FLASHPOINT (2011) (#1-5) (DC) #5 Very Fine

GREEN ARROW (2011) (#0-52) (DC NEW52) #1 NEWSSTAND Fine

GREEN LANTERN (1960) (#1-224) (DC) #47 Fair
GREEN LANTERN (1990) (#0-181) (DC) #48 Near Mint/Mint

GREEN LANTERN (2005) (#1-67) (DC) #60 VARIANT Near Mint/Mint
GREEN LANTERN (2005) (#1-67) (DC) #64 VARIANT Near Mint/Mint

GREEN LANTERN CORPS (2006) (#1-63) (DC) #58 VARIANT Near Mint/Mint

HAWKMAN FOUND (2017) #1 VARIANT Near Mint/Mint

HOUSE OF MYSTERY (1951) #75 Good

HOUSE OF SECRETS (1956) #8 Fair

JIMMY OLSEN (1954) #68 Good
JIMMY OLSEN (1954) #104 Good

JUSTICE LEAGUE (2016) (#1-44) (DC REBIRTH) #33 VARIANT Near Mint/Mint

MAD (MAGAZINE) #6 Near Mint/Mint
MAD (MAGAZINE) #42 Very Good
MAD (MAGAZINE) #43 Good
MAD (MAGAZINE) #56 Very Good
MAD (MAGAZINE) #59 Good
MAD (MAGAZINE) #148 Very Good
MAD (MAGAZINE) #154 Very Good
MAD (MAGAZINE) #156 Very Good

MAD (MAGAZINE) #161 Very Good
MAD (MAGAZINE) #162 Very Good
MAD (MAGAZINE) #165 Very Good
MAD (MAGAZINE) #166 Very Good
MAD (MAGAZINE) #170 Very Good
MAD SPECIAL (MAG) #2 Good
MAD SPECIAL (MAG) #6 Good
MAD SPECIAL (MAG) #8 Very Good
MAD SPECIAL (MAG) #12 Very Good
MAD SPECIAL (MAG) #14 Very Good

MISTER MIRACLE (2017) (#1-12) (DC) #4 VARIANT Near Mint/Mint

MR. DISTRICT ATTORNEY (1948) #47 Fair

NIGHTWING (2016) (#1-UP) (DC REBIRTH) #29 VARIANT Fine

OUR ARMY AT WAR (1952) #121 Good

SHOWCASE (1956) (#1-104) (SHOWCASE PRESENTS...) (DC) #12 Fair

SUPERBOY (1949) (#1-258) (DC) #61 Good
SUPERBOY (1949) (#1-258) (DC) #66 Fair

SUPERMAN (1939) (#1-423) (DC) #180 Fair
SUPERMAN (1939) (#1-423) (DC) #209 Good
SUPERMAN (1939) (#1-423) (DC) #212 Good
SUPERMAN (1939) (#1-423) (DC) #218 Good

SUPERMAN (1986) (#0-226, #650-714) (DC) #14 Near Mint/Mint
SUPERMAN (1986) (#0-226, #650-714) (DC) #75 2ND PRT Very Fine
SUPERMAN (1986) (#0-226, #650-714) (DC) #81 Near Mint/Mint

SUPERMAN/BATMAN (2003) #26 Near Mint/Mint
SUPERMAN/BATMAN (2003) #26 VARIANT Near Mint/Mint

SUPERMAN: SPEEDING BULLETS (1993) #1 Fine

SWAMP THING (1972) (#1-24) #12 Very Good
SWAMP THING (1972) (#1-24) #14 Very Good
SWAMP THING (1972) (#1-24) #16 Very Good


TEEN TITANS (2003) (#1-100) (DC) #37

TEEN TITANS (2003) (#1-100) (DC) #37 Near Mint/Mint

TEEN TITANS (2016) (#1-UP) (DC REBIRTH) #12 VARIANT Very Fine

WONDER WOMAN (1942) (#1-329) (DC) #125 Good

DARK HORSE COMICS
CALL OF DUTY: BLACK OPS III (2015) #1 HASTINGS Very Fine

STAR WARS/CONAN FLIPBOOK FCBD EDITION (2006) #1 Very Fine

IMAGE COMICS
BLACK SCIENCE (2013) (#1-UP) (IMAGE) #13 A Near Mint/Mint

CURSE OF THE SPAWN (1996) #11 NEWSSTAND Very Fine

CYBERFORCE (1992) (#0-4) (IMAGE) #1 GOLD (Image Top Cow) Fine

SPAWN (1992) #155 Near Mint/Mint
SPAWN (1992) #156 Fine
SPAWN (1992) #157 Near Mint/Mint
SPAWN (1992) #158 Near Mint/Mint
SPAWN (1992) #159 Very Fine

STORMWATCH (1993) (#0-50) (IMAGE) #44 VARIANT A Near Mint/Mint
STORMWATCH (1993) (#0-50) (IMAGE) #44 VARIANT B Near Mint/Mint

STORMWATCH (1997) (#1-11) (IMAGE) #1 Near Mint/Mint

INDEPENDENTS
77 SUNSET STRIP (1960) #1 01-742-209 (Dell Publishing) Good

ADVENTURES INTO THE UNKNOWN (1948) #95 (ACG) Good

BEST OF OMNI SCIENCE FICTION MAGAZINE (1980) #1 (Omni Magazine) Fine
BEST OF OMNI SCIENCE FICTION MAGAZINE (1980) #2 (Omni Magazine) Fine

CAPTAIN MARVEL OFFICIAL MOVIE MAGAZINE (2019) #1 (Titan Distributing) Near Mint/Mint
CAPTAIN MARVEL OFFICIAL MOVIE MAGAZINE (2019) #1 HC (Titan Distributing) Near Mint/Mint

CRACKED (MAG) #112 (Major Magazines) Very Good
CRACKED (MAG) #115 (Major Magazines) Very Good
CRACKED (MAG) #120 (Major Magazines) Very Good

CRACKED EXTRA SPECIAL (1976) #6 (Cracked) Very Good

CRISIS ON INFINITE EARTHS INDEX (OFFICIAL) (1986) #1 (Independents, All) Near Mint/Mint

EERIE MAGAZINE (1965) #6 (Warren Publishing Company) Fair
EERIE MAGAZINE (1965) #27 (Warren Publishing Company) Good

FAMOUS MONSTERS (MAG) #144 (Warren Publishing Company) Good

FIGHTIN' AIR FORCE (1956) #35 (Charlton) Fine

FIGHTIN' ARMY (1956) #76 (Charlton) Very Good

GAME OF THRONES: CLASH OF KINGS (2017) #16 D RUBI B&W (DYNAMITE Entertainment) Near Mint/Mint
GAME OF THRONES: CLASH OF KINGS (2017) #16 E MILLEVIR (DYNAMITE Entertainment) Near Mint/Mint

GHOSTLY TALES (1966) #55 (Charlton) Good

HEAVY METAL (MAG) #8206 (Heavy Metal) Fine
HEAVY METAL (MAG) #8211 (Heavy Metal) Very Good
HEAVY METAL (MAG) #8407 (Heavy Metal) Good
HEAVY METAL (MAG) #8408 (Heavy Metal) Good
HEAVY METAL (MAG) #9801 (Heavy Metal) Fine
HEAVY METAL (MAG) #9807 (Heavy Metal) Fine
HEAVY METAL (MAG) #9811 (Heavy Metal) Fine
HEAVY METAL (MAG) #9911 (Heavy Metal) Fine

HEAVY METAL 2000 (MAG) #201 (Heavy Metal) Very Fine
HEAVY METAL 2000 (MAG) #305 (Heavy Metal) Very Fine

HEAVY METAL FALL SPECIAL #1997 (Magazine) Very Good
HEAVY METAL FALL SPECIAL #1998 (Magazine) Very Fine
HEAVY METAL FALL SPECIAL #2001 (Magazine) Fine

HEAVY METAL SPRING SPECIAL #1999 (Heavy Metal) Fine

HEAVY METAL: ONE STEP BEYOND #1 (Heavy Metal) Fine

I AM GANDHI: BIOGRAPHY OF A HERO HC (2018) #1 (DIAL PRESS) Near Mint/Mint

KONA (1962) #2 (Dell Publishing) Very Good

KONGA (1960) #8 (Charlton) Very Good

KORAK, SON OF TARZAN (1964) (#1-45) (GOLD KEY) #2 (Gold Key) Good

LAWMAN (1959) #4 (Dell Publishing) Good

MAN FROM U.N.C.L.E. (GOLDKEY) (1965) #1 (Gold Key) Fair

MAN IN BLACK (1957) #4 (Harvey Comics) Fair

MOD WHEELS (GOLD KEY) #2 (Gold Key) Very Good

OMNI (MAG) #8501 (Omni Magazine) Very Good
OMNI (MAG) #8502 (Omni Magazine) Very Good
OMNI (MAG) #8503 (Omni Magazine) Very Good
OMNI (MAG) #8505 (Omni Magazine) Very Good
OMNI (MAG) #8506 (Omni Magazine) Good
OMNI (MAG) #8507 (Omni Magazine) Good

PEANUTS (1953) #1 FC #1015 (Dell Publishing) Good

REPTISAURUS (1961) #6 (Charlton) Good
REPTISAURUS (1961) #7 (Charlton) Very Good

RETURN OF KONGA (1962) #1 (Charlton) Very Good

RICK & MORTY VS. DUNGEONS & DRAGONS TPB (2019) #1 (IDW Publishing) Near Mint/Mint

RIN TIN TIN (Dell Publishing) (#1-38) (1952) #1 FC #523 (Dell Publishing) Fair

SAMURAI JACK (2013) #15 (IDW Publishing) Near Mint/Mint

SHI (1994) (#1-12) #7 TUCCI SIGN (Crusade) Near Mint/Mint

SPACE FAMILY ROBINSON (1962) (#1-54) (GOLD KEY) #1 (Gold Key) Fine

SPIDER-BABY COMIX #1 (Spiderbaby Graphix) Near Mint/Mint

SQUEE #1 (Slave Labor Graphics) Near Mint/Mint
SQUEE #2 (Slave Labor Graphics) Near Mint/Mint

SQUEE #3 (Slave Labor Graphics) Near Mint/Mint
SQUEE #4 (Slave Labor Graphics) Near Mint/Mint

STEED AND MRS. PEEL (1990) #1 (Eclipse Enterprises) Fine
STEED AND MRS. PEEL (1990) #2 (Eclipse Enterprises) Fine

TALES OF VOODOO (VOL. 6) MAGAZINE (1973) #5 (Eerie Publishing) Good

TAROT: WITCH OF THE BLACK ROSE (2000) #39 VARIANT (Broadsword Comics) Near Mint/Mint

TRON (2006) #1 (Amaze Ink) Near Mint/Mint

UNDRESSED (1997) (#1) (ANGEL ENT.) (ADULT) #1 (Angel Entertainment) Near Mint/Mint
UNDRESSED (1997) (#1) (ANGEL ENT.) (ADULT) #1 EROTIC ED (Angel Entertainment) Near Mint/Mint

VAMPIRE GIRLS CALIFORNIA 1969 (1996) #0 3DNUDEPLAT (Angel Entertainment) Near Mint/Mint
VAMPIRE GIRLS CALIFORNIA 1969 (1996) #0 3DNUDEPLAT (Angel Entertainment) Very Fine
VAMPIRE GIRLS CALIFORNIA 1969 (1996) #0 DELUXE (Angel Entertainment) Near Mint/Mint
VAMPIRE GIRLS CALIFORNIA 1969 (1996) #0 GOLD (Angel Entertainment) Near Mint/Mint
VAMPIRE GIRLS CALIFORNIA 1969 (1996) #0 NUDE ED. (Angel Entertainment) Near Mint/Mint
VAMPIRE GIRLS CALIFORNIA 1969 (1996) #1 DLX FOIL (Angel Entertainment) Fine
VAMPIRE GIRLS CALIFORNIA 1969 (1996) #1 GOLD FOIL (Angel Entertainment) Very Fine
VAMPIRE GIRLS CALIFORNIA 1969 (1996) #2 (Angel Entertainment) Near Mint/Mint

VAMPIRE GIRLS EROTIQUE #1 (Angel Entertainment) Near Mint/Mint
VAMPIRE GIRLS EROTIQUE #1 NUDE (Angel Entertainment) Near Mint/Mint
VAMPIRE GIRLS EROTIQUE #1 NUDE (Angel Entertainment) Fine
VAMPIRE GIRLS EROTIQUE #1 (Angel Entertainment) Very Fine

VAMPIRE GIRLS EROTIQUE: GRAVEDIGGER #1 (Angel Comics) Near Mint/Mint
VAMPIRE GIRLS EROTIQUE: GRAVEDIGGER #1 ALEX VAR (Angel Comics) Near Mint/Mint
VAMPIRE GIRLS EROTIQUE: GRAVEDIGGER #1 ALEXANDRA (Angel Comics) Very Fine

VAMPIRE GIRLS NEW YORK 1970 #0 (Angel Entertainment) Near Mint/Mint
VAMPIRE GIRLS NEW YORK 1970 #0 VIRGIN CVR (Angel Entertainment) Near Mint/Mint
VAMPIRE GIRLS NEW YORK 1970 #0 (Angel Entertainment) Very Fine
VAMPIRE GIRLS NEW YORK 1970 #1 (Angel Entertainment) Near Mint/Mint
VAMPIRE GIRLS NEW YORK 1970 #1 VIRGIN CVR (Angel Entertainment) Near Mint/Mint


VAMPIRE GIRLS VS. ANGEL GIRL #1

VAMPIRE GIRLS VS. ANGEL GIRL #1 (Angel Entertainment) Fine
VAMPIRE GIRLS VS. ANGEL GIRL #1 DLX NUDE (Angel Entertainment) Fine

VAMPIRE GIRLS: BUBBLEGUM & BLOOD (1996) #1 (Angel Entertainment) Near Mint/Mint
VAMPIRE GIRLS: BUBBLEGUM & BLOOD (1996) #1 DELUXE (Angel Entertainment) Near Mint/Mint
VAMPIRE GIRLS: BUBBLEGUM & BLOOD (1996) #1 NUDE COVER (Angel Entertainment) Very Fine
VAMPIRE GIRLS: BUBBLEGUM & BLOOD (1996) #2 (Angel Entertainment) Near Mint/Mint
VAMPIRE GIRLS: BUBBLEGUM & BLOOD (1996) #2 DELUXE (Angel Entertainment) Near Mint/Mint
VAMPIRE GIRLS: BUBBLEGUM & BLOOD (1996) #2 NUDE COVER (Angel Entertainment) Near Mint/Mint

VAMPIRE GIRLS: POETS OF BLOOD #1 (Angel Comics) Near Mint/Mint
VAMPIRE GIRLS: POETS OF BLOOD #1 VIOLENT (Angel Comics) Near Mint/Mint
VAMPIRE GIRLS: POETS OF BLOOD #1 NUDE (Angel Comics) Near Mint/Mint
VAMPIRE GIRLS: POETS OF BLOOD #1 VIOLENT (Angel Comics) Very Fine
VAMPIRE GIRLS: POETS OF BLOOD #1 (Angel Comics) Very Fine
VAMPIRE GIRLS: POETS OF BLOOD #2 (Angel Comics) Near Mint/Mint
VAMPIRE GIRLS: POETS OF BLOOD #2 NUDE (Angel Comics) Very Fine
VAMPIRE GIRLS: POETS OF BLOOD #2 VIOLENT (Angel Comics) Fine

VAMPIRE'S GRAVEYARDS LEATHER & LINGERIE BOOK #1 NUDE GOLD (Angel Comics) Near Mint/Mint

VICIOUS VALENTINES #1 (Angel Entertainment) Near Mint/Mint
VICIOUS VALENTINES #1 EROTIC A (Angel Entertainment) Near Mint/Mint

VISIONS OF VAMPIRE GIRLS #1 (Angel Entertainment) Near Mint/Mint
VISIONS OF VAMPIRE GIRLS #1 NUDE A (Angel Entertainment) Near Mint/Mint
VISIONS OF VAMPIRE GIRLS #1 NUDE B (Angel Entertainment) Very Fine

WAR HEROES (CHARLTON) (1963) #27 (Charlton) Very Good

WARTBLADE #1 (Tipping Cows) Near Mint/Mint
WARTBLADE #1 COVER B (Tipping Cows) Near Mint/Mint
WARTBLADE #1 NUDE A (Tipping Cows) Near Mint/Mint
WARTBLADE #1 NUDE B (Tipping Cows) Near Mint/Mint

WITCHES TALES (VOL. 2) MAGAZINE (1969) #6 (Eerie Publishing) Very Good

WORLD AROUND US, THE (1958) #7 (Gilberton Publications) Good

ZOMBIE TRAMP HALLOWEEN SPECIAL (2016) #1 A MENDOZA (Danger Zone) Near Mint/Mint
ZOMBIE TRAMP HALLOWEEN SPECIAL (2016) #1 B MENDORIS (Danger Zone) Near Mint/Mint
ZOMBIE TRAMP HALLOWEEN SPECIAL (2016) #1 C SLASHER (Danger Zone) Near Mint/Mint
ZOMBIE TRAMP HALLOWEEN SPECIAL (2016) #1 D SLASHRIS (Danger Zone) Near Mint/Mint
ZOMBIE TRAMP HALLOWEEN SPECIAL (2016) #1 E MCKAY (Danger Zone) Near Mint/Mint


ZOMBIE TRAMP HALLOWEEN SPECIAL (2016) #1 F MCKAYRIS

ZOMBIE TRAMP HALLOWEEN SPECIAL (2016) #1 F MCKAYRIS (Danger Zone) Near Mint/Mint