Local News - Wrestling At Mile High Comics plus ICRME Election News
Howdy!
Today's newsletter is quite personal for me, and has entirely to do with honoring justice, and also loyalty. I'll begin by mentioning that I have been an active member of a local LGBT organization for the past eight years. The Imperial Court of the Rocky Mountain Empire is a charitable organization originally founded 45 years ago by drag queens that raises approximately $100,000 a year that we give away in scholarships to needy students, and also donate to other local charities. ICRME is but one of 70 local Imperial Courts in the United States, Canada, and Mexico, (with over 30,000 members), but ICRME is one of the best-known and most successful of our local Courts.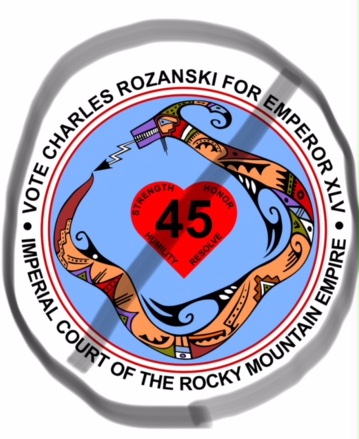 Chuck's Logo from rejected Emperor campion

The leadership structure of the ICRME is based upon an Emperor and Empress being elected each year. These two Monarchs, in turn, choose 8 people from within the organization to help them to put on charitable events. Second in command to the Monarchs are the Prince and Princess Royale, who are generally in charge of organizing most local events. I served as Prince Royale 42 three years ago, under Emperor 42 Richard Brendlinger. My awesome Princess Royale for that year was LaShay DiMarco.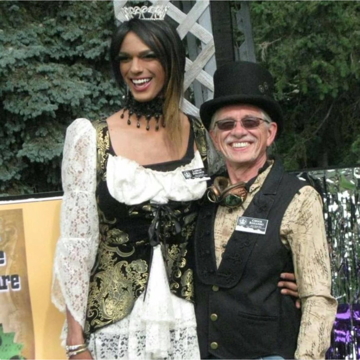 Chuck and LaShay DiMarco at charity event

A longstanding tradition in the ICRME is that a couple of years after serving as Prince and Princess, you are expected to run for Emperor and Empress. That is what LaShay and I did, only to run into extreme opposition to our candidacies. In LaShay's case, she was allowed by our Board of Directors to enter this year's race for Empress, but only by the barest of margins (7-6). In my case, I was rejected as a candidate for Emperor by a vote of 11-2, even though I met all of the requirements for that office, and have personally hosted events for ICRME over the past four years that have raised in excess of $100,000 for our charities. The BOD instead chose to enthusiastically endorse a different Emperor candidate, one who has never served as Prince, and who brought no other credentials to his candidacy except that he is gay, while I am not.
While I cannot now do anything about the cavalier fashion in which I was treated by the ICRME Board of Directors, I do still have both the desire and the ability to help my dear friend, LaShay DiMarco, to achieve her dream of being Empress 45. I want you to know, however, that this desire on my part to help LaShay transcends mere friendship. After having worked with her on dozens of charitable events for over three years, I can personally attest that LaShay has all the skills necessary to serve ICRME as a fantastic Empress 45. In all honesty, it is only in seeking to advance the best interests of those in need in our Community that I am reaching out to you to ask for your help in supporting LaShay's candidacy.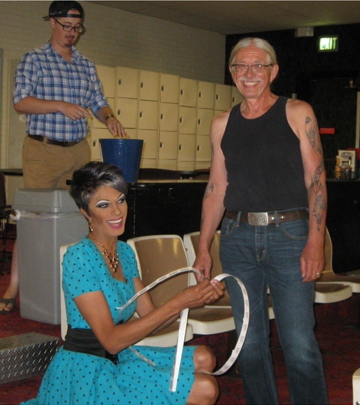 Chuck and LaShay DiMarco selling raffle tickets

All of the above having been said, I need to ask for you to please set aside time to stop by our Mile High Comics Jason St. on Saturday, March 24th (10:30 AM - 5:30 PM), to then catch the bus that I am personally renting for our voters over to the C.H.U.N. Community Center (adjacent to Cheeseman Park) to vote for LaShay DiMarco for Empress. As those of you who helped to get Norrie Reynolds elected as Empress 43 may recall, voting in an ICRME election is actually a lot of fun, and generally takes less than five minutes. Voting is open to anyone with a current Colorado I.D. over the age of 16, who also has proof of living north of Castle Rock. The bake sale that the White Rose Scholarship committee puts on during each election is always great!
If you would like to meet LaShay in person before voting for her, she will be making a personal appearance at Jason St. tomorrow, Saturday March 10th, from 11 AM - 2 PM. I will be here at the store with her, and will gladly answer any questions that you might have not only about the situation in Denver, but also about the entire International Court System.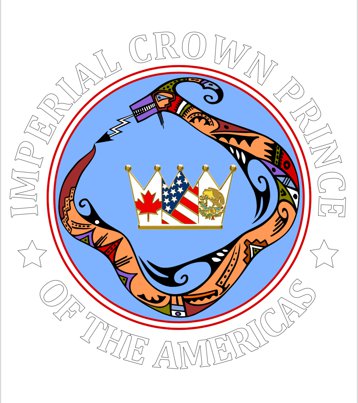 Chuck's New Logo for Imperial Crown Prince of the Americas

In closing, I want you to know that even though I did get a raw deal here in Denver, the executive leadership of our International Court Council immediately overrode Denver's rejection of my candidacy by awarding me the incredibly prestigious title of Imperial Crown Prince of the Americas, an International rank that far exceeds that of being Emperor in any local Court. Life doesn't always work out as you originally hoped, but sometimes patience and hard work can lead to an even better outcome than you could have ever have imagined. Life is good.
Happy collecting!
Chuck Rozanski,
President - Mile High Comics, Inc.
March 9, 2018


P.S. Tomorrow (Saturday) evening we're hosting a fun professional wrestling event at Jason St. Bring the kids!