Free Exhibit Space For Free Comic Book Day
Howdy!
I will begin today by thanking everyone who made kind comments about the partial video of my performance as Bettie Pages that opened our All Ages Family Drag Show last Saturday evening. Your encouragement and love is greatly appreciated. Truth be told, that was far from my best rendition of that particular song, but given that my right leg was badly crushed when a tall stack of chairs fell on me last Thursday night, I think that it was reasonably good. With my leg all torn up, I was truly lucky that I was able to even perform that night...
The good news about my injury is that my doctor told me this morning that I am healing nicely, and that the kaleidoscope of colors that I currently have on my leg are completely expected, and no big deal. Yay! On the flip side, no more heels or dancing for the next few weeks. Bettie will (if I heal on schedule...) next appear at the Imperial Court of New York Out-Of-Town Show, Friday April 5th from 7-10 PM at Industry Bar in New York City (between 8th and 9th - 355 W. 52nd). Save the date!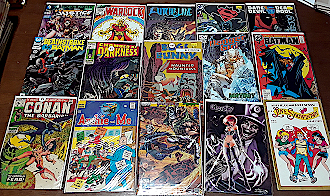 A few of the comics found today

Given that I am staying here in Colorado for awhile, I am making lemonade out of lemons by dedicating my next four weeks to sorting through over 100,000 mixed comics from dozens of private collections. I actually love the Zen of slowly working my way through pallets filled with awesome older comics, as it is totally akin to a visit with old friends for me. Strangely enough, my heartfelt desire to help others who are in need has drawn me away from what I really love to do for a long, long time. If it took an injury to finally get me to slow down and look after myself, then so be it. This next four weeks is going to be a joy.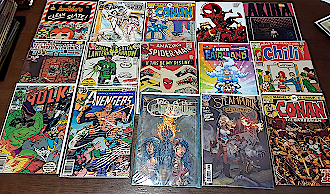 A few more of the comics found today

Speaking of great comics, I encourage you to keep an eye on our Premium New-In-Stock and New-In-Stock links for the next couple of weeks. I will be delivering all of the great back issues that I locate to Will and Pam to immediately grade and enter. Pam also has an immense private collection that just arrived from Texas that she will be sorting and grading over the next two weeks. Lots of great titles and issue numbers, the majority in NM. All are available to you at half of list price when you utilize our ongoing 50% off STANLEE! codeword at checkout. Only new issues, a few variants, and our professionally-graded items are excluded from this system wide half price sale. Enjoy!
My final item for today is an open invitation to any/all comics creators from anywhere in the nation who might wish to set up a table to sell their comics in our Jason St. Mega-Store on either Free Comic Book Day (May 4th) or during the Denver Pop Convention (May 31st -June 2nd). We had over 4,500 fans visit our store during FCBD 2018, and about the same number during the convention. A six-foot table is totally free, and you get to keep 100 cents on the dollar of your sales. Much like our kid's drag shows and our wrestling events, we offer this opportunity to you purely in the public interest. Contact Will Moulton via moulton@milehighcomics.com to reserve your free table.
Happy collecting!
Chuck Rozanski,
President - Mile High Comics, Inc.
March 6, 2019
P.S. Below is a short list of newly-arrived titles. More tomorrow!
MARVEL

ALPHA FLIGHT (1983) (#1-130) #10 TOY INSERT

ALPHA FLIGHT (1983) (#1-130) #10 TOY INSERT Fine

AMAZING FANTASY (1962) (MARVEL) #15 TOY INSERT Fine

ANT-MAN/GIANT-MAN: GROWING PAINS TPB (2018) #1 Near Mint/Mint

ASTONISHING X-MEN (1996) (#1-4) (AGE OF APOCALYPSE) #2 TOY BIZ Fine

ASTONISHING X-MEN (2004) (#1-68) (MARVEL)(JOSS WHENDON) #4 TOY BIZ Fine
ASTONISHING X-MEN (2004) (#1-68) (MARVEL)(JOSS WHENDON) #6 TOY BIZ Fine

AVENGERS (1963) (#1-402) (MARVEL) #87 TOY INSERT Very Fine

AVENGERS ANNUAL (1967) #10 TOY BIZ Fine

AVENGERS K VOL. 1: AVENGERS VS. ULTRON TPB (2016) #1 CHOI Near Mint/Mint
AVENGERS K VOL. 1: AVENGERS VS. ULTRON TPB (2016) #1 LEE Near Mint/Mint

AVENGERS VS. THANOS TPB (2013) #1 3RD PRINT Near Mint/Mint

AVENGERS: ABSOLUTE VISION TPB (2013) #2 Near Mint/Mint

AVENGERS: KORVAC SAGA TPB (3RD EDITION) (2012) #1 2ND PRINT Near Mint/Mint

CAPTAIN MARVEL (1999) (#0-35) (MARVEL) #30 TOY INSERT Fine

EXCALIBUR (1988) (#1-125) (MARVEL) #1 TOY BIZ Very Fine

EXTRAORDINARY X-MEN VOL. 2: APOCALYPSE WARS TPB (2016) #1 Near Mint/Mint

FANTASTIC FOUR EPIC COLL.: MASTER PLAN OF DR. DOOM TPB (2017) #1 Near Mint/Mint

FOOLKILLER VOL. 1: PSYCHO THERAPY TPB (2017) #1 Near Mint/Mint


GHOST RIDER (1990) (#1-94) (MARVEL) #40

GHOST RIDER (1990) (#1-94) (MARVEL) #40 Near Mint/Mint

HULK (1962) (#1-6, #102-474, #600-635)(INCREDIBLE)(MV) #1 TOY INSERT Fine

LOGAN: PATH OF THE WARLORD (1996) #1 Near Mint/Mint

MARVEL COMICS PRESENTS (1988) (#1-175) (MARVEL) #72 Near Mint/Mint

MARVEL PREMIERE (1972) #47 TOY INSERT Fine

MYSTIQUE POSTER BOOK (TOY BIZ) (2005) #1 Fine

NIGHTCRAWLER POSTER COMIC (TOY INSERT) (2005) #1 Very Fine

SPIDER-MAN 2099 (1992) (#1-46) (MARVEL) #1 Near Mint/Mint

THOR (1962) (#83-125 JOURNEY INTO MYSTERY, 126-502) #351 TOY BIZ Fine

WEAPON X (1995) (#1-4) (AGE OF APOCALYPSE) #1 TOY BIZ Fine

WEST COAST AVENGERS (1985) (#1-102) (MARVEL) #1 Very Fine

WEST COAST AVENGERS ANNUAL (1986) #1 Very Fine

X-MEN (1963) (#1-113, UNCANNY X-MEN #114-544) (MARVEL) #97 TOY BIZ Fine
X-MEN (1963) (#1-113, UNCANNY X-MEN #114-544) (MARVEL) #117 TOY INSERT Very Fine
X-MEN (1963) (#1-113, UNCANNY X-MEN #114-544) (MARVEL) #201 TOY INSERT Very Fine
X-MEN (1963) (#1-113, UNCANNY X-MEN #114-544) (MARVEL) #243 TOY BIZ Fine
X-MEN (1963) (#1-113, UNCANNY X-MEN #114-544) (MARVEL) #451 TOY BIZ Fine

X-MEN ANNUAL (1970) #2 Very Fine

DC
AQUAMAN VOL. 2: OTHERS TPB (NEW 52) (2013) #1 4TH PRINT Near Mint/Mint

AQUAMAN VOL. 3: THRONE OF ATLANTIS TPB (NEW 52) (2014) #1 3RD PRINT Near Mint/Mint

AQUAMAN: TEMPEST TPB (2018) #1 Near Mint/Mint

AQUAMAN: WAR FOR THE THRONE TPB (2018) #1 Near Mint/Mint

AQUAMAN: WATERBEARER TPB (2018) #1 Near Mint/Mint

BATMAN & ROBIN VOL. 2: PEARL TPB (2013) #1 2ND PRINT Near Mint/Mint

BATMAN ETERNAL TPB (2014) #1 2ND PRINT Near Mint/Mint

BATMAN VOL. 1: COURT OF OWLS TPB (2013) #1 10TH PRINT Near Mint/Mint

BATMAN VOL. 1: I AM GOTHAM TPB (DC REBIRTH) (2017) #1 2ND PRINT Near Mint/Mint

BATMAN VOL. 4: ZERO YEAR - SECRET CITY TPB (2014) #1 3RD PRINT Near Mint/Mint
BATMAN VOL. 4: ZERO YEAR - SECRET CITY TPB (2014) #1 3RD PRINT Fine

BATMAN/SUPERMAN VOL. 1: CROSS WORLD TPB (2014) #1 2ND PRINT Near Mint/Mint

BATMAN: BATTLE FOR THE COWL TPB (2010) #1 6TH PRINT Very Fine

BATMAN: CACOPHONY TPB (KEVIN SMITH) (2010) #1 6TH PRINT Near Mint/Mint

BATMAN: DETECTIVE COMICS VOL. 2 - SCARE TACTICS TPB (2013) #1 2ND PRINT Very Fine

BATMAN: DETECTIVE COMICS VOL. 4 - WRATH TPB (2014) #1 2ND PRINT Near Mint/Mint

BATMAN: DETECTIVE COMICS VOL. 8 - BLOOD OF HEROES HC (2016) #1 Near Mint/Mint

BATMAN: DETECTIVE COMICS VOL. 9 - GORDON AT WAR TPB (2017) #1 Near Mint/Mint

BATMAN: GATES OF GOTHAM TPB (2012) #1 5TH PRINT Near Mint/Mint

BATMAN: GHOSTS TPB (2018) #1 Near Mint/Mint

BATMAN: GOTHAM BY GASLIGHT TPB (2006) #1 8TH PRINT Near Mint/Mint

BATMAN: HAUNTED KNIGHT TPB (1996) #1 10TH PRINT Very Fine

BATMAN: KNIGHTFALL TPB (2012) #3 5TH PRINT Very Fine

BATMAN: RIP TPB (R.I.P.) (GRANT MORRISON) (2010) #1 8TH PRINT Near Mint/Mint

BATMAN: SHADOW OF THE BAT TPB (2016) #3 Near Mint/Mint

BATMAN: THE DARK KNIGHT VOL. 2: CYCLE OF VIOLENCE TPB (2014) #1 2ND PRINT Near Mint/Mint

BATMAN: THE DARK KNIGHT VOL. 3: MAD TPB (2014) #1 2ND PRINT Near Mint/Mint

BATMAN: THE MAN WHO LAUGHS TPB (ED BRUBAKER) (2009) #1 10TH PRINT Near Mint/Mint


DETECTIVE COMICS (1937) (#0-881) (DC) #608

DETECTIVE COMICS (1937) (#0-881) (DC) #608 Near Mint/Mint

DEXTER'S LABORATORY (1999) #10 Near Mint/Mint

FABLES: SONS OF EMPIRE TPB (VOL. 9) (2007) #1 4TH PRINT (DC: Vertigo Press) Near Mint/Mint
FABLES: SONS OF EMPIRE TPB (VOL. 9) (2007) #1 ITALIAN (DC: Vertigo Press) Very Fine

FABLES VOL.18: CUBS IN TOYLAND TPB (2013) #1 2ND PRINT Near Mint/Mint

FLASH VOL. 1: LIGHTNING STRIKES TWICE TPB (DC REBIRTH) (2016) #1 3RD PRINT Near Mint/Mint

FLASH VOL. 9: FULL STOP TPB (2017) #1 Near Mint/Mint

FLASHPOINT: WORLD OF FLASHPOINT - GREEN LANTERN TPB (2012) #1 3RD PRINT Near Mint/Mint

SUPERMAN (1986) (#0-226, #650-714) (DC) #1 Near Mint/Mint
SUPERMAN (1986) (#0-226, #650-714) (DC) #1 NEWSSTAND Very Fine
SUPERMAN (1986) (#0-226, #650-714) (DC) #73 2ND PRT Very Fine
SUPERMAN (1986) (#0-226, #650-714) (DC) #74 3RD PRINT Very Fine
SUPERMAN (1986) (#0-226, #650-714) (DC) #75 Very Fine
SUPERMAN (1986) (#0-226, #650-714) (DC) #81 Near Mint/Mint

SUPERMAN: MAN OF STEEL (1991) #18 4TH PRINT Very Fine
SUPERMAN: MAN OF STEEL (1991) #19 2ND PRINT Very Fine

UNEXPECTED (1956) (TALES OF THE UNEXPECTED #1-104) #114 Fine
UNEXPECTED (1956) (TALES OF THE UNEXPECTED #1-104) #115 Fine


UNEXPECTED (1956) (TALES OF THE UNEXPECTED #1-104) #135

UNEXPECTED (1956) (TALES OF THE UNEXPECTED #1-104) #135 Very Good

DARK HORSE COMICS
AXE COP TPB (DARK HORSE) (2010) #1 7TH PRINT Very Fine

EMPOWERED TPB (2006) #3 6TH PRINT Near Mint/Mint
EMPOWERED TPB (2006) #4 4TH PRINT Near Mint/Mint
EMPOWERED TPB (2006) #5 4TH PRINT Near Mint/Mint
EMPOWERED TPB (2006) #6 2ND PRINT Near Mint/Mint

FREAKS' AMOUR TPB (2013) #1 Very Fine

IMAGE COMICS
FELL TPB (2007) #1 4TH PRINT Near Mint/Mint

SPAWN (1992) #3 Fine
SPAWN (1992) #5 Near Mint/Mint
SPAWN (1992) #5 Fine
SPAWN (1992) #15 Near Mint/Mint
SPAWN (1992) #16 Near Mint/Mint
SPAWN (1992) #16 Fine
SPAWN (1992) #17 Fine
SPAWN (1992) #17 Near Mint/Mint
SPAWN (1992) #18 Near Mint/Mint
SPAWN (1992) #19 Near Mint/Mint
SPAWN (1992) #21 Near Mint/Mint
SPAWN (1992) #22 Near Mint/Mint
SPAWN (1992) #23 Near Mint/Mint
SPAWN (1992) #24 Near Mint/Mint
SPAWN (1992) #27 Very Fine
SPAWN (1992) #28 Very Good
SPAWN (1992) #30 Near Mint/Mint
SPAWN (1992) #31 Near Mint/Mint
SPAWN (1992) #31 Very Fine
SPAWN (1992) #33 Fine
SPAWN (1992) #34 Near Mint/Mint

SPAWN (1992) #35 Near Mint/Mint
SPAWN (1992) #36 Fine
SPAWN (1992) #36 Very Fine
SPAWN (1992) #37 Fine
SPAWN (1992) #38 Fine
SPAWN (1992) #38 Very Good
SPAWN (1992) #39 Near Mint/Mint
SPAWN (1992) #40 Near Mint/Mint
SPAWN (1992) #40 Fine
SPAWN (1992) #40 NEWSSTAND Fine
SPAWN (1992) #40 Very Fine
SPAWN (1992) #41 Near Mint/Mint
SPAWN (1992) #41 Very Good
SPAWN (1992) #42 Fine
SPAWN (1992) #42 Near Mint/Mint
SPAWN (1992) #42 Very Fine
SPAWN (1992) #43 Near Mint/Mint
SPAWN (1992) #43 Very Good
SPAWN (1992) #44 Near Mint/Mint
SPAWN (1992) #44 Fine
SPAWN (1992) #44 Very Fine
SPAWN (1992) #45 Fine
SPAWN (1992) #45 Near Mint/Mint
SPAWN (1992) #45 Very Good
SPAWN (1992) #46 Near Mint/Mint
SPAWN (1992) #47 Fine
SPAWN (1992) #47 Near Mint/Mint
SPAWN (1992) #48 Near Mint/Mint
SPAWN (1992) #48 Fine
SPAWN (1992) #49 Near Mint/Mint
SPAWN (1992) #49 Very Fine
SPAWN (1992) #51 Near Mint/Mint
SPAWN (1992) #52 Near Mint/Mint
SPAWN (1992) #52 Very Fine
SPAWN (1992) #53 Near Mint/Mint
SPAWN (1992) #54 Fine

SPAWN (1992) #55 Fine
SPAWN (1992) #55 Near Mint/Mint
SPAWN (1992) #57 Fine
SPAWN (1992) #57 Near Mint/Mint
SPAWN (1992) #58 Near Mint/Mint
SPAWN (1992) #58 Fine
SPAWN (1992) #58 Very Fine
SPAWN (1992) #59 Fine
SPAWN (1992) #59 Near Mint/Mint
SPAWN (1992) #59 Very Fine
SPAWN (1992) #60 Fine
SPAWN (1992) #60 Near Mint/Mint
SPAWN (1992) #60 Very Fine
SPAWN (1992) #61 Fine
SPAWN (1992) #61 Near Mint/Mint
SPAWN (1992) #61 Very Good
SPAWN (1992) #62 Near Mint/Mint
SPAWN (1992) #63 Near Mint/Mint
SPAWN (1992) #63 Very Fine
SPAWN (1992) #63 Very Good
SPAWN (1992) #64 Fine
SPAWN (1992) #64 Near Mint/Mint
SPAWN (1992) #64 Very Good
SPAWN (1992) #64 Very Fine
SPAWN (1992) #66 Near Mint/Mint
SPAWN (1992) #67 Near Mint/Mint
SPAWN (1992) #67 NEWSSTAND Very Fine
SPAWN (1992) #79 Near Mint/Mint
SPAWN (1992) #79 Fine
SPAWN (1992) #79 Very Good
SPAWN (1992) #87 Fine
SPAWN (1992) #91 Near Mint/Mint
SPAWN (1992) #92 Near Mint/Mint
SPAWN (1992) #93 Near Mint/Mint
SPAWN (1992) #94 Near Mint/Mint
SPAWN (1992) #95 Near Mint/Mint
SPAWN (1992) #96 Near Mint/Mint
SPAWN (1992) #97 Near Mint/Mint

SPAWN (1992) #98 Near Mint/Mint
SPAWN (1992) #252 Near Mint/Mint
SPAWN (1992) #253 Near Mint/Mint
SPAWN (1992) #254 Near Mint/Mint
SPAWN (1992) #255 Near Mint/Mint
SPAWN (1992) #256 Near Mint/Mint
SPAWN (1992) #258 Near Mint/Mint
SPAWN (1992) #259 A Near Mint/Mint

TALES OF THE WITCHBLADE (1996) #1 1/2 GOLD (Image Top Cow) Near Mint/Mint

TOMB RAIDER/WITCHBLADE (1997) #1 (Image Top Cow) Near Mint/Mint
TOMB RAIDER/WITCHBLADE (1997) #1 BLACK (Image Top Cow) Near Mint/Mint
TOMB RAIDER/WITCHBLADE (1997) #1 BLACK (Image Top Cow) Very Fine
TOMB RAIDER/WITCHBLADE (1997) #1 BROWN (Image Top Cow) Very Fine

TENTH (1997) (#0-4) (IMAGE) #1 1/2 Near Mint/Mint

WILDC.A.T.S. (1998) (#1-28) (DC/WILDSTORM) #1 VOODOO (DC/Wildstorm) Near Mint/Mint

WITCHBLADE (1995) #18 AE VARIANT (Image Top Cow) Near Mint/Mint
WITCHBLADE (1995) #18 GOLD LOGO (Image Top Cow) Near Mint/Mint
WITCHBLADE (1995) #18 AE VARIANT (Image Top Cow) Very Fine
WITCHBLADE (1995) #18 GOLD LOGO (Image Top Cow) Fine
WITCHBLADE (1995) #19 GOLD LOGO (Image Top Cow) Near Mint/Mint
WITCHBLADE (1995) #19 GOLD LOGO (Image Top Cow) Very Fine
WITCHBLADE (1995) #19 NEWSSTAND (Image Top Cow) Very Fine

INDEPENDENTS
ARCHIES TPB (2018) #2 (Archie Comics) Near Mint/Mint

FALLEN ANGEL TPB (IDW Publishing) (2006) #1 2ND PRINT (IDW Publishing) Very Fine
FALLEN ANGEL TPB (IDW Publishing) (2006) #1 2ND PRINT (IDW Publishing) Fine


SIMPSONS COMICS (BONGO) (1993) #148

SIMPSONS COMICS (BONGO) (1993) #148 (Bongo Comics) Near Mint/Mint
SIMPSONS COMICS (BONGO) (1993) #149 (Bongo Comics) Near Mint/Mint
SIMPSONS COMICS (BONGO) (1993) #151 (Bongo Comics) Near Mint/Mint
SIMPSONS COMICS (BONGO) (1993) #208 (Bongo Comics) Near Mint/Mint
SIMPSONS COMICS (BONGO) (1993) #217 (Bongo Comics) Near Mint/Mint
SIMPSONS COMICS (BONGO) (1993) #218 (Bongo Comics) Near Mint/Mint
SIMPSONS COMICS (BONGO) (1993) #219 (Bongo Comics) Near Mint/Mint
SIMPSONS COMICS (BONGO) (1993) #220 (Bongo Comics) Near Mint/Mint
SIMPSONS COMICS (BONGO) (1993) #221 (Bongo Comics) Near Mint/Mint
SIMPSONS COMICS (BONGO) (1993) #222 (Bongo Comics) Near Mint/Mint
SIMPSONS COMICS (BONGO) (1993) #224 (Bongo Comics) Near Mint/Mint

TAROT: WITCH OF THE BLACK ROSE (2000) #92 VARIANT (Broadsword Comics) Near Mint/Mint

THUNDER AGENTS (1966) (#1-20) (TOWER COMICS) #1 (Tower Comics) Very Good
THUNDER AGENTS (1966) (#1-20) (TOWER COMICS) #2 (Tower Comics) Good
THUNDER AGENTS (1966) (#1-20) (TOWER COMICS) #3 (Tower Comics) Very Good
THUNDER AGENTS (1966) (#1-20) (TOWER COMICS) #4 (Tower Comics) Fair
THUNDER AGENTS (1966) (#1-20) (TOWER COMICS) #5 (Tower Comics) Good
THUNDER AGENTS (1966) (#1-20) (TOWER COMICS) #6 (Tower Comics) Good
THUNDER AGENTS (1966) (#1-20) (TOWER COMICS) #7 (Tower Comics) Good
THUNDER AGENTS (1966) (#1-20) (TOWER COMICS) #8 (Tower Comics) Good
THUNDER AGENTS (1966) (#1-20) (TOWER COMICS) #9 (Tower Comics) Very Good
THUNDER AGENTS (1966) (#1-20) (TOWER COMICS) #10 (Tower Comics) Fine
THUNDER AGENTS (1966) (#1-20) (TOWER COMICS) #11 (Tower Comics) Very Good
THUNDER AGENTS (1966) (#1-20) (TOWER COMICS) #12 (Tower Comics) Good
THUNDER AGENTS (1966) (#1-20) (TOWER COMICS) #13 (Tower Comics) Fine
THUNDER AGENTS (1966) (#1-20) (TOWER COMICS) #14 (Tower Comics) Fine
THUNDER AGENTS (1966) (#1-20) (TOWER COMICS) #16 (Tower Comics) Very Good
THUNDER AGENTS (1966) (#1-20) (TOWER COMICS) #17 (Tower Comics) Good
THUNDER AGENTS (1966) (#1-20) (TOWER COMICS) #18 (Tower Comics) Fine
THUNDER AGENTS (1966) (#1-20) (TOWER COMICS) #20 (Tower Comics) Good
THUNDER AGENTS (1966) (#1-20) (TOWER COMICS) #20 (Tower Comics) Very Good

TRON (2006) #1 (Amaze Ink) Near Mint/Mint