60% Off All Back Issue Comics Ends Tomorrow
Howdy!
A very brief newsletter today, as the only news that I have to relate to you today is in regards to the 60% off BIRTHDAY! codeword sale that I put into effect for you on Wednesday. Simply put, this extremely generous 60% off discount that I offered via the BIRTHDAY! codeword almost immediately prompted a massive surge of orders to hit our website. So many, in fact, that in just a matter of hours we exceeded the sales we had made in the entire previous week! Clearly, a huge number of comics fans from around the globe found the millions of back issue comics listed on our website to be great bargains after this unprecedented 60% off codeword discount was applied. Whew!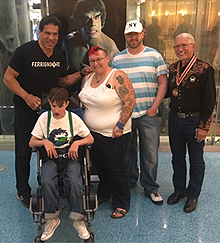 Chuck sponsors actor Lou Ferrigno's visit to the kids served by Denver's Children's Hospital

What matters most for you right now is that our 60% off BIRTHDAY! codeword promotion is officially supposed to end at 10 AM tomorrow (Saturday) morning. With our hosting a huge poker tournament and auction in our Jason St. mega-Store on Saturday morning, however, I can almost guarantee you that our first 60% off sale in over five years will need to run a bit longer, as there will be no one left to turn it off. By Sunday, however, it will definitely be gone, so if you have not yet compiled and submitted your 60% off order, I urge you to do so right away. This offer will not be repeated.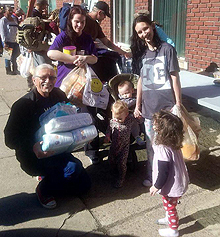 Chuck Delivering Free Diapers to two Struggling Moms outside the Colorado Coalition for the Homeless

All of the above having been said, please note that we now have two full weeks of orders already in our shipping pipeline, with even more orders arriving by the hour. And these orders tend to be exceptionally large! I really mean it when I say that any 60% off BIRTHDAY! codeword order that you place with us over this coming weekend will take at least two weeks to ship, and quite possibly longer. I am authorizing 8 hours of overtime for every member of our shipping staff, but even that added labor will not mitigate this huge order backlog very quickly. That is why I have to ask that if you cannot be patient in waiting for your order to ship, PLEASE do not place an order with us right how. We are just buried!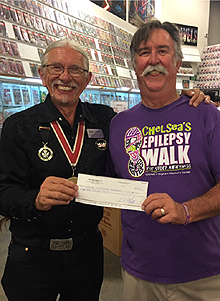 Chuck handing over a check for $1,420.00 to help better the quality of life of kids who suffer from seizures and epilepsy.

I will close by than sincerely thanking everyone who has placed an order with us over the past two days. The sum of your donations will keep my charitable efforts funded for at least the next year. As a result, the 1,000+ people elderly, disabled, and impoverished people that I help each month through "Feeding Denver's Hungry," and Albuquerque's "A Light in the Night" will directly benefit from your kind patronage. You kindness is very much appreciated, especially with my 63rd birthday coming up on March 11th. Thank you for helping me to make a difference in the lives of so many deserving people.
Happy collecting!
Chuck Rozanski,
President - Mile High Comics, Inc.
March 2, 2018

P.S. I almost forgot to mention that our 60% off sale encompasses all ten million of our back issue comics and magazines, excluding only new issues, a few variants, and our professionally graded issues. This huge back issues sale does also apply in our retail stores, but only through close of business on Friday. In our stores, the few issues that we have priced with blue stickers are also excluded, but our $1 comics ARE available to you at 60% off. Woo!