50% OFF STAN LEE codeword on Back Issue Comics & Magazines
Hi!
This is William with Mile High Comics, Chuck is out of town in California with Henry Harrington in downtown Disney. He did send a couple pictures of a really nice Captain Marvel Display in the Disney store. I think that this movie will be really big!
Chuck does deserve the rest after last night when he was attacked by a pile of chairs in our Mile High Comics Mega Store. He was moving them out of the way getting things ready for the All Ages Drag Show this Sunday and the whole stack fell over, right on him. His daughter came down from Boulder and drove him to the emergency room. Luckily nothing was broken just really bruised and swelled up.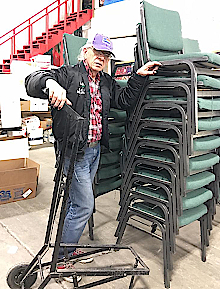 Chuck with the Chairs that fell over

As for the news here at Mile High Comics, Pam, Josh, and I are still working on getting all these collections that have come in these last two weeks on our website and up for sale. Pam is still working on the huge collection from last week. Josh is working on an X-Men Collection that came in, and I am still working down the big Teenage Mutant Ninja Turtle Collection.
If you check out the Premium New-In-Stock or the New-In-Stock you will see what we have got on so far with so much more to come. We also still have the 50% off STANLEE! codeword sale in effect for you on all ten million of our in-stock back issue comics and magazines. Only new issues, a few variants, and our professionally-graded issues are excluded from these huge savings.
Have a Great Weekend!
William Moulton,
Operations Manager - Mile High Comics, Inc.
March 1, 2019