60% Off On All Comics - 3 Days Only
Howdy!
I have an early birthday present to offer to you today. Not because it is your birthday, but rather because it will soon be mine. To explain, a week from Sunday (March 11th) will be my 63rd birthday. Nine years ago, when I experienced my second near-fatal bout of West Nile Encephalitis, there were moments when there was doubt as to whether I would survive that debilitating brain illness. I did recover from that dreadful mosquito-borne plague, however, and after three years of rehabilitation, I am now completely recovered.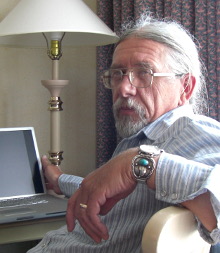 During a West Nile attack about 4 years ago trying to write the newsletter.

While I survived my illness, it changed me in many ways, with the most important being that I now devote considerable amounts of my personal time and energy toward helping the elderly, disabled, and poor in our community. I also work very hard for causes that advocate social justice, and am in the beginning stages of writing a linked collection of historical essays that I think will be a far more lasting legacy for my life than even my 48 years of success as a comics dealer.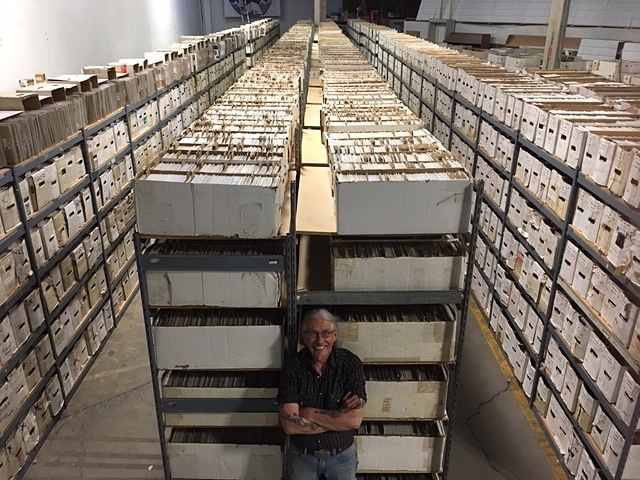 Chuck standing in the middle of our back issue files.

All of the above having been said, my wonderful wife, Nanette, has gently pointed out to me I am running out of funding for these new altruistic aspects of my life. Simply put, we are doing quite well financially right now at Mile High Comics, but my continual contributions to a seemingly endless number of noble causes is limiting her ability to achieve my other stated goal of eliminating every last cent of our company indebtedness. Her admonishment to me was to either to come up with some more money, or to cut back for a while on helping those in need.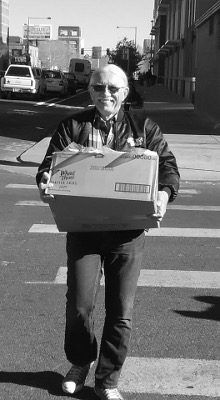 Chuck carrying food to the poor.

Long story short, I own 100% of Mile High Comics, Inc. Every single comic book, toy, magazine, trade paperback, and statue in our gigantic 65,000 square foot Jason St. Mega-Store is (essentially) my personal property. I do not think about that fact very much, as possessing well over ten million tangible objects is a bit much for one person to even realistically contemplate. At this moment when I need funding to keep helping the poor, however, I can see with great clarity that the only thing holding me back from continuing with my program of giving back to my community is my own unwillingness to sacrifice some of my beloved lifetime accumulation of treasures. That ends today, right here, right now.
What I will now offer to you is a 72-hour window (starting today - Saturday March 3) of opportunity to purchase any of our back issue comics and magazines at the insanely generous discount of 60% off via my personal BIRTHDAY! codeword. My BIRTHDAY! sale will be for 72 hours, only, ending exactly at 10 AM on March 3rd, Saturday morning. This 60% off sale is in effect for you online, and also in our three retail stores, and only excludes new issues, a few variants, our professionally graded comics online, and our blue label comics in our stores. It does, for the first time ever!, include our $1 comics at the three stores, which are now available to you through Friday evening at only 40 cents each, or 40/$12. I think that I can say in all honesty that it does not every get any better than this...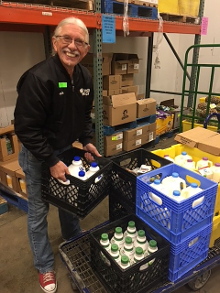 Chuck picking up Milk at the Food Bank of the Rockies.

I will close with a couple of quick notes. First, the last time that I offered a 60% discount on all of our back issues was about five years ago, before we put a systemwide price reduction into effect. Even at those higher base prices levels, however, our last 60% off sale dumped four weeks of orders on us, in just three days. With that history in mind, please do understand that even orders placed today may not ship until next week, and that orders placed at 60% off on Friday night may take as much as a couple of weeks to ship. The discounts you receive will be incredible, but please allow us some extra time to get your order to you.
Finally, I want to thank every single person who reads this newsletter, shops with us at our stores, or just even speaks of us positively to their friends. All of us here at Mile High Comics thank you sincerely for our kindness, and want you to know that we very much appreciate your helping us to continue our program of good works in the community.
Happy collecting!
Chuck Rozanski,
President - Mile High Comics, Inc.
February 28, 2018