10,000+ Marvel and DC Comics - 30% Off
Howdy!
After a very emotional weekend spent visiting various historic landmarks in San Francisco, I am finally home. I have to admit that after three weeks of almost continual travel, it is truly nice to know that I am going to be staying in Colorado for a while. San Diego, Seattle, and San Francisco are great cities to visit, but there is just no place like home.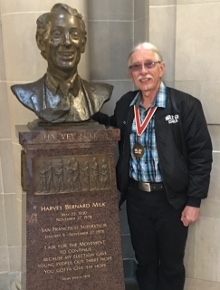 Chuck visiting the statue of Harvey Milk outside of the Board of Supervisors meeting room in San Francisco City Hall.

While I was gone to California, Will, Pam, and Lisa purchased an amazing cross section of comics, books, and toys in collections that walked into our Jason St. Mega-Store. They lost count of just how many items that they purchased while I was gone, but given how many boxes and crates filled with comics that we have sitting about the store right now, I do think that the sum of their purchases numbers in the tens of thousands. Wow!
The best news from all this buying activity is that our grand plan of improving our website inventory for you each day is continuing unabated. We have 5-6 people sorting and grading comics for you right now, which means that when tomorrow's inventory update is loaded to our website at 11 AM, our selections will be even better than they were when we began this morning. At the end of this newsletter are the listings from Premium New-In-Stock from Friday of last week, which I think are really rather impressive. Six more collections have already walked into Jason St. today, so we are completely on a roll!
In other news, our ongoing 30% off GREATDEAL! codeword sale is still in effect for you on all ten million of our back issue comics and magazines listed on our website. Only new issues, a few variants, and our professionally graded comics are exempt. On the flip side, almost all of the comics and magazines listed in Premium New-In-Stock ARE eligible for the GREATDEAL! discount. Enjoy...
I will close today's newsletter with an offer of a free Aspen Comics variant. Just place any minimum order of $50 or more with us this week, and you can request (in the notes section of our order form...) one free variant from the list below. Place an order for $100, and you can request two free variants, etc. Please note, however, that this offer is for a limited time only. Thank you!

ALL NEW EXECUTIVE ASSISTANT: IRIS (2013) #1 MILE HIGH


ALL NEW FATHOM (2013) #1 MILE HIGH


ALL NEW SOULFIRE (ASPEN) (2013) #1 MILE HIGH


SHRUGGED (VOL. 2) (2013) #1 MILE HIGH


TRISH OUT OF WATER (2013) #1 MILE HIGH

Happy collecting!
Chuck Rozanski,
President - Mile High Comics, Inc.
February 26, 2018

MARVEL

AVENGERS (1963) (#1-402) (MARVEL) #63

AVENGERS (1963) (#1-402) (MARVEL) #63 Good
AVENGERS (1963) (#1-402) (MARVEL) #67 Fine
AVENGERS (1963) (#1-402) (MARVEL) #69 Very Good
AVENGERS (1963) (#1-402) (MARVEL) #70 Good
AVENGERS (1963) (#1-402) (MARVEL) #72 Good
AVENGERS (1963) (#1-402) (MARVEL) #73 Fine
AVENGERS (1963) (#1-402) (MARVEL) #75 Very Good
AVENGERS (1963) (#1-402) (MARVEL) #77 Very Good
AVENGERS (1963) (#1-402) (MARVEL) #79 Fine
AVENGERS (1963) (#1-402) (MARVEL) #82 Very Good
AVENGERS (1963) (#1-402) (MARVEL) #86 Very Good

CAPTAIN AMERICA (1968) (#100-454) (MARVEL) #100 Fine
CAPTAIN AMERICA (1968) (#100-454) (MARVEL) #133 Fine
CAPTAIN AMERICA (1968) (#100-454) (MARVEL) #170 Fine
CAPTAIN AMERICA (1968) (#100-454) (MARVEL) #217 Good
CAPTAIN AMERICA (1968) (#100-454) (MARVEL) #241 NEWSSTAND Good
CAPTAIN AMERICA (1968) (#100-454) (MARVEL) #270 NEWSSTAND Very Good
CAPTAIN AMERICA (1968) (#100-454) (MARVEL) #275 NEWSSTAND Good
CAPTAIN AMERICA (1968) (#100-454) (MARVEL) #279 NEWSSTAND Good

CIVIL WAR II (2016) #2 Very Fine

HULK (1962) (#1-6, #102-474, #600-635)(INCREDIBLE)(MV) #325 NEWSSTAND Very Good
HULK (1962) (#1-6, #102-474, #600-635)(INCREDIBLE)(MV) #393 NEWSSTAND Very Good


SUB-MARINER (1968) (#1-72) (PRINCE NAMOR SUB-MARINER) #1

SUB-MARINER (1968) (#1-72) (PRINCE NAMOR SUB-MARINER) #1 Very Good

SUPERIOR (2010) #1 Fine
SUPERIOR (2010) #2 Fine

X-MEN (1963) (#1-113, UNCANNY X-MEN #114-544) (MARVEL) #14 Fair
X-MEN (1963) (#1-113, UNCANNY X-MEN #114-544) (MARVEL) #164 NEWSSTAND Very Fine
X-MEN (1963) (#1-113, UNCANNY X-MEN #114-544) (MARVEL) #165 NEWSSTAND Fine
X-MEN (1963) (#1-113, UNCANNY X-MEN #114-544) (MARVEL) #167 Near Mint/Mint
X-MEN (1963) (#1-113, UNCANNY X-MEN #114-544) (MARVEL) #171 Near Mint/Mint
X-MEN (1963) (#1-113, UNCANNY X-MEN #114-544) (MARVEL) #177 Near Mint/Mint
X-MEN (1963) (#1-113, UNCANNY X-MEN #114-544) (MARVEL) #181 Near Mint/Mint

DC
ALL-STAR WESTERN (1970) #1 Very Good
ALL-STAR WESTERN (1970) #3 Good
ALL-STAR WESTERN (1970) #7 Very Good

BATGIRL (2011) (#0-52) (DC NEW52) #0 Fine
BATGIRL (2011) (#0-52) (DC NEW52) #13 Very Fine

BATMAN (1940) (#0-713) (DC) #194 Fair
BATMAN (1940) (#0-713) (DC) #216 Good
BATMAN (1940) (#0-713) (DC) #296 Very Good
BATMAN (1940) (#0-713) (DC) #308 Very Good


BATMAN (1940) (#0-713) (DC) #321

BATMAN (1940) (#0-713) (DC) #321 Fine
BATMAN (1940) (#0-713) (DC) #340 NEWS ATARI Fine
BATMAN (1940) (#0-713) (DC) #341 NEWSSTAND Very Fine
BATMAN (1940) (#0-713) (DC) #342 NEWSHOSTES Fine
BATMAN (1940) (#0-713) (DC) #345 NEWSSTAND Fine
BATMAN (1940) (#0-713) (DC) #350 NEWSSTAND Fine
BATMAN (1940) (#0-713) (DC) #353 NO MONTH Fine
BATMAN (1940) (#0-713) (DC) #366 NEWSSTAND Fine
BATMAN (1940) (#0-713) (DC) #397 Fine
BATMAN (1940) (#0-713) (DC) #398 2ND PRINT Fine
BATMAN (1940) (#0-713) (DC) #399 PACK REPRT Fine

BATMAN INCORPORATED (2012) #8 2ND PRINT Fine

DETECTIVE COMICS (1937) (#0-881) (DC) #377 Good
DETECTIVE COMICS (1937) (#0-881) (DC) #481 Very Good
DETECTIVE COMICS (1937) (#0-881) (DC) #482 Very Good
DETECTIVE COMICS (1937) (#0-881) (DC) #505 Fine
DETECTIVE COMICS (1937) (#0-881) (DC) #553 NEWSSTAND Very Good

FLASH (1959) (#105-350) (DC) #146 Very Good

FOREVER PEOPLE (1971) #3 Fine
FOREVER PEOPLE (1971) #4 Fine
FOREVER PEOPLE (1971) #7 Fine
FOREVER PEOPLE (1971) #8 Fine
FOREVER PEOPLE (1971) #8 Very Fine


GREEN LANTERN (1960) (#1-224) (DC) #68

GREEN LANTERN (1960) (#1-224) (DC) #68 Very Good
GREEN LANTERN (1960) (#1-224) (DC) #77 Fair

LOIS LANE (1958) #91 Very Good
LOIS LANE (1958) #94 Very Fine
LOIS LANE (1958) #94 Very Good
LOIS LANE (1958) #96 Fine
LOIS LANE (1958) #98 Fine
LOIS LANE (1958) #98 Very Good
LOIS LANE (1958) #101 Very Good
LOIS LANE (1958) #103 Very Good
LOIS LANE (1958) #104 Fine
LOIS LANE (1958) #104 Very Good
LOIS LANE (1958) #105 Fine
LOIS LANE (1958) #105 Very Good
LOIS LANE (1958) #107 Fine
LOIS LANE (1958) #107 Very Good
LOIS LANE (1958) #108 Fine
LOIS LANE (1958) #108 Very Good
LOIS LANE (1958) #109 Fine
LOIS LANE (1958) #109 Very Good
LOIS LANE (1958) #109 Very Fine
LOIS LANE (1958) #110 Fine
LOIS LANE (1958) #110 Very Good
LOIS LANE (1958) #110 Very Fine

LOIS LANE (1958) #112 Fine
LOIS LANE (1958) #112 Very Fine
LOIS LANE (1958) #115 Fine
LOIS LANE (1958) #115 Very Fine
LOIS LANE (1958) #115 Very Good
LOIS LANE (1958) #116 Fine
LOIS LANE (1958) #116 Very Fine
LOIS LANE (1958) #117 Fine
LOIS LANE (1958) #117 Very Fine
LOIS LANE (1958) #117 Very Good
LOIS LANE (1958) #118 Very Fine
LOIS LANE (1958) #119 Fine
LOIS LANE (1958) #120 Very Fine
LOIS LANE (1958) #121 Fine
LOIS LANE (1958) #121 Very Fine
LOIS LANE (1958) #123 Fine
LOIS LANE (1958) #123 Very Fine

METAL MEN (1963) #22 Good
METAL MEN (1963) #22 Very Good
METAL MEN (1963) #23 Very Good
METAL MEN (1963) #26 Fine
METAL MEN (1963) #28 Very Good
METAL MEN (1963) #29 Very Good
METAL MEN (1963) #32 Very Good
METAL MEN (1963) #38 Fine
METAL MEN (1963) #38 Very Good

METAMORPHO (1965) #4 Fine
METAMORPHO (1965) #4 Fair
METAMORPHO (1965) #4 Good
METAMORPHO (1965) #4 Very Good
METAMORPHO (1965) #5 Good
METAMORPHO (1965) #5 Fair
METAMORPHO (1965) #5 Very Good
METAMORPHO (1965) #6 Fair
METAMORPHO (1965) #6 Fine
METAMORPHO (1965) #6 Good
METAMORPHO (1965) #6 Very Good
METAMORPHO (1965) #7 Fine
METAMORPHO (1965) #7 Good
METAMORPHO (1965) #7 Very Good
METAMORPHO (1965) #8 Good
METAMORPHO (1965) #9 Good
METAMORPHO (1965) #9 Fine
METAMORPHO (1965) #9 Very Good
METAMORPHO (1965) #10 Good
METAMORPHO (1965) #10 Fair
METAMORPHO (1965) #10 Very Good
METAMORPHO (1965) #11 Fine
METAMORPHO (1965) #11 Very Good
METAMORPHO (1965) #12 Very Good
METAMORPHO (1965) #13 Very Good

METAMORPHO (1965) #14 Good
METAMORPHO (1965) #14 Very Good
METAMORPHO (1965) #15 Good
METAMORPHO (1965) #15 Very Good
METAMORPHO (1965) #16 Very Good
METAMORPHO (1965) #17 Fine

MISTER MIRACLE (1971) (#1-25) (DC) #2 Fine
MISTER MIRACLE (1971) (#1-25) (DC) #3 Very Good
MISTER MIRACLE (1971) (#1-25) (DC) #3 Very Fine
MISTER MIRACLE (1971) (#1-25) (DC) #6 Fine
MISTER MIRACLE (1971) (#1-25) (DC) #7 Very Fine
MISTER MIRACLE (1971) (#1-25) (DC) #17 JEWELERS Very Fine

MOVIE TOWN'S ANIMAL ANTICS (1950) #28 Fine
MOVIE TOWN'S ANIMAL ANTICS (1950) #35 Fine

MUTT & JEFF (1939) (#1-103) (DC) #25 Very Good
MUTT & JEFF (1939) (#1-103) (DC) #26 Good
MUTT & JEFF (1939) (#1-103) (DC) #28 Good
MUTT & JEFF (1939) (#1-103) (DC) #28 Very Good
MUTT & JEFF (1939) (#1-103) (DC) #53 Very Good
MUTT & JEFF (1939) (#1-103) (DC) #54 Fine
MUTT & JEFF (1939) (#1-103) (DC) #55 Very Good
MUTT & JEFF (1939) (#1-103) (DC) #58 Fine


MUTT & JEFF (1939) (#1-103) (DC) #59

MUTT & JEFF (1939) (#1-103) (DC) #59 Fine
MUTT & JEFF (1939) (#1-103) (DC) #60 Good
MUTT & JEFF (1939) (#1-103) (DC) #63 Fine
MUTT & JEFF (1939) (#1-103) (DC) #63 Very Good
MUTT & JEFF (1939) (#1-103) (DC) #65 Very Good
MUTT & JEFF (1939) (#1-103) (DC) #68 Very Good
MUTT & JEFF (1939) (#1-103) (DC) #69 Very Good
MUTT & JEFF (1939) (#1-103) (DC) #71 Very Good
MUTT & JEFF (1939) (#1-103) (DC) #73 Very Good
MUTT & JEFF (1939) (#1-103) (DC) #74 Very Good
MUTT & JEFF (1939) (#1-103) (DC) #80 Fine
MUTT & JEFF (1939) (#1-103) (DC) #83 Fine
MUTT & JEFF (1939) (#1-103) (DC) #85 Fine
MUTT & JEFF (1939) (#1-103) (DC) #101 Good

MY GREATEST ADVENTURE (1955) #47 Good
MY GREATEST ADVENTURE (1955) #48 Very Good
MY GREATEST ADVENTURE (1955) #50 Fine
MY GREATEST ADVENTURE (1955) #51 Fine
MY GREATEST ADVENTURE (1955) #52 Very Good
MY GREATEST ADVENTURE (1955) #53 Good
MY GREATEST ADVENTURE (1955) #54 Very Good
MY GREATEST ADVENTURE (1955) #60 Very Good
MY GREATEST ADVENTURE (1955) #61 Good
MY GREATEST ADVENTURE (1955) #61 Very Good


MY GREATEST ADVENTURE (1955) #62

MY GREATEST ADVENTURE (1955) #62 Fine
MY GREATEST ADVENTURE (1955) #75 Good

MYSTERY IN SPACE (1951) #84 Fine
MYSTERY IN SPACE (1951) #85 Fine
MYSTERY IN SPACE (1951) #86 Fine
MYSTERY IN SPACE (1951) #86 Very Good
MYSTERY IN SPACE (1951) #91 Good
MYSTERY IN SPACE (1951) #92 Fine
MYSTERY IN SPACE (1951) #93 Fine
MYSTERY IN SPACE (1951) #93 Very Good
MYSTERY IN SPACE (1951) #94 Fine
MYSTERY IN SPACE (1951) #94 Good
MYSTERY IN SPACE (1951) #94 Very Good
MYSTERY IN SPACE (1951) #95 Good
MYSTERY IN SPACE (1951) #95 Very Good
MYSTERY IN SPACE (1951) #97 Fine
MYSTERY IN SPACE (1951) #97 Good
MYSTERY IN SPACE (1951) #97 Very Good
MYSTERY IN SPACE (1951) #97 Very Fine
MYSTERY IN SPACE (1951) #98 Fine
MYSTERY IN SPACE (1951) #98 Good
MYSTERY IN SPACE (1951) #98 Very Good
MYSTERY IN SPACE (1951) #99 Very Good
MYSTERY IN SPACE (1951) #102 Fine
MYSTERY IN SPACE (1951) #102 Very Good
MYSTERY IN SPACE (1951) #107 Very Good

MYSTERY IN SPACE (2006) #1 DFE SIGNED Near Mint/Mint

NEW GODS (1971) #8 Fine
NEW GODS (1971) #8 Very Fine
NEW GODS (1971) #8 Very Good
NEW GODS (1971) #9 Fine
NEW GODS (1971) #9 Very Fine
NEW GODS (1971) #9 Very Good

NUTSY SQUIRREL (1954) #72 Good

OMAC (#1-8) (ONE MAN ARMY CORPS) (JACK KIRBY) (1974) #1 Good
OMAC (#1-8) (ONE MAN ARMY CORPS) (JACK KIRBY) (1974) #1 Fine
OMAC (#1-8) (ONE MAN ARMY CORPS) (JACK KIRBY) (1974) #1 Very Good
OMAC (#1-8) (ONE MAN ARMY CORPS) (JACK KIRBY) (1974) #1 Very Fine

OUR ARMY AT WAR (1952) #163 Very Good
OUR ARMY AT WAR (1952) #164 Good
OUR ARMY AT WAR (1952) #165 Very Good
OUR ARMY AT WAR (1952) #167 Good
OUR ARMY AT WAR (1952) #169 Very Good
OUR ARMY AT WAR (1952) #170 Fine
OUR ARMY AT WAR (1952) #170 Very Fine
OUR ARMY AT WAR (1952) #171 Good
OUR ARMY AT WAR (1952) #172 Very Good
OUR ARMY AT WAR (1952) #173 Good
OUR ARMY AT WAR (1952) #173 Very Good
OUR ARMY AT WAR (1952) #174 Fine

OUR ARMY AT WAR (1952) #174 Very Fine
OUR ARMY AT WAR (1952) #176 Fair
OUR ARMY AT WAR (1952) #178 Very Good
OUR ARMY AT WAR (1952) #179 Good
OUR ARMY AT WAR (1952) #180 Good
OUR ARMY AT WAR (1952) #180 Very Good
OUR ARMY AT WAR (1952) #181 Very Good
OUR ARMY AT WAR (1952) #184 Fine
OUR ARMY AT WAR (1952) #184 Good
OUR ARMY AT WAR (1952) #184 Very Good
OUR ARMY AT WAR (1952) #185 Fine
OUR ARMY AT WAR (1952) #185 Good
OUR ARMY AT WAR (1952) #185 Very Good
OUR ARMY AT WAR (1952) #188 Fine
OUR ARMY AT WAR (1952) #188 Very Good
OUR ARMY AT WAR (1952) #189 Fine
OUR ARMY AT WAR (1952) #192 Good
OUR ARMY AT WAR (1952) #192 Very Good
OUR ARMY AT WAR (1952) #194 Fine
OUR ARMY AT WAR (1952) #194 Very Good
OUR ARMY AT WAR (1952) #195 Fine
OUR ARMY AT WAR (1952) #195 Very Good
OUR ARMY AT WAR (1952) #197 Fine
OUR ARMY AT WAR (1952) #198 Good

OUR ARMY AT WAR (1952) #198 Fine
OUR ARMY AT WAR (1952) #198 Very Good
OUR ARMY AT WAR (1952) #200 Very Good
OUR ARMY AT WAR (1952) #206 Very Good
OUR ARMY AT WAR (1952) #243 Fine
OUR ARMY AT WAR (1952) #269 Very Fine
OUR ARMY AT WAR (1952) #280 Fine
OUR ARMY AT WAR (1952) #280 Very Good

OUR FIGHTING FORCES (1954) #73 Good
OUR FIGHTING FORCES (1954) #73 Very Good
OUR FIGHTING FORCES (1954) #75 Very Good
OUR FIGHTING FORCES (1954) #76 Good
OUR FIGHTING FORCES (1954) #76 Very Good
OUR FIGHTING FORCES (1954) #77 Good
OUR FIGHTING FORCES (1954) #77 Very Good
OUR FIGHTING FORCES (1954) #78 Good
OUR FIGHTING FORCES (1954) #78 Very Good
OUR FIGHTING FORCES (1954) #79 Good
OUR FIGHTING FORCES (1954) #79 Very Good
OUR FIGHTING FORCES (1954) #80 Good
OUR FIGHTING FORCES (1954) #80 Very Good
OUR FIGHTING FORCES (1954) #81 Fair
OUR FIGHTING FORCES (1954) #81 Good
OUR FIGHTING FORCES (1954) #81 Very Good


OUR FIGHTING FORCES (1954) #82

OUR FIGHTING FORCES (1954) #82 Good
OUR FIGHTING FORCES (1954) #82 Fair
OUR FIGHTING FORCES (1954) #82 Very Good
OUR FIGHTING FORCES (1954) #83 Good
OUR FIGHTING FORCES (1954) #83 Very Good
OUR FIGHTING FORCES (1954) #84 Fine
OUR FIGHTING FORCES (1954) #84 Fair
OUR FIGHTING FORCES (1954) #84 Good
OUR FIGHTING FORCES (1954) #84 Very Good
OUR FIGHTING FORCES (1954) #85 Fine
OUR FIGHTING FORCES (1954) #85 Good
OUR FIGHTING FORCES (1954) #85 Very Good
OUR FIGHTING FORCES (1954) #86 Good
OUR FIGHTING FORCES (1954) #86 Very Good
OUR FIGHTING FORCES (1954) #87 Good
OUR FIGHTING FORCES (1954) #87 Fair
OUR FIGHTING FORCES (1954) #87 Very Good

DARK HORSE COMICS
BALTIMORE: PLAGUE SHIPS (DARK HORSE) (MIGNOLA) (2010) #5 Very Fine

IMAGE COMICS
68 (2011) #1 B Fine
68 (2011) #2 A Fine

INDEPENDENTS
ASYLUM OF HORRORS (2008) #2 (Asylum Graphics) Fine

HAUNTED HORROR (2012) #1 (IDW Publishing) Near Mint/Mint