Codeword ends at Midnight!
Howdy!
I am just back from our Imperial Court Coronation in Seattle, and will be leaving for Coronation in San Francisco on Thursday. Blessedly, this crazy travel schedule that I am keeping right now ends after this weekend, and I will finally have some time to regroup next week. In the meantime, however, I have been gathering support from all regions of our Imperial Court System for my new "Nicole's Angels" charitable initiative. Everyone with whom I have spoken thinks that helping the homeless with personal hygiene products is a great idea.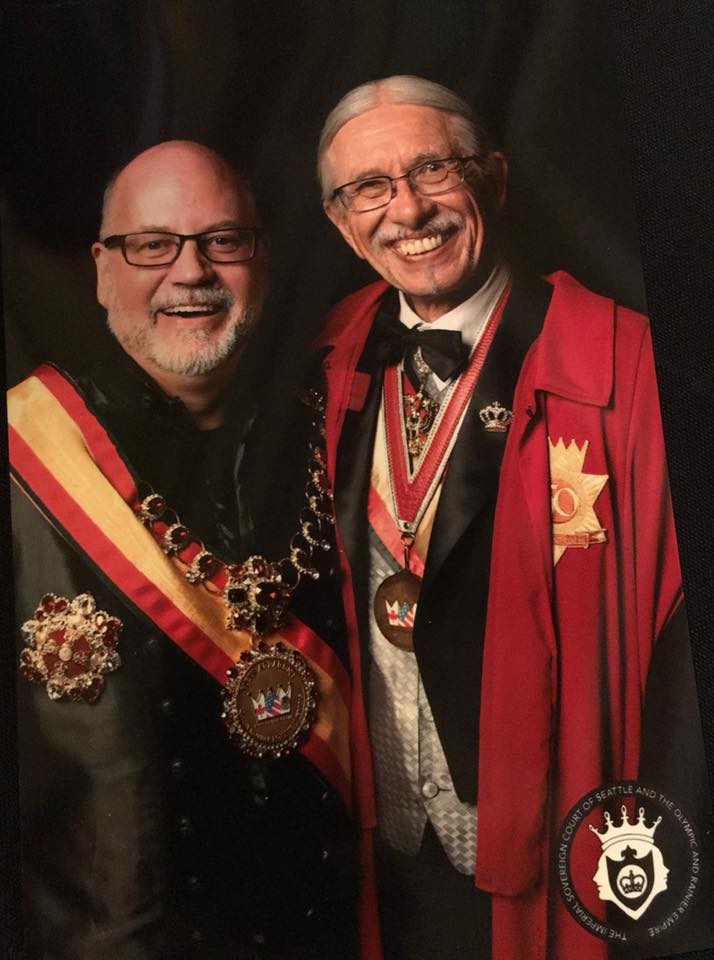 Fun photo from Seattle Coronation with my awesome friend and teacher Rob Surreal, newly elected Emperor of Spokane and President of the International Court Council.

If you would like to contribute to our hygiene products effort, the list is at the end of this newsletter. So you know, after having nearly 2 dozen people sign up to contribute cases of products to our current hygiene drive, what we are most especially needing right now are donors willing to cover the cost of some cases of razors and tampons. We are going out in the snow to distribute these much-needed goods on Thursday, so any help that you might be able to provide would be most appreciated.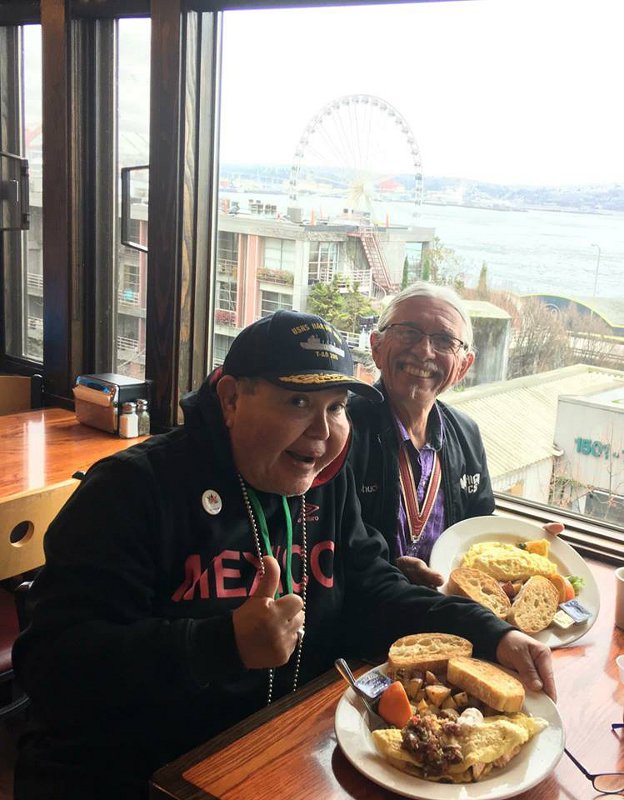 Queen Mother of the Americas, Nicole the Great and Heir Apparent Charles Rozanski at the Pike Place Market in Seattle...

In other news, our annual 40% off SWEETHEART! codeword sale on all of our back issue comics and magazines will be ending tomorrow (Wednesday) at midnight. If you are seeking to add some really nice back issue comics and/or magazines into your collection, this is your last opportunity for a whole to receive a 40% discount. Starting on Thursday, a new 30% off GREATDEAL! codeword will begin. Only new issues, a few variants, and our professionally-graded comics are exempt from our codeword sales.

WOLVERINE (2003) #80 NEWSSTAND

As an aside, I did also want to mention that we have been purchasing an extraordinary number of great back issue comics and magazines this week. Will Moulton told me that he had seven collections offered to him on Friday, almost all of which he purchased. I personally also purchased a very large Silver and Bronze collection consisting of 1,500 issues! on Wednesday of last week, just before I left for Seattle. Whew!
Damn, I just got a call from Lisa that yet another collection just walked in the door so, I am going to cut today's newsletter short, and instead have Will put up a partial listing of New-In-Stock and Premium New-In-Stock from Friday and today. Great stuff! Also, if you at all can, please add some items from the "Nicole's Angels" list in with your order. We have 1,000 homeless people here in Denver who could really use the help, and yet another group in Albuquerque with similar pressing needs.
Happy collecting!
Chuck Rozanski,
President - Mile High Comics, Inc.
February 20, 2018

Nicole's Angels products:



Toothbrushes     144/case     $13.68     9 cents each




Bottled Water     200 bottles     $24.95     6 cents each




Personal Razors     144/case     $25.97     17 cents each




Soap bars (small)     1,000/case     $32.00     3 cents each




Lotion packets     1,000/case     $39.33     4 cents each




Shampoo/Cond.     1,000/case     $39.33     4 cents each




Maxi Pads     500/case     $44.67     9 cents each




Tampax Tampons     500/case     $73.33     15 cents each




Toothpaste tubes     240/case     $77.33     32 cents each



Some of Saturday's New-In-Stock:
MARVEL

ALL-NEW WOLVERINE (2015) #25 CHRISTOPHE

ALL-NEW WOLVERINE (2015) #25 CHRISTOPHE Near Mint/Mint
ALL-NEW WOLVERINE (2015) #25 CHRISTOPHE Very Fine
ALL-NEW WOLVERINE (2015) #25 MCKONE Very Fine
ALL-NEW WOLVERINE (2015) #25 ZDARSKY Near Mint/Mint

AMAZING SPIDER-MAN (1999) (#1-700.5) (MARVEL) #596 NEWSSTAND Very Good
AMAZING SPIDER-MAN (1999) (#1-700.5) (MARVEL) #607 NEWSSTAND Very Good

AMAZING SPIDER-MAN (2017) (#789-UP) (MARVEL LEGACY) (2017) #789 DITKO Near Mint/Mint
AMAZING SPIDER-MAN (2017) (#789-UP) (MARVEL LEGACY) (2017) #789 MCKONE Near Mint/Mint

ASTONISHING X-MEN (2017) (#1-UP) (MARVEL) #1 ARTGERM Near Mint/Mint
ASTONISHING X-MEN (2017) (#1-UP) (MARVEL) #2 STEGMAN Very Fine
ASTONISHING X-MEN (2017) (#1-UP) (MARVEL) #2 YU Very Fine
ASTONISHING X-MEN (2017) (#1-UP) (MARVEL) #3 GREENE Very Fine
ASTONISHING X-MEN (2017) (#1-UP) (MARVEL) #3 KEOWN Very Fine

AVENGERS (2017) (#672-UP) (MARVEL LEGACY) #672 KIRBY Near Mint/Mint
AVENGERS (2017) (#672-UP) (MARVEL LEGACY) #672 MCKONE Near Mint/Mint

BLACK PANTHER (2016) (#1-18) (MARVEL) #1 SMITH Very Fine

CABLE (2017) (#150-UP) (MARVEL LEGACY) #150 MCKONE Near Mint/Mint
CABLE (2017) (#150-UP) (MARVEL LEGACY) #150 MCKONE Fine
CABLE (2017) (#150-UP) (MARVEL LEGACY) #150 ZDARSKY Near Mint/Mint

CAPTAIN AMERICA (2017) (#695-UP) (MARVEL LEGACY) #695 MCKONE Near Mint/Mint
CAPTAIN AMERICA (2017) (#695-UP) (MARVEL LEGACY) #695 GRANOV Near Mint/Mint
CAPTAIN AMERICA (2017) (#695-UP) (MARVEL LEGACY) #695 MCKONE Very Fine
CAPTAIN AMERICA (2017) (#695-UP) (MARVEL LEGACY) #695 STERANKO Near Mint/Mint

CHAMPIONS (2016) (#1-UP) (MARVEL NOW) #1 MILE HIGH Near Mint/Mint

CHAMPIONS (2016) (#1-UP) (MARVEL NOW) #6 DEODATO Near Mint/Mint
CHAMPIONS (2016) (#1-UP) (MARVEL NOW) #13 MCKONE Near Mint/Mint

GENERATIONS: CAPTAIN AMERICAS (2017) #1 RIVERA Near Mint/Mint

GENERATIONS: IRON MAN & IRONHEART (2017) #1 KIRBY Near Mint/Mint
GENERATIONS: IRON MAN & IRONHEART (2017) #1 RUDY Near Mint/Mint

GENERATIONS: UNWORTHY THOR & MIGHTY THOR (2017) #1 PASTORAS Near Mint/Mint
GENERATIONS: UNWORTHY THOR & MIGHTY THOR (2017) #1 PASTORAS Very Fine

GENERATIONS: WOLVERINE & ALL-NEW WOLVERINE (2017) #1 ROSS Near Mint/Mint
GENERATIONS: WOLVERINE & ALL-NEW WOLVERINE (2017) #1 SHALVEY Near Mint/Mint

GUARDIANS OF THE GALAXY (2017)(#146-UP)(MARVEL LEGACY) #146 MCKONE Near Mint/Mint
GUARDIANS OF THE GALAXY (2017)(#146-UP)(MARVEL LEGACY) #146 GRANOV Fine
GUARDIANS OF THE GALAXY (2017)(#146-UP)(MARVEL LEGACY) #146 MCKONE Very Fine

GWENPOOL (2016) #21 MCKONE Very Fine

HULK (2017) (#709-UP) (MARVEL LEGACY)(INCREDIBLE HULK) #709 MCKONE Near Mint/Mint
HULK (2017) (#709-UP) (MARVEL LEGACY)(INCREDIBLE HULK) #709 MCKONE Fine

ICEMAN (2017) (#1-UP) (MARVEL) #6 MCKONE Very Fine
ICEMAN (2017) (#1-UP) (MARVEL) #6 MCKONE Fine

INVINCIBLE IRON MAN (2017) (#593-UP) (MARVEL LEGACY) (2017) #593 KIRBY Near Mint/Mint
INVINCIBLE IRON MAN (2017) (#593-UP) (MARVEL LEGACY) (2017) #593 MCKONE Near Mint/Mint

IRON FIST (2017) (#73-UP) (MARVEL LEGACY) (2017) #73 MCKONE Near Mint/Mint
IRON FIST (2017) (#73-UP) (MARVEL LEGACY) (2017) #73 MCKONE Very Fine

JEAN GREY (2017) #7 CHECCHETTO Near Mint/Mint
JEAN GREY (2017) #7 CHECCHETTO Very Fine

JESSICA JONES (#1-UP) (MARVEL) (2016) #13 MCKONE Near Mint/Mint
JESSICA JONES (#1-UP) (MARVEL) (2016) #13 SALE Near Mint/Mint

KINGPIN (2017) (#1-UP) (MARVEL) #2 CRAIN Near Mint/Mint

LUKE CAGE (2017) (#166-UP) (MARVEL LEGACY) #166 GREENE Near Mint/Mint

MAN-THING (2017) (#1-5) (MARVEL) (R. L. STINE) #1 HANS Near Mint/Mint

MARVEL LEGACY (2017) #1 PREMIERE Near Mint/Mint


MARVEL LEGACY (2017) #1 REEDER

MARVEL LEGACY (2017) #1 REEDER Fine
MARVEL LEGACY (2017) #1 ROSS Near Mint/Mint
MARVEL LEGACY (2017) #1 SCHITI Near Mint/Mint

MIGHTY THOR (2017) (#700-UP) (MARVEL LEGACY) #700 KIRBY Very Fine
MIGHTY THOR (2017) (#700-UP) (MARVEL LEGACY) #700 MCKONE Near Mint/Mint
MIGHTY THOR (2017) (#700-UP) (MARVEL LEGACY) #700 MOVIE CVR Very Fine

MONSTERS UNLEASHED (2017) (#1-5) (MARVEL) #1 ADAMS B&W Near Mint/Mint

MONSTERS UNLEASHED (2017) (#1-UP) (MARVEL) #7 MCKONE Very Fine

POWER PACK (2017) (#63-UP) (MARVEL LEAGCY) #63 BRIGMAN Near Mint/Mint

PUNISHER: PLATOON (2017) #1 CHECCHETTO Fine

ROYALS (INHUMANS) (2017) #6 MARTIN Near Mint/Mint
ROYALS (INHUMANS) (2017) #6 MARTIN Very Fine
ROYALS (INHUMANS) (2017) #9 MCKONE Near Mint/Mint

RUNAWAYS (2017) (#1-UP) (MARVEL) #1 WADA Near Mint/Mint

SECRET EMPIRE (2017) #9 CAMPBELL Near Mint/Mint

SECRET EMPIRE: OMEGA (2017) #1 TURNER Near Mint/Mint

SHE-HULK (2017) (#159-UP) (MARVEL LEGACY) #159 MCKONE Near Mint/Mint

SPIDER-GWEN (2015) (#1-UP) (MARVEL)(RADIOACTIVE) #25 MCKONE Near Mint/Mint
SPIDER-GWEN (2015) (#1-UP) (MARVEL)(RADIOACTIVE) #25 MCKONE Very Fine
SPIDER-GWEN (2015) (#1-UP) (MARVEL)(RADIOACTIVE) #25 ZDARSKY Near Mint/Mint

SPIDER-MAN (2017) (#234-UP) (MARVEL LEGACY) #234 GREENE Near Mint/Mint
SPIDER-MAN (2017) (#234-UP) (MARVEL LEGACY) #234 MCKONE Near Mint/Mint

SPIDER-MAN/DEADPOOL (2015) #15 WILLIAMS Near Mint/Mint
SPIDER-MAN/DEADPOOL (2015) #23 HEPBURN Near Mint/Mint

SPIRITS OF VENGEANCE (2017) (#1-5) (MARVEL LEGACY) #1 MCKONE Near Mint/Mint
SPIRITS OF VENGEANCE (2017) (#1-5) (MARVEL LEGACY) #2 CAMUNCOLI Near Mint/Mint
SPIRITS OF VENGEANCE (2017) (#1-5) (MARVEL LEGACY) #2 CAMUNCOLI Fine

TEX MORGAN (1949) #8 Good

WOLVERINE (2003) (#1-90 & 900) (MARVEL) #80 NEWSSTAND Very Fine
WOLVERINE (2003) (#1-90 & 900) (MARVEL) #82 NEWSSTAND Very Fine
WOLVERINE (2003) (#1-90 & 900) (MARVEL) #83 NEWSSTAND Very Fine

DC
BATMAN (2011) (#0-52) (DC NEW52) #23 .1 DELUXE Near Mint/Mint

BEFORE WATCHMEN: NITE OWL (2012) #4 COMBO Near Mint/Mint

BEFORE WATCHMEN: OZYMANDIAS (2012) #4 COMBO Very Fine
BEFORE WATCHMEN: OZYMANDIAS (2012) #5 COMBO Very Fine

DETECTIVE COMICS (1937) (#0-881) (DC) #855 NEWSSTAND Very Fine

DETECTIVE COMICS (2011) (#0-52) (DC NEW52) #23 .2 DELUXE Near Mint/Mint

FLASH (1959) (#105-350) (DC) #141 Good
FLASH (1959) (#105-350) (DC) #141 Very Good
FLASH (1959) (#105-350) (DC) #144 Very Good
FLASH (1959) (#105-350) (DC) #146 Good
FLASH (1959) (#105-350) (DC) #148 Good
FLASH (1959) (#105-350) (DC) #148 Very Good
FLASH (1959) (#105-350) (DC) #149 Good
FLASH (1959) (#105-350) (DC) #149 Very Good
FLASH (1959) (#105-350) (DC) #181 Good
FLASH (1959) (#105-350) (DC) #181 Fine
FLASH (1959) (#105-350) (DC) #181 Very Good
FLASH (1959) (#105-350) (DC) #182 Fine
FLASH (1959) (#105-350) (DC) #182 Very Good
FLASH (1959) (#105-350) (DC) #183 Good
FLASH (1959) (#105-350) (DC) #183 Fine
FLASH (1959) (#105-350) (DC) #183 Very Good
FLASH (1959) (#105-350) (DC) #185 Fine
FLASH (1959) (#105-350) (DC) #185 Very Good
FLASH (1959) (#105-350) (DC) #188 Fine
FLASH (1959) (#105-350) (DC) #188 Very Good

FLASH (1987) (#0-247) (DC) #231 RRP Near Mint/Mint

FLASH (2011) (#0-52) (DC NEW52) #18 VARIANT Near Mint/Mint

FORBIDDEN TALES OF DARK MANSION (1972) #10 Very Fine
FORBIDDEN TALES OF DARK MANSION (1972) #11 Fine
FORBIDDEN TALES OF DARK MANSION (1972) #13 Fine
FORBIDDEN TALES OF DARK MANSION (1972) #14 Fine
FORBIDDEN TALES OF DARK MANSION (1972) #15 Very Good

FOREVER PEOPLE (1971) #2 Fine
FOREVER PEOPLE (1971) #2 Very Fine
FOREVER PEOPLE (1971) #2 Very Good
FOREVER PEOPLE (1971) #3 Good
FOREVER PEOPLE (1971) #3 Fine
FOREVER PEOPLE (1971) #3 Very Good
FOREVER PEOPLE (1971) #3 Very Fine
FOREVER PEOPLE (1971) #4 Fine
FOREVER PEOPLE (1971) #4 Very Fine
FOREVER PEOPLE (1971) #4 Very Good
FOREVER PEOPLE (1971) #5 Fine
FOREVER PEOPLE (1971) #5 Very Fine
FOREVER PEOPLE (1971) #5 Very Good
FOREVER PEOPLE (1971) #6 Fine
FOREVER PEOPLE (1971) #6 Very Fine
FOREVER PEOPLE (1971) #7 Fine
FOREVER PEOPLE (1971) #7 Very Fine
FOREVER PEOPLE (1971) #8 Near Mint/Mint
FOREVER PEOPLE (1971) #8 Good
FOREVER PEOPLE (1971) #8 Fine
FOREVER PEOPLE (1971) #8 Very Good
FOREVER PEOPLE (1971) #9 Fine
FOREVER PEOPLE (1971) #9 Very Fine
FOREVER PEOPLE (1971) #10 Fine
FOREVER PEOPLE (1971) #10 Very Fine
FOREVER PEOPLE (1971) #10 Very Good
FOREVER PEOPLE (1971) #11 Fine
FOREVER PEOPLE (1971) #11 Near Mint/Mint
FOREVER PEOPLE (1971) #11 Very Fine
FOREVER PEOPLE (1971) #11 Very Good

FOX AND THE CROW (1951) #78 Fine
FOX AND THE CROW (1951) #78 Near Mint/Mint
FOX AND THE CROW (1951) #81 Very Good

FREEDOM FIGHTERS (1976) #14 BRITISH Very Fine

FROM BEYOND THE UNKNOWN (1969) #4 Fine
FROM BEYOND THE UNKNOWN (1969) #4 Very Good
FROM BEYOND THE UNKNOWN (1969) #5 Fine
FROM BEYOND THE UNKNOWN (1969) #10 Fine
FROM BEYOND THE UNKNOWN (1969) #11 Fine
FROM BEYOND THE UNKNOWN (1969) #11 Very Good

FUNNY STUFF (1944) #41 Very Good
FUNNY STUFF (1944) #46 Very Good
FUNNY STUFF (1944) #56 Good
FUNNY STUFF (1944) #59 Very Good
FUNNY STUFF (1944) #63 Very Good
FUNNY STUFF (1944) #69 Good
FUNNY STUFF (1944) #74 Fine

GHOSTS (1971) #3 Very Good
GHOSTS (1971) #4 Very Good
GHOSTS (1971) #10 Fine
GHOSTS (1971) #10 Good
GHOSTS (1971) #10 Very Good

GI COMBAT (1957) (#44-288) (DC) #123 Fine
GI COMBAT (1957) (#44-288) (DC) #127 Good
GI COMBAT (1957) (#44-288) (DC) #127 Very Good
GI COMBAT (1957) (#44-288) (DC) #128 Fine
GI COMBAT (1957) (#44-288) (DC) #128 Very Good
GI COMBAT (1957) (#44-288) (DC) #129 Fine
GI COMBAT (1957) (#44-288) (DC) #129 Very Good
GI COMBAT (1957) (#44-288) (DC) #130 Very Good
GI COMBAT (1957) (#44-288) (DC) #131 Good
GI COMBAT (1957) (#44-288) (DC) #131 Very Good
GI COMBAT (1957) (#44-288) (DC) #132 Fine
GI COMBAT (1957) (#44-288) (DC) #132 Good
GI COMBAT (1957) (#44-288) (DC) #132 Very Good
GI COMBAT (1957) (#44-288) (DC) #133 Fine
GI COMBAT (1957) (#44-288) (DC) #133 Very Fine
GI COMBAT (1957) (#44-288) (DC) #133 Very Good
GI COMBAT (1957) (#44-288) (DC) #134 Fine
GI COMBAT (1957) (#44-288) (DC) #134 Good
GI COMBAT (1957) (#44-288) (DC) #134 Very Good
GI COMBAT (1957) (#44-288) (DC) #135 Fine
GI COMBAT (1957) (#44-288) (DC) #135 Very Good
GI COMBAT (1957) (#44-288) (DC) #136 Very Good
GI COMBAT (1957) (#44-288) (DC) #137 Very Good

GIRL'S ROMANCES (1950) #74 Fine
GIRL'S ROMANCES (1950) #93 Good
GIRL'S ROMANCES (1950) #94 Fair

GREEN LANTERN (1960) (#1-224) (DC) #116 Very Good

GREEN LANTERN (1990) (#0-181) (DC) #81 DELUXE Near Mint/Mint

GREEN LANTERN (2005) (#1-67) (DC) #45 VARIANT Near Mint/Mint

GREEN LANTERN: EMERALD WARRIORS (2010) #2 VARIANT Near Mint/Mint

GREEN LANTERN: NEW GUARDIANS (2011) #5 VARIANT Near Mint/Mint
GREEN LANTERN: NEW GUARDIANS (2011) #6 VARIANT Near Mint/Mint
GREEN LANTERN: NEW GUARDIANS (2011) #7 VARIANT Near Mint/Mint

HAWK AND DOVE (1968) #2 Fine
HAWK AND DOVE (1968) #2 Good
HAWK AND DOVE (1968) #3 Fine
HAWK AND DOVE (1968) #3 Good
HAWK AND DOVE (1968) #3 Very Good
HAWK AND DOVE (1968) #3 Very Fine
HAWK AND DOVE (1968) #4 Fine
HAWK AND DOVE (1968) #4 Good
HAWK AND DOVE (1968) #4 Very Fine
HAWK AND DOVE (1968) #4 Very Good
HAWK AND DOVE (1968) #5 Fine
HAWK AND DOVE (1968) #5 Very Good
HAWK AND DOVE (1968) #6 Fine
HAWK AND DOVE (1968) #6 Good
HAWK AND DOVE (1968) #6 Very Good

HAWKMAN (1964) (#1-27) (DC) #7 Good
HAWKMAN (1964) (#1-27) (DC) #7 Very Good
HAWKMAN (1964) (#1-27) (DC) #15 Fine
HAWKMAN (1964) (#1-27) (DC) #17 Fine
HAWKMAN (1964) (#1-27) (DC) #18 Good
HAWKMAN (1964) (#1-27) (DC) #18 Very Good
HAWKMAN (1964) (#1-27) (DC) #19 Good
HAWKMAN (1964) (#1-27) (DC) #19 Fine
HAWKMAN (1964) (#1-27) (DC) #19 Very Good
HAWKMAN (1964) (#1-27) (DC) #20 Fine
HAWKMAN (1964) (#1-27) (DC) #20 Very Good
HAWKMAN (1964) (#1-27) (DC) #21 Fine
HAWKMAN (1964) (#1-27) (DC) #21 Good
HAWKMAN (1964) (#1-27) (DC) #21 Very Good
HAWKMAN (1964) (#1-27) (DC) #22 Fine
HAWKMAN (1964) (#1-27) (DC) #22 Very Good
HAWKMAN (1964) (#1-27) (DC) #23 Fine
HAWKMAN (1964) (#1-27) (DC) #23 Very Good
HAWKMAN (1964) (#1-27) (DC) #24 Fine
HAWKMAN (1964) (#1-27) (DC) #24 Good
HAWKMAN (1964) (#1-27) (DC) #24 Very Good
HAWKMAN (1964) (#1-27) (DC) #25 Fine
HAWKMAN (1964) (#1-27) (DC) #25 Very Good
HAWKMAN (1964) (#1-27) (DC) #26 Fine
HAWKMAN (1964) (#1-27) (DC) #26 Very Good
HAWKMAN (1964) (#1-27) (DC) #27 Good
HAWKMAN (1964) (#1-27) (DC) #27 Fine
HAWKMAN (1964) (#1-27) (DC) #27 Very Good

HEART THROBS (1957) (#47-146) (DC) #61 Good
HEART THROBS (1957) (#47-146) (DC) #61 Very Good

HOUSE OF MYSTERY (1951) #99 Very Good
HOUSE OF MYSTERY (1951) #145 Good
HOUSE OF MYSTERY (1951) #145 Very Good
HOUSE OF MYSTERY (1951) #146 Good
HOUSE OF MYSTERY (1951) #147 Good
HOUSE OF MYSTERY (1951) #147 Fine
HOUSE OF MYSTERY (1951) #147 Very Good
HOUSE OF MYSTERY (1951) #148 Good
HOUSE OF MYSTERY (1951) #148 Fine
HOUSE OF MYSTERY (1951) #148 Very Good
HOUSE OF MYSTERY (1951) #150 Good
HOUSE OF MYSTERY (1951) #150 Fine
HOUSE OF MYSTERY (1951) #150 Very Good
HOUSE OF MYSTERY (1951) #151 Good
HOUSE OF MYSTERY (1951) #151 Fine
HOUSE OF MYSTERY (1951) #151 Very Good
HOUSE OF MYSTERY (1951) #152 Good
HOUSE OF MYSTERY (1951) #153 Good
HOUSE OF MYSTERY (1951) #153 Fine
HOUSE OF MYSTERY (1951) #153 Very Good
HOUSE OF MYSTERY (1951) #154 Good
HOUSE OF MYSTERY (1951) #154 Very Good
HOUSE OF MYSTERY (1951) #155 Fine
HOUSE OF MYSTERY (1951) #155 Very Good
HOUSE OF MYSTERY (1951) #156 Very Good
HOUSE OF MYSTERY (1951) #157 Good
HOUSE OF MYSTERY (1951) #157 Fine
HOUSE OF MYSTERY (1951) #157 Very Good
HOUSE OF MYSTERY (1951) #158 Good
HOUSE OF MYSTERY (1951) #158 Fine
HOUSE OF MYSTERY (1951) #158 Very Good
HOUSE OF MYSTERY (1951) #159 Fine
HOUSE OF MYSTERY (1951) #159 Very Good
HOUSE OF MYSTERY (1951) #159 Very Fine
HOUSE OF MYSTERY (1951) #160 Very Good
HOUSE OF MYSTERY (1951) #161 Fine
HOUSE OF MYSTERY (1951) #161 Good
HOUSE OF MYSTERY (1951) #161 Very Good
HOUSE OF MYSTERY (1951) #162 Good
HOUSE OF MYSTERY (1951) #162 Fine
HOUSE OF MYSTERY (1951) #162 Very Fine
HOUSE OF MYSTERY (1951) #162 Very Good
HOUSE OF MYSTERY (1951) #163 Fine
HOUSE OF MYSTERY (1951) #163 Very Good
HOUSE OF MYSTERY (1951) #164 Fine
HOUSE OF MYSTERY (1951) #164 Very Good
HOUSE OF MYSTERY (1951) #165 Fine
HOUSE OF MYSTERY (1951) #165 Very Good
HOUSE OF MYSTERY (1951) #166 Fine
HOUSE OF MYSTERY (1951) #166 Very Fine
HOUSE OF MYSTERY (1951) #166 Very Good
HOUSE OF MYSTERY (1951) #167 Good

HOUSE OF MYSTERY (1951) #167 Fine
HOUSE OF MYSTERY (1951) #167 Very Fine
HOUSE OF MYSTERY (1951) #167 Very Good
HOUSE OF MYSTERY (1951) #168 Good
HOUSE OF MYSTERY (1951) #168 Very Good
HOUSE OF MYSTERY (1951) #168 Very Fine
HOUSE OF MYSTERY (1951) #169 Fine
HOUSE OF MYSTERY (1951) #169 Very Good
HOUSE OF MYSTERY (1951) #170 Fine
HOUSE OF MYSTERY (1951) #170 Good
HOUSE OF MYSTERY (1951) #170 Very Good
HOUSE OF MYSTERY (1951) #171 Fine
HOUSE OF MYSTERY (1951) #171 Very Good
HOUSE OF MYSTERY (1951) #171 Very Fine
HOUSE OF MYSTERY (1951) #172 Fine
HOUSE OF MYSTERY (1951) #172 Very Good
HOUSE OF MYSTERY (1951) #172 Very Fine
HOUSE OF MYSTERY (1951) #173 Good
HOUSE OF MYSTERY (1951) #173 Very Good
HOUSE OF MYSTERY (1951) #176 Good
HOUSE OF MYSTERY (1951) #176 Very Good
HOUSE OF MYSTERY (1951) #177 Fine
HOUSE OF MYSTERY (1951) #180 Very Good
HOUSE OF MYSTERY (1951) #188 Good
HOUSE OF MYSTERY (1951) #188 Very Good
HOUSE OF MYSTERY (1951) #189 Very Good

SCOOBY DOO (DC1997) #151 NEWSSTAND Near Mint/Mint

SUPERMAN/BATMAN (2003) #63 NEWSSTAND Very Fine

DARK HORSE COMICS
STAR WARS: DARK TIMES (2006) #15 NEWSSTAND Near Mint/Mint

STAR WARS: LEGACY (2006) #40 NEWSSTAND Fine

IMAGE COMICS
KINGSMAN: RED DIAMOND (2017) #1 G GOLDFOIL Near Mint/Mint

MAESTROS (2017) #1 C GOLDLOGO Near Mint/Mint

WALKING DEAD (2003) #132 LOOTCRATE Near Mint/Mint

INDEPENDENTS
3 LITTLE KITTENS (2002) #2 (Broadsword Comics) Near Mint/Mint

BARTMAN (BONGO) (SIMPSONS) (1993) #3 (Bongo Comics) Fine

BETTIE PAGE (2017) #2 F CHANTVIR (DYNAMITE Entertainment) Near Mint/Mint
BETTIE PAGE (2017) #3 E LINSNVIR (DYNAMITE Entertainment) Very Fine
BETTIE PAGE (2017) #4 E LINSNVIR (DYNAMITE Entertainment) Very Fine

BIG TROUBLE IN LITTLE CHINA: OLD MAN JACK (2017) #1 D ROBSON (Boom Studios Publishing) Near Mint/Mint

MIGHTY MORPHIN POWER RANGERS (2016) #19 MORA (Boom Studios Publishing) Very Fine

POWER OF THE DARK CRYSTAL (JIM HENSON) (2017) #2 LEE (Boom Studios Publishing) Near Mint/Mint

SHEENA (2017) (#0-UP) (DYNAMITE) #1 H CAMPBB&W (DYNAMITE Entertainment) Near Mint/Mint

TARZAN (1948) (#1-131) (Dell Publishing) #62 (Dell Publishing) Fine
TARZAN (1948) (#1-131) (Dell Publishing) #63 (Dell Publishing) Very Good
TARZAN (1948) (#1-131) (Dell Publishing) #67 (Dell Publishing) Fine
TARZAN (1948) (#1-131) (Dell Publishing) #68 (Dell Publishing) Fine
TARZAN (1948) (#1-131) (Dell Publishing) #69 (Dell Publishing) Fine
TARZAN (1948) (#1-131) (Dell Publishing) #70 (Dell Publishing) Good
TARZAN (1948) (#1-131) (Dell Publishing) #90 15 CENT CV (Dell Publishing) Very Good
TARZAN (1948) (#1-131) (Dell Publishing) #91 15 CENT CV (Dell Publishing) Fine
TARZAN (1948) (#1-131) (Dell Publishing) #92 15 CENT CV (Dell Publishing) Fine
TARZAN (1948) (#1-131) (Dell Publishing) #93 15 CENT CV (Dell Publishing) Very Fine
TARZAN (1948) (#1-131) (Dell Publishing) #123 (Dell Publishing) Good

TARZAN (1962) (#132-206) (GOLD KEY) #151 (Gold Key) Very Good
TARZAN (1962) (#132-206) (GOLD KEY) #177 15 CENT CV (Gold Key) Very Good

TARZAN GEANT: LE SEIGNEUR DE LA JUNGLE (FRENCH) (1969) #1 (Independents, All) Very Good
TARZAN GEANT: LE SEIGNEUR DE LA JUNGLE (FRENCH) (1969) #2 (Independents, All) Very Good
TARZAN GEANT: LE SEIGNEUR DE LA JUNGLE (FRENCH) (1969) #3 (Independents, All) Good

TARZAN'S JUNGLE ANNUAL #4 (Dell Publishing) Fine
TARZAN'S JUNGLE ANNUAL #5 (Dell Publishing) Good

TARZAN'S JUNGLE ANNUAL #5 PAINTED BC (Dell Publishing) Very Good
TARZAN'S JUNGLE ANNUAL #5 PAINTED BC (Dell Publishing) Good
TARZAN'S JUNGLE ANNUAL #5 (Dell Publishing) Very Good

TARZAN, LORD OF THE JUNGLE (1965) #1 (Gold Key) Very Fine


TEN WHO DARED (1960) #1 FC #1178

TEN WHO DARED (1960) #1 FC #1178 (Dell Publishing) Good

TERRY & THE PIRATES (Dell Publishing) (1940) #1 FC #44 (Dell Publishing) Good

TERRY & THE PIRATES (#3-26) (HARVEY) (1947) #6 (Harvey Comics) Good
TERRY & THE PIRATES (#3-26) (HARVEY) (1947) #8 (Harvey Comics) Good

TERRY-TOONS (1947) (#60-86) (ST. JOHN) #72 (St. John Publ. Co.) Fair
TERRY-TOONS (1947) (#60-86) (ST. JOHN) #76 (St. John Publ. Co.) Very Good
TERRY-TOONS (1947) (#60-86) (ST. JOHN) #77 (St. John Publ. Co.) Good
TERRY-TOONS (1947) (#60-86) (ST. JOHN) #79 (St. John Publ. Co.) Good

TEX RITTER WESTERN (1950) (#1-20) (FAWCETT) #6 (FAWCETT PUBLICATION) Very Good

TEXAN (1948) #13 (St. John Publ. Co.) Good

TEXAN (1959) #1 FC #1027 (Dell Publishing) Very Good
TEXAN (1959) #1 FC #1027 (Dell Publishing) Good
TEXAN (1959) #1 FC #1096 (Dell Publishing) Good

THIS IS YOUR LIFE DONALD DUCK (1960) #1 1109BRITIS (Dell Publishing) Very Good
THIS IS YOUR LIFE DONALD DUCK (1960) #1 FC #1109 (Dell Publishing) Very Good
THIS IS YOUR LIFE DONALD DUCK (1960) #1 FC #1109 (Dell Publishing) Good
THIS IS YOUR LIFE DONALD DUCK (1960) #1 FC #1109 (Dell Publishing) Fair

THREE DIMENSION COMICS (1953) #2 (St. John Publ. Co.) Good
THREE DIMENSION COMICS (1953) #2 W/OGLASSES (St. John Publ. Co.) Good

THREE STOOGES (1953) #2 W/OGLASSES (St. John Publ. Co.) Very Good
THREE STOOGES (1953) #2 W/OGLASSES (St. John Publ. Co.) Good

THREE STOOGES (1959) (#1-9) (Dell Publishing) #8 (Dell Publishing) Good
THREE STOOGES (1959) (#1-9) (Dell Publishing) #8 (Dell Publishing) Very Good
THREE STOOGES (1959) (#1-9) (Dell Publishing) #1 FC #1127 (Dell Publishing) Very Good
THREE STOOGES (1959) (#1-9) (Dell Publishing) #1 FC #1170 (Dell Publishing) Very Good
THREE STOOGES (1959) (#1-9) (Dell Publishing) #1 FC #1078 (Dell Publishing) Very Good
THREE STOOGES (1959) (#1-9) (Dell Publishing) #1 FC #1127 (Dell Publishing) Good
THREE STOOGES (1959) (#1-9) (Dell Publishing) #1 FC #1170 (Dell Publishing) Good
THREE STOOGES (1959) (#1-9) (Dell Publishing) #1 FC #1187 (Dell Publishing) Very Good

THREE STOOGES (1962) (#10-55) (GOLD KEY) #10 (Gold Key) Fair
THREE STOOGES (1962) (#10-55) (GOLD KEY) #10 (Gold Key) Good
THREE STOOGES (1962) (#10-55) (GOLD KEY) #20 (Gold Key) Fine
THREE STOOGES (1962) (#10-55) (GOLD KEY) #25 (Gold Key) Good
THREE STOOGES (1962) (#10-55) (GOLD KEY) #27 (Gold Key) Very Good
THREE STOOGES (1962) (#10-55) (GOLD KEY) #53 WHITMAN (Gold Key) Good

THREE STOOGES IN ORBIT (1962) #1 (Gold Key) Fine
THREE STOOGES IN ORBIT (1962) #1 (Gold Key) Very Fine

THRILLING WONDER STORIES (VOL. 16) (1947) #1 (Standard Magazine Inc) Good

THRILLING WONDER STORIES (VOL. 17) (1945) #3 (Standard Magazine Inc) Good

THRILLING WONDER STORIES (VOL. 35) (1949) #3 (Better Publications) Good

THUMPER (1942) #1 FC #243 (Dell Publishing) Good
THUMPER (1942) #1 FC #243 (Dell Publishing) Fair

THUNDER AGENTS (1966) #2 (Tower Comics) Very Good

TIM HOLT (1948) #2 (MAGAZINE ENTERPRISES) Good

TINY FOLKS FUNNIES (1944) #1 FC #60 (Dell Publishing) Very Good

TIP TOP COMICS (1936) (#1-187) (UNITED FEATURES) #46 (UNITED FEATURE COMICS) Fair

TIPPY'S FRIENDS GO-GO & ANIMAL (1966) #1 (Tower Comics) Very Good

TOM & JERRY WINTER CARNIVAL (1952) #1 (Dell Publishing) Fair
TOM & JERRY WINTER CARNIVAL (1952) #1 (Dell Publishing) Good
TOM & JERRY WINTER CARNIVAL (1952) #2 (Dell Publishing) Fine
TOM & JERRY WINTER CARNIVAL (1952) #2 (Dell Publishing) Good
TOM & JERRY WINTER CARNIVAL (1952) #2 (Dell Publishing) Fair

TOM & JERRY'S SUMMER FUN DELL GIANT #1 (Dell Publishing) Fair
TOM & JERRY'S SUMMER FUN DELL GIANT #1 (Dell Publishing) Good
TOM & JERRY'S SUMMER FUN DELL GIANT #1 (Dell Publishing) Very Good
TOM & JERRY'S SUMMER FUN DELL GIANT #2 (Dell Publishing) Fine
TOM & JERRY'S SUMMER FUN DELL GIANT #4 (Dell Publishing) Very Good

TOM AND JERRY (1948) (#1-212) (Dell Publishing) #67 (Dell Publishing) Very Fine
TOM AND JERRY (1948) (#1-212) (Dell Publishing) #68 (Dell Publishing) Good
TOM AND JERRY (1948) (#1-212) (Dell Publishing) #156 15 CENT CV (Dell Publishing) Fine
TOM AND JERRY (1948) (#1-212) (Dell Publishing) #157 15 CENT CV (Dell Publishing) Very Good
TOM AND JERRY (1948) (#1-212) (Dell Publishing) #158 15 CENT CV (Dell Publishing) Good
TOM AND JERRY (1948) (#1-212) (Dell Publishing) #160 15 CENT CV (Dell Publishing) Good
TOM AND JERRY (1948) (#1-212) (Dell Publishing) #168 15 CENT CV (Dell Publishing) Very Good
TOM AND JERRY (1948) (#1-212) (Dell Publishing) #1 FC #193 (Dell Publishing) Good

TOM AND JERRY (1962) (#213-327) (GOLD KEY) #263 20 CENT CV (Gold Key) Very Good
TOM AND JERRY (1962) (#213-327) (GOLD KEY) #270 20 CENT CV (Gold Key) Very Good

TOM AND JERRY PICNIC TIME (1958) #1 (Dell Publishing) Good
TOM AND JERRY PICNIC TIME (1958) #1 (Dell Publishing) Very Good


TOM AND JERRY'S BACK TO SCHOOL (DELL GIANT) (1956) #1

TOM AND JERRY'S BACK TO SCHOOL (DELL GIANT) (1956) #1 (Dell Publishing) Good
TOM AND JERRY'S BACK TO SCHOOL (DELL GIANT) (1956) #1 (Dell Publishing) Fine
TOM AND JERRY'S BACK TO SCHOOL (DELL GIANT) (1956) #1 (Dell Publishing) Very Good

TOM AND JERRY'S TOY FAIR (1958) #1 (Dell Publishing) Very Good

TOM AND JERRY'S WINTER FUN (1954) #3 (Dell Publishing) Good
TOM AND JERRY'S WINTER FUN (1954) #3 (Dell Publishing) Fair
TOM AND JERRY'S WINTER FUN (1954) #3 (Dell Publishing) Very Good
TOM AND JERRY'S WINTER FUN (1954) #4 (Dell Publishing) Good
TOM AND JERRY'S WINTER FUN (1954) #4 (Dell Publishing) Fine
TOM AND JERRY'S WINTER FUN (1954) #5 (Dell Publishing) Very Fine
TOM AND JERRY'S WINTER FUN (1954) #6 (Dell Publishing) Very Good
TOM AND JERRY'S WINTER FUN (1954) #7 (Dell Publishing) Fine

TOM MIX WESTERN (1948) #1 (FAWCETT PUBLICATION) Good

TOM THUMB (1959) #1 FC #972 (Dell Publishing) Good

TOP CAT (1962) (#1-3) (Dell Publishing) #2 (Dell Publishing) Very Good

TOPS IN ADVENTURE (1952) #1 (Ziff-Davis Publishing Co.) Fair

TRADICIONES Y LEYENDAS DE LA COLONIA #802 (Small Press) Very Fine
TRADICIONES Y LEYENDAS DE LA COLONIA #808 (Small Press) Very Fine

TREASURE ISLAND (1955) #1 FC #624 (Dell Publishing) Good

TREASURY OF DOGS, A (1956) #1 (Dell Publishing) Very Good

TRUE AVIATION PICTURE STORIES (1942) #3 (PARENTS' MAGAZINE INSTITUE) Fine
TRUE AVIATION PICTURE STORIES (1942) #5 (PARENTS' MAGAZINE INSTITUE) Fine

TRUE SPORT PICTURE STORIES (VOL. 1) (1942) #7 (Street & Smith Publications) Good

TUROK, SON OF STONE (1954) (#1-29) (Dell Publishing) #6 (Dell Publishing) Fine
TUROK, SON OF STONE (1954) (#1-29) (Dell Publishing) #8 (Dell Publishing) Very Good
TUROK, SON OF STONE (1954) (#1-29) (Dell Publishing) #16 (Dell Publishing) Good
TUROK, SON OF STONE (1954) (#1-29) (Dell Publishing) #16 (Dell Publishing) Very Good
TUROK, SON OF STONE (1954) (#1-29) (Dell Publishing) #17 (Dell Publishing) Good
TUROK, SON OF STONE (1954) (#1-29) (Dell Publishing) #18 (Dell Publishing) Fine
TUROK, SON OF STONE (1954) (#1-29) (Dell Publishing) #19 (Dell Publishing) Very Good
TUROK, SON OF STONE (1954) (#1-29) (Dell Publishing) #20 (Dell Publishing) Fine
TUROK, SON OF STONE (1954) (#1-29) (Dell Publishing) #21 (Dell Publishing) Good
TUROK, SON OF STONE (1954) (#1-29) (Dell Publishing) #24 (Dell Publishing) Very Good
TUROK, SON OF STONE (1954) (#1-29) (Dell Publishing) #25 (Dell Publishing) Good
TUROK, SON OF STONE (1954) (#1-29) (Dell Publishing) #25 (Dell Publishing) Very Good
TUROK, SON OF STONE (1954) (#1-29) (Dell Publishing) #27 (Dell Publishing) Very Good
TUROK, SON OF STONE (1954) (#1-29) (Dell Publishing) #28 (Dell Publishing) Fine
TUROK, SON OF STONE (1954) (#1-29) (Dell Publishing) #29 (Dell Publishing) Very Fine
TUROK, SON OF STONE (1954) (#1-29) (Dell Publishing) #2 FC #656 (Dell Publishing) Very Good

TUROK, SON OF STONE (1962) (#30-125) (GOLD KEY) #30 (Gold Key) Fine
TUROK, SON OF STONE (1962) (#30-125) (GOLD KEY) #33 (Gold Key) Fine
TUROK, SON OF STONE (1962) (#30-125) (GOLD KEY) #34 (Gold Key) Fine
TUROK, SON OF STONE (1962) (#30-125) (GOLD KEY) #35 (Gold Key) Fine
TUROK, SON OF STONE (1962) (#30-125) (GOLD KEY) #35 (Gold Key) Very Good
TUROK, SON OF STONE (1962) (#30-125) (GOLD KEY) #37 (Gold Key) Good
TUROK, SON OF STONE (1962) (#30-125) (GOLD KEY) #37 (Gold Key) Very Good
TUROK, SON OF STONE (1962) (#30-125) (GOLD KEY) #38 (Gold Key) Fine
TUROK, SON OF STONE (1962) (#30-125) (GOLD KEY) #39 (Gold Key) Good
TUROK, SON OF STONE (1962) (#30-125) (GOLD KEY) #39 (Gold Key) Very Good
TUROK, SON OF STONE (1962) (#30-125) (GOLD KEY) #40 (Gold Key) Very Good

TUROK, SON OF STONE GIANT-SIZE (GOLD KEY) #1 (Gold Key) Good
TUROK, SON OF STONE GIANT-SIZE (GOLD KEY) #1 (Gold Key) Very Good

TV CASPER & COMPANY #1 (Harvey Comics) Good

TWEETY AND SYLVESTER (1952) (#1-37) (Dell Publishing) #17 15 CENT CV (Dell Publishing) Very Good
TWEETY AND SYLVESTER (1952) (#1-37) (Dell Publishing) #1 FC #406 (Dell Publishing) Good

TWILIGHT ZONE (1961) (Dell Publishing) #1 FC #1288 (Dell Publishing) Very Good

TWINKLE COMICS (1945) #1 (Spotlight Comics) Good

TWO-FISTED TALES (1950) #24 (EC Comics) Good
TWO-FISTED TALES (1950) #33 (EC Comics) Good
TWO-FISTED TALES (1950) #34 (EC Comics) Very Good
TWO-FISTED TALES (1950) #35 (EC Comics) Good
TWO-FISTED TALES (1950) #36 (EC Comics) Good
TWO-FISTED TALES (1950) #39 (EC Comics) Good

U.S. CRIME DIGEST (1951) #1 (U.S. Crime Inc.) Very Fine

UNCLE SCROOGE (1952) (Dell Publishing) (#1-39) #4 (Dell Publishing) Good
UNCLE SCROOGE (1952) (Dell Publishing) (#1-39) #7 (Dell Publishing) Good
UNCLE SCROOGE (1952) (Dell Publishing) (#1-39) #7 (Dell Publishing) Very Good
UNCLE SCROOGE (1952) (Dell Publishing) (#1-39) #8 (Dell Publishing) Good
UNCLE SCROOGE (1952) (Dell Publishing) (#1-39) #8 (Dell Publishing) Fair
UNCLE SCROOGE (1952) (Dell Publishing) (#1-39) #8 (Dell Publishing) Very Good
UNCLE SCROOGE (1952) (Dell Publishing) (#1-39) #9 (Dell Publishing) Good
UNCLE SCROOGE (1952) (Dell Publishing) (#1-39) #9 (Dell Publishing) Fair
UNCLE SCROOGE (1952) (Dell Publishing) (#1-39) #10 (Dell Publishing) Good


UNCLE SCROOGE (1952) (Dell Publishing) (#1-39) #10

UNCLE SCROOGE (1952) (Dell Publishing) (#1-39) #10 (Dell Publishing) Fair
UNCLE SCROOGE (1952) (Dell Publishing) (#1-39) #10 (Dell Publishing) Very Good
UNCLE SCROOGE (1952) (Dell Publishing) (#1-39) #11 (Dell Publishing) Fine
UNCLE SCROOGE (1952) (Dell Publishing) (#1-39) #11 (Dell Publishing) Fair
UNCLE SCROOGE (1952) (Dell Publishing) (#1-39) #11 (Dell Publishing) Good
UNCLE SCROOGE (1952) (Dell Publishing) (#1-39) #11 (Dell Publishing) Very Good
UNCLE SCROOGE (1952) (Dell Publishing) (#1-39) #12 (Dell Publishing) Good
UNCLE SCROOGE (1952) (Dell Publishing) (#1-39) #13 (Dell Publishing) Good
UNCLE SCROOGE (1952) (Dell Publishing) (#1-39) #13 (Dell Publishing) Fair
UNCLE SCROOGE (1952) (Dell Publishing) (#1-39) #14 (Dell Publishing) Good
UNCLE SCROOGE (1952) (Dell Publishing) (#1-39) #14 (Dell Publishing) Fair
UNCLE SCROOGE (1952) (Dell Publishing) (#1-39) #14 (Dell Publishing) Very Good
UNCLE SCROOGE (1952) (Dell Publishing) (#1-39) #15 (Dell Publishing) Fair
UNCLE SCROOGE (1952) (Dell Publishing) (#1-39) #15 (Dell Publishing) Good
UNCLE SCROOGE (1952) (Dell Publishing) (#1-39) #16 (Dell Publishing) Good
UNCLE SCROOGE (1952) (Dell Publishing) (#1-39) #16 (Dell Publishing) Fair
UNCLE SCROOGE (1952) (Dell Publishing) (#1-39) #16 (Dell Publishing) Very Good
UNCLE SCROOGE (1952) (Dell Publishing) (#1-39) #17 (Dell Publishing) Very Good
UNCLE SCROOGE (1952) (Dell Publishing) (#1-39) #18 (Dell Publishing) Good
UNCLE SCROOGE (1952) (Dell Publishing) (#1-39) #18 15 CENT CV (Dell Publishing) Very Good
UNCLE SCROOGE (1952) (Dell Publishing) (#1-39) #19 (Dell Publishing) Fair
UNCLE SCROOGE (1952) (Dell Publishing) (#1-39) #19 (Dell Publishing) Good
UNCLE SCROOGE (1952) (Dell Publishing) (#1-39) #19 15 CENT CV (Dell Publishing) Very Good
UNCLE SCROOGE (1952) (Dell Publishing) (#1-39) #19 (Dell Publishing) Very Good
UNCLE SCROOGE (1952) (Dell Publishing) (#1-39) #20 (Dell Publishing) Fine
UNCLE SCROOGE (1952) (Dell Publishing) (#1-39) #20 (Dell Publishing) Fair
UNCLE SCROOGE (1952) (Dell Publishing) (#1-39) #20 (Dell Publishing) Good
UNCLE SCROOGE (1952) (Dell Publishing) (#1-39) #20 (Dell Publishing) Very Good
UNCLE SCROOGE (1952) (Dell Publishing) (#1-39) #21 (Dell Publishing) Fair
UNCLE SCROOGE (1952) (Dell Publishing) (#1-39) #21 (Dell Publishing) Good
UNCLE SCROOGE (1952) (Dell Publishing) (#1-39) #21 (Dell Publishing) Very Good
UNCLE SCROOGE (1952) (Dell Publishing) (#1-39) #22 (Dell Publishing) Good
UNCLE SCROOGE (1952) (Dell Publishing) (#1-39) #22 15 CENT CV (Dell Publishing) Fine
UNCLE SCROOGE (1952) (Dell Publishing) (#1-39) #22 (Dell Publishing) Very Good
UNCLE SCROOGE (1952) (Dell Publishing) (#1-39) #23 (Dell Publishing) Fair
UNCLE SCROOGE (1952) (Dell Publishing) (#1-39) #23 (Dell Publishing) Good
UNCLE SCROOGE (1952) (Dell Publishing) (#1-39) #23 (Dell Publishing) Very Good
UNCLE SCROOGE (1952) (Dell Publishing) (#1-39) #24 (Dell Publishing) Fair
UNCLE SCROOGE (1952) (Dell Publishing) (#1-39) #24 (Dell Publishing) Good
UNCLE SCROOGE (1952) (Dell Publishing) (#1-39) #24 (Dell Publishing) Very Good
UNCLE SCROOGE (1952) (Dell Publishing) (#1-39) #25 (Dell Publishing) Good
UNCLE SCROOGE (1952) (Dell Publishing) (#1-39) #25 (Dell Publishing) Fair
UNCLE SCROOGE (1952) (Dell Publishing) (#1-39) #25 (Dell Publishing) Very Good
UNCLE SCROOGE (1952) (Dell Publishing) (#1-39) #26 (Dell Publishing) Good
UNCLE SCROOGE (1952) (Dell Publishing) (#1-39) #26 (Dell Publishing) Very Good
UNCLE SCROOGE (1952) (Dell Publishing) (#1-39) #27 (Dell Publishing) Good
UNCLE SCROOGE (1952) (Dell Publishing) (#1-39) #27 (Dell Publishing) Very Good
UNCLE SCROOGE (1952) (Dell Publishing) (#1-39) #28 (Dell Publishing) Fair
UNCLE SCROOGE (1952) (Dell Publishing) (#1-39) #28 (Dell Publishing) Very Good
UNCLE SCROOGE (1952) (Dell Publishing) (#1-39) #29 (Dell Publishing) Good
UNCLE SCROOGE (1952) (Dell Publishing) (#1-39) #29 (Dell Publishing) Fair
UNCLE SCROOGE (1952) (Dell Publishing) (#1-39) #29 (Dell Publishing) Very Good
UNCLE SCROOGE (1952) (Dell Publishing) (#1-39) #30 (Dell Publishing) Good
UNCLE SCROOGE (1952) (Dell Publishing) (#1-39) #30 (Dell Publishing) Fair
UNCLE SCROOGE (1952) (Dell Publishing) (#1-39) #30 (Dell Publishing) Very Good
UNCLE SCROOGE (1952) (Dell Publishing) (#1-39) #31 (Dell Publishing) Fair
UNCLE SCROOGE (1952) (Dell Publishing) (#1-39) #31 (Dell Publishing) Good
UNCLE SCROOGE (1952) (Dell Publishing) (#1-39) #31 (Dell Publishing) Very Good
UNCLE SCROOGE (1952) (Dell Publishing) (#1-39) #32 (Dell Publishing) Fair
UNCLE SCROOGE (1952) (Dell Publishing) (#1-39) #32 (Dell Publishing) Good
UNCLE SCROOGE (1952) (Dell Publishing) (#1-39) #32 (Dell Publishing) Very Good
UNCLE SCROOGE (1952) (Dell Publishing) (#1-39) #33 (Dell Publishing) Fair
UNCLE SCROOGE (1952) (Dell Publishing) (#1-39) #33 (Dell Publishing) Good
UNCLE SCROOGE (1952) (Dell Publishing) (#1-39) #33 (Dell Publishing) Very Good
UNCLE SCROOGE (1952) (Dell Publishing) (#1-39) #34 (Dell Publishing) Fair
UNCLE SCROOGE (1952) (Dell Publishing) (#1-39) #35 (Dell Publishing) Good
UNCLE SCROOGE (1952) (Dell Publishing) (#1-39) #35 (Dell Publishing) Fair
UNCLE SCROOGE (1952) (Dell Publishing) (#1-39) #35 (Dell Publishing) Very Good
UNCLE SCROOGE (1952) (Dell Publishing) (#1-39) #36 (Dell Publishing) Good
UNCLE SCROOGE (1952) (Dell Publishing) (#1-39) #36 (Dell Publishing) Fair
UNCLE SCROOGE (1952) (Dell Publishing) (#1-39) #36 (Dell Publishing) Fine
UNCLE SCROOGE (1952) (Dell Publishing) (#1-39) #37 (Dell Publishing) Very Good
UNCLE SCROOGE (1952) (Dell Publishing) (#1-39) #38 (Dell Publishing) Good
UNCLE SCROOGE (1952) (Dell Publishing) (#1-39) #38 (Dell Publishing) Very Good
UNCLE SCROOGE (1952) (Dell Publishing) (#1-39) #39 (Dell Publishing) Good
UNCLE SCROOGE (1952) (Dell Publishing) (#1-39) #39 (Dell Publishing) Fair
UNCLE SCROOGE (1952) (Dell Publishing) (#1-39) #1 FC #386 (Dell Publishing) Good
UNCLE SCROOGE (1952) (Dell Publishing) (#1-39) #2 FC #456 (Dell Publishing) Good
UNCLE SCROOGE (1952) (Dell Publishing) (#1-39) #2 FC #456 (Dell Publishing) Fair
UNCLE SCROOGE (1952) (Dell Publishing) (#1-39) #3 FC #495 (Dell Publishing) Good
UNCLE SCROOGE (1952) (Dell Publishing) (#1-39) #3 FC #495 (Dell Publishing) Fair

UNCLE SCROOGE (1962) (GOLD KEY) (#40-173) #43 (Gold Key) Good
UNCLE SCROOGE (1962) (GOLD KEY) (#40-173) #44 (Gold Key) Good
UNCLE SCROOGE (1962) (GOLD KEY) (#40-173) #45 (Gold Key) Very Good
UNCLE SCROOGE (1962) (GOLD KEY) (#40-173) #49 (Gold Key) Fair
UNCLE SCROOGE (1962) (GOLD KEY) (#40-173) #49 (Gold Key) Good


UNCLE SCROOGE (1962) (GOLD KEY) (#40-173) #51

UNCLE SCROOGE (1962) (GOLD KEY) (#40-173) #51 (Gold Key) Good
UNCLE SCROOGE (1962) (GOLD KEY) (#40-173) #52 (Gold Key) Fair
UNCLE SCROOGE (1962) (GOLD KEY) (#40-173) #53 (Gold Key) Fair
UNCLE SCROOGE (1962) (GOLD KEY) (#40-173) #53 (Gold Key) Good
UNCLE SCROOGE (1962) (GOLD KEY) (#40-173) #53 (Gold Key) Very Good
UNCLE SCROOGE (1962) (GOLD KEY) (#40-173) #54 (Gold Key) Good
UNCLE SCROOGE (1962) (GOLD KEY) (#40-173) #57 (Gold Key) Very Good
UNCLE SCROOGE (1962) (GOLD KEY) (#40-173) #58 (Gold Key) Very Good
UNCLE SCROOGE (1962) (GOLD KEY) (#40-173) #59 (Gold Key) Fair
UNCLE SCROOGE (1962) (GOLD KEY) (#40-173) #59 (Gold Key) Good
UNCLE SCROOGE (1962) (GOLD KEY) (#40-173) #59 (Gold Key) Very Good
UNCLE SCROOGE (1962) (GOLD KEY) (#40-173) #60 (Gold Key) Good
UNCLE SCROOGE (1962) (GOLD KEY) (#40-173) #61 (Gold Key) Good
UNCLE SCROOGE (1962) (GOLD KEY) (#40-173) #66 (Gold Key) Very Good
UNCLE SCROOGE (1962) (GOLD KEY) (#40-173) #67 (Gold Key) Good
UNCLE SCROOGE (1962) (GOLD KEY) (#40-173) #68 (Gold Key) Fair
UNCLE SCROOGE (1962) (GOLD KEY) (#40-173) #68 (Gold Key) Good
UNCLE SCROOGE (1962) (GOLD KEY) (#40-173) #71 (Gold Key) Good
UNCLE SCROOGE (1962) (GOLD KEY) (#40-173) #71 (Gold Key) Very Good
UNCLE SCROOGE (1962) (GOLD KEY) (#40-173) #72 (Gold Key) Fine
UNCLE SCROOGE (1962) (GOLD KEY) (#40-173) #73 (Gold Key) Good
UNCLE SCROOGE (1962) (GOLD KEY) (#40-173) #75 (Gold Key) Good
UNCLE SCROOGE (1962) (GOLD KEY) (#40-173) #75 (Gold Key) Fair
UNCLE SCROOGE (1962) (GOLD KEY) (#40-173) #76 (Gold Key) Good
UNCLE SCROOGE (1962) (GOLD KEY) (#40-173) #78 (Gold Key) Good
UNCLE SCROOGE (1962) (GOLD KEY) (#40-173) #78 (Gold Key) Very Good
UNCLE SCROOGE (1962) (GOLD KEY) (#40-173) #79 (Gold Key) Good
UNCLE SCROOGE (1962) (GOLD KEY) (#40-173) #82 (Gold Key) Very Good
UNCLE SCROOGE (1962) (GOLD KEY) (#40-173) #83 (Gold Key) Good
UNCLE SCROOGE (1962) (GOLD KEY) (#40-173) #84 (Gold Key) Very Good
UNCLE SCROOGE (1962) (GOLD KEY) (#40-173) #97 WHITMAN (Gold Key) Good
UNCLE SCROOGE (1962) (GOLD KEY) (#40-173) #98 WHITMAN (Gold Key) Very Good
UNCLE SCROOGE (1962) (GOLD KEY) (#40-173) #100 WHITMAN (Gold Key) Fine
UNCLE SCROOGE (1962) (GOLD KEY) (#40-173) #100 WHITMAN (Gold Key) Good
UNCLE SCROOGE (1962) (GOLD KEY) (#40-173) #101 20 CENT CV (Gold Key) Good
UNCLE SCROOGE (1962) (GOLD KEY) (#40-173) #147 30 CENT CV (Gold Key) Very Good

UNCLE SCROOGE GOES TO DISNEYLAND (1957) #1 (Dell Publishing) Fair
UNCLE SCROOGE GOES TO DISNEYLAND (1957) #1 (Dell Publishing) Good
UNCLE SCROOGE GOES TO DISNEYLAND (1957) #1 (Dell Publishing) Very Good

UNCLE WIGGILY (1947) #1 FC #320 (Dell Publishing) Good

UNIVERSAL PICTURES PRESENTS DRACULA-THE MUMMY (1963) #1 02-530-311 (Dell Publishing) Fair

UNKNOWN WORLDS (AMERICAN COMIC GROUP) #1 (ACG) Good

UNTOUCHABLES (1961) #1 12-879-210 (Dell Publishing) Very Good
UNTOUCHABLES (1961) #1 FC #1237 (Dell Publishing) Very Good

UNUSUAL TALES (1955) #25 (Charlton) Very Good

Some of Today's New-In-Stock:
MARVEL
BLACK WIDOW (2016) (#1-UP) (MARVEL) #1 Very Fine

DEADPOOL (2016) (#1-36) (MARVEL) #13 Near Mint/Mint
DEADPOOL (2016) (#1-36) (MARVEL) #21 KOBLISH Very Fine

GENERATIONS: MORALES & PETER PARKER SPIDER-MAN (2017) #1 SPROUSE Near Mint/Mint

GENERATIONS: MS. MARVEL & MS. MARVEL (2017) #1 ANKA Near Mint/Mint

HULK: WHAT SAVAGE BEAST NOVEL HC (PETER DAVID) (1995) #1 Very Fine

THING: PROJECT PEGASUS HC (MV CLASSIC #37) (2009) #1 BORDERED Near Mint/Mint

X-MEN: DAYS OF FUTURE PRESENT TPB (1991) #1 3RD PRINT Fine

DC
ABSOLUTE AUTHORITY OVERSIZED HC (2002) #1 (DC/Wildstorm) Near Mint/Mint

BATMAN: THE COMPLETE HISTORY TPB (1999) #1 Very Good

BLITZKRIEG (1976) #1 Very Good

DC SPECIAL (1968) #12 Fine
DC SPECIAL (1968) #17 Very Good

DMZ: BLOOD IN THE GAME TPB (VOL. 6) (2009) #1 Fine

DMZ: BODY OF A JOURNALIST TPB (VOL. 2) (2006) #1 2ND PRINT Fine
DMZ: BODY OF A JOURNALIST TPB (VOL. 2) (2006) #1 Very Fine


DMZ: HIDDEN WAR TPB (VOL. 5) (2008) #1

DMZ: HIDDEN WAR TPB (VOL. 5) (2008) #1 Fine

DMZ: ON THE GROUND TPB (VOL. 1) (2006) #1 (DC: Vertigo Press) Fine
DMZ: ON THE GROUND TPB (VOL. 1) (2006) #1 (DC: Vertigo Press) Very Good
DMZ: ON THE GROUND TPB (VOL. 1) (2006) #1 (DC: Vertigo Press) Very Fine

DMZ: PUBLIC WORKS TPB (VOL. 3) (2007) #1 Fine

FOREVER PEOPLE (1971) #10 Fine

SANDMAN: DUST COVERS COLLECTION #1 TPB 2NDPRT (DC: Vertigo Press) Fine

SENTENCES: LIFE OF M.F. GRIMM TPB (2008) #1 Near Mint/Mint

SGT. ROCK ARCHIVES HC (2001) #1 3RD PRINT Very Fine

Y-THE LAST MAN: KIMONO DRAGONS TPB (VOL. 8) (2006) #1 (DC: Vertigo Press) Near Mint/Mint

Y-THE LAST MAN: RING OF TRUTH TPB (VOL. 5) (2005) #1 3RD PRINT (DC: Vertigo Press) Fine

DARK HORSE COMICS
CLASSIC STAR WARS: ESCAPE TO HOTH TPB #1 Fine

MOEBIUS LIBRARY: WORLD OF EDENA HC (2016) #1 Near Mint/Mint

SIN CITY: BOOZE, BROADS, BULLETS TPB (2005) #1 3RD PRINT Very Fine

STAR WARS: TALES OF THE JEDI TPB (1994) #1 Fine

IMAGE COMICS
PLASTIC (2017) #1 25TH Near Mint/Mint
PLASTIC (2017) #1 25TH B&W Near Mint/Mint

INDEPENDENTS
ALEX RAYMOND'S FLASH GORDON HC (CHECKER BOOKS) (2004) #2 (CHECKER COMICS) Very Fine
ALEX RAYMOND'S FLASH GORDON HC (CHECKER BOOKS) (2004) #3 (CHECKER COMICS) Near Mint/Mint

FREEBOOTERS HC (BARRY WINDSOR-SMITH) (2005) #1 (Fantagraphics) Fine

KONGA (1960) #18 (Charlton) Very Good

LADY AND THE TRAMP (1955) #1 FC #629 (Dell Publishing) Good

LOONEY TUNES (1941) (#1-246) (Dell Publishing) (MERRIE MELODIES) #96 (Dell Publishing) Good
LOONEY TUNES (1941) (#1-246) (Dell Publishing) (MERRIE MELODIES) #108 (Dell Publishing) Good
LOONEY TUNES (1941) (#1-246) (Dell Publishing) (MERRIE MELODIES) #119 (Dell Publishing) Good
LOONEY TUNES (1941) (#1-246) (Dell Publishing) (MERRIE MELODIES) #120 (Dell Publishing) Good
LOONEY TUNES (1941) (#1-246) (Dell Publishing) (MERRIE MELODIES) #125 (Dell Publishing) Good
LOONEY TUNES (1941) (#1-246) (Dell Publishing) (MERRIE MELODIES) #128 (Dell Publishing) Good
LOONEY TUNES (1941) (#1-246) (Dell Publishing) (MERRIE MELODIES) #131 (Dell Publishing) Good
LOONEY TUNES (1941) (#1-246) (Dell Publishing) (MERRIE MELODIES) #132 (Dell Publishing) Good

PICNIC PARTY (1955) #7 (Dell Publishing) Good

SIMPSONS COMICS (BONGO) (1993) #4 (Bongo Comics) Very Fine
SIMPSONS COMICS (BONGO) (1993) #36 (Bongo Comics) Near Mint/Mint
SIMPSONS COMICS (BONGO) (1993) #37 (Bongo Comics) Near Mint/Mint
SIMPSONS COMICS (BONGO) (1993) #38 (Bongo Comics) Near Mint/Mint

SOLAR, MAN OF THE ATOM (1991) #2 (Acclaim/Valiant) Near Mint/Mint

VACATION IN DISNEYLAND (1958) #1 (Dell Publishing) Good
VACATION IN DISNEYLAND (1958) #1 (Dell Publishing) Fair

VACATION IN DISNEYLAND (1965) (Dell Publishing) #1 FC #1025 (Dell Publishing) Very Good
VACATION IN DISNEYLAND (1965) (Dell Publishing) #1 FC #1025 (Dell Publishing) Good
VACATION IN DISNEYLAND (1965) (Dell Publishing) #1 FC #1025 (Dell Publishing) Fair

VACATION PARADE (1950) #1 (Dell Publishing) Fair
VACATION PARADE (1950) #1 (Dell Publishing) Good
VACATION PARADE (1950) #2 (Dell Publishing) Good
VACATION PARADE (1950) #3 (Dell Publishing) Fair
VACATION PARADE (1950) #3 (Dell Publishing) Good
VACATION PARADE (1950) #4 (Dell Publishing) Fair
VACATION PARADE (1950) #4 (Dell Publishing) Good
VACATION PARADE (1950) #4 (Dell Publishing) Very Good
VACATION PARADE (1950) #5 (Dell Publishing) Good
VACATION PARADE (1950) #5 (Dell Publishing) Very Good

VALOR (1955) #2 (EC Comics) Good

VORTEX SCIENCE FICTION DIGEST (1953) #1 (Independents, All) Very Good


WALT DISNEY SHOWCASE (1970) #9 20 CENT C

WALT DISNEY SHOWCASE (1970) #9 20 CENT CV (Gold Key) Good
WALT DISNEY SHOWCASE (1970) #10 20 CENT CV (Gold Key) Good
WALT DISNEY SHOWCASE (1970) #14 20 CENT CV (Gold Key) Good

WALT DISNEY'S COMICS AND STORIES (1940) (#1-263) (Dell Publishing) #28 (Dell Publishing) Good
WALT DISNEY'S COMICS AND STORIES (1940) (#1-263) (Dell Publishing) #56 (Dell Publishing) Fair
WALT DISNEY'S COMICS AND STORIES (1940) (#1-263) (Dell Publishing) #60 (Dell Publishing) Good
WALT DISNEY'S COMICS AND STORIES (1940) (#1-263) (Dell Publishing) #62 (Dell Publishing) Good
WALT DISNEY'S COMICS AND STORIES (1940) (#1-263) (Dell Publishing) #63 (Dell Publishing) Good
WALT DISNEY'S COMICS AND STORIES (1940) (#1-263) (Dell Publishing) #64 (Dell Publishing) Fair
WALT DISNEY'S COMICS AND STORIES (1940) (#1-263) (Dell Publishing) #64 (Dell Publishing) Good
WALT DISNEY'S COMICS AND STORIES (1940) (#1-263) (Dell Publishing) #65 (Dell Publishing) Fair
WALT DISNEY'S COMICS AND STORIES (1940) (#1-263) (Dell Publishing) #66 (Dell Publishing) Fair
WALT DISNEY'S COMICS AND STORIES (1940) (#1-263) (Dell Publishing) #67 (Dell Publishing) Good
WALT DISNEY'S COMICS AND STORIES (1940) (#1-263) (Dell Publishing) #67 (Dell Publishing) Fair
WALT DISNEY'S COMICS AND STORIES (1940) (#1-263) (Dell Publishing) #68 (Dell Publishing) Good
WALT DISNEY'S COMICS AND STORIES (1940) (#1-263) (Dell Publishing) #69 (Dell Publishing) Good
WALT DISNEY'S COMICS AND STORIES (1940) (#1-263) (Dell Publishing) #69 (Dell Publishing) Fair
WALT DISNEY'S COMICS AND STORIES (1940) (#1-263) (Dell Publishing) #70 (Dell Publishing) Good
WALT DISNEY'S COMICS AND STORIES (1940) (#1-263) (Dell Publishing) #77 (Dell Publishing) Fair
WALT DISNEY'S COMICS AND STORIES (1940) (#1-263) (Dell Publishing) #77 (Dell Publishing) Good
WALT DISNEY'S COMICS AND STORIES (1940) (#1-263) (Dell Publishing) #79 (Dell Publishing) Fair
WALT DISNEY'S COMICS AND STORIES (1940) (#1-263) (Dell Publishing) #80 (Dell Publishing) Good
WALT DISNEY'S COMICS AND STORIES (1940) (#1-263) (Dell Publishing) #81 (Dell Publishing) Very Good
WALT DISNEY'S COMICS AND STORIES (1940) (#1-263) (Dell Publishing) #83 (Dell Publishing) Good
WALT DISNEY'S COMICS AND STORIES (1940) (#1-263) (Dell Publishing) #83 (Dell Publishing) Very Good
WALT DISNEY'S COMICS AND STORIES (1940) (#1-263) (Dell Publishing) #84 (Dell Publishing) Fair
WALT DISNEY'S COMICS AND STORIES (1940) (#1-263) (Dell Publishing) #84 (Dell Publishing) Good
WALT DISNEY'S COMICS AND STORIES (1940) (#1-263) (Dell Publishing) #85 (Dell Publishing) Fair
WALT DISNEY'S COMICS AND STORIES (1940) (#1-263) (Dell Publishing) #85 (Dell Publishing) Good
WALT DISNEY'S COMICS AND STORIES (1940) (#1-263) (Dell Publishing) #87 (Dell Publishing) Fair
WALT DISNEY'S COMICS AND STORIES (1940) (#1-263) (Dell Publishing) #87 (Dell Publishing) Good
WALT DISNEY'S COMICS AND STORIES (1940) (#1-263) (Dell Publishing) #89 (Dell Publishing) Good
WALT DISNEY'S COMICS AND STORIES (1940) (#1-263) (Dell Publishing) #89 (Dell Publishing) Fair
WALT DISNEY'S COMICS AND STORIES (1940) (#1-263) (Dell Publishing) #90 (Dell Publishing) Good
WALT DISNEY'S COMICS AND STORIES (1940) (#1-263) (Dell Publishing) #90 (Dell Publishing) Fair
WALT DISNEY'S COMICS AND STORIES (1940) (#1-263) (Dell Publishing) #92 (Dell Publishing) Good
WALT DISNEY'S COMICS AND STORIES (1940) (#1-263) (Dell Publishing) #92 (Dell Publishing) Very Good
WALT DISNEY'S COMICS AND STORIES (1940) (#1-263) (Dell Publishing) #93 (Dell Publishing) Good
WALT DISNEY'S COMICS AND STORIES (1940) (#1-263) (Dell Publishing) #93 (Dell Publishing) Fair
WALT DISNEY'S COMICS AND STORIES (1940) (#1-263) (Dell Publishing) #94 (Dell Publishing) Fair
WALT DISNEY'S COMICS AND STORIES (1940) (#1-263) (Dell Publishing) #95 (Dell Publishing) Good
WALT DISNEY'S COMICS AND STORIES (1940) (#1-263) (Dell Publishing) #96 (Dell Publishing) Good
WALT DISNEY'S COMICS AND STORIES (1940) (#1-263) (Dell Publishing) #97 (Dell Publishing) Fair
WALT DISNEY'S COMICS AND STORIES (1940) (#1-263) (Dell Publishing) #97 (Dell Publishing) Good
WALT DISNEY'S COMICS AND STORIES (1940) (#1-263) (Dell Publishing) #98 (Dell Publishing) Good
WALT DISNEY'S COMICS AND STORIES (1940) (#1-263) (Dell Publishing) #98 (Dell Publishing) Fair
WALT DISNEY'S COMICS AND STORIES (1940) (#1-263) (Dell Publishing) #98 (Dell Publishing) Very Good
WALT DISNEY'S COMICS AND STORIES (1940) (#1-263) (Dell Publishing) #99 (Dell Publishing) Good
WALT DISNEY'S COMICS AND STORIES (1940) (#1-263) (Dell Publishing) #99 (Dell Publishing) Very Good
WALT DISNEY'S COMICS AND STORIES (1940) (#1-263) (Dell Publishing) #100 (Dell Publishing) Good
WALT DISNEY'S COMICS AND STORIES (1940) (#1-263) (Dell Publishing) #101 (Dell Publishing) Good
WALT DISNEY'S COMICS AND STORIES (1940) (#1-263) (Dell Publishing) #101 (Dell Publishing) Fair
WALT DISNEY'S COMICS AND STORIES (1940) (#1-263) (Dell Publishing) #101 (Dell Publishing) Very Good
WALT DISNEY'S COMICS AND STORIES (1940) (#1-263) (Dell Publishing) #102 (Dell Publishing) Good
WALT DISNEY'S COMICS AND STORIES (1940) (#1-263) (Dell Publishing) #102 (Dell Publishing) Fair
WALT DISNEY'S COMICS AND STORIES (1940) (#1-263) (Dell Publishing) #103 (Dell Publishing) Good
WALT DISNEY'S COMICS AND STORIES (1940) (#1-263) (Dell Publishing) #104 (Dell Publishing) Good
WALT DISNEY'S COMICS AND STORIES (1940) (#1-263) (Dell Publishing) #105 (Dell Publishing) Good
WALT DISNEY'S COMICS AND STORIES (1940) (#1-263) (Dell Publishing) #105 (Dell Publishing) Fair
WALT DISNEY'S COMICS AND STORIES (1940) (#1-263) (Dell Publishing) #105 (Dell Publishing) Very Good
WALT DISNEY'S COMICS AND STORIES (1940) (#1-263) (Dell Publishing) #106 (Dell Publishing) Good
WALT DISNEY'S COMICS AND STORIES (1940) (#1-263) (Dell Publishing) #107 (Dell Publishing) Good
WALT DISNEY'S COMICS AND STORIES (1940) (#1-263) (Dell Publishing) #107 (Dell Publishing) Fair
WALT DISNEY'S COMICS AND STORIES (1940) (#1-263) (Dell Publishing) #108 (Dell Publishing) Good
WALT DISNEY'S COMICS AND STORIES (1940) (#1-263) (Dell Publishing) #108 (Dell Publishing) Very Good
WALT DISNEY'S COMICS AND STORIES (1940) (#1-263) (Dell Publishing) #109 (Dell Publishing) Good
WALT DISNEY'S COMICS AND STORIES (1940) (#1-263) (Dell Publishing) #109 (Dell Publishing) Fair
WALT DISNEY'S COMICS AND STORIES (1940) (#1-263) (Dell Publishing) #109 (Dell Publishing) Very Good
WALT DISNEY'S COMICS AND STORIES (1940) (#1-263) (Dell Publishing) #110 (Dell Publishing) Good
WALT DISNEY'S COMICS AND STORIES (1940) (#1-263) (Dell Publishing) #110 (Dell Publishing) Fair
WALT DISNEY'S COMICS AND STORIES (1940) (#1-263) (Dell Publishing) #111 (Dell Publishing) Good
WALT DISNEY'S COMICS AND STORIES (1940) (#1-263) (Dell Publishing) #111 (Dell Publishing) Very Good
WALT DISNEY'S COMICS AND STORIES (1940) (#1-263) (Dell Publishing) #112 (Dell Publishing) Fair
WALT DISNEY'S COMICS AND STORIES (1940) (#1-263) (Dell Publishing) #112 (Dell Publishing) Very Good
WALT DISNEY'S COMICS AND STORIES (1940) (#1-263) (Dell Publishing) #113 (Dell Publishing) Good
WALT DISNEY'S COMICS AND STORIES (1940) (#1-263) (Dell Publishing) #115 (Dell Publishing) Good
WALT DISNEY'S COMICS AND STORIES (1940) (#1-263) (Dell Publishing) #116 (Dell Publishing) Fair
WALT DISNEY'S COMICS AND STORIES (1940) (#1-263) (Dell Publishing) #117 (Dell Publishing) Fair
WALT DISNEY'S COMICS AND STORIES (1940) (#1-263) (Dell Publishing) #118 (Dell Publishing) Good
WALT DISNEY'S COMICS AND STORIES (1940) (#1-263) (Dell Publishing) #119 (Dell Publishing) Very Good
WALT DISNEY'S COMICS AND STORIES (1940) (#1-263) (Dell Publishing) #121 (Dell Publishing) Good
WALT DISNEY'S COMICS AND STORIES (1940) (#1-263) (Dell Publishing) #122 (Dell Publishing) Good
WALT DISNEY'S COMICS AND STORIES (1940) (#1-263) (Dell Publishing) #123 (Dell Publishing) Good
WALT DISNEY'S COMICS AND STORIES (1940) (#1-263) (Dell Publishing) #124 (Dell Publishing) Very Good
WALT DISNEY'S COMICS AND STORIES (1940) (#1-263) (Dell Publishing) #125 (Dell Publishing) Good
WALT DISNEY'S COMICS AND STORIES (1940) (#1-263) (Dell Publishing) #127 (Dell Publishing) Good
WALT DISNEY'S COMICS AND STORIES (1940) (#1-263) (Dell Publishing) #127 (Dell Publishing) Very Good
WALT DISNEY'S COMICS AND STORIES (1940) (#1-263) (Dell Publishing) #128 (Dell Publishing) Good
WALT DISNEY'S COMICS AND STORIES (1940) (#1-263) (Dell Publishing) #130 (Dell Publishing) Good
WALT DISNEY'S COMICS AND STORIES (1940) (#1-263) (Dell Publishing) #132 (Dell Publishing) Good
WALT DISNEY'S COMICS AND STORIES (1940) (#1-263) (Dell Publishing) #132 (Dell Publishing) Very Good


WALT DISNEY'S COMICS AND STORIES (1940) (#1-263) (Dell Publishing) #133

WALT DISNEY'S COMICS AND STORIES (1940) (#1-263) (Dell Publishing) #133 (Dell Publishing) Good
WALT DISNEY'S COMICS AND STORIES (1940) (#1-263) (Dell Publishing) #134 (Dell Publishing) Fair
WALT DISNEY'S COMICS AND STORIES (1940) (#1-263) (Dell Publishing) #134 (Dell Publishing) Good
WALT DISNEY'S COMICS AND STORIES (1940) (#1-263) (Dell Publishing) #135 (Dell Publishing) Good
WALT DISNEY'S COMICS AND STORIES (1940) (#1-263) (Dell Publishing) #135 (Dell Publishing) Fair
WALT DISNEY'S COMICS AND STORIES (1940) (#1-263) (Dell Publishing) #136 (Dell Publishing) Fair
WALT DISNEY'S COMICS AND STORIES (1940) (#1-263) (Dell Publishing) #136 (Dell Publishing) Very Good
WALT DISNEY'S COMICS AND STORIES (1940) (#1-263) (Dell Publishing) #137 (Dell Publishing) Good
WALT DISNEY'S COMICS AND STORIES (1940) (#1-263) (Dell Publishing) #138 (Dell Publishing) Fair
WALT DISNEY'S COMICS AND STORIES (1940) (#1-263) (Dell Publishing) #138 (Dell Publishing) Good
WALT DISNEY'S COMICS AND STORIES (1940) (#1-263) (Dell Publishing) #139 (Dell Publishing) Good
WALT DISNEY'S COMICS AND STORIES (1940) (#1-263) (Dell Publishing) #140 (Dell Publishing) Good
WALT DISNEY'S COMICS AND STORIES (1940) (#1-263) (Dell Publishing) #141 (Dell Publishing) Fair
WALT DISNEY'S COMICS AND STORIES (1940) (#1-263) (Dell Publishing) #141 (Dell Publishing) Good
WALT DISNEY'S COMICS AND STORIES (1940) (#1-263) (Dell Publishing) #142 (Dell Publishing) Good
WALT DISNEY'S COMICS AND STORIES (1940) (#1-263) (Dell Publishing) #143 (Dell Publishing) Good
WALT DISNEY'S COMICS AND STORIES (1940) (#1-263) (Dell Publishing) #144 (Dell Publishing) Good
WALT DISNEY'S COMICS AND STORIES (1940) (#1-263) (Dell Publishing) #144 (Dell Publishing) Fair
WALT DISNEY'S COMICS AND STORIES (1940) (#1-263) (Dell Publishing) #145 (Dell Publishing) Very Good
WALT DISNEY'S COMICS AND STORIES (1940) (#1-263) (Dell Publishing) #146 (Dell Publishing) Good
WALT DISNEY'S COMICS AND STORIES (1940) (#1-263) (Dell Publishing) #146 (Dell Publishing) Very Good
WALT DISNEY'S COMICS AND STORIES (1940) (#1-263) (Dell Publishing) #147 (Dell Publishing) Good
WALT DISNEY'S COMICS AND STORIES (1940) (#1-263) (Dell Publishing) #148 (Dell Publishing) Good
WALT DISNEY'S COMICS AND STORIES (1940) (#1-263) (Dell Publishing) #148 (Dell Publishing) Fair
WALT DISNEY'S COMICS AND STORIES (1940) (#1-263) (Dell Publishing) #149 (Dell Publishing) Good
WALT DISNEY'S COMICS AND STORIES (1940) (#1-263) (Dell Publishing) #149 (Dell Publishing) Fair
WALT DISNEY'S COMICS AND STORIES (1940) (#1-263) (Dell Publishing) #149 (Dell Publishing) Very Good
WALT DISNEY'S COMICS AND STORIES (1940) (#1-263) (Dell Publishing) #150 (Dell Publishing) Good
WALT DISNEY'S COMICS AND STORIES (1940) (#1-263) (Dell Publishing) #150 (Dell Publishing) Very Good
WALT DISNEY'S COMICS AND STORIES (1940) (#1-263) (Dell Publishing) #151 (Dell Publishing) Fair
WALT DISNEY'S COMICS AND STORIES (1940) (#1-263) (Dell Publishing) #151 (Dell Publishing) Good
WALT DISNEY'S COMICS AND STORIES (1940) (#1-263) (Dell Publishing) #152 (Dell Publishing) Good
WALT DISNEY'S COMICS AND STORIES (1940) (#1-263) (Dell Publishing) #153 (Dell Publishing) Good
WALT DISNEY'S COMICS AND STORIES (1940) (#1-263) (Dell Publishing) #154 (Dell Publishing) Very Good
WALT DISNEY'S COMICS AND STORIES (1940) (#1-263) (Dell Publishing) #155 (Dell Publishing) Fair
WALT DISNEY'S COMICS AND STORIES (1940) (#1-263) (Dell Publishing) #155 (Dell Publishing) Very Good
WALT DISNEY'S COMICS AND STORIES (1940) (#1-263) (Dell Publishing) #156 (Dell Publishing) Very Good
WALT DISNEY'S COMICS AND STORIES (1940) (#1-263) (Dell Publishing) #157 (Dell Publishing) Very Good
WALT DISNEY'S COMICS AND STORIES (1940) (#1-263) (Dell Publishing) #158 (Dell Publishing) Very Good
WALT DISNEY'S COMICS AND STORIES (1940) (#1-263) (Dell Publishing) #159 (Dell Publishing) Good
WALT DISNEY'S COMICS AND STORIES (1940) (#1-263) (Dell Publishing) #160 (Dell Publishing) Good
WALT DISNEY'S COMICS AND STORIES (1940) (#1-263) (Dell Publishing) #160 (Dell Publishing) Fair
WALT DISNEY'S COMICS AND STORIES (1940) (#1-263) (Dell Publishing) #161 (Dell Publishing) Fair
WALT DISNEY'S COMICS AND STORIES (1940) (#1-263) (Dell Publishing) #161 (Dell Publishing) Very Good
WALT DISNEY'S COMICS AND STORIES (1940) (#1-263) (Dell Publishing) #162 (Dell Publishing) Good
WALT DISNEY'S COMICS AND STORIES (1940) (#1-263) (Dell Publishing) #163 (Dell Publishing) Good
WALT DISNEY'S COMICS AND STORIES (1940) (#1-263) (Dell Publishing) #163 (Dell Publishing) Very Good
WALT DISNEY'S COMICS AND STORIES (1940) (#1-263) (Dell Publishing) #164 (Dell Publishing) Good
WALT DISNEY'S COMICS AND STORIES (1940) (#1-263) (Dell Publishing) #165 (Dell Publishing) Fair
WALT DISNEY'S COMICS AND STORIES (1940) (#1-263) (Dell Publishing) #165 (Dell Publishing) Good
WALT DISNEY'S COMICS AND STORIES (1940) (#1-263) (Dell Publishing) #166 (Dell Publishing) Good
WALT DISNEY'S COMICS AND STORIES (1940) (#1-263) (Dell Publishing) #167 (Dell Publishing) Good
WALT DISNEY'S COMICS AND STORIES (1940) (#1-263) (Dell Publishing) #168 (Dell Publishing) Good
WALT DISNEY'S COMICS AND STORIES (1940) (#1-263) (Dell Publishing) #168 (Dell Publishing) Fair
WALT DISNEY'S COMICS AND STORIES (1940) (#1-263) (Dell Publishing) #169 (Dell Publishing) Good
WALT DISNEY'S COMICS AND STORIES (1940) (#1-263) (Dell Publishing) #170 (Dell Publishing) Good
WALT DISNEY'S COMICS AND STORIES (1940) (#1-263) (Dell Publishing) #170 NO PRICE (Dell Publishing) Good
WALT DISNEY'S COMICS AND STORIES (1940) (#1-263) (Dell Publishing) #170 (Dell Publishing) Very Good
WALT DISNEY'S COMICS AND STORIES (1940) (#1-263) (Dell Publishing) #198 15 CENT CV (Dell Publishing) Very Good
WALT DISNEY'S COMICS AND STORIES (1940) (#1-263) (Dell Publishing) #199 15 CENT CV (Dell Publishing) Very Good
WALT DISNEY'S COMICS AND STORIES (1940) (#1-263) (Dell Publishing) #200 (Dell Publishing) Very Good
WALT DISNEY'S COMICS AND STORIES (1940) (#1-263) (Dell Publishing) #203 15 CENT CV (Dell Publishing) Very Good
WALT DISNEY'S COMICS AND STORIES (1940) (#1-263) (Dell Publishing) #205 15 CENT CV (Dell Publishing) Very Good
WALT DISNEY'S COMICS AND STORIES (1940) (#1-263) (Dell Publishing) #209 15 CENT CV (Dell Publishing) Very Good
WALT DISNEY'S COMICS AND STORIES (1940) (#1-263) (Dell Publishing) #209 15 CENT CV (Dell Publishing) Fair
WALT DISNEY'S COMICS AND STORIES (1940) (#1-263) (Dell Publishing) #212 15 CENT CV (Dell Publishing) Very Good
WALT DISNEY'S COMICS AND STORIES (1940) (#1-263) (Dell Publishing) #213 15 CENT CV (Dell Publishing) Good
WALT DISNEY'S COMICS AND STORIES (1940) (#1-263) (Dell Publishing) #214 15 CENT CV (Dell Publishing) Very Good

WALT DISNEY'S COMICS AND STORIES (1962) (#264-473) (Gold Key) #332 15 CENT CV (Gold Key) Fair
WALT DISNEY'S COMICS AND STORIES (1962) (#264-473) (Gold Key) #333 15 CENT CV (Gold Key) Very Good
WALT DISNEY'S COMICS AND STORIES (1962) (#264-473) (Gold Key) #352 25CENTW/OP (Gold Key) Very Good
WALT DISNEY'S COMICS AND STORIES (1962) (#264-473) (Gold Key) #353 25CENTW/OP (Gold Key) Very Good
WALT DISNEY'S COMICS AND STORIES (1962) (#264-473) (Gold Key) #353 25CENTW/OP (Gold Key) Good
WALT DISNEY'S COMICS AND STORIES (1962) (#264-473) (Gold Key) #356 25CENTW/OP (Gold Key) Good
WALT DISNEY'S COMICS AND STORIES (1962) (#264-473) (Gold Key) #357 25CENTW/OP (Gold Key) Very Good
WALT DISNEY'S COMICS AND STORIES (1962) (#264-473) (Gold Key) #360 25CENTW/OP (Gold Key) Very Good
WALT DISNEY'S COMICS AND STORIES (1962) (#264-473) (Gold Key) #360 25CENTW/OP (Gold Key) Good

WANTED COMICS (1947) #18 (TOYTOWN PUBLICATIONS) Fair

WEIRD FANTASY (1951) #10 (EC Comics) Good
WEIRD FANTASY (1951) #14 (EC Comics) Good
WEIRD FANTASY (1951) #14 (EC Comics) Fair


WELL OF THE WORLDS (GALAXY SCIENCE FICTION NOVEL #17) #1

WELL OF THE WORLDS (GALAXY SCIENCE FICTION NOVEL #17) #1 (Galaxy Publishing) Good

WESTERN HERO (1949) #76 (FAWCETT PUBLICATION) Good
WESTERN HERO (1949) #82 (FAWCETT PUBLICATION) Good

WESTERN ROUNDUP #1 (Dell Publishing) Good
WESTERN ROUNDUP #4 (Dell Publishing) Very Good
WESTERN ROUNDUP #5 (Dell Publishing) Good
WESTERN ROUNDUP #5 (Dell Publishing) Very Good
WESTERN ROUNDUP #8 (Dell Publishing) Good
WESTERN ROUNDUP #12 (Dell Publishing) Very Good
WESTERN ROUNDUP #14 (Dell Publishing) Very Good
WESTERN ROUNDUP #19 (Dell Publishing) Fair
WESTERN ROUNDUP #19 (Dell Publishing) Good
WESTERN ROUNDUP #20 (Dell Publishing) Good
WESTERN ROUNDUP #21 (Dell Publishing) Very Good
WESTERN ROUNDUP #22 (Dell Publishing) Very Good
WESTERN ROUNDUP #23 (Dell Publishing) Good

WESTERN STORY (1919) #4606 (Street & Smith Publications) Very Good

WESTWARD HO THE WAGONS (1956) #1 FC #738 (Dell Publishing) Good

WHEN KNIGHTHOOD WAS IN FLOWER (1953) #1 FC #682 (Dell Publishing) Good

WHIRLYBIRDS (1960) #1 FC #1124 (Dell Publishing) Very Good
WHIRLYBIRDS (1960) #1 FC #1124 (Dell Publishing) Good

WHIZ COMICS WHEATIES GIVEAWAY (1946) #1 (FAWCETT PUBLICATION) Good

WILBUR (1946) #20 (Archie Comics) Good

WILD BOY OF THE CONGO (1951) (#1-8) (ZIFF-DAVIS) #8 (Ziff-Davis Publishing Co.) Very Good
WILD BOY OF THE CONGO (1951) (#1-8) (ZIFF-DAVIS) #10 (Ziff-Davis Publishing Co.) Good

WILD WESTERN (BRITISH) (1951) #3 (L. Miller & Sons Ltd.) Good

WILD WILD WEST (GOLD KEY) #6 (Gold Key) Good

WINGS COMICS (1940) #7 (Fiction House Magazines) Good
WINGS COMICS (1940) #45 (Fiction House Magazines) Good
WINGS COMICS (1940) #117 (Fiction House Magazines) Good

WINGS OF EAGLES (1957) #1 FC #790 (Dell Publishing) Very Good

WOODY WOODPECKER (1947) (#1-72) (Dell Publishing) #1 FC #169 (Dell Publishing) Good

WOODY WOODPECKER (1962) (#73-187) (GOLD KEY) #101 15 CENT CV (Gold Key) Fine

WOODY WOODPECKER BACK TO SCHOOL (1952) #1 (Dell Publishing) Good
WOODY WOODPECKER BACK TO SCHOOL (1952) #2 (Dell Publishing) Good
WOODY WOODPECKER BACK TO SCHOOL (1952) #2 (Dell Publishing) Fine
WOODY WOODPECKER BACK TO SCHOOL (1952) #2 (Dell Publishing) Very Good
WOODY WOODPECKER BACK TO SCHOOL (1952) #3 (Dell Publishing) Good
WOODY WOODPECKER BACK TO SCHOOL (1952) #3 (Dell Publishing) Fair
WOODY WOODPECKER BACK TO SCHOOL (1952) #3 (Dell Publishing) Very Good
WOODY WOODPECKER BACK TO SCHOOL (1952) #4 (Dell Publishing) Fair
WOODY WOODPECKER BACK TO SCHOOL (1952) #4 (Dell Publishing) Good
WOODY WOODPECKER BACK TO SCHOOL (1952) #4 (Dell Publishing) Very Good
WOODY WOODPECKER BACK TO SCHOOL (1952) #6 (Dell Publishing) Good
WOODY WOODPECKER BACK TO SCHOOL (1952) #6 (Dell Publishing) Fair
WOODY WOODPECKER BACK TO SCHOOL (1952) #6 (Dell Publishing) Very Good

WOODY WOODPECKER'S COUNTY FAIR (1958) #2 (Dell Publishing) Fair
WOODY WOODPECKER'S COUNTY FAIR (1958) #2 (Dell Publishing) Good
WOODY WOODPECKER'S COUNTY FAIR (1958) #2 (Dell Publishing) Very Good
WOODY WOODPECKER'S COUNTY FAIR (1958) #5 (Dell Publishing) Fair
WOODY WOODPECKER'S COUNTY FAIR (1958) #5 (Dell Publishing) Fine
WOODY WOODPECKER'S COUNTY FAIR (1958) #5 (Dell Publishing) Good
WOODY WOODPECKER'S COUNTY FAIR (1958) #5 (Dell Publishing) Very Good

WORLD'S GREATEST STORIES (1949) #2 (JUBILEE PUBLICATIONS) Good


YOGI BEAR (1960) (#1-9) (Dell Publishing) #1 FC #1067

YOGI BEAR (1960) (#1-9) (Dell Publishing) #1 FC #1067 (Dell Publishing) Good
YOGI BEAR (1960) (#1-9) (Dell Publishing) #1 FC #1104 (Dell Publishing) Very Good
YOGI BEAR (1960) (#1-9) (Dell Publishing) #1 FC #1162 (Dell Publishing) Very Good
YOGI BEAR (1960) (#1-9) (Dell Publishing) #1 FC #1067 (Dell Publishing) Fair
YOGI BEAR (1960) (#1-9) (Dell Publishing) #1 FC #1104 (Dell Publishing) Good
YOGI BEAR (1960) (#1-9) (Dell Publishing) #1 FC #1162 (Dell Publishing) Good
YOGI BEAR (1960) (#1-9) (Dell Publishing) #1 FC #1349 (Dell Publishing) Good

YOGI BEAR (1962) (#10-42) (GOLD KEY) #10 (Gold Key) Good

YOUNG GODS & FRIENDS HC (BARRY WINDSOR SMITH) (2003) #1 (Fantagraphics) Very Fine