50% Off WOODCHUCK Sale ends Friday
Howdy!
Please note that our annual 50% off WOODCHUCK! sale on all ten million of our back issue comics and magazines will need to end on Friday. I had actually had it in my calendar for our codeword sale to only run through Wednesday, but I now personally need a bit of extra revenue to help me to cover my costs of traveling to an International Court System Ethics Committee hearing in San Diego.
To explain, I have been embroiled this weekend in a no-holds-barred battle over my potential candidacy for Emperor of the Imperial Court of the Rocky Mountain Empire, a charitable group to which I have been a member for the past seven years. In a move that rocked our entire Court, our Board of Directors voted 11-2 on Saturday to reject my application to run at our official Candidate Review, despite my having met all of the qualifications to be a candidate. Not only did they reject my application, but they also subjected me to an incredibly painful and humiliating 90 minute verbal assault, in which 15-20 members took turns questioning my honesty, my commitment to our Court, and my basic humanity. All of this despite the fact that I have raised over $100,000.00 in donations for charities served by the ICRME over the past five years.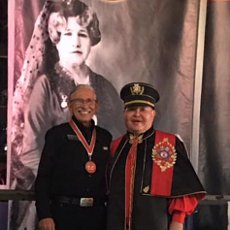 Queen Mother I of the Americas, Nicole Ramirez and Chuck.

If you are wondering why all this is happening, so are the leaders of our 30,000-member national organization, The International Court System. I have been one of the national officers for the last year, and have won innumerable awards and accolades for all my hard work. I have also made hundreds of friends in Courts around the nation, and many of them were waiting with great anticipation for me to announce that I was running for Emperor, in large part so that they could book their trip to my March 31st Coronation.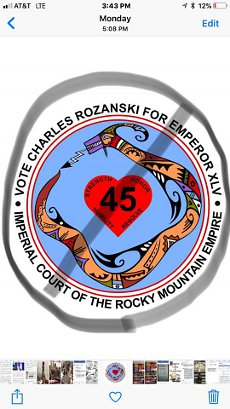 This would have been the Campaign Logo.

Here in Denver, however, I have gone up against a stubbornly established status quo. A very aggressive clique of them recently took control of our BOD, and they decided toward the end of last year that they wanted one of their own to reign as Emperor next year, so they determined that they needed to block my candidacy by any means. This was critically important to them, as I have huge support from the voters of Denver, and would have probably have defeated their candidate by a wide margin. They greatly crossed all bounds of reason while rejecting me, however, when they subjected me to abuse so severe that was unprecedented in the history of any candidacy. In a nutshell, that is why I am flying to San Diego on Thursday, to report my experience to the ICS Ethics Committee. I may not prevail, but at least we may be able to craft a national policy that will protect future aspirants from similar abuse.
I will now stop with the personal explanations, and simply mention that you might possibly help me by placing a half price WOODCHUCK! before Friday. With that thought in mind, I'm asking Will to please add our list of recently arrived back issues. Our buying program has been quite successful of late, so we have really do have some wonderful bargains to offer to you.
Happy collecting!
Chuck Rozanski,
President - Mile High Comics, Inc.
February 5, 2018



MARVEL

IVX (INHUMANS VS. X-MEN) (2016) #2 DODSON

IVX (INHUMANS VS. X-MEN) (2016) #2 DODSON Near Mint/Mint

SPIDER-MAN (1963) (AMAZING SPIDER-MAN) (#1-441) #302 Very Good
SPIDER-MAN (1963) (AMAZING SPIDER-MAN) (#1-441) #303 Fine
SPIDER-MAN (1963) (AMAZING SPIDER-MAN) (#1-441) #304 Very Fine
SPIDER-MAN (1963) (AMAZING SPIDER-MAN) (#1-441) #305 Very Fine
SPIDER-MAN (1963) (AMAZING SPIDER-MAN) (#1-441) #307 Fine
SPIDER-MAN (1963) (AMAZING SPIDER-MAN) (#1-441) #308 Fine
SPIDER-MAN (1963) (AMAZING SPIDER-MAN) (#1-441) #309 Fine
SPIDER-MAN (1963) (AMAZING SPIDER-MAN) (#1-441) #313 Fine
SPIDER-MAN (1963) (AMAZING SPIDER-MAN) (#1-441) #314 Very Fine
SPIDER-MAN (1963) (AMAZING SPIDER-MAN) (#1-441) #315 NEWSSTAND Very Good
SPIDER-MAN (1963) (AMAZING SPIDER-MAN) (#1-441) #320 Very Fine
SPIDER-MAN (1963) (AMAZING SPIDER-MAN) (#1-441) #322 Fine
SPIDER-MAN (1963) (AMAZING SPIDER-MAN) (#1-441) #323 Very Fine
SPIDER-MAN (1963) (AMAZING SPIDER-MAN) (#1-441) #324 Fine

SPIDER-MAN UNLIMITED (1993) #22 Near Mint/Mint

SPIDER-MAN VS. THE PUNISHER (2000) #1 Near Mint/Mint

X-MEN (1963) (#1-113, UNCANNY X-MEN #114-544) (MARVEL) #107 Fair
X-MEN (1963) (#1-113, UNCANNY X-MEN #114-544) (MARVEL) #303 2ND PRT Very Good

X-MEN ANNUAL (1970) #9 NEWSSTAND Very Fine
X-MEN ANNUAL (1970) #10 Fine

DC
MISTER MIRACLE (2017) (#1-UP) (DC) #2 VARIANT Near Mint/Mint

ROBIN (1993) #10 Near Mint/Mint
ROBIN (1993) #183 Near Mint/Mint


SUPERBOY (1994) (#0-100) (DC) #9

SUPERBOY (1994) (#0-100) (DC) #9 Near Mint/Mint

SUPERMAN & BATMAN GENERATIONS (1999) #3 Near Mint/Mint

TEEN TITANS (1980) (#1-91) (DC) #14 Very Fine
TEEN TITANS (1980) (#1-91) (DC) #16 Good
TEEN TITANS (1980) (#1-91) (DC) #21 Very Fine
TEEN TITANS (1980) (#1-91) (DC) #23 Near Mint/Mint
TEEN TITANS (1980) (#1-91) (DC) #26 Near Mint/Mint

THRILLKILLER (BATGIRL & ROBIN) (BATMAN) (1997) #1 Near Mint/Mint
THRILLKILLER (BATGIRL & ROBIN) (BATMAN) (1997) #1 Very Fine
THRILLKILLER (BATGIRL & ROBIN) (BATMAN) (1997) #2 Near Mint/Mint
THRILLKILLER (BATGIRL & ROBIN) (BATMAN) (1997) #2 Fine
THRILLKILLER (BATGIRL & ROBIN) (BATMAN) (1997) #3 Near Mint/Mint

INDEPENDENTS
CISCO KID (1950) #20 (Dell Publishing) Fine

CLASSICS ILLUSTRATED (1942) #84 HRN85 ED1 (Gilberton Publications) Very Good
CLASSICS ILLUSTRATED (1942) #84 HRN85 ED1 (Gilberton Publications) Good
CLASSICS ILLUSTRATED (1942) #85 HRN85 ED1 (Gilberton Publications) Very Good
CLASSICS ILLUSTRATED (1942) #85 HRN85 ED1 (Gilberton Publications) Good
CLASSICS ILLUSTRATED (1942) #86 HRN87 ED1 (Gilberton Publications) Very Good
CLASSICS ILLUSTRATED (1942) #86 HRN87 ED1 (Gilberton Publications) Good
CLASSICS ILLUSTRATED (1942) #87 HRN87 ED1 (Gilberton Publications) Very Good
CLASSICS ILLUSTRATED (1942) #87 HRN87 ED1 (Gilberton Publications) Good
CLASSICS ILLUSTRATED (1942) #90 HRN89 ED1 (Gilberton Publications) Very Good
CLASSICS ILLUSTRATED (1942) #90 HRN89 ED1 (Gilberton Publications) Good
CLASSICS ILLUSTRATED (1942) #92 HRN92 ED1 (Gilberton Publications) Very Good
CLASSICS ILLUSTRATED (1942) #92 HRN92 ED1 (Gilberton Publications) Good
CLASSICS ILLUSTRATED (1942) #93 HRN94 ED1 (Gilberton Publications) Very Good
CLASSICS ILLUSTRATED (1942) #93 HRN94 ED1 (Gilberton Publications) Good
CLASSICS ILLUSTRATED (1942) #94 HRN94 ED1 (Gilberton Publications) Very Good
CLASSICS ILLUSTRATED (1942) #94 HRN94 ED1 (Gilberton Publications) Good
CLASSICS ILLUSTRATED (1942) #96 HRN97 ED1 (Gilberton Publications) Good
CLASSICS ILLUSTRATED (1942) #97 HRN96 ED1 (Gilberton Publications) Good


CLASSICS ILLUSTRATED (1942) #99 HRN98 ED1

CLASSICS ILLUSTRATED (1942) #99 HRN98 ED1 (Gilberton Publications) Very Good
CLASSICS ILLUSTRATED (1942) #99 HRN98 ED1 (Gilberton Publications) Good
CLASSICS ILLUSTRATED (1942) #102 HRN101 ED1 (Gilberton Publications) Very Good
CLASSICS ILLUSTRATED (1942) #102 HRN101 ED1 (Gilberton Publications) Good
CLASSICS ILLUSTRATED (1942) #102 HRN101 ED1 (Gilberton Publications) Fair
CLASSICS ILLUSTRATED (1942) #104 HRN105 ED1 (Gilberton Publications) Very Good
CLASSICS ILLUSTRATED (1942) #104 HRN105 ED1 (Gilberton Publications) Good
CLASSICS ILLUSTRATED (1942) #104 BRITISH (Gilberton Publications) Good
CLASSICS ILLUSTRATED (1942) #108 HRN108ED1A (Gilberton Publications) Very Good
CLASSICS ILLUSTRATED (1942) #108 HRN108ED1A (Gilberton Publications) Good
CLASSICS ILLUSTRATED (1942) #109 HRN110 ED1 (Gilberton Publications) Very Good
CLASSICS ILLUSTRATED (1942) #109 HRN110 ED1 (Gilberton Publications) Good
CLASSICS ILLUSTRATED (1942) #112 HRN113 ED1 (Gilberton Publications) Fine
CLASSICS ILLUSTRATED (1942) #112 HRN113 ED1 (Gilberton Publications) Very Good
CLASSICS ILLUSTRATED (1942) #112 HRN113 ED1 (Gilberton Publications) Good
CLASSICS ILLUSTRATED (1942) #113 HRN114 ED1 (Gilberton Publications) Very Good
CLASSICS ILLUSTRATED (1942) #113 HRN114 ED1 (Gilberton Publications) Good
CLASSICS ILLUSTRATED (1942) #114 HRN115 ED1 (Gilberton Publications) Good
CLASSICS ILLUSTRATED (1942) #115 HRN116 ED1 (Gilberton Publications) Good
CLASSICS ILLUSTRATED (1942) #116 HRN117 ED1 (Gilberton Publications) Very Good
CLASSICS ILLUSTRATED (1942) #116 HRN117 ED1 (Gilberton Publications) Good
CLASSICS ILLUSTRATED (1942) #116 HRN117 ED1 (Gilberton Publications) Fair
CLASSICS ILLUSTRATED (1942) #117 HRN118 ED1 (Gilberton Publications) Very Good
CLASSICS ILLUSTRATED (1942) #117 HRN118 ED1 (Gilberton Publications) Good
CLASSICS ILLUSTRATED (1942) #118 HRN119 ED1 (Gilberton Publications) Very Good
CLASSICS ILLUSTRATED (1942) #118 HRN119 ED1 (Gilberton Publications) Good
CLASSICS ILLUSTRATED (1942) #118 HRN119 ED1 (Gilberton Publications) Fair
CLASSICS ILLUSTRATED (1942) #119 HRN120 ED1 (Gilberton Publications) Very Good
CLASSICS ILLUSTRATED (1942) #119 HRN120 ED1 (Gilberton Publications) Good
CLASSICS ILLUSTRATED (1942) #123 HRN124 ED1 (Gilberton Publications) Fine
CLASSICS ILLUSTRATED (1942) #123 HRN124 ED1 (Gilberton Publications) Very Good
CLASSICS ILLUSTRATED (1942) #123 HRN124 ED1 (Gilberton Publications) Good
CLASSICS ILLUSTRATED (1942) #127 HRN128 ED1 (Gilberton Publications) Very Good
CLASSICS ILLUSTRATED (1942) #127 HRN128 ED1 (Gilberton Publications) Good
CLASSICS ILLUSTRATED (1942) #128 HRN128 ED1 (Gilberton Publications) Good
CLASSICS ILLUSTRATED (1942) #130 HRN130 ED1 (Gilberton Publications) Good
CLASSICS ILLUSTRATED (1942) #131 HRN131 ED1 (Gilberton Publications) Fine


CLASSICS ILLUSTRATED (1942) #131 HRN131 ED1

CLASSICS ILLUSTRATED (1942) #131 HRN131 ED1 (Gilberton Publications) Very Good
CLASSICS ILLUSTRATED (1942) #131 HRN131 ED1 (Gilberton Publications) Good
CLASSICS ILLUSTRATED (1942) #132 HRN132 ED1 (Gilberton Publications) Very Good
CLASSICS ILLUSTRATED (1942) #132 HRN132 ED1 (Gilberton Publications) Good
CLASSICS ILLUSTRATED (1942) #133 HRN132 ED1 (Gilberton Publications) Good
CLASSICS ILLUSTRATED (1942) #135 HRN135 ED1 (Gilberton Publications) Very Good
CLASSICS ILLUSTRATED (1942) #135 HRN135 ED1 (Gilberton Publications) Good
CLASSICS ILLUSTRATED (1942) #136 HRN136 ED1 (Gilberton Publications) Very Good
CLASSICS ILLUSTRATED (1942) #136 HRN136 ED1 (Gilberton Publications) Good
CLASSICS ILLUSTRATED (1942) #137 HRN136 ED1 (Gilberton Publications) Fine
CLASSICS ILLUSTRATED (1942) #137 HRN136 ED1 (Gilberton Publications) Very Good
CLASSICS ILLUSTRATED (1942) #137 HRN136 ED1 (Gilberton Publications) Good
CLASSICS ILLUSTRATED (1942) #137 HRN126BRIT (Gilberton Publications) Very Good
CLASSICS ILLUSTRATED (1942) #137 HRN129BRIT (Gilberton Publications) Very Good
CLASSICS ILLUSTRATED (1942) #138 HRN136 ED1 (Gilberton Publications) Good
CLASSICS ILLUSTRATED (1942) #138 HRN136 ED1 (Gilberton Publications) Fair
CLASSICS ILLUSTRATED (1942) #139 HRN139 ED1 (Gilberton Publications) Very Good
CLASSICS ILLUSTRATED (1942) #139 HRN139 ED1 (Gilberton Publications) Good
CLASSICS ILLUSTRATED (1942) #140 HRN140 ED1 (Gilberton Publications) Very Good
CLASSICS ILLUSTRATED (1942) #140 HRN140 ED1 (Gilberton Publications) Good
CLASSICS ILLUSTRATED (1942) #141 HRN141 ED1 (Gilberton Publications) Very Good
CLASSICS ILLUSTRATED (1942) #141 HRN141 ED1 (Gilberton Publications) Good
CLASSICS ILLUSTRATED (1942) #142 HRN142 ED1 (Gilberton Publications) Very Good
CLASSICS ILLUSTRATED (1942) #142 HRN142 ED1 (Gilberton Publications) Good
CLASSICS ILLUSTRATED (1942) #143 HRN143 ED1 (Gilberton Publications) Very Good
CLASSICS ILLUSTRATED (1942) #143 HRN143 ED1 (Gilberton Publications) Good
CLASSICS ILLUSTRATED (1942) #144 HRN143 ED1 (Gilberton Publications) Very Good
CLASSICS ILLUSTRATED (1942) #144 HRN143 ED1 (Gilberton Publications) Good
CLASSICS ILLUSTRATED (1942) #145 HRN143 ED1 (Gilberton Publications) Very Good
CLASSICS ILLUSTRATED (1942) #145 HRN143 ED1 (Gilberton Publications) Good
CLASSICS ILLUSTRATED (1942) #146 HRN143 ED1 (Gilberton Publications) Fine
CLASSICS ILLUSTRATED (1942) #146 HRN143 ED1 (Gilberton Publications) Very Good
CLASSICS ILLUSTRATED (1942) #146 HRN143 ED1 (Gilberton Publications) Good
CLASSICS ILLUSTRATED (1942) #147 HRN147 ED1 (Gilberton Publications) Very Good
CLASSICS ILLUSTRATED (1942) #147 HRN147 ED1 (Gilberton Publications) Good
CLASSICS ILLUSTRATED (1942) #148 HRN148 ED1 (Gilberton Publications) Very Good


CLASSICS ILLUSTRATED (1942) #148 HRN148 ED1

CLASSICS ILLUSTRATED (1942) #148 HRN148 ED1 (Gilberton Publications) Good
CLASSICS ILLUSTRATED (1942) #149 HRN149 ED1 (Gilberton Publications) Very Good
CLASSICS ILLUSTRATED (1942) #149 HRN149 ED1 (Gilberton Publications) Good
CLASSICS ILLUSTRATED (1942) #150 HRN150 ED1 (Gilberton Publications) Good
CLASSICS ILLUSTRATED (1942) #152 HRN152 ED1 (Gilberton Publications) Very Good
CLASSICS ILLUSTRATED (1942) #152 HRN152 ED1 (Gilberton Publications) Good
CLASSICS ILLUSTRATED (1942) #153 HRN153 ED1 (Gilberton Publications) Good
CLASSICS ILLUSTRATED (1942) #153 HRN153 ED1 (Gilberton Publications) Fair
CLASSICS ILLUSTRATED (1942) #154 HRN154 ED1 (Gilberton Publications) Very Good
CLASSICS ILLUSTRATED (1942) #154 HRN154 ED1 (Gilberton Publications) Good
CLASSICS ILLUSTRATED (1942) #155 HRN154 ED1 (Gilberton Publications) Very Good
CLASSICS ILLUSTRATED (1942) #155 HRN154 ED1 (Gilberton Publications) Good
CLASSICS ILLUSTRATED (1942) #157 HRN156 ED1 (Gilberton Publications) Good
CLASSICS ILLUSTRATED (1942) #158 HRN156 ED1 (Gilberton Publications) Good
CLASSICS ILLUSTRATED (1942) #159 HRN159 ED1 (Gilberton Publications) Good
CLASSICS ILLUSTRATED (1942) #161 HRN161 ED1 (Gilberton Publications) Good
CLASSICS ILLUSTRATED (1942) #162 HRN162 ED1 (Gilberton Publications) Very Good
CLASSICS ILLUSTRATED (1942) #162 HRN162 ED1 (Gilberton Publications) Good
CLASSICS ILLUSTRATED (1942) #163 HRN163 ED1 (Gilberton Publications) Fine
CLASSICS ILLUSTRATED (1942) #163 HRN163 ED1 (Gilberton Publications) Very Good
CLASSICS ILLUSTRATED (1942) #164 HRN164 ED1 (Gilberton Publications) Fine
CLASSICS ILLUSTRATED (1942) #164 HRN164 ED1 (Gilberton Publications) Very Good
CLASSICS ILLUSTRATED (1942) #164 HRN164 ED1 (Gilberton Publications) Good

CLASSICS ILLUSTRATED JUNIOR (1953) #501 (Gilberton Publications) Good
CLASSICS ILLUSTRATED JUNIOR (1953) #501 (Gilberton Publications) Fair

CLASSICS ILLUSTRATED SPECIAL ISSUE (1955) #129 (Gilberton Publications) Good

CLASSICS ILLUSTRATED WORLD ILLUSTRATED U.K. #514 (Gilberton Publications) Fine
CLASSICS ILLUSTRATED WORLD ILLUSTRATED U.K. #516 (Gilberton Publications) Good
CLASSICS ILLUSTRATED WORLD ILLUSTRATED U.K. #517 (Gilberton Publications) Good

CLYDE CRASHCUP (1963) #2 (Dell Publishing) Very Good
CLYDE CRASHCUP (1963) #4 (Dell Publishing) Very Good
CLYDE CRASHCUP (1963) #5 (Dell Publishing) Good

COLT .45 (1958) #4 (Dell Publishing) Good
COLT .45 (1958) #4 (Dell Publishing) Fine
COLT .45 (1958) #4 (Dell Publishing) Very Good
COLT .45 (1958) #5 (Dell Publishing) Very Good
COLT .45 (1958) #7 (Dell Publishing) Good
COLT .45 (1958) #8 (Dell Publishing) Very Good
COLT .45 (1958) #1 FC #924 (Dell Publishing) Good
COLT .45 (1958) #1 FC #1004 (Dell Publishing) Good
COLT .45 (1958) #1 FC #924 (Dell Publishing) Fair
COLT .45 (1958) #1 FC #1004 (Dell Publishing) Fair
COLT .45 (1958) #3 FC #1058 (Dell Publishing) Very Good
COLT .45 (1958) #3 FC #1058 (Dell Publishing) Good

LOVELORN (1949) #30 (ACG) Fair

SIMPSONS COMICS (BONGO) (1993) #151 (Bongo Comics) Near Mint/Mint

TEENAGE MUTANT NINJA TURTLES VILLAIN MICRO SERIES (2013) #8 SUBSCRIPT (IDW Publishing) Near Mint/Mint

VAMPIRELLA (1997) (#0-26) (HARRIS) #13 (Harris Comics) Near Mint/Mint

WAR STORIES (AVATAR) (2014) #1 GOOD GIRL (Avatar Comics) Near Mint/Mint