60% off WOODCHUCK codeword ends Monday!
Hi!
This is William with Mile High Comics. Sorry for the late email, Chuck has been running around trying to get caught up from the Stan Lee Memorial and I was busy with Jury Duty.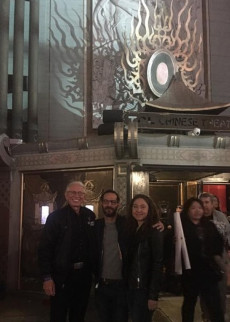 Chuck, Justin, and Aleta at the Stan Lee Memorial

Things at Mile High Comics have been great! Collections are coming in every day at our Jason Street Mega Store and Pam, Josh, and I have been trying to get as much stuff as possible on the system. Pam is working on a huge collection of Trade Paperback and Hardcovers. While Josh and myself are just working down the collections of comics coming in.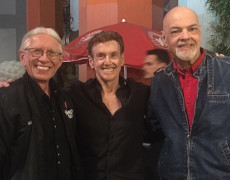 Chuck, Bill Sienkiewicz, and George Perez at the Stan Lee Memorial

I also wanted to letting everyone know that our annual 60% Off WOODCHUCK! codeword ends in just 3 Days (Monday February 4th). This sale applies to all of the back issue comics and magazines listed our website (and in our stores), excluding only new issues, a few variants, and our professionally-graded comics.
Have a great weekend!
William Moulton,
Operations Manager - Mile High Comics, Inc.
February 2, 2019
MARVEL
AVENGERS (2018) (#1-UP) (MARVEL) #1 Near Mint/Mint

AVENGERS & CHAMPIONS: WORLDS COLLIDE TPB (2018) #1 Near Mint/Mint


AVENGERS ACADEMY VOL. 1: PERMANENT RECORD TPB (2011) #1

AVENGERS ACADEMY VOL. 1: PERMANENT RECORD TPB (2011) #1 Near Mint/Mint

AVENGERS ACADEMY VOL. 2: REAL WORLD TPB (2012) #1 Near Mint/Mint

AVENGERS ACADEMY: ARCADE - DEATH GAME TPB (2011) #1 Near Mint/Mint

AVENGERS ASSEMBLE: FORGERIES OF JEALOUSY TPB (2014) #1 Near Mint/Mint

AVENGERS BY BRIAN MICHAEL BENDIS COMPLETE COLLECTION SC (2017) #1 Near Mint/Mint
AVENGERS BY BRIAN MICHAEL BENDIS COMPLETE COLLECTION SC (2017) #2 Near Mint/Mint
AVENGERS BY BRIAN MICHAEL BENDIS COMPLETE COLLECTION SC (2017) #3 Near Mint/Mint

AVENGERS BY BRIAN MICHAEL BENDIS TPB (2011) #5 Near Mint/Mint

AVENGERS BY JASON AARON VOL. 1: FINAL HOST TPB (2018) #1 Near Mint/Mint

AVENGERS BY JASON AARON VOL. 1: FINAL HOST TPB (2018) #1 DIRECT VAR Near Mint/Mint

AVENGERS EPIC COLLECTION: COLLECTION OBSESSION TPB (2018) #1 Near Mint/Mint

AVENGERS EPIC COLLECTION: OPERATION GALACTIC STORM TPB (2017) #1 Near Mint/Mint

AVENGERS EPIC COLLECTION: UNDER SIEGE TPB (2016) #1 Near Mint/Mint

AVENGERS FOREVER TPB (2ND EDITION) (2011) #1 Near Mint/Mint

AVENGERS K VOL. 2: ADVENT OF ULTRON TPB (2016) #1 Near Mint/Mint

AVENGERS K VOL. 3: AVENGERS DISASSEMBLED TPB (2016) #1 Near Mint/Mint

AVENGERS K VOL. 4: SECRET INVASION TPB (2017) #1 Near Mint/Mint

AVENGERS K VOL. 5: ASSEMBLING AVENGERS TPB (2017) #1 Near Mint/Mint

AVENGERS SOLO: AVENGERS CLASSIC TPB (2012) #1 Near Mint/Mint

AVENGERS VOL. 4: INFINITY TPB (2014) #1 Near Mint/Mint

AVENGERS VOL. 5: ADAPT OR DIE TPB (2015) #1 Near Mint/Mint

AVENGERS VOL. 6: INFINITE AVENGERS TPB (2015) #1 Near Mint/Mint


AVENGERS WEST COAST: VISION QUEST TPB (2ND EDITION) (2015) #1

AVENGERS WEST COAST: VISION QUEST TPB (2ND EDITION) (2015) #1 Near Mint/Mint

AVENGERS WORLD VOL. 1: AIMPIRE TPB (2014) #1 Near Mint/Mint

AVENGERS WORLD VOL. 2: ASCENSION TPB (2014) #1 Near Mint/Mint

AVENGERS WORLD VOL. 3: NEXT WORLD TPB (2015) #1 Near Mint/Mint

AVENGERS WORLD VOL. 4: BEFORE TIME RUNS OUT TPB (2015) #1 Near Mint/Mint

AVENGERS/IRON MAN: FIRST SIGN TPB (2013) #1 Very Fine

AVENGERS: ABSOLUTE VISION TPB (2013) #1 Very Fine

AVENGERS: ASSAULT ON OLYMPUS HC (MV CLASSIC #74) (2011) #1 BLACK FOIL Near Mint/Mint

AVENGERS: ENDLESS WARTIME TPB (2016) #1 Near Mint/Mint

AVENGERS: FOUR TPB (2017) #1 Near Mint/Mint

AVENGERS: INFINITY TPB (2013) #1 Near Mint/Mint

AVENGERS: KREE/SKRULL WAR TPB (2000) #1 2ND 2001 Near Mint/Mint

AVENGERS: KREE/SKRULL WAR TPB (3RD EDITION) (2013) #1 Near Mint/Mint

AVENGERS: LEGACY OF THANOS TPB (2014) #1 Near Mint/Mint

AVENGERS: MIGHTY ORIGINS TPB (2018) #1 Near Mint/Mint

AVENGERS: MILLENNIUM TPB (2015) #1 Near Mint/Mint

AVENGERS: SERPENT CROWN HC (MV CLASSIC #87) (2011) #1 BLACK FOIL Near Mint/Mint

AVENGERS: STANDOFF TPB (2017) #1 Near Mint/Mint

AVENGERS: TALES TO ASTONISH TPB (2017) #1 Near Mint/Mint

AVENGERS: TIME RUNS OUT TPB (2015) #1 Near Mint/Mint
AVENGERS: TIME RUNS OUT TPB (2015) #2 Near Mint/Mint
AVENGERS: TIME RUNS OUT TPB (2015) #3 Near Mint/Mint
AVENGERS: TIME RUNS OUT TPB (2015) #4 Near Mint/Mint

AVENGERS: ULTRON FOREVER TPB (2015) #1 Near Mint/Mint


AVENGERS: ULTRON UNBOUND TPB (2015) #1

AVENGERS: ULTRON UNBOUND TPB (2015) #1 Near Mint/Mint

AVENGERS: WEST COAST AVENGERS - ALONG CAME A SPIDER TPB (2012) #1 Near Mint/Mint

AVENGERS: WEST COAST AVENGERS - LOST HC(MV CLASSIC #86) (2011) #1 BORDERED Near Mint/Mint

AVENGERS: WEST COAST AVENGERS - SINS OF THE PAST TPB (2013) #1 Near Mint/Mint

AVENGING SPIDER-MAN: MY FRIENDS BEAT UP YOUR FRIEND TPB (2012) #1 Near Mint/Mint

BLACK PANTHER (2005) (#1-41) (MARVEL) #18 Very Fine
BLACK PANTHER (2005) (#1-41) (MARVEL) #25 Very Good

CABLE (1992) (#1-2) (MARVEL) #1 NEWSSTAND Near Mint/Mint

CABLE (1993) (#1-107) (MARVEL) #16 DELUXE Near Mint/Mint

CABLE (2017) (#1-5) (MARVEL) #1 Near Mint/Mint

CABLE AND DEADPOOL (2003) #30 Fine

CAPTAIN MARVEL (2002) (#1-25) (MARVEL) #16 Fine
CAPTAIN MARVEL (2002) (#1-25) (MARVEL) #16 Very Fine
CAPTAIN MARVEL (2002) (#1-25) (MARVEL) #17 Near Mint/Mint
CAPTAIN MARVEL (2002) (#1-25) (MARVEL) #17 Very Fine

CLASSIC X-MEN (1986) #68 Near Mint/Mint
CLASSIC X-MEN (1986) #76 Fine
CLASSIC X-MEN (1986) #78 Fine

DAREDEVIL (1998) (#1-119, 500-512) (MARVEL) #1 Near Mint/Mint
DAREDEVIL (1998) (#1-119, 500-512) (MARVEL) #2 Near Mint/Mint

EDGE OF VENOMVERSE (2017) #1 Very Fine
EDGE OF VENOMVERSE (2017) #2 Near Mint/Mint
EDGE OF VENOMVERSE (2017) #3 Near Mint/Mint

HAWKEYE (2012) (#1-22) (MARVEL) (MATT FRACTION) #3 Fine


INVADERS (1975) (#1-41) (MARVEL) #1

INVADERS (1975) (#1-41) (MARVEL) #1 Fine
INVADERS (1975) (#1-41) (MARVEL) #4 Fine
INVADERS (1975) (#1-41) (MARVEL) #5 Very Good
INVADERS (1975) (#1-41) (MARVEL) #6 Fine
INVADERS (1975) (#1-41) (MARVEL) #9 Fine
INVADERS (1975) (#1-41) (MARVEL) #11 Fine

IRON MAN (1998) (#1-89) (MARVEL) #22 Near Mint/Mint

OLD MAN HAWKEYE (2018) #1 CHECCHETTO Near Mint/Mint
OLD MAN HAWKEYE (2018) #1 LIM Near Mint/Mint
OLD MAN HAWKEYE (2018) #2 Near Mint/Mint
OLD MAN HAWKEYE (2018) #3 Near Mint/Mint
OLD MAN HAWKEYE (2018) #4 Near Mint/Mint
OLD MAN HAWKEYE (2018) #6 Near Mint/Mint

PETER PARKER (1976) (#1-263) (SPECTACULAR SPIDER-MAN) #259 Near Mint/Mint
PETER PARKER (1976) (#1-263) (SPECTACULAR SPIDER-MAN) #261 Near Mint/Mint

PETER PARKER: SPIDER-MAN (1999) (#1-57, & 156.1) #1 Near Mint/Mint
PETER PARKER: SPIDER-MAN (1999) (#1-57, & 156.1) #11 Near Mint/Mint

PUNISHER (2014) (#1-20) (ALL-NEW MARVEL NOW) #14 Near Mint/Mint

PUNISHER (2016) (#1-17) (MARVEL) #2 Near Mint/Mint

PUNISHERMAX (PUNISHER MAX) (2009) #5 Very Fine

SPIDER-MAN (1963) (AMAZING SPIDER-MAN) (#1-441) #433 Near Mint/Mint
SPIDER-MAN (1963) (AMAZING SPIDER-MAN) (#1-441) #434 Near Mint/Mint
SPIDER-MAN (1963) (AMAZING SPIDER-MAN) (#1-441) #435 Near Mint/Mint
SPIDER-MAN (1963) (AMAZING SPIDER-MAN) (#1-441) #436 Near Mint/Mint
SPIDER-MAN (1963) (AMAZING SPIDER-MAN) (#1-441) #438 Near Mint/Mint
SPIDER-MAN (1963) (AMAZING SPIDER-MAN) (#1-441) #439 Near Mint/Mint
SPIDER-MAN (1963) (AMAZING SPIDER-MAN) (#1-441) #440 Near Mint/Mint
SPIDER-MAN (1963) (AMAZING SPIDER-MAN) (#1-441) #441 Near Mint/Mint

THOR (1998) (#1-85) (MARVEL) #17 Near Mint/Mint

VENOM (2017) (#1-6, #150-165) (MARVEL) #163 Near Mint/Mint

VENOMIZED (2018) #1 Near Mint/Mint
VENOMIZED (2018) #2 Near Mint/Mint
VENOMIZED (2018) #3 Near Mint/Mint
VENOMIZED (2018) #5 Near Mint/Mint

VENOMVERSE (2017) #1 Near Mint/Mint

VENOMVERSE: WAR STORIES (2017) #1 Near Mint/Mint

WEST COAST AVENGERS: ASSEMBLE HC (MV CLASSIC #44) (2010) #1 BORDERED Fine

WOLVERINE (2003) (#1-90 & 900) (MARVEL) #66 Very Fine
WOLVERINE (2003) (#1-90 & 900) (MARVEL) #66 Very Good
WOLVERINE (2003) (#1-90 & 900) (MARVEL) #67 Near Mint/Mint
WOLVERINE (2003) (#1-90 & 900) (MARVEL) #67 Very Fine
WOLVERINE (2003) (#1-90 & 900) (MARVEL) #68 Fine
WOLVERINE (2003) (#1-90 & 900) (MARVEL) #69 Fine

WOLVERINE: SAVAGE (2010) #1 Fine

X-MEN (1963) (#1-113, UNCANNY X-MEN #114-544) (MARVEL) #145 NEWSSTAND Fine

X-MEN BLUE (2017) #21 Near Mint/Mint
X-MEN BLUE (2017) #22 Near Mint/Mint

X-MEN BLUE ANNUAL (2018) #1 Near Mint/Mint

DC
ALL-STAR BATMAN VOL. 1: MY OWN WORST ENEMY TPB(REBIRTH) (2017) #1 Near Mint/Mint

ALL-STAR BATMAN VOL. 2: ENDS OF THE EARTH HC (REBIRTH) (2017) #1 Near Mint/Mint

ALL-STAR BATMAN VOL. 2: ENDS OF THE EARTH TPB (REBIRTH) (2018) #1 Near Mint/Mint

ALL-STAR BATMAN VOL. 3: FIRST ALLY HC (DC REBIRTH) (2018) #1 Near Mint/Mint

ALL-STAR BATMAN VOL. 3: FIRST ALLY TPB (DC REBIRTH) (2018) #1 Near Mint/Mint

BATGIRL & THE BIRDS OF PREY VOL. 2: SOURCE CODE TPB (2017) #1 Near Mint/Mint

BATGIRL & THE BIRDS OF PREY VOL. 3: FULL CIRCLE TPB (2018) #1 Near Mint/Mint

BATGIRL (2011) (#0-52) (DC NEW52) #39 HARLEY Near Mint/Mint


BATGIRL VOL. 1: BEYOND BURNSIDE TPB (DC REBIRTH) (2017) #1

BATGIRL VOL. 1: BEYOND BURNSIDE TPB (DC REBIRTH) (2017) #1 Near Mint/Mint

BATMAN (2011) (#0-52) (DC NEW52) #39 HARLEY Near Mint/Mint
BATMAN (2011) (#0-52) (DC NEW52) #47 VAR COLOR Fine

BATMAN & ROBIN VOL. 5: THE BIG BURN HC (2014) #1 Near Mint/Mint

BATMAN & ROBIN VOL. 5: THE BIG BURN TPB (2015) #1 Near Mint/Mint

BATMAN & ROBIN VOL. 6: HUNT FOR ROBIN HC (2015) #1 Near Mint/Mint

BATMAN & ROBIN VOL. 7: ROBIN RISES HC (2015) #1 Near Mint/Mint

BATMAN & ROBIN: BAD BLOOD ESSENTIAL EDITION TPB (2018) #1 Near Mint/Mint

BATMAN '66 MEETS STEED & MRS. PEEL TPB (2017) #1 Near Mint/Mint

BATMAN '66 MEETS WONDER WOMAN '77 HC (2017) #1 Near Mint/Mint

BATMAN '66: TV STORIES TPB (2013) #1 Near Mint/Mint

BATMAN ANNUAL (1961) (#1-28) (DC) #21 Very Fine
BATMAN ANNUAL (1961) (#1-28) (DC) #23 Near Mint/Mint
BATMAN ANNUAL (1961) (#1-28) (DC) #24 Very Fine

BATMAN BRAVE & THE BOLD BRONZE AGE OMNIBUS TPB (2017) #1 Near Mint/Mint

BATMAN BY BRIAN K. VAUGHAN TPB (2017) #1 Near Mint/Mint

BATMAN BY ED BRUBAKER TPB (2016) #1 Near Mint/Mint
BATMAN BY ED BRUBAKER TPB (2016) #2 Near Mint/Mint

BATMAN BY NEAL ADAMS TPB (2018) #1 Near Mint/Mint

BATMAN D.O.A. PRESTIGE (BOB HALL) (1999) #1 Very Fine

BATMAN REBIRTH HC (2017) #2 Near Mint/Mint

BATMAN THE CAPED CRUSADER TPB (2018) #1 Near Mint/Mint

BATMAN VOL. 2: I AM SUICIDE TPB (DC REBIRTH) (2017) #1 Near Mint/Mint


BATMAN VOL. 3: DEATH OF THE FAMILY TPB (2014) #1 3RD PRINT

BATMAN VOL. 3: DEATH OF THE FAMILY TPB (2014) #1 3RD PRINT Near Mint/Mint

BATMAN VOL. 3: I AM BANE TPB (DC REBIRTH) (2017) #1 Near Mint/Mint

BATMAN VOL. 4: WAR OF JOKES & RIDDLES TPB (DC REBIRTH) (2017) #1 Near Mint/Mint

BATMAN VOL. 5: RULES OF ENGAGEMENT TPB (DC REBIRTH) (2018) #1 Near Mint/Mint

BATMAN VS. BANE TPB (2012) #1 Very Fine

BATMAN/DAREDEVIL (DC) (MARVEL) (BATMAN AND DAREDEVIL) #1 Near Mint/Mint

BATMAN/SUPERMAN VOL. 2: GAME OVER TPB (2015) #1 Near Mint/Mint

BATMAN/SUPERMAN VOL. 3: SECOND CHANCE TPB (2015) #1 Near Mint/Mint

BATMAN/SUPERMAN VOL. 5: TRUTH HURTS HC (2016) #1 Near Mint/Mint

BATMAN/SUPERMAN VOL. 5: TRUTH HURTS TPB (2017) #1 Near Mint/Mint

BATMAN/SUPERMAN VOL. 6: UNIVERSES FINEST HC (2017) #1 Near Mint/Mint

BATMAN/SUPERMAN VOL. 6: UNIVERSES FINEST TPB (2017) #1 Near Mint/Mint

BATMAN/SUPERMAN VOL. 6: UNIVERSES FINEST TPB (2017) #1 Fine

BATMAN/TEENAGE MUTANT NINJA TURTLES TPB (2017) #1 Near Mint/Mint

BATMAN/THE SHADOW: MURDER GENIUSES HC (2017) #1 Near Mint/Mint

BATMAN/WILDCAT TPB (2017) #1 Near Mint/Mint

BATMAN: A LOT OF LIL GOTHAM TPB (2018) #1 Near Mint/Mint

BATMAN: ARKHAM - CLAYFACE TPB (2017) #1 Near Mint/Mint

BATMAN: ARKHAM - KILLER CROC TPB (2016) #1 Near Mint/Mint

BATMAN: ARKHAM - MANBAT TPB (2017) #1 Near Mint/Mint

BATMAN: ARKHAM - PENGUIN TPB (2018) #1 Near Mint/Mint


BATMAN: ARKHAM KNIGHT (2015) #2

BATMAN: ARKHAM KNIGHT (2015) #2 Near Mint/Mint

BATMAN: ARKHAM KNIGHT HC (2015) #2 Near Mint/Mint

BATMAN: ARKHAM ORIGINS HC (2014) #1 Near Mint/Mint

BATMAN: ARKHAM ORIGINS TPB (2015) #1 Near Mint/Mint

BATMAN: ARKHAM UNHINGED HC (2012) #4 Near Mint/Mint

BATMAN: ARKHAM UNHINGED TPB (2013) #4 Near Mint/Mint

BATMAN: BATTLE FOR THE COWL (2009) #2 Very Fine

BATMAN: BEYOND (1999) (#1-6) (BATMAN BEYOND) (DC) #1 FREE PROMO Near Mint/Mint

BATMAN: BEYOND THE RETURN OF THE JOKER (2000) #1 Very Fine

BATMAN: BEYOND VOL. 1: ESCAPING THE GRAVE TPB (REBIRTH) (2017) #1 Near Mint/Mint

BATMAN: BEYOND VOL. 2: RISE OF THE DEMON TPB (REBIRTH) (2018) #1 Near Mint/Mint

BATMAN: BEYOND VOL. 3: LONG PAYBACK TPB (REBIRTH) (2018) #1 Near Mint/Mint

BATMAN: BEYOND VOL. 3: WIRED FOR DEATH TPB (2017) #1 Near Mint/Mint

BATMAN: BLINK TPB (2015) #1 Near Mint/Mint

BATMAN: BRUCE WAYNE - THE ROAD HOME TPB (2012) #1 Fine

BATMAN: DEATH & THE MAIDENS TPB (2004) #1 Near Mint/Mint

BATMAN: DETECTIVE COMICS VOL. 3 - EMPEROR PENGUIN TPB (2014) #1 Near Mint/Mint

BATMAN: DETECTIVE COMICS VOL. 6 - ICARUS TPB (2016) #1 Near Mint/Mint

BATMAN: DETECTIVE COMICS VOL. 7 - ANARKY HC (2016) #1 Near Mint/Mint

BATMAN: DETECTIVE COMICS VOL. 7 - ANARKY TPB (2016) #1 Near Mint/Mint

BATMAN: DETECTIVE COMICS VOL. 8 - BLOOD OF HEROES TPB (2016) #1 Near Mint/Mint

BATMAN: DETECTIVE COMICS VOL. 9 - GORDON AT WAR HC (2016) #1 Near Mint/Mint


BATMAN: EVOLUTION TPB (2001) #1

BATMAN: EVOLUTION TPB (2001) #1 Fine

BATMAN: FACES TPB (MATT WAGNER) (2008) #1 2ND PRINT Near Mint/Mint

BATMAN: GORDON OF GOTHAM TPB (2014) #1 Fine
BATMAN: GORDON OF GOTHAM TPB (2014) #1 Very Fine

BATMAN: GOTHAM ADVENTURES (1998) #36 Very Fine

BATMAN: GREATEST BATMAN STORIES EVER TOLD TPB (2005) #1 Very Fine

BATMAN: HAUNTED KNIGHT TPB (2018) #1 Near Mint/Mint

BATMAN: KNIGHTQUEST VOL. 2: CRUSADE TPB (2018) #1 Near Mint/Mint

BATMAN: KNIGHTSEND TPB (2018) #1 Near Mint/Mint

BATMAN: LEGACY TPB (2017) #1 Near Mint/Mint

BATMAN: LEGENDS OF THE DARK KNIGHT TPB (2013) #3 Very Fine
BATMAN: LEGENDS OF THE DARK KNIGHT TPB (2013) #4 Near Mint/Mint
BATMAN: LEGENDS OF THE DARK KNIGHT TPB (2013) #5 Near Mint/Mint

BATMAN: LIL GOTHAM TPB (2014) #2 Near Mint/Mint

BATMAN: NEW GOTHAM TPB (2017) #1 Near Mint/Mint

BATMAN: NIGHT OF THE MONSTER MEN TPB (2017) #1 Near Mint/Mint

BATMAN: NIGHT OF THE OWLS TPB (2013) #1 Near Mint/Mint

BATMAN: NO MAN'S LAND SECRET FILES (1999) #1 Near Mint/Mint

BATMAN: NO MAN'S LAND TPB (BATGIRL) (1999) #3 Very Fine

BATMAN: SHADOW OF THE BAT ANNUAL (1993) #5 Near Mint/Mint

BATMAN: SHADOW OF THE BAT TPB (2016) #1 Very Fine
BATMAN: SHADOW OF THE BAT TPB (2016) #2 Near Mint/Mint

BATMAN: STREETS OF GOTHAM VOL. 1 - HUSH MONEY TPB (2011) #1 Fine


BATMAN: STREETS OF GOTHAM VOL. 2 - LEVIATHAN TPB (2011) #1

BATMAN: STREETS OF GOTHAM VOL. 2 - LEVIATHAN TPB (2011) #1 Near Mint/Mint

BATMAN: SUPER POWERS TPB (2018) #1 Near Mint/Mint

BATMAN: TALES OF THE MAN-BAT TPB (2018) #1 Near Mint/Mint

BATMAN: THE DARK KNIGHT DETECTIVE TPB (2018) #1 Near Mint/Mint

BATMAN: THE DARK KNIGHT VOL. 3: MAD HC (2014) #1 Near Mint/Mint

BATMAN: THE DARK KNIGHT VOL. 4: CLAY TPB (2015) #1 Near Mint/Mint

BATMAN: THE DARK KNIGHT VOL. 4: CLAY TPB (2015) #1 Very Fine

BATMAN: THE GOLDEN AGE TPB (2016) #2 Near Mint/Mint
BATMAN: THE GOLDEN AGE TPB (2016) #3 Near Mint/Mint

BATMAN: THROUGH THE LOOKING GLASS HC (SAM KIETH) (2011) #1 Fine

BATMAN: WAR GAMES TPB (2015) #2 Fine

BATMAN: YEAR ONE HUNDRED & OTHER STORIES DELUXE HC (2015) #1 Very Fine

BATWING VOL. 3: ENEMY OF THE STATE TPB (2014) #1 Near Mint/Mint

CATWOMAN (2002) (#1-83) (DC) #63 Very Fine

CATWOMAN (2011) (#1-52) (DC NEW52) #39 HARLEY Very Fine

CRISIS ON INFINITE EARTHS (1985) #3 NEWSSTAND Very Fine
CRISIS ON INFINITE EARTHS (1985) #6 Very Fine
CRISIS ON INFINITE EARTHS (1985) #7 NEWSSTAND Very Fine
CRISIS ON INFINITE EARTHS (1985) #8 NEWSSTAND Very Fine
CRISIS ON INFINITE EARTHS (1985) #9 NEWSSTAND Very Fine
CRISIS ON INFINITE EARTHS (1985) #10 NEWSSTAND Very Fine
CRISIS ON INFINITE EARTHS (1985) #11 NEWSSTAND Fine

DARK KNIGHT III: THE MASTER RACE TPB (2018) #1 Near Mint/Mint


DARK KNIGHT: MASTER RACE COVERS HC (2017) #1

DARK KNIGHT: MASTER RACE COVERS HC (2017) #1 Near Mint/Mint

DC COMICS/DARK HORSE: BATMAN VS. PREDATOR TPB (2017) #1 Near Mint/Mint

DETECTIVE COMICS REBIRTH HC (2017) #2 Near Mint/Mint

DETECTIVE COMICS VOL. 4: DEUS EX MACHINA TPB (REBIRTH) (2017) #1 Near Mint/Mint

DETECTIVE COMICS VOL. 5: LONELY PLACE OF LIVING TPB (2018) #1 Near Mint/Mint

DETECTIVE COMICS VOL. 7: BATMAN ETERNAL TPB (2018) #1 Near Mint/Mint

DETECTIVE COMICS VOL. 8: ON THE OUTSIDE TPB (2018) #1 Near Mint/Mint

ELSEWORLDS: BATMAN TPB (2016) #1 Near Mint/Mint
ELSEWORLDS: BATMAN TPB (2016) #2 Near Mint/Mint
ELSEWORLDS: BATMAN TPB (2016) #3 Near Mint/Mint

FOREVER EVIL HC (2014) #1 Near Mint/Mint

FOREVER EVIL TPB (2015) #1 Near Mint/Mint

FREE COUNTRY: TALE OF THE CHILDREN'S CRUSADE HC (2015) #1 Near Mint/Mint

FREE COUNTRY: TALE OF THE CHILDREN'S CRUSADE TPB (2017) #1 Near Mint/Mint

GIANT BATMAN ANNUAL REPLICA EDITION (1999) #1 Near Mint/Mint

GREEN LANTERN (1990) (#0-181) (DC) #119 Near Mint/Mint

GREEN LANTERN 80-PAGE ANNUAL #1 Near Mint/Mint

GREEN LANTERN 80-PAGE GIANT ANNUAL (1963 REPLICA) (1998) #1 Near Mint/Mint

GREEN LANTERN SECRET FILES (1998) #1 Very Fine

GREEN LANTERN/SUPERMAN: LEGENDS OF THE GREEN FLAME (2000) #1 Near Mint/Mint

GREEN LANTERN: DRAGON LORD (2001) #2 Near Mint/Mint

GREEN LANTERN: THE NEW CORPS (1999) #1 Near Mint/Mint
GREEN LANTERN: THE NEW CORPS (1999) #2 Near Mint/Mint

JLA 80-PAGE GIANT (1998) #1 Very Fine

JSA KINGDOM COME SPECIAL: SUPERMAN (2008) #1 Near Mint/Mint

KENTS (1997) #12 Near Mint/Mint

LEGENDS OF THE DARK KNIGHT (BATMAN) (1989) #15 Very Fine

LEGENDS OF THE DC UNIVERSE (1998) #10 Near Mint/Mint
LEGENDS OF THE DC UNIVERSE (1998) #30 Near Mint/Mint
LEGENDS OF THE DC UNIVERSE (1998) #31 Near Mint/Mint
LEGENDS OF THE DC UNIVERSE (1998) #32 Near Mint/Mint

LEGENDS OF THE DC UNIVERSE CRISIS ON INFINITE EARTHS (1999) #1 Very Fine

LEGION OF SUPER-HEROES (1989) (#1-125) (DC) #100 Near Mint/Mint

MAN OF STEEL (2018) (#1-6) (DC) #3 Near Mint/Mint

MARTIAN MANHUNTER (1998) (#0-36) #18 Near Mint/Mint

MORE SECRET ORIGINS 80-PAGE GIANT REPLICA EDITION (2003) #1 Near Mint/Mint

NIGHTWING ANNUAL (1996) (#1-2) (DC) #1 Near Mint/Mint
NIGHTWING ANNUAL (1996) (#1-2) (DC) #1 Very Fine

POWER OF SHAZAM (1995) #46 Very Fine

POWER OF SHAZAM ANNUAL (1996) #1 Very Fine

PREACHER (1995) #21 (DC: Vertigo Press) Near Mint/Mint
PREACHER (1995) #22 (DC: Vertigo Press) Near Mint/Mint
PREACHER (1995) #23 UNBAGGED (DC: Vertigo Press) Near Mint/Mint
PREACHER (1995) #24 (DC: Vertigo Press) Very Good
PREACHER (1995) #25 (DC: Vertigo Press) Near Mint/Mint
PREACHER (1995) #26 (DC: Vertigo Press) Near Mint/Mint
PREACHER (1995) #27 (DC: Vertigo Press) Near Mint/Mint
PREACHER (1995) #38 (DC: Vertigo Press) Very Fine
PREACHER (1995) #42 (DC: Vertigo Press) Very Fine
PREACHER (1995) #44 (DC: Vertigo Press) Near Mint/Mint
PREACHER (1995) #46 (DC: Vertigo Press) Near Mint/Mint
PREACHER (1995) #47 (DC: Vertigo Press) Near Mint/Mint

PREACHER (1995) #50 (DC: Vertigo Press) Near Mint/Mint
PREACHER (1995) #51 (DC: Vertigo Press) Near Mint/Mint
PREACHER (1995) #55 (DC: Vertigo Press) Near Mint/Mint
PREACHER (1995) #56 (DC: Vertigo Press) Very Fine
PREACHER (1995) #57 (DC: Vertigo Press) Near Mint/Mint
PREACHER (1995) #58 (DC: Vertigo Press) Near Mint/Mint
PREACHER (1995) #59 (DC: Vertigo Press) Near Mint/Mint
PREACHER (1995) #60 (DC: Vertigo Press) Fine
PREACHER (1995) #61 (DC: Vertigo Press) Near Mint/Mint
PREACHER (1995) #62 (DC: Vertigo Press) Very Good
PREACHER (1995) #63 (DC: Vertigo Press) Very Good
PREACHER (1995) #64 (DC: Vertigo Press) Very Good
PREACHER (1995) #65 (DC: Vertigo Press) Fine
PREACHER (1995) #66 (DC: Vertigo Press) Fine

SUPERMAN (1939) (#1-423) (DC) #415 Fine

SUPERMAN & BATMAN GENERATIONS (1999) #1 Very Fine
SUPERMAN & BATMAN GENERATIONS (1999) #2 Near Mint/Mint
SUPERMAN & BATMAN GENERATIONS (1999) #3 Near Mint/Mint
SUPERMAN & BATMAN GENERATIONS (1999) #4 Near Mint/Mint

SUPERMAN VS. PREDATOR (2000) #1 Near Mint/Mint
SUPERMAN VS. PREDATOR (2000) #2 Near Mint/Mint
SUPERMAN VS. PREDATOR (2000) #3 Near Mint/Mint

WONDER WOMAN (2016) (#1-UP) (DC REBIRTH) #63 VARIANT Near Mint/Mint

DARK HORSE COMICS
AXE COP VOL. 4: PRESIDENT OF THE WORLD TPB (DARK HORSE) (2013) #1 Near Mint/Mint

AXE COP VOL. 5: AXE COP GETS MARRIED TPB (DARK HORSE) (2014) #1 Near Mint/Mint

AXE COP VOL. 6: AMERICAN CHOPPERS TPB (DARK HORSE) (2014) #1 Near Mint/Mint

BALTIMORE VOL. 8: RED KINGDOM HC (2017) #1 Very Fine

BANDETTE VOL. 2: STEALERS KEEPERS HC (2015) #1 Near Mint/Mint

BARB WIRE VOL. 1: STEEL HARBOR BLUES TPB (2016) #1 Near Mint/Mint

BARB WIRE VOL. 2: HOTWIRED TPB (2016) #1 Near Mint/Mint

BPRD: NIGHT TRAIN (2003) #1 Near Mint/Mint

SUPERMAN VS. TERMINATOR: DEATH TO THE FUTURE (2000) #3 Near Mint/Mint

IMAGE COMICS
CYBERFORCE (1992) (#0-4) (IMAGE) #1 NEWSSTAND (Image Top Cow) Near Mint/Mint

CYBERFORCE ORIGINS SPECIAL: CYBLADE #1 (Image Top Cow) Near Mint/Mint

WALKING DEAD (#1-UP) (IMAGE) (2003) #100 A Near Mint/Mint

INDEPENDENTS
ANOTHER SUBURBAN ROMANCE (AVATAR) (ALAN MOORE) (2003) #1 (Avatar Comics) Fine

ARMAGEDDON (CHAOS) (BRIAN PULIDO) (1999) #1 (Chaos Comics) Near Mint/Mint

BABYTEETH TPB (2017) #2 (After-Shock Comics) Near Mint/Mint

BACK TO THE FUTURE VOL. 2: CONTINUUM CONUNDRUM TPB (2016) #1 (IDW Publishing) Near Mint/Mint

BACK TO THE FUTURE VOL. 3: WHO IS MARTY MCFLY TPB (2017) #1 (IDW Publishing) Near Mint/Mint

BAD DREAMS TPB (2015) #1 (Red 5 Comics) Near Mint/Mint

BAD SIGNAL (AVATAR) (2002) #1 (Avatar Comics) Fine
BAD SIGNAL (AVATAR) (2002) #2 (Avatar Comics) Fine

COMPLETE BADGER TPB (2007) #1 (IDW Publishing) Near Mint/Mint

EERIE MAGAZINE (1965) #34 (Warren Publishing Company) Near Mint/Mint

FLYING SAUCERS VS. EARTH TPB (2008) #1 (Blue Water Comics) Near Mint/Mint

FREAKANGELS TPB (2008) #1 (Avatar Comics) Near Mint/Mint

FREAKY BEASTIE OF HILL ROAD SCHOOL TPB (2002) #1 (Rising Trout Press) Near Mint/Mint

KILLER INSIDE ME (2016) #1 (IDW Publishing) Near Mint/Mint

LADY DEATH (2011) (#0-26) (BOUNDLESS) #18 ART DECO (Boundless Comics) Very Fine

LADY DEATH: FETISHES SPECIAL (2006) #1 CYBERBABE (Avatar Comics) Near Mint/Mint

MAGNUS ROBOT FIGHTER (1991) (#0-64) (VALIANT) #7 W/ CARD (Acclaim/Valiant) Very Fine

NODWICK #1 (Henchman Publishing) Near Mint/Mint
NODWICK #2 (Henchman Publishing) Near Mint/Mint
NODWICK #3 (Henchman Publishing) Near Mint/Mint
NODWICK #4 (Henchman Publishing) Near Mint/Mint
NODWICK #5 (Henchman Publishing) Near Mint/Mint
NODWICK #6 (Henchman Publishing) Near Mint/Mint
NODWICK #7 (Henchman Publishing) Near Mint/Mint
NODWICK #8 (Henchman Publishing) Near Mint/Mint
NODWICK #9 (Henchman Publishing) Near Mint/Mint
NODWICK #10 (Henchman Publishing) Near Mint/Mint
NODWICK #12 (Henchman Publishing) Near Mint/Mint
NODWICK #13 (Henchman Publishing) Near Mint/Mint
NODWICK #14 (Henchman Publishing) Near Mint/Mint
NODWICK #15 (Henchman Publishing) Near Mint/Mint
NODWICK #16 (Henchman Publishing) Near Mint/Mint