50% Off All Comic Books WOODCHUCK! Sale
Howdy!
We had an absolutely wonderful weekend here at Mile High Comics! Our monthly Texas Hold'em poker tournament set a new record for attendance with 83 players, our no-minimum-bid comics and collectibles auction was a huge success, and we doled out over $5,000.00 in just 72 hours on over a dozen awesome comics, books, and toy collections. Woo!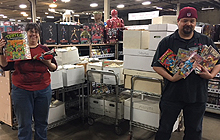 5,000+ Comics and Toys Purchased on Saturday!

Speaking of poker games, our next benefit tournament is already scheduled for March 3rd, starting at 11 AM, at our Jason St. store. This next tournament will be extra-special, as it will be intended to help us to offset the costs of the food and drink at our Imperial Court of the Rocky Mountain Empire Hospitality Suite. As you may already are aware, ICRME is a local LGBTQ organization that helps to raise donations for other 501-C3 charities here in the Denver area. I have worked with ICRME for the past seven years, personally raising over $100,000.00 in donations to help local sick children, veterans, and the poor.
In between working hard for the disadvantaged, the members of ICRME do also try to have some have fun. In particular, we host an annual Coronation Ball each year on Easter weekend, during which we crown our newest Emperor and Empress. This crowning takes place in front of a huge audience that typically includes hundreds of Monarchs and other guests from a slew of out-of-state Courts. As the host Court, we are responsible for providing our guests with refreshments, the cost of which can really add up over a three-day weekend.
With that upcoming cost burden in mind, I agreed to double our prizes for our March poker tournament to a total $2,000.00 in Mile High Comics gift certificates, including an incredible $1,000.00 shopping spree for the winner! It should come as no surprise that I am going to be purchasing four more tables for that tournament, and a whole lot more chips. I think there is a high probability that the March 3rd event will attract well over 100 players, which would be our highest attendance, ever. If you live near Denver, and would like to play, please do sign up right away. Your $25 buy-in will be immediately refunded via a $25 gift certificate, so you effectively are playing in the tournament for free. I think that we will be limiting the number of players this time, as we do not have enough experienced dealers...
In other news, since we were so overwhelmingly busy on Saturday and Sunday, it should come as no surprise that we were only able to add a few back issues into New-In-Stock over the weekend. Will did manage to grade a nice group of X-MEN (1963), however, including some of the scarce John Byrne issues. He also graded about 100 other premium issues, so the list at the end of this newsletter is actually quite respectable. All of the cool back issues are available to you right now at 50% off when you use our annual WOODCHUCK! codeword sale. Only new issues, a few variants, and our professionally-graded comics are excluded from the half price WOODCHUCK! codeword sale. Please do enjoy these generous savings with our sincere thanks for all of your kindness, and support.
I will close today's newsletter with a fun cartoon that my good friend, Dave Hinson from Ft. Mill, SC shared with me this morning. Truth!
Happy collecting!
Chuck Rozanski,
President - Mile High Comics, Inc.
January 29, 2018

List of newest arrivals:
MARVEL
CABLE AND DEADPOOL (2003) #4 Very Fine
CABLE AND DEADPOOL (2003) #5 Near Mint/Mint
CABLE AND DEADPOOL (2003) #20 Fine

CLOAK AND DAGGER (1985) #3 Very Fine

GI JOE #21 NEWSSTAND Good

KICK ASS (2008) #1 UMPTEENTH Very Fine
KICK ASS (2008) #2 2ND PRINT Very Fine

MALIBU SUN (1991) #13 (Marvel Malibu/Ultraverse) Fine

MARVEL VS. DC #3 Near Mint/Mint

NEW MUTANTS ANNUAL (1983) #2 Fine

SECRET WARS (1984) #1 Very Fine


SECRET WARS (2015) #1 DFE ALT CV

SECRET WARS (2015) #1 DFE ALT CV Near Mint/Mint

SPIDER-MAN (1963) (AMAZING SPIDER-MAN) (#1-441) #298 Fine
SPIDER-MAN (1963) (AMAZING SPIDER-MAN) (#1-441) #300 Very Fine

STAR WARS (2015) (#1-UP) (MARVEL) #1 FAN EXPO Near Mint/Mint
STAR WARS (2015) (#1-UP) (MARVEL) #1 LOOTCRATE Near Mint/Mint

WHAT IF... (1989) #49 Near Mint/Mint

X-FACTOR (#1-149) (ORIGINAL X-MEN) (1986) #6 NEWSSTAND Near Mint/Mint

X-MEN (1963) (#1-113, UNCANNY X-MEN #114-544) (MARVEL) #128 NEWSSTAND Fair
X-MEN (1963) (#1-113, UNCANNY X-MEN #114-544) (MARVEL) #129 NEWSSTAND Good
X-MEN (1963) (#1-113, UNCANNY X-MEN #114-544) (MARVEL) #134 NEWSSTAND Good
X-MEN (1963) (#1-113, UNCANNY X-MEN #114-544) (MARVEL) #135 NEWSSTAND Fair
X-MEN (1963) (#1-113, UNCANNY X-MEN #114-544) (MARVEL) #136 NEWSSTAND Good
X-MEN (1963) (#1-113, UNCANNY X-MEN #114-544) (MARVEL) #137 NEWSSTAND Good
X-MEN (1963) (#1-113, UNCANNY X-MEN #114-544) (MARVEL) #139 Very Fine
X-MEN (1963) (#1-113, UNCANNY X-MEN #114-544) (MARVEL) #141 Very Fine


X-MEN (1963) (#1-113, UNCANNY X-MEN #114-544) (MARVEL) #153

X-MEN (1963) (#1-113, UNCANNY X-MEN #114-544) (MARVEL) #153 Near Mint/Mint
X-MEN (1963) (#1-113, UNCANNY X-MEN #114-544) (MARVEL) #154 Near Mint/Mint
X-MEN (1963) (#1-113, UNCANNY X-MEN #114-544) (MARVEL) #155 Very Fine
X-MEN (1963) (#1-113, UNCANNY X-MEN #114-544) (MARVEL) #156 Very Fine
X-MEN (1963) (#1-113, UNCANNY X-MEN #114-544) (MARVEL) #157 Fine
X-MEN (1963) (#1-113, UNCANNY X-MEN #114-544) (MARVEL) #158 Fine
X-MEN (1963) (#1-113, UNCANNY X-MEN #114-544) (MARVEL) #159 Fine
X-MEN (1963) (#1-113, UNCANNY X-MEN #114-544) (MARVEL) #160 Very Fine
X-MEN (1963) (#1-113, UNCANNY X-MEN #114-544) (MARVEL) #162 Fine
X-MEN (1963) (#1-113, UNCANNY X-MEN #114-544) (MARVEL) #164 Very Fine
X-MEN (1963) (#1-113, UNCANNY X-MEN #114-544) (MARVEL) #165 NEWSSTAND Fine
X-MEN (1963) (#1-113, UNCANNY X-MEN #114-544) (MARVEL) #167 Very Fine
X-MEN (1963) (#1-113, UNCANNY X-MEN #114-544) (MARVEL) #170 Very Fine
X-MEN (1963) (#1-113, UNCANNY X-MEN #114-544) (MARVEL) #171 Fine
X-MEN (1963) (#1-113, UNCANNY X-MEN #114-544) (MARVEL) #172 Very Fine


X-MEN (1963) (#1-113, UNCANNY X-MEN #114-544) (MARVEL) #173

X-MEN (1963) (#1-113, UNCANNY X-MEN #114-544) (MARVEL) #173 Fine
X-MEN (1963) (#1-113, UNCANNY X-MEN #114-544) (MARVEL) #175 Very Fine
X-MEN (1963) (#1-113, UNCANNY X-MEN #114-544) (MARVEL) #179 Very Fine
X-MEN (1963) (#1-113, UNCANNY X-MEN #114-544) (MARVEL) #180 Near Mint/Mint
X-MEN (1963) (#1-113, UNCANNY X-MEN #114-544) (MARVEL) #181 NEWSSTAND Very Fine
X-MEN (1963) (#1-113, UNCANNY X-MEN #114-544) (MARVEL) #182 Very Fine
X-MEN (1963) (#1-113, UNCANNY X-MEN #114-544) (MARVEL) #183 Near Mint/Mint
X-MEN (1963) (#1-113, UNCANNY X-MEN #114-544) (MARVEL) #185 Near Mint/Mint
X-MEN (1963) (#1-113, UNCANNY X-MEN #114-544) (MARVEL) #189 NEWSSTAND Fine
X-MEN (1963) (#1-113, UNCANNY X-MEN #114-544) (MARVEL) #190 NEWSSTAND Fine
X-MEN (1963) (#1-113, UNCANNY X-MEN #114-544) (MARVEL) #193 NEWSSTAND Very Fine
X-MEN (1963) (#1-113, UNCANNY X-MEN #114-544) (MARVEL) #199 Very Fine
X-MEN (1963) (#1-113, UNCANNY X-MEN #114-544) (MARVEL) #205 NEWSSTAND Very Fine
X-MEN (1963) (#1-113, UNCANNY X-MEN #114-544) (MARVEL) #207 NEWSSTAND Fine
X-MEN (1963) (#1-113, UNCANNY X-MEN #114-544) (MARVEL) #210 Very Fine
X-MEN (1963) (#1-113, UNCANNY X-MEN #114-544) (MARVEL) #211 Very Fine


X-MEN (1963) (#1-113, UNCANNY X-MEN #114-544) (MARVEL) #212

X-MEN (1963) (#1-113, UNCANNY X-MEN #114-544) (MARVEL) #212 Fine
X-MEN (1963) (#1-113, UNCANNY X-MEN #114-544) (MARVEL) #213 Very Fine
X-MEN (1963) (#1-113, UNCANNY X-MEN #114-544) (MARVEL) #216 Near Mint/Mint
X-MEN (1963) (#1-113, UNCANNY X-MEN #114-544) (MARVEL) #218 Very Fine
X-MEN (1963) (#1-113, UNCANNY X-MEN #114-544) (MARVEL) #219 NEWSSTAND Fine
X-MEN (1963) (#1-113, UNCANNY X-MEN #114-544) (MARVEL) #219 Very Fine
X-MEN (1963) (#1-113, UNCANNY X-MEN #114-544) (MARVEL) #220 Near Mint/Mint
X-MEN (1963) (#1-113, UNCANNY X-MEN #114-544) (MARVEL) #220 NEWSSTAND Very Fine
X-MEN (1963) (#1-113, UNCANNY X-MEN #114-544) (MARVEL) #221 Very Fine
X-MEN (1963) (#1-113, UNCANNY X-MEN #114-544) (MARVEL) #222 Fine
X-MEN (1963) (#1-113, UNCANNY X-MEN #114-544) (MARVEL) #223 Near Mint/Mint

DC
ALL-STAR SQUADRON (1981) #51 Near Mint/Mint

BATMAN (1940) (#0-713) (DC) #142 Very Good
BATMAN (1940) (#0-713) (DC) #381 NEWSSTAND Near Mint/Mint
BATMAN (1940) (#0-713) (DC) #423 Very Fine


HARLEY QUINN: BE CAREFUL WHAT YOU WISH FOR (LOOT CRATE) (2016) #1

HARLEY QUINN: BE CAREFUL WHAT YOU WISH FOR (LOOT CRATE) (2016) #1 Near Mint/Mint

JUSTICE LEAGUE EUROPE (INTERNATIONAL #51-UP) (1989) #33 Near Mint/Mint
JUSTICE LEAGUE EUROPE (INTERNATIONAL #51-UP) (1989) #33 Very Fine

OMEGA MEN (1982) #3 Very Fine

SHAZAM! (1973) #5 Very Fine

SHOWCASE (1956) #61 Good

SUPERMAN: MAN OF STEEL (1991) #17 2ND PRT Very Fine

DARK HORSE COMICS
HELLBOY: SEED OF DESTRUCTION (1994) #1 Very Fine
HELLBOY: SEED OF DESTRUCTION (1994) #2 Near Mint/Mint
HELLBOY: SEED OF DESTRUCTION (1994) #3 Near Mint/Mint
HELLBOY: SEED OF DESTRUCTION (1994) #4 Fine

MADMAN COMICS (1994) #5 Near Mint/Mint
MADMAN COMICS (1994) #7 Near Mint/Mint

IMAGE COMICS
SEX (2013) #1 Near Mint/Mint

INDEPENDENTS
DONALD DUCK ADVENTURES (1990) #1 (Walt Disney Company) Near Mint/Mint

PLANET COMICS (BLACKTHORNE) (1988) #1 (Blackthorne Publishing) Very Fine

SCUD THE DISPOSABLE ASSASSIN (1994) (#1-20) (FIREMAN) #1 (Fire Man Press) Very Fine

STAR WARS GALAXY COLLECTOR MAGAZINE (TOPPS PUBLISHING) (1998) #6 UNBAGGED (Topps Publishing) Fine
STAR WARS GALAXY COLLECTOR MAGAZINE (TOPPS PUBLISHING) (1998) #8 UNBAGGED (Topps Publishing) Very Good

TALES OF JERRY #9 (Hacienda Publications) Fine