40% Off Comics Sale - More Silver Age Arrives
Howdy!
Now that we have finally received our check from our insurance company for the hail damage that we incurred back on May 8th, we have begun a major online collectibles buying program here in Denver via a small ad on Facebook. In just the first 18 hours, we have had nearly 400 Colorado fans "like" our new FB buying ad, which leads me to believe that we are going to be seeing a considerable number of collections over the next few days. That will be fine, as we will utilize as many items as we can from those prospective deals to fill in holes in our inventory, while duplicates will be immediately assigned into our big benefit auction for this weekend.
In case you are wondering, this weekend's auction is to help us to pay for our fourth immense comic book cover banner for on the outside of Jason St. Our newest banner (featuring the iconic Sand Serif cover to the THE SPIRIT #22) is a tribute to comics legend, Will Eisner, who was a good friend of mine. I think that Will's stunningly beautiful image will attract a considerable amount of attention, as we will be hanging it so that it is clearly visible to the 400,000+ cars and trucks that drive by our Jason St. mega-Store each day on I-70. Our Saturday morning the auction begins at 11:30 AM, and will feature at least 500 great comics, and other collectibles.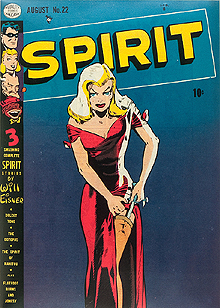 Will Eisner's Sand Serif Cover

In other new, we will also be hosting another of our famous Texas Hold'em Poker Tournaments at Jason St. this Saturday, beginning at 11:00 AM. Your cost to join the game is only $25, which is immediately reimbursed to you (if you register in advance) via a $25 store gift certificate. Our beneficiary for this month's game will be a program that pays the costs for children who cannot afford to attend summer camp at the Mile Hi Church of Religious Science in south Denver. As always, Mile High Comics will be donating $1,000 in gift certificates as prizes. We had 63 players at our last tournament, and it was great fun!
My only other news note for today is a quick reminder that our 40% off BARGAINS! codeword sale is still available to you on all ten million of our back issue comics and magazines, excluding only new issues, a few variants, and our professionally-graded comics. Pam has added even more scarce Silver Age and Bronze Age comics for you into Premium New-In-Stock and New-In-Stock this week. Almost all are eligible for the 40% off BARGAINS! discount.
Happy collecting!
Chuck Rozanski,
President - Mile High Comics, Inc.
January 24, 2018

P.S. Below are some of our most recent arrivals:
MARVEL

BLACK PANTHER (1998) (#1-62) (MARVEL) #8

BLACK PANTHER (1998) (#1-62) (MARVEL) #8 Near Mint/Mint
BLACK PANTHER (1998) (#1-62) (MARVEL) #8 Very Fine
BLACK PANTHER (1998) (#1-62) (MARVEL) #9 Near Mint/Mint
BLACK PANTHER (1998) (#1-62) (MARVEL) #10 Near Mint/Mint
BLACK PANTHER (1998) (#1-62) (MARVEL) #11 Near Mint/Mint
BLACK PANTHER (1998) (#1-62) (MARVEL) #12 Near Mint/Mint

DAREDEVIL (1998) (#1-119, 500-512) (MARVEL) #8 Near Mint/Mint

DARTH VADER (STAR WARS) (2015) #1 GILLEN SGN Near Mint/Mint
DARTH VADER (STAR WARS) (2015) #2 GILLEN SGN Near Mint/Mint
DARTH VADER (STAR WARS) (2015) #3 GILLEN SGN Near Mint/Mint
DARTH VADER (STAR WARS) (2015) #4 GILLEN SGN Near Mint/Mint
DARTH VADER (STAR WARS) (2015) #5 GILLEN SGN Near Mint/Mint

DEADPOOL VS. THANOS (2015) #1 BAM Near Mint/Mint

DEADPOOL'S SECRET SECRET WARS (2015) #1 BAM Near Mint/Mint

DOCTOR STRANGE (2015) (#1-26) (MARVEL) (DR. STRANGE) #1 MIDTOWN ED Near Mint/Mint

ESSENTIAL X-MEN TPB (1996) #2 5TH PRINT Very Fine
ESSENTIAL X-MEN TPB (1996) #2 4TH PRINT Very Good
ESSENTIAL X-MEN TPB (1996) #2 5TH PRINT Fine

ETERNALS BY NEIL GAIMAN HC (2007) #1 VARIANT Very Good

HOUSE OF M TPB (2006) #1 Very Good

HULK & HUMAN TORCH: FROM THE MARVEL VAULT (2011) #1 NEWS 3.99 Near Mint/Mint

MARVEL ADVENTURES: SPIDER-MAN (2010) #16 NEWSSTAND Near Mint/Mint

MARVEL SPOTLIGHT COLL PACK (X-MEN #304,X-FA#92,X-FO#25) (1993) #1 Near Mint/Mint

MARVEL SUPER-HEROES (1967) #15 Fine
MARVEL SUPER-HEROES (1967) #15 Good
MARVEL SUPER-HEROES (1967) #15 Very Good
MARVEL SUPER-HEROES (1967) #16 Fine
MARVEL SUPER-HEROES (1967) #16 Good


MARVEL SUPER-HEROES (1967) #16

MARVEL SUPER-HEROES (1967) #16 Very Good
MARVEL SUPER-HEROES (1967) #17 Good
MARVEL SUPER-HEROES (1967) #17 Fine
MARVEL SUPER-HEROES (1967) #17 Very Good

MARVEL SUPER-HEROES SECRET WARS STAMP FUN BOOK (1984) #1 Very Fine

MARVEL TALES (1964) #3 Fine
MARVEL TALES (1964) #3 Very Good
MARVEL TALES (1964) #4 Fine
MARVEL TALES (1964) #4 Very Good
MARVEL TALES (1964) #5 Fine
MARVEL TALES (1964) #5 Very Good
MARVEL TALES (1964) #13 Fine
MARVEL TALES (1964) #13 Very Good
MARVEL TALES (1964) #15 Very Good
MARVEL TALES (1964) #16 Fine
MARVEL TALES (1964) #16 Very Fine
MARVEL TALES (1964) #16 Very Good
MARVEL TALES (1964) #17 Fine
MARVEL TALES (1964) #21 Fine
MARVEL TALES (1964) #23 Fine
MARVEL TALES (1964) #25 Fine
MARVEL TALES (1964) #25 Very Fine
MARVEL TALES (1964) #28 Fine
MARVEL TALES (1964) #31 Fine
MARVEL TALES (1964) #33 Fine
MARVEL TALES (1964) #141 NEWSSTAND Fine

MARVEL VS. DC #2 Near Mint/Mint

MASTER OF KUNG FU (1974) (#15-125) (MARVEL) (SHANG-CHI) #16 Fine
MASTER OF KUNG FU (1974) (#15-125) (MARVEL) (SHANG-CHI) #16 Good

MILLIE THE MODEL (1945) #148 Very Fine
MILLIE THE MODEL (1945) #159 Fine
MILLIE THE MODEL (1945) #161 Good
MILLIE THE MODEL (1945) #161 Fine
MILLIE THE MODEL (1945) #161 Very Good
MILLIE THE MODEL (1945) #165 Fine
MILLIE THE MODEL (1945) #165 Very Good

MILLIE THE MODEL (1945) #171 Good
MILLIE THE MODEL (1945) #171 Very Good
MILLIE THE MODEL (1945) #172 Fine
MILLIE THE MODEL (1945) #172 Very Fine
MILLIE THE MODEL (1945) #175 Fine
MILLIE THE MODEL (1945) #178 Fine
MILLIE THE MODEL (1945) #187 Very Good

MODELING WITH MILLIE #51 Very Fine
MODELING WITH MILLIE #52 Fine
MODELING WITH MILLIE #52 Very Fine

MONSTERS ON THE PROWL (1971) #14 Very Good
MONSTERS ON THE PROWL (1971) #16 Fine
MONSTERS ON THE PROWL (1971) #16 Very Good

NEMESIS (2010) #4 VARIANT Near Mint/Mint

NEW AVENGERS (2010) (#1-34) (MARVEL) #16 SKETCH ALT Near Mint/Mint
NEW AVENGERS (2010) (#1-34) (MARVEL) #24 VARIANT Near Mint/Mint

NEW AVENGERS ANNUAL (2011) #1 VARIANT Near Mint/Mint

NEW MUTANTS (1983) (#1-100) (MARVEL) #1 Near Mint/Mint
NEW MUTANTS (1983) (#1-100) (MARVEL) #1 NEWSSTAND Very Fine
NEW MUTANTS (1983) (#1-100) (MARVEL) #1 NEWSSTAND Fine

OLD MAN LOGAN (2015) (#1-5) (MARVEL SECRET WARS) #1 BAM B&W Near Mint/Mint

SECRET WARRIORS (2017) (#1-UP) (MARVEL) #1 ROSEN SGN Near Mint/Mint

SGT. FURY AND HIS HOWLING COMMANDOS ANNUAL (1965) #5 Very Good

SPIDER-MAN (1963) (AMAZING SPIDER-MAN) (#1-441) #324 MCFAR SGN Good

SPIDER-MAN TEAM-UP (1995) #5 NEWSSTAND Fine


SPIDER-MAN/DR. STRANGE: WAY TO DUSTY DEATH (1992) #1

SPIDER-MAN/DR. STRANGE: WAY TO DUSTY DEATH (1992) #1 Near Mint/Mint

SPIDER-MAN: FEVER (#1-3) (MARVEL KNIGHTS) (2010) #3 NEWSSTAND Very Good

SPIDER-MAN: REVENGE OF THE GREEN GOBLIN TPB (2002) #1 Very Good

STAND: CAPTAIN TRIPS HC (2009) #1 Fine

STAR WARS: POE DAMERON (2016) #1 FRIED PIE Near Mint/Mint

TALES OF SUSPENSE (1959) (#1-99) (ATLAS/MARVEL) #98 STAN LEE Very Good

TOMB OF DRACULA (1991) (#1-4) (MARVEL) (PRESTIGE) #1 NEWSSTAND Near Mint/Mint
TOMB OF DRACULA (1991) (#1-4) (MARVEL) (PRESTIGE) #2 NEWSSTAND Near Mint/Mint
TOMB OF DRACULA (1991) (#1-4) (MARVEL) (PRESTIGE) #3 NEWSSTAND Near Mint/Mint
TOMB OF DRACULA (1991) (#1-4) (MARVEL) (PRESTIGE) #4 NEWSSTAND Near Mint/Mint

ULTIMATE DAREDEVIL & ELEKTRA TPB (2003) #1 Very Good

ULTIMATE SPIDER-MAN TPB #7 Fine

ULTIMATE SPIDER-MAN ULTIMATE COLLECTION TPB (2007) #1 Fine

UNTOLD TALES OF SPIDER-MAN: STRANGE ENCOUNTER (1998) #1 Very Fine

VENOM: CARNAGE UNLEASHED (1995) #1 Very Fine
VENOM: CARNAGE UNLEASHED (1995) #2 Near Mint/Mint
VENOM: CARNAGE UNLEASHED (1995) #3 Very Fine
VENOM: CARNAGE UNLEASHED (1995) #4 Very Fine

VENOM: NIGHTS OF VENGEANCE (1994) #1 Near Mint/Mint
VENOM: NIGHTS OF VENGEANCE (1994) #4 Near Mint/Mint

VENOM: SEPARATION ANXIETY (1994) #3 Near Mint/Mint
VENOM: SEPARATION ANXIETY (1994) #4 Near Mint/Mint

X-MEN '92 (2015) #1 BAM Near Mint/Mint

DC

BATMAN (1940) (#0-713) (DC) #183

BATMAN (1940) (#0-713) (DC) #183 Very Good

BATMAN: A DEATH IN THE FAMILY TPB (1988) #1 1ST PRT Near Mint/Mint
BATMAN: A DEATH IN THE FAMILY TPB (1988) #1 1ST PRT Fine
BATMAN: A DEATH IN THE FAMILY TPB (1988) #1 1ST PRT Very Good

BATMAN: BANE OF THE DEMON (1998) #4 Near Mint/Mint

BATMAN: BROKEN CITY COLLECTION (2004) #1 TPB Near Mint/Mint

BATMAN: BRUCE WAYNE - FUGITIVE TPB (2002) #2 3RD PRINT Very Fine

BATMAN: THE ULTIMATE EVIL (ANDREW VACHSS) (PRESTIGE) (1995) #2 Near Mint/Mint

BEST OF STAR TREK: THE NEXT GENERATION TPB #1 Near Mint/Mint

BIRDS OF PREY: BATGIRL (1998) #1 Near Mint/Mint

BLACK CANARY/ORACLE: BIRDS OF PREY (1996) #1 Near Mint/Mint

BRAVE AND THE BOLD (1955) #28 LOOTCRATE Near Mint/Mint

DEATH OF SUPERMAN TPB #1 Near Mint/Mint
DEATH OF SUPERMAN TPB #1 NEWSSTAND Good

GOTHAM CITY SIRENS (2009) #1 Fine
GOTHAM CITY SIRENS (2009) #16 Fine
GOTHAM CITY SIRENS (2009) #21 Fine

GREATEST JOKER STORIES EVER TOLD TRADE PAPERBACK (1988) #1 2ND PRT Fine

HARLEY QUINN (2000) (#1-38) (DC) #1 Fine
HARLEY QUINN (2000) (#1-38) (DC) #25 Very Fine
HARLEY QUINN (2000) (#1-38) (DC) #33 Fine

HARLEY QUINN (2013) (#0-30) (DC NEW52) #0 2X SIGNED Fine

HARLEY QUINN (2016) (#1-UP) (DC REBIRTH) #1 CON FOIL Near Mint/Mint

HARLEY QUINN INVADES COMIC-CON INTERNATIONAL SAN DIEGO (2014) #1 2X SIGNED Near Mint/Mint


HARLEY QUINN: OUR WORLDS AT WAR (2001) #1

HARLEY QUINN: OUR WORLDS AT WAR (2001) #1 Very Good

HITMAN: WHO DARES WINS TPB (2001) #1 Very Good

IMPULSE: RECKLESS YOUTH TPB (1997) #1 Near Mint/Mint
IMPULSE: RECKLESS YOUTH TPB (1997) #1 Fine
IMPULSE: RECKLESS YOUTH TPB (1997) #1 Very Fine

JLA: GREATEST STORIES EVER TOLD TPB (2006) #1 Fine

JSA: FAIR PLAY TPB (VOL. 4) (2003) #1 2ND PRINT Very Good

JUSTICE LEAGUE/SUICIDE SQUAD (2017) #1 MOSTVIRSGN Near Mint/Mint

SCALPED (2006) #1 Fine
SCALPED (2006) #2 Very Good
SCALPED (2006) #3 Fine
SCALPED (2006) #4 Very Good
SCALPED (2006) #6 Fine

SPIRIT (2010) (#1-17) (DC FIRSTWAVE) #17 Near Mint/Mint

STAR TREK: ASHES OF EDEN TP (1995) #1 Near Mint/Mint

STAR TREK: MIRROR UNIVERSE SAGA TPB (1991) #1 2ND PRT Very Good

STAR TREK: TNG: BEGINNINGS TPB (1991) #1 Near Mint/Mint

STAR TREK: WHO KILLED CAPT. KIRK TPB #1 Near Mint/Mint

STARMAN: A STARRY KNIGHT TPB (VOL. 7) (2002) #1 Fine

SUICIDE SQUAD (2016) (#1-UP) (DC REBIRTH) #1 ASPEN3XSGN Very Fine

SUICIDE SQUAD REBIRTH (2016) #1 2X SIGNED Near Mint/Mint


SUPERGIRL & THE LEGION OF SUPER-HEROES: ADULT EDUCATION (2007) #1

SUPERGIRL & THE LEGION OF SUPER-HEROES: ADULT EDUCATION (2007) #1 Near Mint/Mint
SUPERGIRL & THE LEGION OF SUPER-HEROES: ADULT EDUCATION (2007) #1 Fine

SUPERGIRL FEATURING JESSE QUICK: FASTEST WOMEN ALIVE (2017) #1 Very Fine

SUPERMAN (1939) (#1-423) (DC) #1 LOC Near Mint/Mint

SUPERMAN/BATMAN: ALTERNATE HISTORIES TPB (1996) #1 Fine

SUPERMAN: AMERICAN ALIEN HC (2016) #1 Near Mint/Mint

SUPERMAN: ERADICATION TPB (1996) #1 Near Mint/Mint

SUPERMAN: KAL (1995) #1 Near Mint/Mint

SUPERMAN: OUR WORLDS AT WAR COMPLETE EDITION (2006) #1 Fine

SUPERMAN: PANIC IN THE SKY TPB (1993) #1 Fine

SUPERMAN: RED SON (2003) #1 2ND PRINT Very Fine

SUPERMAN: RETURN OF SUPERMAN TPB #1 Near Mint/Mint

SUPERMAN: THE DARK SIDE (1998) #1 Very Fine
SUPERMAN: THE DARK SIDE (1998) #3 Near Mint/Mint

TEEN TITANS (2014) (#1-24) (DC NEW52) #4 LEGO Near Mint/Mint

TEEN TITANS/OUTSIDERS: INSIDERS TPB (2005) #1 Near Mint/Mint

TEEN TITANS: GO (2003) #7 NEWSSTAND Very Good
TEEN TITANS: GO (2003) #13 NEWSSTAND Fine

UNWRITTEN (2009) #50 VARIANT Fine


WORLD WITHOUT A SUPERMAN TPB #1

WORLD WITHOUT A SUPERMAN TPB #1 Near Mint/Mint

DARK HORSE COMICS
BUFFY THE VAMPIRE SLAYER: LONG WAY HOME TPB (2007) #1 3RD PRINT Very Good

DOCTOR SOLAR, MAN OF THE ATOM (2010) #1 SDCC 2010 Near Mint/Mint
DOCTOR SOLAR, MAN OF THE ATOM (2010) #1 SDCC SGN Near Mint/Mint

DOLLHOUSE: EPITAPHS (VOL. 2) (2011) #1 SDCC 3XSGN Near Mint/Mint

FIGHT CLUB 2 (2015) #1 BAM SIGNED Near Mint/Mint

FLAMING CARROT (1988) (#18-32) (DARK HORSE) #19 Near Mint/Mint
FLAMING CARROT (1988) (#18-32) (DARK HORSE) #20 Near Mint/Mint

FLAMING CARROT ANNUAL (1997) #1 Near Mint/Mint

GHOST IN THE SHELL (1995) #6 Near Mint/Mint
GHOST IN THE SHELL (1995) #6 Fine
GHOST IN THE SHELL (1995) #6 Very Fine
GHOST IN THE SHELL (1995) #7 Near Mint/Mint
GHOST IN THE SHELL (1995) #7 Fine
GHOST IN THE SHELL (1995) #7 Very Fine
GHOST IN THE SHELL (1995) #8 Fine

HELLBOY: BUSTER OAKLEY GETS HIS WISH (2011) #1 MIGNOLA Very Fine

HELLBOY: THIRD WISH (2002) #2 Near Mint/Mint

PLANET OF THE APES MOVIE ADAPTATION (2001) #1 DFE S&N Near Mint/Mint

PLANET OF THE APES: HUMAN WAR (2001) #1 DFERAINBOW Near Mint/Mint
PLANET OF THE APES: HUMAN WAR (2001) #1 GOLD PHOTO Near Mint/Mint

PREDATOR VS. MAGNUS ROBOT FIGHTER (1992) #1 PLATINUM Very Fine
PREDATOR VS. MAGNUS ROBOT FIGHTER (1992) #1 PLATINUM Fine

PREDATOR: HELL & HOT WATER TPB (1998) #1 Very Fine


SAN DIEGO COMICS CON COMICS #3

SAN DIEGO COMICS CON COMICS #3 Fine
SAN DIEGO COMICS CON COMICS #3 Very Fine

SIN CITY: A DAME TO KILL FOR (1993) #1 Near Mint/Mint
SIN CITY: A DAME TO KILL FOR (1993) #1 2ND SIGNED Very Fine
SIN CITY: A DAME TO KILL FOR (1993) #2 Near Mint/Mint
SIN CITY: A DAME TO KILL FOR (1993) #2 2ND SIGNED Near Mint/Mint
SIN CITY: A DAME TO KILL FOR (1993) #2 2ND SIGNED Very Fine
SIN CITY: A DAME TO KILL FOR (1993) #2 2ND SIGNED Fine
SIN CITY: A DAME TO KILL FOR (1993) #2 2ND SIGNED Very Good
SIN CITY: A DAME TO KILL FOR (1993) #2 SIGNED Fine

SIN CITY: BIG FAT KILL #5 SIGNED Near Mint/Mint

SIN CITY: LOST, LONELY & LETHAL (1996) #1 SIGNED Near Mint/Mint
SIN CITY: LOST, LONELY & LETHAL (1996) #1 SIGNED Very Fine

SIN CITY: SILENT NIGHT (1995) #1 SIGNED Very Fine
SIN CITY: SILENT NIGHT (1995) #1 SIGNED Fine

SIN CITY: THAT YELLOW BASTARD (1995) #1 SIGNED Very Fine
SIN CITY: THAT YELLOW BASTARD (1995) #1 SIGNED Fine
SIN CITY: THAT YELLOW BASTARD (1995) #3 SIGNED Near Mint/Mint
SIN CITY: THAT YELLOW BASTARD (1995) #3 SIGNED Very Fine
SIN CITY: THAT YELLOW BASTARD (1995) #4 SIGNED Very Fine
SIN CITY: THAT YELLOW BASTARD (1995) #5 SIGNED Near Mint/Mint
SIN CITY: THAT YELLOW BASTARD (1995) #5 SIGNED Very Fine
SIN CITY: THAT YELLOW BASTARD (1995) #6 SIGNED Near Mint/Mint
SIN CITY: THAT YELLOW BASTARD (1995) #6 SIGNED Very Fine
SIN CITY: THAT YELLOW BASTARD (1995) #6 SIGNED Fine

STAR WARS (1998) (#0-83) (DARK HORSE) #1 HOLOCHROME Near Mint/Mint
STAR WARS (1998) (#0-83) (DARK HORSE) #1 HOLOCHROME Fine
STAR WARS (1998) (#0-83) (DARK HORSE) #2 HOLOCHROME Near Mint/Mint
STAR WARS (1998) (#0-83) (DARK HORSE) #2 HOLOCHROME Very Fine
STAR WARS (1998) (#0-83) (DARK HORSE) #2 HOLOCHROME Fine
STAR WARS (1998) (#0-83) (DARK HORSE) #3 HOLOCHROME Near Mint/Mint
STAR WARS (1998) (#0-83) (DARK HORSE) #3 HOLOCHROME Fine


STAR WARS (1998) (#0-83) (DARK HORSE) #4 HOLOCHROME

STAR WARS (1998) (#0-83) (DARK HORSE) #4 HOLOCHROME Near Mint/Mint
STAR WARS (1998) (#0-83) (DARK HORSE) #4 HOLOCHROME Very Fine
STAR WARS (1998) (#0-83) (DARK HORSE) #4 HOLOCHROME Fine
STAR WARS (1998) (#0-83) (DARK HORSE) #5 HOLOCHROME Near Mint/Mint
STAR WARS (1998) (#0-83) (DARK HORSE) #5 HOLOCHROME Very Fine
STAR WARS (1998) (#0-83) (DARK HORSE) #5 HOLOCHROME Fine

STAR WARS EPISODE I: THE PHANTOM MENACE #1 1/2 DLX Near Mint/Mint
STAR WARS EPISODE I: THE PHANTOM MENACE #1 1/2 DLX Fine

STAR WARS MARA JADE: BY THE EMPEROR'S HAND #2 NEWSSTAND Near Mint/Mint
STAR WARS MARA JADE: BY THE EMPEROR'S HAND #3 NEWSSTAND Near Mint/Mint
STAR WARS MARA JADE: BY THE EMPEROR'S HAND #4 NEWSSTAND Near Mint/Mint
STAR WARS MARA JADE: BY THE EMPEROR'S HAND #5 NEWSSTAND Near Mint/Mint
STAR WARS MARA JADE: BY THE EMPEROR'S HAND #6 NEWSSTAND Near Mint/Mint

STAR WARS PHANTOM MENACE: QUEEN AMIDALA #1 DFEFOILS&N Near Mint/Mint

STAR WARS TALES #10 PHOTO Near Mint/Mint
STAR WARS TALES #11 PHOTO Near Mint/Mint
STAR WARS TALES #11 PHOTO Very Good
STAR WARS TALES #12 PHOTO Very Good

STAR WARS: A NEW HOPE SPECIAL EDITION #1 NEWSSTAND Very Good

STAR WARS: HEIR TO THE EMPIRE (1995) #2 NEWSSTAND Very Fine
STAR WARS: HEIR TO THE EMPIRE (1995) #2 NEWSSTAND Fine
STAR WARS: HEIR TO THE EMPIRE (1995) #2 NEWSSTAND Very Good
STAR WARS: HEIR TO THE EMPIRE (1995) #3 NEWSSTAND Near Mint/Mint
STAR WARS: HEIR TO THE EMPIRE (1995) #3 NEWSSTAND Very Fine
STAR WARS: HEIR TO THE EMPIRE (1995) #3 NEWSSTAND Fine
STAR WARS: HEIR TO THE EMPIRE (1995) #3 NEWSSTAND Very Good

STAR WARS: INFINITIES-EMPIRE STRIKES BACK (2002) #4 COMIC PACK Fine

STAR WARS: KNIGHT ERRANT - ESCAPE (2012) #1 SAN DIEGO Near Mint/Mint
STAR WARS: KNIGHT ERRANT - ESCAPE (2012) #1 SAN DIEGO Fine

STAR WARS: LEGACY (2006) #3 Very Fine


STAR WARS: OBSESSION (2004) #2

STAR WARS: OBSESSION (2004) #2 Near Mint/Mint
STAR WARS: OBSESSION (2004) #2 Very Fine

STEEL HARBOR: BARB WIRE #1 LIMITED Near Mint/Mint

SUPERMAN/ALIENS II (2002) #1 SPANISH ED Fine

SUPERMAN/BATMAN VS. ALIENS/PREDATOR (2006) #2 Very Fine

TARZAN: RIVERS OF BLOOD #4 Near Mint/Mint

UMBRELLA ACADEMY: APOCALYPSE SUITE (2007) #1 Very Fine

X (1994) #1 RED FOIL Very Fine

IMAGE COMICS
BITCH PLANET (2014) #3 A Near Mint/Mint

GI JOE (#1-25) (2001) #1 CON SIGNED Near Mint/Mint

GRAY AREA (2004) #1 WW CHICAGO Near Mint/Mint

HAPPY (#1-4) (IMAGE) (GRANT MORRISON) (2012) #3 HUGHES Near Mint/Mint

INVINCIBLE (2003) #2 Fine
INVINCIBLE (2003) #52 VARIANT Near Mint/Mint
INVINCIBLE (2003) #75 VARIANT Near Mint/Mint

MAXX (1993) #1 GLOW Near Mint/Mint
MAXX (1993) #30 Near Mint/Mint

MIDNIGHT NATION #1 DFE ALTGLD (Image Top Cow) Near Mint/Mint

MOONSTRUCK (2017) #1 D GOLD Near Mint/Mint

MORNING GLORIES (2010) #1 LARRYS VAR Near Mint/Mint
MORNING GLORIES (2010) #1 LARRYS VAR Very Fine
MORNING GLORIES (2010) #1 LARRYS VAR Fine


NOWHERE MEN (2012) #1 2ND PRINT

NOWHERE MEN (2012) #1 2ND PRINT Near Mint/Mint
NOWHERE MEN (2012) #1 2ND PRINT Very Fine

OBERGEIST: RAGNAROK HIGHWAY PREVIEW (2001) #1 GOLD 3XSGN (Image Top Cow) Near Mint/Mint

OUTCAST (ROBERT KIRKMAN & PAUL AZACETA) (2014) #1 Near Mint/Mint

PRO (2002) #1 Very Fine

PROPHET ART PORTFOLIO #1 Very Good

RED STAR #1 SIGNED Near Mint/Mint

SAGA (2012) #7 2ND PRINT Near Mint/Mint
SAGA (2012) #10 Near Mint/Mint
SAGA (2012) #12 Near Mint/Mint

SAVAGE DRAGON-THE SERIES #31 MATURE Near Mint/Mint

SPAWN (1992) #4 W/O SIGNED Very Good
SPAWN (1992) #134 MCFAR SGN Fine
SPAWN (1992) #136 MCFAR SGN Very Fine
SPAWN (1992) #212 Near Mint/Mint
SPAWN (1992) #228 Near Mint/Mint

SPAWN FAN EDITION #2 GOLD Near Mint/Mint
SPAWN FAN EDITION #3 GOLD Near Mint/Mint

STONE (THE AWAKENING) (1998) #1 SAN DIEGO (Image: Avalon) Near Mint/Mint
STONE (THE AWAKENING) (1998) #1 SAN DIEGO (Image: Avalon) Very Fine
STONE (THE AWAKENING) (1998) #1 DFE VARS&N (Image: Avalon) Very Fine
STONE (THE AWAKENING) (1998) #1 SAN DIEGO (Image: Avalon) Fine
STONE (THE AWAKENING) (1998) #2 DFCHROMS&N (Image: Avalon) Near Mint/Mint
STONE (THE AWAKENING) (1998) #2 DFE HOLO (Image: Avalon) Near Mint/Mint

TODD: THE UGLIEST KID ON EARTH (2013) #1 2ND PRINT Near Mint/Mint

TOMB RAIDER (1999) (#0-50) (IMAGE TOP COW) #1 TURNERSIGN (Image Top Cow) Very Fine

TOMB RAIDER/WITCHBLADE #1 (Image Top Cow) Near Mint/Mint

TOMB RAIDER: SCARFACE'S TREASURE (2003) #1 DFE B GOLD (Image Top Cow) Near Mint/Mint

TRAKK: MONSTER HUNTER (2003) #1 STUDIO ED Near Mint/Mint

UNIVERSE (IMAGE) (2001) #1 DFE CHROME (Image Top Cow) Near Mint/Mint

VISITATIONS GN #1 Near Mint/Mint

WALKING DEAD (2003) #1 PHILLY Near Mint/Mint

WILDSTAR: SKY ZERO #1 GOLD SGN Near Mint/Mint

INDEPENDENTS
AETOS THE EAGLE (GROUND ZERO) (1997) #3 (Ground Zero) Near Mint/Mint

BARBARIENNE (HARRIER) (UK) (ADULT) (1987) #1 (Harrier) Near Mint/Mint
BARBARIENNE (HARRIER) (UK) (ADULT) (1987) #6 (Harrier) Near Mint/Mint
BARBARIENNE (HARRIER) (UK) (ADULT) (1987) #8 (Harrier) Very Fine

BETTY BOOP (2016) #1 DFE BAMSGN (DYNAMITE Entertainment) Near Mint/Mint

BLONDIE (SWEDISH) (1985) #4 (Semic) Good

CALIBER PRESENTS (1989) #1 (Caliber Press) Very Fine

CAVEWOMAN: RAIN #1 2ND PRINT (Caliber Press) Fine
CAVEWOMAN: RAIN #2 (Caliber Press) Near Mint/Mint
CAVEWOMAN: RAIN #2 2ND PRINT (Caliber Press) Near Mint/Mint
CAVEWOMAN: RAIN #3 (Caliber Press) Fine
CAVEWOMAN: RAIN #3 (Caliber Press) Near Mint/Mint
CAVEWOMAN: RAIN #3 2ND PRINT (Caliber Press) Near Mint/Mint
CAVEWOMAN: RAIN #4 (Caliber Press) Near Mint/Mint
CAVEWOMAN: RAIN #4 2ND PRINT (Caliber Press) Near Mint/Mint
CAVEWOMAN: RAIN #5 (Caliber Press) Near Mint/Mint
CAVEWOMAN: RAIN #5 2ND PRINT (Caliber Press) Near Mint/Mint

CAVEWOMAN: RAIN #6 (Caliber Press) Near Mint/Mint
CAVEWOMAN: RAIN #7 (Caliber Press) Near Mint/Mint

CODY STARBUCK (HOWARD CHAYKIN) (1978) #1 (Star Reach Publication) Fine

CROW (#1-4) (CALIBER) (1989) #2 (Caliber Press) Fine
CROW (#1-4) (CALIBER) (1989) #3 2ND PRT (Caliber Press) Very Fine
CROW (#1-4) (CALIBER) (1989) #4 (Caliber Press) Very Good

CROW VOLUME (1992) #2 (Tundra Publishing) Near Mint/Mint

CYBERFROG (1994) #1 (Hall Of Heroes) Near Mint/Mint
CYBERFROG (1994) #2 (Hall Of Heroes) Near Mint/Mint

DEADWORLD (CALIBER) (VOL.2) (1993) #1 (Caliber Press) Near Mint/Mint

DEADWORLD: NECROPOLIS (1995) #1 (Caliber Press) Near Mint/Mint

FANGS OF THE WIDOW (GROUND ZERO) (1995) #1 (Ground Zero) Near Mint/Mint
FANGS OF THE WIDOW (GROUND ZERO) (1995) #8 (Ground Zero) Near Mint/Mint
FANGS OF THE WIDOW (GROUND ZERO) (1995) #10 (Ground Zero) Near Mint/Mint
FANGS OF THE WIDOW (GROUND ZERO) (1995) #11 (Ground Zero) Near Mint/Mint
FANGS OF THE WIDOW (GROUND ZERO) (1995) #12 (Ground Zero) Near Mint/Mint
FANGS OF THE WIDOW (GROUND ZERO) (1995) #14 (Ground Zero) Near Mint/Mint

FEMALE FORCE: ELLEN DEGENERES (2010) #1 HOLO LOGO (Blue Water Comics) Very Good

FUTURAMA COMICS (2000) #1 NEWSSTAND (Bongo Comics) Very Good
FUTURAMA COMICS (2000) #2 NEWSSTAND (Bongo Comics) Very Good
FUTURAMA COMICS (2000) #4 NEWSSTAND (Bongo Comics) Good

GO GO POWER RANGERS (2017) #1 CO SPRINGS (Boom Studios Publishing) Near Mint/Mint

GRIMM (DYNAMITE) (2013) #1 MIDTOWN ED (DYNAMITE Entertainment) Very Good

GRIMM (VOL. 2) (2016) #1 BAM (DYNAMITE Entertainment) Near Mint/Mint
GRIMM (VOL. 2) (2016) #1 BAM (DYNAMITE Entertainment) Very Fine

IMAGINATION ROCKET: SCIENCE AND SOCIAL STUDIES TPB (2002) #1 (Behemoth Books) Fine


INVADER ZIM (2015) #1 INCENTIVE

INVADER ZIM (2015) #1 INCENTIVE (Oni Press Inc.) Fine
INVADER ZIM (2015) #2 (Oni Press Inc.) Very Fine

JINX (CALIBER) (BRIAN MICHAEL BENDIS) (1996) #1 (Caliber Press) Near Mint/Mint
JINX (CALIBER) (BRIAN MICHAEL BENDIS) (1996) #3 (Caliber Press) Near Mint/Mint
JINX (CALIBER) (BRIAN MICHAEL BENDIS) (1996) #4 (Caliber Press) Near Mint/Mint
JINX (CALIBER) (BRIAN MICHAEL BENDIS) (1996) #5 (Caliber Press) Near Mint/Mint
JINX (CALIBER) (BRIAN MICHAEL BENDIS) (1996) #6 (Caliber Press) Near Mint/Mint
JINX (CALIBER) (BRIAN MICHAEL BENDIS) (1996) #7 (Caliber Press) Near Mint/Mint

JOE PSYCHO & MOO FROG #4 VAN SCIVER (Goblin Studios) Near Mint/Mint

KABUKI COLOR GALLERY (1995) #1 CAVALCADE (Caliber Press) Near Mint/Mint

KABUKI COLOR SPECIAL #1 COMM. ED (Caliber Press) Near Mint/Mint

KABUKI: CIRCLE OF BLOOD #1 (Caliber Press) Near Mint/Mint

KABUKI: DANCE OF DEATH #1 COMM. ED (London Night Studios) Near Mint/Mint

KABUKI: MASKS OF THE NOH (1996) #1 COMM. ED (Caliber Press) Near Mint/Mint

KISS (2016) #1 BAM B&WSGN (DYNAMITE Entertainment) Near Mint/Mint
KISS (2016) #1 M SIGNED (DYNAMITE Entertainment) Near Mint/Mint

KNUCKLES: DARK LEGION(#1-3, ECHIDNA #4-32) (1997) #24 NEWSSTAND (Archie Comics) Very Good

MATRIX COMICS TPB (2003) #1 (Burlyman Entertainment) Near Mint/Mint

MIGHTY MORPHIN POWER RANGERS ANNUAL (2016) #1 CO SPRINGS (Boom Studios Publishing) Near Mint/Mint

MYSTERY SOCIETY (2010) #1 HASTINGSGN (IDW Publishing) Near Mint/Mint

NEW ZODIAX (2015) #1 B SIGNED (Astronaut Ink) Near Mint/Mint
NEW ZODIAX (2015) #2 B SIGNED (Astronaut Ink) Near Mint/Mint
NEW ZODIAX (2015) #3 B SIGNED (Astronaut Ink) Near Mint/Mint
NEW ZODIAX (2015) #4 B SIGNED (Astronaut Ink) Near Mint/Mint

RED SONJA (2017) (#0-UP) (DYNAMITE) #0 D BAM SGN (DYNAMITE Entertainment) Near Mint/Mint

RICK & MORTY (2015) #1 BAM (Oni Press Inc.) Very Fine

SIMPSONS COMICS (BONGO) (1993) #27 NEWSSTAND (Bongo Comics) Very Fine
SIMPSONS COMICS (BONGO) (1993) #32 NEWSSTAND (Bongo Comics) Fine
SIMPSONS COMICS (BONGO) (1993) #33 NEWSSTAND (Bongo Comics) Very Good
SIMPSONS COMICS (BONGO) (1993) #34 NEWSSTAND (Bongo Comics) Very Fine
SIMPSONS COMICS (BONGO) (1993) #35 NEWSSTAND (Bongo Comics) Fine
SIMPSONS COMICS (BONGO) (1993) #36 NEWSSTAND (Bongo Comics) Fine
SIMPSONS COMICS (BONGO) (1993) #37 NEWSSTAND (Bongo Comics) Fine
SIMPSONS COMICS (BONGO) (1993) #38 NEWSSTAND (Bongo Comics) Very Fine
SIMPSONS COMICS (BONGO) (1993) #40 NEWSSTAND (Bongo Comics) Very Fine
SIMPSONS COMICS (BONGO) (1993) #41 NEWSSTAND (Bongo Comics) Very Fine
SIMPSONS COMICS (BONGO) (1993) #42 NEWSSTAND (Bongo Comics) Fine
SIMPSONS COMICS (BONGO) (1993) #43 NEWSSTAND (Bongo Comics) Very Fine
SIMPSONS COMICS (BONGO) (1993) #44 NEWSSTAND (Bongo Comics) Very Fine
SIMPSONS COMICS (BONGO) (1993) #45 NEWSSTAND (Bongo Comics) Fine
SIMPSONS COMICS (BONGO) (1993) #46 NEWSSTAND (Bongo Comics) Very Fine
SIMPSONS COMICS (BONGO) (1993) #48 NEWSSTAND (Bongo Comics) Very Fine
SIMPSONS COMICS (BONGO) (1993) #49 NEWSSTAND (Bongo Comics) Near Mint/Mint
SIMPSONS COMICS (BONGO) (1993) #50 NEWSSTAND (Bongo Comics) Near Mint/Mint
SIMPSONS COMICS (BONGO) (1993) #51 NEWSSTAND (Bongo Comics) Very Fine
SIMPSONS COMICS (BONGO) (1993) #52 NEWSSTAND (Bongo Comics) Fine
SIMPSONS COMICS (BONGO) (1993) #54 NEWSSTAND (Bongo Comics) Very Fine
SIMPSONS COMICS (BONGO) (1993) #55 NEWSSTAND (Bongo Comics) Very Fine
SIMPSONS COMICS (BONGO) (1993) #59 NEWSSTAND (Bongo Comics) Very Fine
SIMPSONS COMICS (BONGO) (1993) #60 NEWSSTAND (Bongo Comics) Very Good

STAR WARS ADVENTURES (2017) #1 RETAILER (IDW Publishing) Very Fine


STARGATE: ONE NATION UNDER RA (1997) #1 FOIL COVER

STARGATE: ONE NATION UNDER RA (1997) #1 FOIL COVER (Entity Comics (Express Comics)) Fine

STRANGE FRUIT (2015) #2 (Boom Studios Publishing) Near Mint/Mint
STRANGE FRUIT (2015) #3 (Boom Studios Publishing) Near Mint/Mint

UNITY (1992) #1 PLAT SIGN (Acclaim/Valiant) Near Mint/Mint

VAMPIRELLA (2017) (#0-UP) (DYNAMITE) #1 DFE BAMSGN (DYNAMITE Entertainment) Near Mint/Mint

WIDOW CINEGRAPHIC SPECIAL (1996) #1 (Ground Zero) Near Mint/Mint

WIDOW: BOUND BY BLOOD #1 BRANDI FIV (Ground Zero) Near Mint/Mint
WIDOW: BOUND BY BLOOD #1 COMM. ED (Ground Zero) Near Mint/Mint
WIDOW: BOUND BY BLOOD #1 EMMA ED. (Ground Zero) Near Mint/Mint