20 More Free Marvel Comics Variant Editions
Howdy!
Life is continuing to be quite busy here at Mile High Comics, with all sorts of fun things happening. For starters, business has been very strong in our Jason St. Mega-Store, with innumerable dedicated comics fans from around the world visiting every day. Sales at Jason St. (January 1st-14th) are up by a staggering 199%! over the same time period last year. That is a truly mind-blowing rate of growth.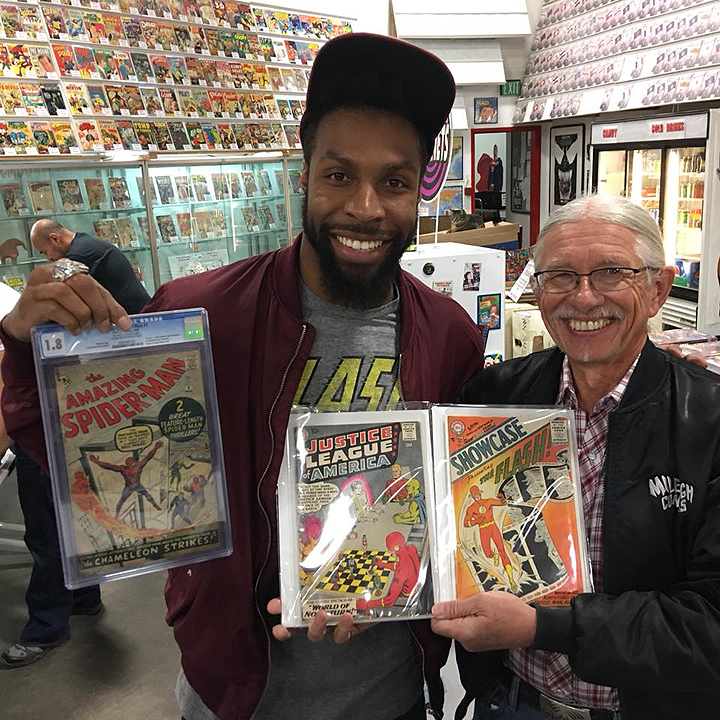 Great purchase by a True comics Fan!

I mention our incredible in-store growth rate at Jason St. because several news articles that I have read in the fan press lately point to double-digit declines in gross sales of new comics and new trade paperbacks industry wide during 2017. While I find those numbers unsettling, I do see the current editorial malaise at Marvel being the primary contributing factor to this decline. Marvel seems to be returning to their far more popular roots via the new "Legacy" reboots, so I do feel quite optimistic that industry wide sales growth could quite possibly return to the comics world during 2018. There certainly will be enough great comics movies to spark huge demand during 2018...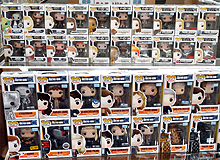 Some of Lisa's Pop Figures buy

Other factors hurting neighborhood comics shops right now are the vast expansion of pop culture retailing in mass merchants and chain stores. As a case in point, when Magic the Gathering cards are available at steep discounts through mass retailers, it leaves those stores hosting Friday night tournaments without any funding source to cover the costs of those events. Pop figures are another key market that migrated from specialty stores, into mass merchants. We do make a nice amount of money on those fun little boxed figures these days, but only because we buy them on the secondary market from fans, rather than giving a dime to the manufacturer. Most smaller comics shops are stuck ordering darn near everything from Diamond, however, and they are the ones that are really hurting.
All of the above having been said, I think that our own current robust sales are a direct reflection of our continuing commitment of reinvesting all of our operating earnings in an ever-increasing number of great collectibles. Jason St. already features over 75 huge showcases filled with scarce toys, cards, and rare comics, but that number will definitely need to grow substantially during 2018. Simply put, we are offered 5-7 comics and toys collections on an average day, and purchase at least half of them. During those few moments when our Jason St. store staff is not helping someone in locating an item, they work as quickly as is humanly possible trying to keep filling our cabinets and showcases with great collectibles. Trying to keep up with our buying is more than a little crazy, but it is also quite a bit of fun!
As regards our online sales, I am also seeing a return to growth. We are experiencing exceptionally strong demand for all kinds of back issue comics and magazines, but most especially for the higher grades of comics published from 1978-1991. I do not know if it is a generational shift that is causing this sudden uptick, but I can assure you that it is quite real. Comics from the 1986-1991 time period in lower grades are still relatively common, and many in lower grades do still end up in our $1 boxes at Jason, but NM/M comics from throughout the 1980's are now almost all much more popular than they were even a year ago. Just saying...
I will close with a couple of quick news notes. First, my offering 20 different Marvel variant editions as free Bonus Items in Friday's newsletter sparked an amazing surge in our orders on Saturday. As a result, we did completely sell out on a couple of those cool variant editions. The ones that we have left are still available to you for free, however, with your earning one for every $20 of orders you place with us, or any 6 as free Bonus Items for a $100 order. Just let us know in the "Notes" area of our online order form as to which issues that you would like to receive for free.

AGE OF APOCALYPSE (2015) #1 YOUNG BABY


ALL-NEW HAWKEYE (2016) #2 HEMBECK


CIVIL WAR II (2016) #1 SDCC 2016


HOWARD THE DUCK (NOVEMBER) (2015) #1 MOVIE CVR


INVINCIBLE IRON MAN (2015) #6 TEDESCO


NEW AVENGERS (2015) #1 HIP HOP


POWER MAN & IRON FIST (2016) #8 MCNIVEN

As an aside, please make certain that you factor in our discounts before you calculate how many free variant editions you can claim. Our current 40% off BARGAINS! codeword can save you a bundle on your order for back issue comics and magazines, but it is only the net amount (after discounts) that earns you free variants. BARGAINS! applies to all ten million of our back issue comics and magazines, excepting only new issues, a few variants, and our professionally-graded comics.

STAR WARS (2015) #42 Mile High Exclusive

Finally, Marvel unexpectedly pushed up the release date of STAR WARS (2015) #42 to this Wednesday. That change is important, as we publish an exclusive Mile High Comics variant to every issue of STAR WARS (2015). The advance order price for our variant is only $19.95, which will remain in effect for you until Thursday. Limit three per client, please. As of Thursday the price on our variant will need to rise to $24.95.
Happy collecting!
Chuck Rozanski,
President - Mile High Comics, Inc.
January 15, 2018

P.S. I asked Will Moulton to add another 20 Marvel variant editions for you in our free list, and he came up with the awesome list below. One free for every $20 of your order (net), or 6 free as a reward for your placing a $100 order. Supplies are very limited on some issues.

SECRET WARS 2099 (2015) #2 GWEN


SIEGE (MARVEL) (BATTLEWORLD) (2015) #1 BUDICH


SIEGE (MARVEL) (BATTLEWORLD) (2015) #1 BENGAL


SILK (JANUARY) (2016) #2 BAGLEY


SILK (JANUARY) (2016) #2 HEMBECK


UNCANNY AVENGERS (DECEMBER) (2015) #1 HIP HOP


UNCANNY AVENGERS (DECEMBER) (2015) #1 DARROW


UNCANNY AVENGERS (DECEMBER) (2015) #1 COSPLAY


UNCANNY AVENGERS (2012) #23 VARIANT


UNCANNY INHUMANS (2015) #0 WARD


UNCANNY INHUMANS (2015) #1 HIP HOP


UNCANNY INHUMANS (2015) #1 YOUNG BABY


UNCANNY INHUMANS (2015) #1 ADAMSKIRBY


WEIRDWORLD (DECEMBER) (2015) #1 HIP HOP